It's that time of year!
The time of year when Miley Cyrus celebrates her anniversary with Liam Hemsworth while simultaneously calling out those categorically FALSE breakup rumors.
The Black Mirror actress took to Twitter on Tuesday to wish her 29-year-old husband a happy 10th anniversary. Along with a short but sweet message to her "love," the pop star addressed the "dumb" fake news that the two had broken up — something they've been dealing with since the start of their relationship a decade ago.
She wrote:
Awww. Congrats you two!
As fans know, the couple, who tied the knot in December 2018 with a low key wedding ceremony, first met in 2009 when they filmed the seminal teen romance movie, The Last Song.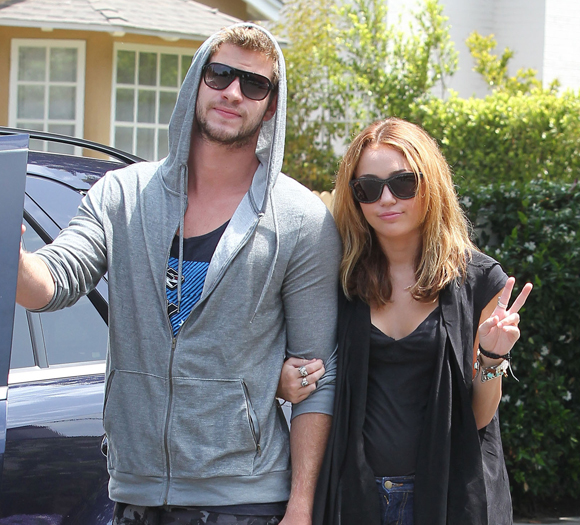 The costars' on-screen romance continued off camera, which eventually led to an engagement. Ever since then, the pair have been battling nonstop breakup rumors — though, in 2013, they did decide to take a break from their relationship.
But the couple rekindled their romance two years later and have been together since. Now that they've tied the knot, the two are planning for a prolific future together littered with offspring.
In an interview for GQ Australia's May/June issue this year, Liam admitted that the pair will start to have kids "once don't have so many dogs" — and, when the time's right, he said he plans on having "10, 15, maybe 20" babies with his bride!
Better get cooking!
Miley, meanwhile, recently spoke on maintaining her identity as a "queer" person despite her heterosexual marriage to Liam. She explained in a recent interview with Vanity Fair:
"Being someone who takes such pride in individuality and freedom, and being a proud member of the LGBTQ+ community, I've been inspired by redefining again what a relationship in this generation looks like. Sexuality and gender identity are completely separate from partnership… My relationship is very special to me, it is my home. I feel less misplaced when we are in the same room, no matter where that is, but just because something changes in my relationship doesn't mean something has to drastically change in my individuality."
The Mother's Daughter singer has also been preoccupied with making her musical comeback lately, so those dozen or so kids will have to wait. But it's good to hear that the Mr. & Mrs. are still going strong!
Happy 10(ish) years, Miley and Liam!!
Source: Read Full Article