Making music is one of those primal urges that's hard to resist. The need to express our pain, joy, angst, and lust through more than mere words has been a constant throughout human history. As has, one assumes, irritation with excessive noise, untalented musicianship, and whatever the prehistoric versions of Shannon Noll and Nickleback were.
Unfortunately, as the population grows we've all moved closer together, with 10 per cent of the Australian population living in apartments on the night of the 2016 census. Living in such close quarters makes it hard to learn an instrument, not just out of concern for the wellbeing of your neighbours, but it's hard to confidently make mistakes and try new things when you know other people can hear you. Plus the lack of space is a major issue when it comes to housing instruments.
Luckily, there's plenty of technology out there to not only help you learn and master an instrument at any age, but also stop your neighbour from hating you for it.
For band practice without the noise complaints, jack everybody in to a soundboard like this Roland HS-5.
Band practice
If you don't have a garage you can thrash in, there's no need to despair; all you need is a reasonable soundboard with multiple headphone outs.
The Roland HS-5 does the job admirably, is designed for classrooms and can even be used for recording. Each person can customise the mix in their headphones so they have the right balance between what they're doing and what everyone else is doing. The only problem is that it costs $899, which is going to be out of reach for most budding musicians.
At the other end of the scale is the Behringer Xenyx Q802USB mixer. It's got six inputs and an assortment of outputs which can be MacGyvered to suit a band of about four people. It's not the easiest or most beautiful solution, but it is $179, which is a lot more palatable for those just starting out.
Guitar and bass
Guitars are probably the easiest instruments to learn in an apartment or densely populated suburb, because they don't take up a lot of space, and as long as you're playing an electric guitar you'd be hard pressed to have anyone hear you from the other room. While it's nice to play with a chunky Marshal stack, something like the iRig HD 2 ($169.95) or the Apogee Jam 96k ($159) means you can plug your guitar straight into a computer or laptop and play with headphones for near-silent practice and cheap home recording.
An iRig HD 2 attached to your guitar or bass is a great way to practice, listen and record quietly.Credit:Karma Clarke
Plugging into your device also gives you access to the myriad guitar lesson apps available, like the ones built into Garage Band on your Mac and iOS device, or Yousician on iOS and Android.
Another option is to pick up a copy of Rocksmith 2014 Edition for PC, Xbox One or PS4 (about $48 from EB Games). It's an older game, so it's more difficult to find, but it gamifies learning the guitar or bass, making it more fun and easier to stick with. Scales have never been less boring than when you're shooting ducks. Think Guitar Hero, but with an actual guitar and genuinely useful skills.
Piano and keyboard
Gone are the days when every house had a baby grand piano in the living room. Most people are lucky if they can fit a dining table somewhere in their tiny apartment. But that doesn't mean you have to give up on your dream of tickling the ivories (unless you want real ivory).
Regular Roland or Korg full-size keyboards are a quiet option if you have the space, because you can plug your headphones in directly and jam away without disturbing anyone. But while their width provides more octaves and a more complete experience, it is a big space and cash commitment. If you're just starting out, going for something like the Roland Go Keys ($499) or the iRig Keys I/O ($499) might be a better way to go. They only have 25 keys, and can easily fit in a drawer or in a large backpack to be taken to school. Both mini-keyboards also have the bonus of connecting to the computer and helping teach kids how to code, which is a nice secondary bonus.
If you're low on space or need to travel with your keyboard, a smaller model like the iRig Keys I/O should do the trick.Credit:Karma Clarke
The vast majority of electric keyboards will have USB outs so they can be connected to computers and thus online piano teaching courses, for those who don't have regular enough schedules to be able to make it out to real-world music teachers.
Drums
Good news! It is possible to play the drums in an apartment without making your neighbours hate you. Electric kits have come a long way since my chunky old Roland with rubber pads reverberated through the walls back in 2005.
These days, something like a Roland TD-25K V-Drums kit (from $3499) has mesh heads (instead of the traditional plastic skins) and can't be heard through the walls, though you can also go for a less expensive choice like the TD1KV (from $799) for beginners, or the TD17K (from $1699) for more intermediate drummers. All V-Drum kits come with small noise eaters (rubber feet with an air gap to prevent reverberation through the floor), but if you're concerned about the sound of the bass pedal stomping coming through the floor, you can get even bigger noise eaters to compensate, at the cost of an added centimetre of elevation. V-Drum kits also have built-in practice games, designed to let you know how much you're swinging the beat, and rewarding you for being more precise; an innovation that I wish was around when I was first learning.
The more electric-looking V-Drum kits also have a much smaller footprint than a traditional acoustic kit, though there really is no getting around the fact that drum kits take up a good chunk of floor space.
If you're wanting something that's a bit more versatile, it's possible to build an electric kit using acoustic shells, noise dampening mesh heads and some Roland triggers pretty easily, giving you something that can go from electronic at home to traditional on tour.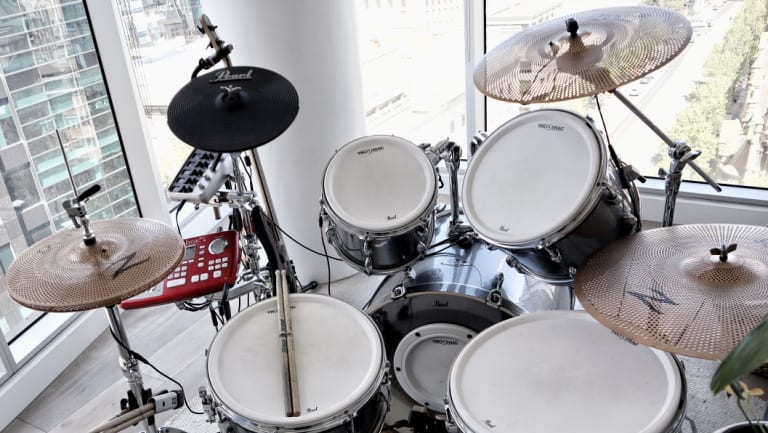 These Zildjian Gen 16 cymbals are a great addition to your electric drum kit, and very quiet.Credit:Karma Clarke
If you're missing the feel of more traditional cymbals, the Zildjian Gen 16s (from $1499) are much more reliable in their second iteration and are surprisingly quiet, despite being made from brass. They use pickups attached to the honeycomb cymbals to turn quiet cymbals into semi-electric ones. While they have not quite passed my apartment test, they're perfect for the suburbs. At our last place we had a neighbour whose bedroom was less than 10m from the room where I kept my drums, and when she saw us moving out remarked that she thought the house had been empty.
Low tech basic soundproofing tips
Thick carpets and rugs are always going to be your best friend when it comes to eating noise. If you're lucky enough to have a music room and have a desire to be able to go a bit louder, yet don't have the budget for acoustic foam, putting up thick curtains around the walls can make a huge difference. Fabric, particularly felt and thick wools, is the enemy of sound.
Source: Read Full Article