As if you needed another reason to watch the upcoming fourth season of Selling Sunset (which drops on Netflix November 24, so mark your calendar), there's the budding relationship between costars Chrishell Stause and Jason Oppenheim to watch blossom.
If Chrishell and Jason's ~love~ is news to you (or if you know allllll about it and just want an excuse to relive the details, keep scrolling for a timeline of their romance.
2018
Chrishell joined the Oppenheim Group in 2018, a while after getting her real estate license.
March 2019
Selling Sunset season one premiered on Netflix in spring 2019 and viewers learned that Jason had some history with Mary Fitzgerald from the show.
"I don't give her special treatment," he told Good Housekeeping about working with his ex. "I understand that there can be frustrations from other agents because they see that Mary is being involved in and brought on to many of my listings. While I don't share the financials with everyone because that's confidential, I think that everyone would admit based on just the obvious work that she's done, that she's bringing more money into this brokerage and selling more properties than anyone else."
November 2019
Chrishell's now ex-husband, This Is Us actor Justin Hartley filed for divorce. Chrishell opened up about the split on Selling Sunset (naturally) and revealed that she was very much blindsided by the news.
"Because of the crazy way in which this went down, people want answers, and I f*cking want answers," Chrishell explained on the show. "I know people are saying we were only married two years, but it's like, we were together for six years.…In a fight, that's his go-to, you know? Like, 'I'm out, I'm out.' I hate that kind of impulsive stuff, but I always just thought, you know, that's just an issue that we work through it."
May 2021
In May of this year (just a couple of months before news of his relationship with Chrishell broke), Jason told Page Six that he thought dating costars "probably wouldn't be an epic idea."
"It's not that I've taken a step back from dating—it's not on my priority list to be honest," he explained. "And no, that wouldn't be a priority for me. I think that would be complicated."
July 28, 2021
In July, fans were taken by surprise when Chrishell and Jason went Instagram official during a cast trip to Italy. Chrishell snuck PDA pics of them into a gallery post of other shots from the trip and captioned the post, "The JLo effect."
https://www.instagram.com/p/CR4VouerwVZ/?utm_source=ig_embed&utm_campaign=loading
A post shared by Chrishell (@chrishell.stause)
The same day, Jason confirmed the news to Us Weekly, saying, "Chrishell and I became close friends and it has developed into an amazing relationship. I care about her deeply and we're very happy together."
August 16, 2021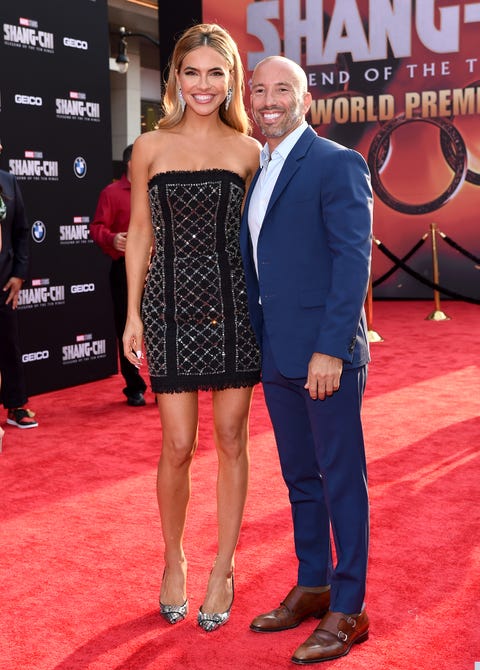 In August, Chrishell and Jason made their red carpet debut as a couple at the premiere of Shang-Chi and the Legend of the Ten Rings in Los Angeles.
August 23, 2021
About a month after they went IG official, Chrishell revealed that she and Jason had been dating for a couple of months before htey decided to share the news with the world.
"It's just one of those things. You don't want to share with everybody and get all their opinions before you really know what it is," she told E! News. "We really were really private and secretive for as long as we could until we realized the walls were closing in. People were getting a little savvy to it."
September 29, 2021
Chrishell and Jason got all kinds of dolled up for a night out with the rest of the Selling Sunset cast—and celebrated the occasion by sharing some more sweet PDA on IG.
https://www.instagram.com/p/CUaU9VTpB5h/?utm_source=ig_embed&utm_campaign=loading
A post shared by Chrishell (@chrishell.stause)
November 12, 2021
Chrishell and Jason officially became paparazzi magnets and snaps of them enjoying some lunchtime PDA made the rounds on gossip sites (Just Jared has *all* the pics, if you need to take a look).
Source: Read Full Article