When unveiling her plan to get a new ink of her second child's name on her face, the 'Bodak Yellow' hitmaker says in a social media post that she 'really really wanna do it.'
AceShowbiz –Cardi B has unveiled that she's considering getting her face tattooed as a tribute to her son. The "Bodak Yellow" hitmaker, who welcomed her second child with Offset last September, revealed that she wants to get her son's name tattooed on her jaw.
The "WAP" raptress, who hasn't revealed her son's name since his arrival, took to her Twitter account on Monday, January 17 to hint that she may announce her four-month-old baby's name with a face tattoo. "Random but ….I'm 1% close too tatting my sons name on my face….I really really wanna do it!" she tweeted.
In a separate Twitter post, Cardi added that her preferred location would be on her jaw. After one fan replied to her initial tweet, saying, "Me too like right by my ear," the 29-year-old hip-hop star wrote, "I want mine on my jaw." A few hours later, she posted a photo of an old woman showing off her flower tattoo on her cheekbone.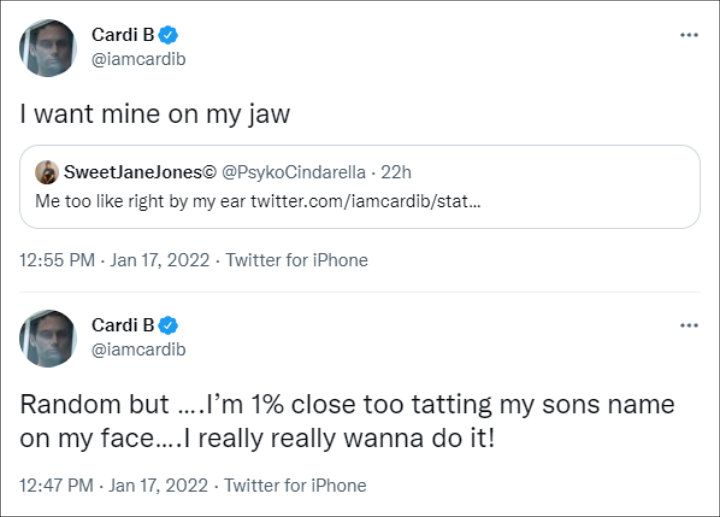 Cardi B revealed that she's 'one percent' close to get her jaw tattooed of her son's name.
Upon learning of Cardi's plan, many of her fans replied to her tweet by linking her old tweet. The Grammy-winning artist wrote in July last year, "Everyday I'm thankful at the fact that ain't get this face tatt I wanted when I was 16."
Along with Cardi's old tweet, one fan penned, "Cardi i know the choices are completely yours, but don't you think it's better to tattoo somewhere else…like it would be better." A separate person suggested, "@iamcardib look at me this is not you your better than this [crying face emoji] maybe put it on your belly or stomach idk but DEFINITELY NOT ON YOUR FACE. Now I need you to read this tweet before you make a mistake [red heart emoji]."
Recently, Cardi made headlines after she claimed that her son was already talking. "I'm not exaggerating, this baby is talking," the proud mom said in a clip she posted via Instagram on January 5. She went on to add that Offset also witnessed the special moment. "Yesterday, I was like 'You love Mommy? Yeah?' " she recalled. "Then I asked him again. 'You love Mommy?' And he replied back 'Yeah!' "
Cardi further stressed that her son didn't respond in baby talk. The "Up" raptress added that her son also said, "Hello," while singing along to the popular children's show "Cocomelon". Upon learning of her youngest child's milestone, she exclaimed, "Yo, this is crazy." She added, "I don't know if that's like the pandemic thing. I don't know if this is normal. This s**t is crazy. I need a camera in his room 24/7."
Last December, Cardi, who is also a mom to her 3-year-old daughter Kulture Kiari Cephus, divulged another milestone her son had reached. "My son holding his bottle wit both his hands already," she tweeted at the time. "I'm trying to remember if KK was doing that around 3 months old or if this is one of the super powers these pandemic babies coming with."
Source: Read Full Article