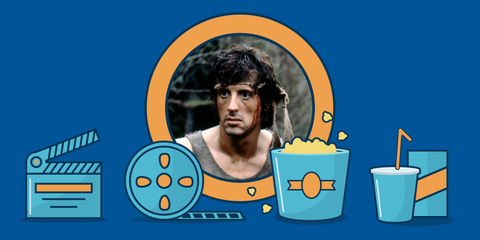 When you think of Sylvester Stallone, versatility is usually not the word that comes to mind. But consider that he's successfully persisted as an action star since the '70s—from the original Rocky (and don't forget Death Race 2000) to the weirdly popular Expendables. And his dedication to maintaining his muscle-rippling body at age 72 is, if nothing else, impressive. He's received acclaim and an Oscar nomination in the Creed movies, playing the hardened-yet-fragile mentor figure to Michael B. Jordan's son of Apollo Creed.
With Creed II—the sequel to director Ryan Coogler's stunning 2015 film—out in theaters Nov. 21, Sly once again finds himself at the center of pop culture. Here's a ranking of all his movies, from the classic to the interestingly bad.
Note: The list is limited to Stallone's starring roles, and films with U.S. theatrical releases.
Everything is wrong with this remake of a '70s classic, especially the fact that it exists and that Michael Caine deigned to show up.
RENT OR BUY IT HERE
Stallone as a cop with a mom who decides to take up a pistol of her own and intervene in his work is a one-note gag that isn't even funny from the start.
RENT OR BUY IT HERE
In the '80s, it made sense to produce a movie featuring Dolly Parton as a country star trying to transform Stallone's meathead into a bona fide singer. Unfortunately, it's nowhere near as fun as that sounds.
BUY IT HERE
Give Stallone credit for going against type in this spoof of gangster movies, but the jokes land with thuds harder than Rocky's punch.
RENT OR BUY IT HERE
Capone is essentially a really, really bad Untouchables. Stay away.
RENT OR BUY IT HERE
This ramshackle bombing thriller, a preview of what Stallone would go on to do much more capably, is best left in the past.
The elderly-action-stars-bringing-back-the-ammo conceit was exhausted by this point, evidenced by vastly diminished box-office sales, yet somehow there's a fourth Expendables in the works.
RENT OR BUY IT HERE
This prison drama with Stallone as a sympathetic auto mechanic locked up in a terrifying maximum-security prison by a vengeful warden exudes TV-movie-of-the-week vibes.
BUY IT HERE
Stallone has rarely been more checked out than as a mafioso's bodyguard linking up with the mobster's sexy daughter (Madeleine Stowe) to get revenge for the old man's death.
RENT OR BUY IT HERE
Otherwise known as "Stallone's porn movie," which he made when he was desperate for rent money. Deceptive marketing aside, there's no hardcore action, which makes this less interesting than one might hope.
It says something that the Rocky V trailer starts with footage from other movies in the franchise: It says that the filmmakers who made this were lazy and cynical, and Stallone was tired. The film itself, which recycles every Rocky trope, feels like a deep-cable TV knockoff.
RENT OR BUY IT HERE
This meta-drama centering on the power of a self-help book in various people's lives has way too much and way too many characters going on, but it's worth a peek for the powerhouse talent (Kyra Sedgwick, Terry Crews, Danny Trejo, Kelsey Grammer, and of course Sly).
RENT OR BUY IT HERE
Stallone doesn't get enough credit for his writing and acting chops, put to use in the Rocky movies. Unfortunately this more unwieldy boxing drama from the Italian Stallion is a tonal misfire.
RENT OR BUY IT HERE
Skip Stallone in a lame, formulaic tale of an auto racer and watch Days of Thunder instead.
RENT OR BUY IT HERE
Rambo sequels don't hold up quite like their Rocky counterparts. The man-against-an-army action is beyond silly, but Stallone's pecs have never looked better.
BUY IT HERE
Despite their respective trash-action bona fides, Stallone and Sharon Stone never fully gel in this messy revenge thriller. But as popcorn cinema, it's sexy and entertaining enough to pass the time.
RENT OR BUY IT HERE
This kid-friendly adaptation of a beloved video game is charming and diverting enough, but also instantly forgettable.
RENT OR BUY IT HERE
Stallone is a little too, uh, comic book-y in this comic book adaptation. The production design is neat, but 2012's Dredd depicts the world much more confidently.
RENT OR BUY IT HERE
Not Stallone's first prison-escape movie, Escape Plan fizzles with a routine plot, though it's fun to watch the Italian Stallion and Arnold Schwarzenegger tear shit up.
RENT OR BUY IT HERE
This entry in the ill-advised old-people-doing-young-people-things genre is surprisingly enjoyable, thanks largely to the fact that Stallone and Robert De Niro as retired boxers facing off once again (and Kevin Hart in a supporting role) seem be having fun.
RENT OR BUY IT HERE
A hitman (Antonio Banderas) goes up Stallone's older hitman who's ready to quit the game in this bizarrely pretentious but slickly made actioner.
RENT OR BUY IT HERE
Stallone is scary-fit for his age as hitman Jimmy Bobo in this return to theaters for action director Walter Hill (48 Hrs., The Warriors)—at one point while in a massage parlor, his ripped body looks like a raw slab of beef. He similarly maintains the same cool demeanor as he ever did and delivers a surprising amount of emotion. Unfortunately, the plot is a disaster, but Hill does pull off impressive set pieces.
RENT OR BUY IT HERE
Also released under the even more unfortunate title D-Tox, this failed thriller about an FBI agent suffering from PTSD who has to put aside his trauma to nab a serial killer nevertheless delivers some satisfying jolts.
RENT OR BUY IT HERE
The Expendables is a competent enough big-budget ensemble action movie, but it's hard not to feel like it's little more than a paycheck for its all-star cast and everyone else involved.
RENT OR BUY IT HERE
Cliffhanger brought the masses, so the Daylight filmmakers just changed the setting. Instead of flying off cliffs, the Italian Stallion attempts to rescue people who are trapped in the Holland Tunnel, which has been caved in by a massive explosion. It's a neat concept and impressively shot, even if it is hammy.
RENT OR BUY IT HERE
The Expendables was surprisingly successful, so the filmmakers served up more of the same, except it all looks more expensive, which means it has the edge over the original.
RENT OR BUY IT HERE
After a dispiriting run of bad flops for Stallone, Cliffhanger proved he still had the juice to carry an action epic. It provides real thrills, especially whenever the Italian Stallion is hanging over a giant cliff, and no one digs into playing a criminal mastermind quite like John Lithgow.
RENT OR BUY IT HERE
Stallone took a sharp turn into seriousness with this union thriller, in which his truck driver rises through the organizational ranks with help from the mob. It's expensive, accomplished, and a little too long.
BUY IT HERE
Cool and coolly violent, this movie about a take-no-prisoners cop is for Stallone completists and people who like their action movies on the bloody side.
RENT OR BUY IT HERE
There are worse things to do on a weeknight than pop in this thriller about card sharks. Stallone, Jamie Foxx, Melanie Griffith, Gabriel Byrne, and Thandie Newton dig into their roles like a juicy steak.
RENT OR BUY IT HERE
John Rambo goes to the Middle East in this one, which adds surprising political interest. And finally the movies seem in on the joke of the character.
RENT IT HERE
There's something deliciously meta about Stallone leading a movie titled Over the Top. The arm-wrestling tournament film makes good on the promise (a competitor drinks gasoline), and the father-son plot has heartwarming charm to boot.
RENT OR BUY IT HERE
Stallone doesn't shy away from an overstuffed concept. And he fits seamlessly into John Huston's rousing World War II-meets-soccer movie, in which German prisoners of war play against Nazis. With assists from Michael Caine and soccer legend Pele.
RENT OR BUY IT HERE
This dumb-great buddy-cop movie works because Stallone and Kurt Russell excel at exactly the kind of funny-asshole chemistry that the genre requires. Though the slightly homophobic jokes (Russell dropping the soap!) haven't aged well.
RENT OR BUY IT HERE
You have to see to believe this well-executed trash exploitation film from mastermind producer Roger Corman, starring Stallone as one of several drivers tasked with hunting down and killing all the others for the ultimate prize in a dystopian future. The fact that Roger Ebert gave it a finger-wagging zero-star review is only more reason to watch.
RENT OR BUY IT HERE
Somehow the more Rocky movies tug at the heartstrings, the more they win our hearts without being manipulative. You can feel the pain on Stallone's face as he plays the aging Balboa assessing the physical and psychological costs of another major fight.
RENT OR BUY IT HERE
Is Rocky IV—aka the one in which Balboa faces off against the Soviet Union, embodied by a humongous, robotic Dolph Lundgren—corny? Sure, but this is Rocky, and at least some of that is necessary. I also confess that this one holds a special place in my heart because it was the one that got me cheering the loudest as a kid. Lines like "I must break you" still elicit delighted giggles from me, and Rocky coping with the death of his enemy-turned-friend Apollo Creed still makes my heart ache.
RENT OR BUY IT HERE
The '70s and '80s were a golden age for high-stakes police thrillers, and Nighthawks doesn't disappoint, pitting Stallone's New Yawk detective against a suave terrorist. The actor pulls off nuance, and the production delivers impressive style and action.
RENT OR BUY IT HERE
Stallone threw a curveball with poignant dramedy in this underseen portrait of '50s street gangsters.
RENT OR BUY IT HERE
Hollywood will probably be making Rambo movies long after Stallone is dead. This years-later retread doubles down on the visceral brutality. The hyper-violence isn't for everyone, but it's executed with sophistication.
RENT OR BUY IT HERE
Stallone proved he could carry more than one franchise with the first Rambo survivalist, quasi-superhero actioner. He makes you believe it when you definitely should not.
RENT IT HERE
The first Rocky sequel savvily recreates what made the first movie magical without tweaking the formula enough to really justify its existence. Apollo Creed should've just stayed the winner.
RENT OR BUY IT HERE
"Eye of the Tiger," Mr. T with feather earrings, Rocky sparking an unexpected friendship with Apollo Creed while mourning the death of his old trainer. What's not to love?
RENT OR BUY IT HERE
It's not quite RoboCop, but Demolition Man savvily taps into the same satirical concerns about a future police state while also staging elaborate action stunts. Luckily, both Stallone and Wesley Snipes have the chops to fill this deliciously ridiculous sci-fi vehicle in which they're literally defrosted from cryogenic freezing to do battle.
RENT OR BUY IT HERE
An underrated early effort from director James Mangold (Walk the Line, Logan), Cop Land weaves a richly layered story of deep corruption in the ranks of New York City policemen who through a loophole live in (and basically run) a New Jersey town. The movie's tackling of police violence against black men is sadly as relevant as ever.
RENT OR BUY IT HERE
Stallone is synonymous with Rocky (it's hard to imagine the character and films not making it into the first sentence of his obituary). Happily, the original holds up beautifully. That's not just because of the training montage or the climb up the Philadelphia Museum of Art steps (lovingly echoed in Creed) or the usual sports-movie tropes. It's because Stallone fuses himself with his underdog boxer, body and soul, until you believe without question that he's the man trying to will himself to achieve the impossible in the ring.
RENT OR BUY IT HERE
Sorry, die-hard legacy fans. Creed isn't just the best movie in the Rocky franchise; it's one the best sports movies of all time. That's because it isn't just a great sports movie, though those whooshing matches beautifully photographed by Maryse Alberti make the pulse quicken. It's also a sobering, finely drawn story about loss, fathers and sons, aging, mortality, and—yes—love. The action here centers on Adonis Johnson a.k.a. Adonis Creed (played by the ripped Michael B. Jordan), who reckons with his past to forge his own boxing legacy. But it's the culmination of everything Rocky ever was. It's right there in the glint in Stallone's wise eyes, and this perfect line: "You love to fight, right? So then use the name. It's yours."
RENT OR BUY IT HERE
Source: Read Full Article