AceShowbiz –
Demi Lovato is apparently on the same page with her fans when it comes to baring ill feelings towards her backup dancer, Dani Vitale, who was once blamed for her overdose. The former Disney darling recently responded to an internet user who said that it wasn't fair for Dani to be fired when she was the one who cared for the singer the most.
"It was completely unfair to fire Dani, she's one of the few who really cares about demi's health and has been helping her for 3 years, she's surrounded by people who care only about her money and she does not see it," the said user wrote on Twitter. But is her claim true? Well, according to Demi herself, it's not at all.
"You have no idea what you're talking about," the "Sorry Not Sorry" singer commented on one user's Instagram post which featured a screengrab of the tweet. "True friends don't do interviews about you when you OD." Her response immediately garnered loves from her fans, with many declaring how much they love Demi for speaking out about it.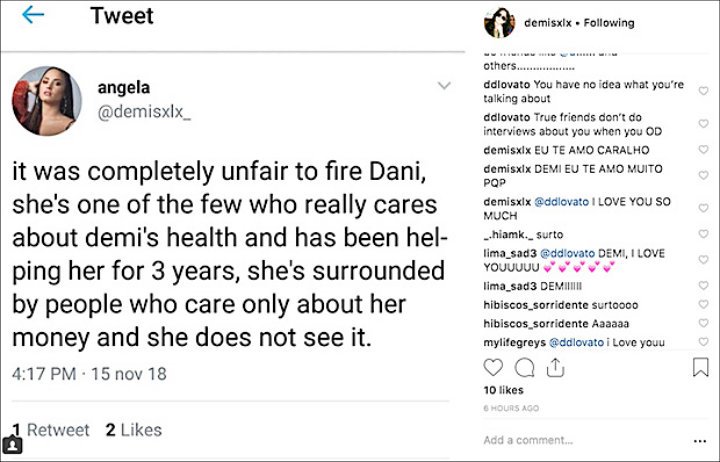 It wasn't clear which interview the "Camp Rock" star was referring to, but Dani once publicly talked about her overdose after fans started blaming the dancer for it. "I care about Demi just like all of you do," she said in a now-deleted Instagram post. "I have not said anything about this situation until now because her recovery has been one of the most important."
"I was not with Demi when the incident happened, but I am with her now, and will continue to be because she means the world to me just as she does to all of you," she continued saying on the social media site. "There is no need for any negativity towards the ones who care about Demi at this time. There is too much of it in this world as it is."
Demi recently completed her 90-day rehab stint after being hospitalized for drug overdose.
Source: Read Full Article