Dolly Parton looks forward to the Christmas season. She enjoys the holiday music and festive decorations. Here's one Christmas album the country music celebrity says she plays every year.
Dolly Parton's Christmas tradition
Parton has a sweet Christmas tradition. During an interview with Red Online, she reveals she hosts an annual Cookie night. She says it has become one of her favorite Christmas traditions.
"I don't have kids of my own, but I invite all the children in the family around to my house in the run-up to Christmas, and they come at noon and stay the night, until noon the next day," she tells the publication. "I get a few of my friends to come and help with the littler kids, and we eat pizza and make cookies."
Parton also likes to decorate her home during the holidays. Decorations include a chimney with fake fire inside.
"I have an elevator in my house, and every Cookie Night, I dress it up like a chimney, with fake fire on it, and they all sit at the bottom waiting for Santa Claus," says Parton. "I dress up as Santa and come out of the elevator with their gifts! I've been doing that for years, and they all look forward to it."
The Christmas album Dolly Parton plays every year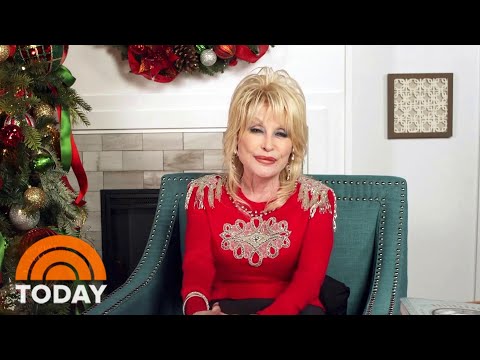 Parton says she plays Once Upon a Christmas every year. She recorded the album with her friend and longtime singing partner, the late Kenny Rogers. Parton says this album brings back a lot of good memories for her.
According to Dolly Parton, Songteller: My Life in Lyrics, the title song is Parton's version of the story of Christmas. Parton says she wrote this song back in 1973 when she and her husband were in the process of building their home in Nashville.
Parton went to the basement of the home and sang the song as she wrote it. Since the basement was empty, there was an echo, and Parton says that echo added richness to the song. She says the "wonderful echo" in the basement made it sound like she was in Bethlehem. The sound inspired Parton, and she continued to write her song. When it was time to record the song, Parton asked producer David Foster to help her re-create the echo so they could add it to the track.   
Dolly Parton loves the Christmas holiday
Parton tells Red magazine that Christmas is special to her. She enjoys spending time with family and sharing moments together.
"Christmas means everything to me," she says. "It means fun, food, family, joyful times—and presents, of course. I just love everything about it; I always have. I'm a big believer in playing all the Christmas songs and covering the house in decorations."
Parton tells Red she also likes to dress up like Santa Claus on Christmas. When she's not dressed like Santa, she says she wears red, white, and green outfits during the holiday season. Says Parton, "I try to make the most of every occasion—I'm the kind of person who dresses up for everything, so I love dressing up as Santa Claus, and I wear red, white, and green throughout the whole season."
RELATED: Dolly Parton's Mother 'Whacked' Her on the Head After Seeing Her Dressed 'Like a Trollop'
Follow Sheiresa Ngo on Twitter.
Source: Read Full Article