Recently, Cardi B and Penn Badgley took their friendship to Twitter with a playful exchange that ended with each changing their profile picture to the other. But now it seems Badgley's You character – Joe Goldberg – has an eye on Cardi's heart, too.
She shared a picture of a personalized gift and a scary letter she received from Netflix's resident swoon-worthy serial killer. Could Cardi be Joe's next "you"?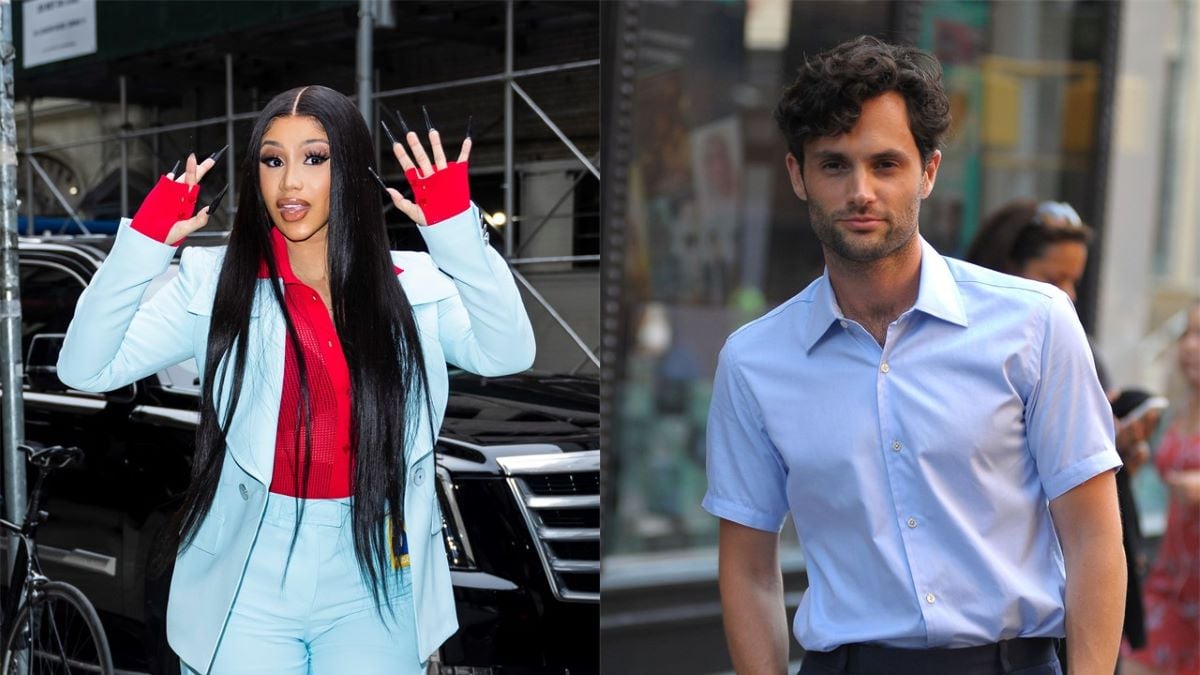 Cardi B and Penn Badgley
The public displays of friendly adoration between Cardi and Badgley date back to last month. That's when Cardi excitedly retweeted a fan shared video from 2019 of Badgley admiring her social media presence.
"OOOOMMFFFGGGGGG HE KNOWS ME!!! OMMMGGGG!!!!!! Yoooo like I'm famous famous," the "WAP" rapper wrote. And Badgley responded by retweeting Cardi's tweet with a single expression of wonder: "I-"
Then, the two stars made each other their profile pictures and created new fast friendship goals for us all. But it looks like Badgley isn't the only one who's been impressed by Cardi's social media presence.
Cardi B and Joe Goldberg
Cardi recently took to Twitter to let fans know she received a gift in the mail from Joe – and at her new address, nonetheless. Along with a hat, he sent a letter with a few personal touches for Cardi and a high creep-factor. But it was all totally appropriate for the character, of course.
"Hello, you…" he opened the letter. "My stalking and killing may make me a certified freak seven days a week, but it also brought me to… you."
You have to respect bringing it all to the surface and getting the dirtiest bits out of the way first. But what is it specifically that Joe loves about Cardi? He explained, "Cardi B, you have a way with social media. You're meaningful. Substantive. I just like you. You're authentic and nuanced…just as you are with your music."
Honestly – it's not too surprising that Cardi's social media game is so on-point it caught the attention of a fictional stalker/serial killer. But there's something more Joe said he loves about Cardi. "You can't be caged, and it's refreshing," he noted.
"Can't wait to see you slaying in this hat, but I certainly hope you don't disappear," he concluded.
And all this banter between Cardi and Badgley, and Cardi and Joe, has people hoping for more — like a role for Cardi on the next season of You.   
Cardi B on 'You'
Cardi has made her desire to be on the show well-known and even pitched a You cameo to Netflix. But Badgley said on Jimmy Kimmel Live that he really doesn't know if it will happen.
When Jimmy Kimmel marveled over Badgley's original Twitter exchange with Cardi, Badgley told him, "This is a thing that we have now."
However, when the host brought up rumors that Cardi would be on the fourth season of You, Badgley stumbled over his words a little bit before concluding he "can't say."
Badgley did note there's a petition on Change.org to make the Cardi cameo happen. "Changing the world," he assured Kimmel with a laugh. But for now, fans will have to settle for an abundance of Twitter love.     
Source: Read Full Article