Amber Heard's legal team alleged that Johnny Depp is a "drunk," which resulted in his nasty behavior. The actor previously admitted that he occasionally enjoys a drink, but he denied ever turning violent. Depp once explained in an interview exactly what "kind of drunk" he really is when he has a little too much to drink.
Johnny Depp explained why he decided to live in France
Depp and Burton appeared on Friday Night With Jonathan Ross to talk all things about their careers. However, host Jonathan Ross also asked some personal questions. He inquired about why Depp decided to spend so much of his personal life in France, rather than another spot in Europe.
"What France has done for me really is, at least living in Europe, has given me the opportunity for real simplicity as far as raising a family, being a dad," Depp explained. "When we go down to our place in the south, there's no discussion, there's no movie talk, there's no nothing. It's just literally simple and free."
Depp said that in Los Angeles, movie talk and paparazzi are "everywhere you go." Additionally, Ross asked if the actor enjoys a glass of wine, to which he responded, "I don't mind it." Ross then questioned if Depp has a vineyard of his own to get drunk on.
"I don't," Depp said. "The French won't allow it. They didn't want me to have a vineyard. I probably would never leave. (Laughs)."
Johnny Depp joked that he's a 'constant' 'kind of drunk'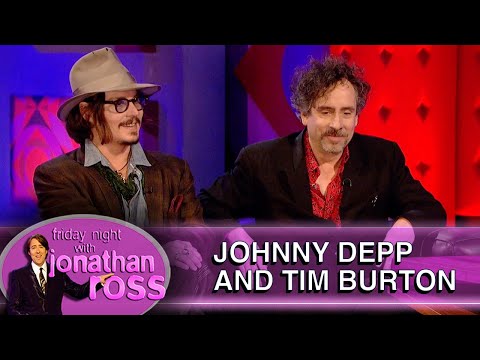 Later in the interview, Ross asked Depp about what "kind of drunk" he really is. The host inquired if he gets friendly, confused, or if there's another emotion that runs through him when he drinks a bit too much.
"What kind of drunk?," Depp repeated. "Well, constant. (Laughs). No, it doesn't confuse me. It makes me happy."
Ross turned to Burton to ask if he was a big drinker, as well. He responded, "With him, I am." The host followed that up with the notion that the filmmaker had to learn to keep up with the "kind of drunk" Depp was.
The questions turned to how Depp and Burton vacation and whether they ever do so together. They explained that they don't, but that they do remain close. However, Depp and Burton see one another all of the time when they're actively working on a project together.
The actor wanted to have a hot tub talk show with Tim Burton
Depp and Burton do more than get drunk together, as they have an inherent connection that many other folks don't entirely understand. The filmmaker and the actor told Ross that those who jump into their conversations have no idea what they're talking about. This is a bummer for others, but the pair love that they're able to connect on this level.
They talked about developing some other "strange" projects together, which heavily amused Ross and the audience.
"Well, we'd probably develop strange things like Martin Landau's hot tub," Depp said. "We've dreamed up TV shows."
Burton expanded on that point: "A talk show, but we'd want to do it in a hot tub where the guests come in naked in the hot tub."
Source: Read Full Article