The 'Uncut Gems' actress poses for paparazzi photos with her estranged husband as they celebrate their son's 1st birthday, after she apologized to him for calling him a 'deadbeat' and an 'alcoholic.'
AceShowbiz –Julia Fox is patching things up with her estranged husband amid her heated romance with Kanye West. The actress has been spotted reuniting with Peter Artemiev, weeks after calling him a "deadbeat" father.
On Monday, January 17, the 31-year-old actress and her ex were seen walking through Manhattan with their son Valentino to celebrate their little one's 1st birthday. The former couple looked cordial during the outing and was even willing to pose for paparazzi pictures.
Julia opted for a stylish look in an all-black number which included a turtleneck top, a pair of skin-tight pants and a long coat. She completed her outfit with black high-heels, black gloves and accessorized with a pair of stylish sunglasses.
Her estranged husband donned black pants and a green button-down shirt on top of a white T-shirt, teamed with a pair of stylish shoes. The friendly exes took turns carrying their son, who wore a black outerwear that matched his mother's.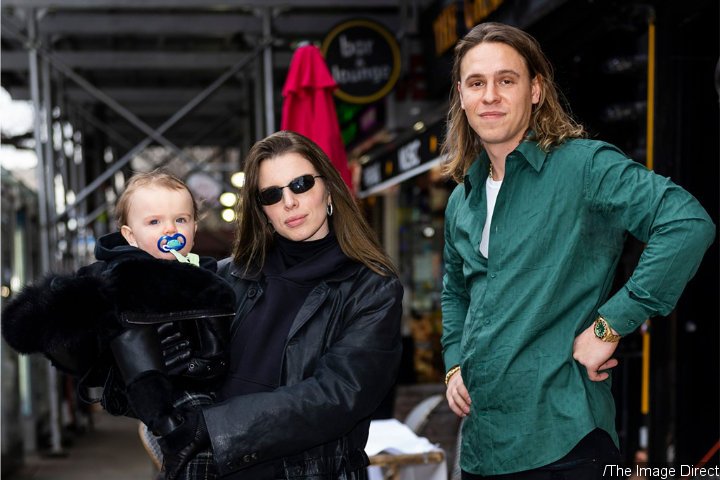 Julia Fox reunites with her ex Peter Artemiev to celebrate their son's 1st birthday.
Julia later took to Instagram to mark her son's birthday. "My beautiful baby is 1 today!!" she wrote alongside snaps of the little boy. "Thank you so much for showing me what love is. Thank you for humbling me and teaching me patience and hard work. Thank you for being my biggest blessing. My greatest accomplishment. My masterpiece. I don't deserve you but somehow we're here and I promise to love you unconditionally and accept you for who you are."
The family reunion comes after Julia publicly apologized to Peter for calling her a "deadbeat" and an "alcoholic" in a series of now-deleted social media posts in December. "All I want to say is, I'm sorry," she said in the latest episode of her "Forbidden Fruits" podcast. "You're not a deadbeat. I know that you're not, and I know that it wasn't that you weren't trying to see [our son] Valentino, it's that you weren't trying to see me."
"Everyone had COVID," she further explained her misdirected anger. "I had no help at all whatsoever. And my friend was out and saw Peter out and Peter was saying something along the lines of, 'That b***h won't let me see my son.' And when that was relayed to me … my blood boiled. I just snapped."
Source: Read Full Article