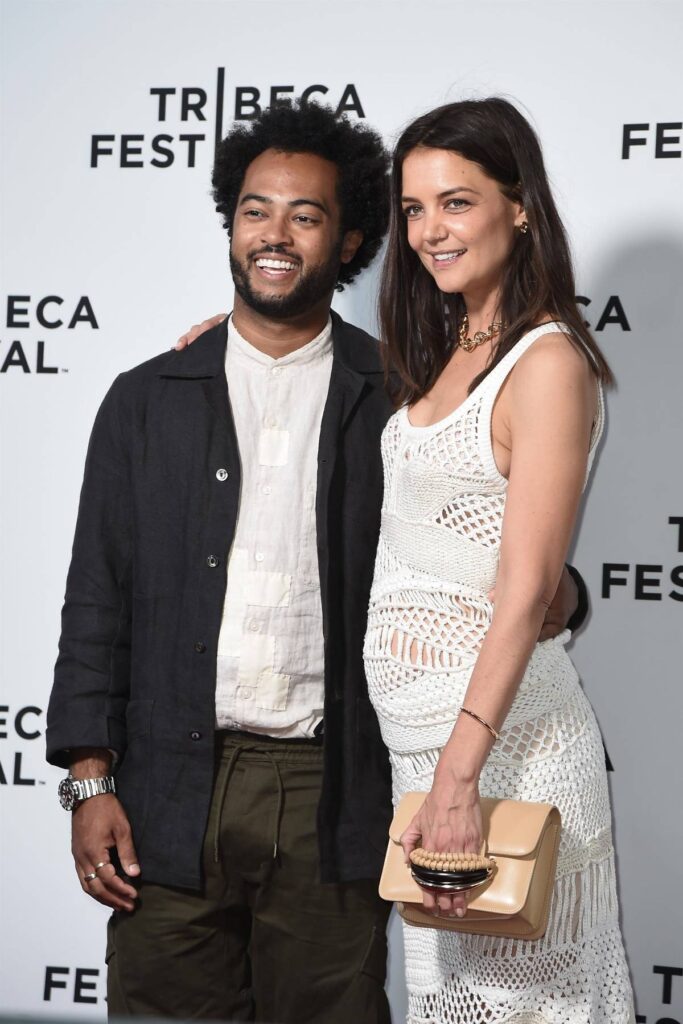 Just to get this bit o' bitchiness out of the way, I think Katie Holmes is such a pretty woman, but I hate this Chloé dress on her. What I'm sure is a very expensive dress looks like it's falling apart. And I'm fine with Boho chic usually, but they leaned too far in with the unwashed hair and clunky black shoes. I like her necklace, though. What is also notable in that photo is Katie and boyfriend Bobby Wooten III have made their relationship Red Carpet official. That's them walking the RC for her Alone Together premiere at the Tribeca Film Festival. I'm glad they are going strong. So strong, in fact, that Katie has already brought him home to meet Suri.
Katie Holmes and her musician boyfriend Bobby Wooten III have taken their relationship to the next level.

A source tells PEOPLE in this week's issue that Wooten has spent time with Holmes' inner circle, including Suri, her 16-year-old daughter with ex-husband Tom Cruise.

"He is getting to know her family," the insider says of the composer, who is currently playing bass in Moulin Rouge! The Musical on Broadway.

"Katie is having a great time with Bobby," the source adds. "He is very kind and happy. He makes her laugh."
[From Yahoo]
As far as we know, Katie and Bobby have been a couple for about two months. Yesterday Kaiser talked about Kim Kardashian having a six-month rule before her kids could meet her boyfriends. I don't know if there are accepted dating rules on these things. I assume it depends on the person and more importantly, the kid. I'm sure, all things being equal, the age of the child is a factor. Suri is 16, so I image there would be less to worry about with attachment issues. With teenagers you can talk about the status of your relationship, let them know if it's casual or whatever, set expectations. I don't really have an opinion on this. I've always thought Katie was a good mom, so I generally defer to the decisions she makes where Suri is concerned.
And Katie has already invited her mom on a date with Bobby, so either Katie is really serious with him, or she just gets her family involved quickly. I used to do that. I figured if my family didn't like them, I could get rid of them right away. I didn't have kids, though. Or maybe Bobby's the one? Who knows. He's talented and seems like a nice guy, based on nothing more than a few fluff pieces I've read about their relationship. My only hesitation is in the photos of them together, Katie's reactions look so performative. But that may be her way of sticking it to her exes more than anything else. I hope everyone involved is having fun. A 33-year-old musician who works with David Byrne and plays Coachella would be pretty cool for a 16-year-old to hang out with. I'm sure Suri has no complaints.
Embed from Getty Images
Embed from Getty Images
Embed from Getty Images
Photo credit: Backgrid, Getty Images andInStar Images
Source: Read Full Article