Kristen Wiig made her return to Saturday Night Live at the end of 2020, hosting the last episode of the year. Wiig is a homegrown star from Saturday Night Live, as she was a cast member of the show from 2005 to 2012. Wiig had also hosted Saturday Night Live three times prior to 2020's final episode.
Earlier in her career, Wiig became known for her outrageous Saturday Night Live characters, particularly Gilly and Target Lady.
Fans may not believe it, but Gilly appears to be an autobiographical character. She looks nearly identical to Wiig as a child, who often wore a perm and dyed her hair with Sun-In.
Kristen Wiig loved returning to 'SNL'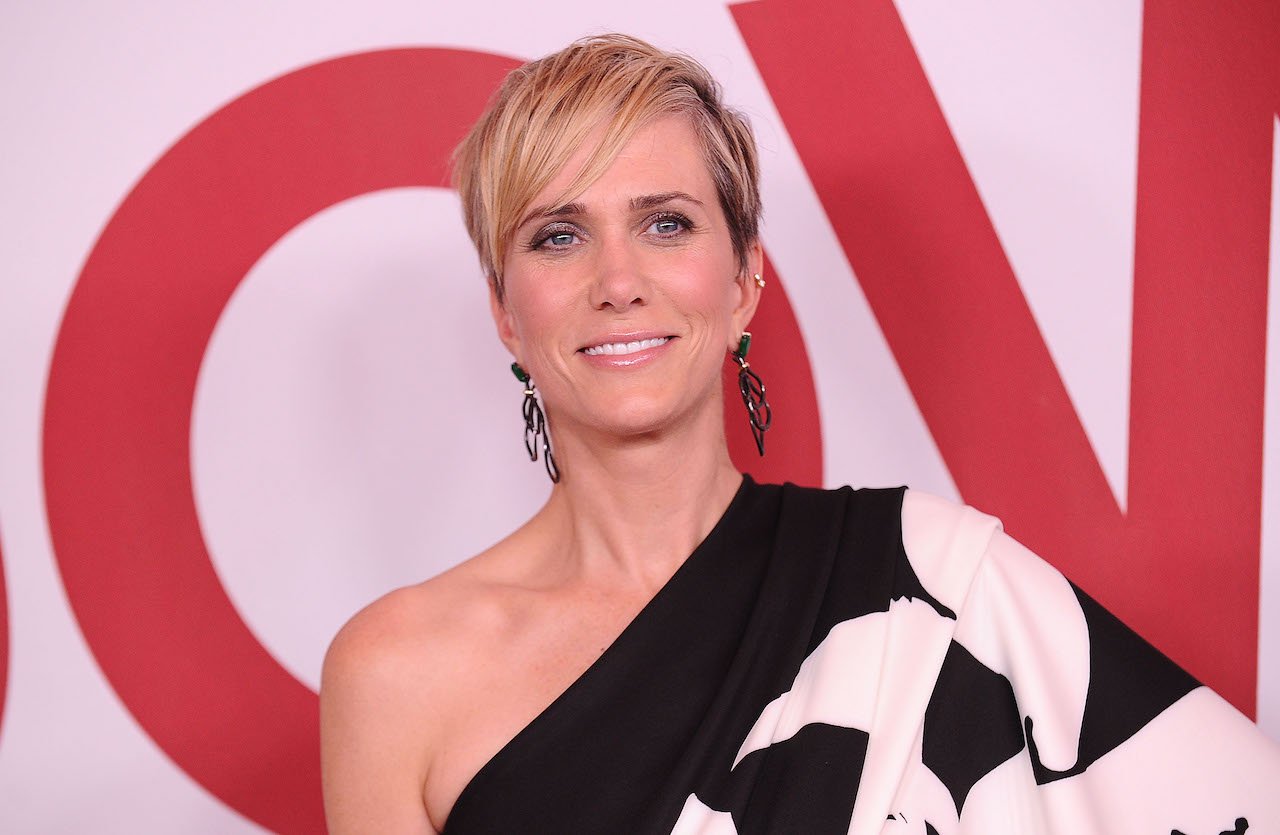 Wiig returned to Saturday Night Live to close out 2020 and thoroughly enjoyed the experience. She spoke about it during a recent appearance on Late Night with Seth Meyers.
"Yeah, it's home, I mean, you know how it is," Wiig said. "It's obviously different now … 'cause masks and testing every day, but that's just what it is. It's home. It's the best."
She looked exactly like her 'SNL' character Gilly when she was a kid
Later in the interview, Myers mentioned that Wiig's characters on Saturday Night Live appear to be autobiographical. He then proceeded to reveal a photo of Wiig as a child, sporting dyed, curly hair.
"I blame—okay there's a lot of things I blame for that," Wiig said. "One, I was in a wedding. So that's why I have flowers in my hair and I'm wearing a dress."
Wiig blamed her thick, curly hair on the excessive amount of perms her mom forced her to get as a kid.
"Two, I had perms my entire childhood,' Wiig said. "And I didn't—my mom, she was like, 'She's gonna have curly hair.' Like, I had no—I was young, I didn't know."
She also admitted never knew why her mom wanted her hair to be so curly when she was younger.
"No, I'm gonna ask her right now," Wiig said. "Mom, if you're watching…"
Kristen Wiig died her hair with Sun-In when she was young
Aside from the curls she wore, Wiig also looked similar to Gilly because she had red hair in the photo. Apparently, her mother also made her put Sun-In in her hair, which caused it to change from its natural color.
"And also, there's some Sun-In in my hair, there," Wiig said. "And when you have brown hair—which I do naturally—when you put Sun-In in your hair, it turns red."
She still likes to alter her hair when she's at home
Even though she's much older now, Wiig still likes to mess around with her hair while she's at home.
"I still wear wigs around the house. … I have a wig costume trunk,'" Wiig said.
Wiig assured Myers that her odd habit isn't an everyday thing.
"It's not a normal thing where I just wake up in the morning and go, 'You know what… I'm Cheryl today,'" Wiig said. "But they are fun to put on the babies."
Source: Read Full Article