Ned Eisenberg has died. The Law & Order: SVU actor was 65. Here's a look back at his life and career.
Ned Eisenberg's death
Eisenberg died after a battle with cancer. His wife, Patricia, shared the news with TMZ. She tells the publication that her husband continued to work despite his illness because he needed healthcare coverage.
"As Ned would say, he was attacked by two very rare assassins — cholangiocarcinoma and ocular melanoma," Patricia said in a statement. "Over the course of two years, he bravely fought the cancers in private while continuing to work in show business to ensure that his medical coverage paid for himself and his family."
Ned Eisenberg in 'Law & Order' and 'Law & Order: SVU'
Eisenberg played James Granick in Law & Order from 1997 to 2009. He appeared in seven episodes. Eisenberg is best known for playing Roger Kressler on Law & Order: SVU. He also played the characters Klein Rothberg and Jerry Kleinert.
Ned Eisenberg's movies and TV shows
One of Eisenberg's early acting roles was an appearance in the 1980 movie The Exterminator. He played the role of Marty. The following year, he appeared in the TV movie We're Fighting Back. After that, he played Eddy in The Burning. Some of his other movie roles included appearances in The Soldier, Deadly Force, Firstborn, and Hiding Out.
Eisenberg went on to appear mostly in television productions. From 1985 to 1989, he appeared in four episodes of Miami Vice, which starred actors Don Johnson and Philip Michael Thomas. From 1990 to 1991, Eisenberg appeared in The Fanelli Boys. He played Anthony Fanelli for 19 episodes. Some of Eisenberg's other acting roles include appearances in The Marvelous Mrs. Maisel, The Blacklist, Mare of Easttown, and Little Voice.
Mariska Hargitay says working on 'Law & Order: SVU' allows her to make a difference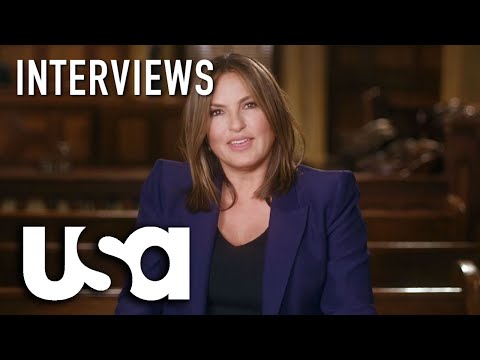 Those who work on the set of Law & Order and Law & Order: SVU are grateful for the opportunity to make a difference in the lives of those who have been affected by crime. Mariska Hargitay, who plays Olivia Benson on Law & Order: SVU, says working on the crime drama has allowed her to help those in need.
During an interview with USA Network, Hargitay says her favorite thing about working on Law & Order: SVU is pretty much everything. She says it feels good to know she's doing work that makes a difference in the lives of others.
"I get to do every day what I love to do," says Hargitay. "I like to make the world seem a little smaller, a little safer, a little more full of love, a little more full of compassion, empathy, kindness, and justice."
RELATED: 'Law & Order: SVU': How Mariska Hargitay and Peter Hermann Resolve Their Arguments
Follow Sheiresa Ngo on Twitter.
Source: Read Full Article