If you're wondering what national treasure Lisa Rinna thinks of Scott Disick and Amelia Hamlin dating, her attitude appears to be ¯\_(ツ)_/¯. Lisa hasn't spoken out much on her 19-year-old daughter's relationship with the 37-year-old reality star, but she recently hopped online to share a pap pic of Scott and Amelia wandering the beach that featured Scott wearing a bucket hat. Psst: this is the same hat on a diff day: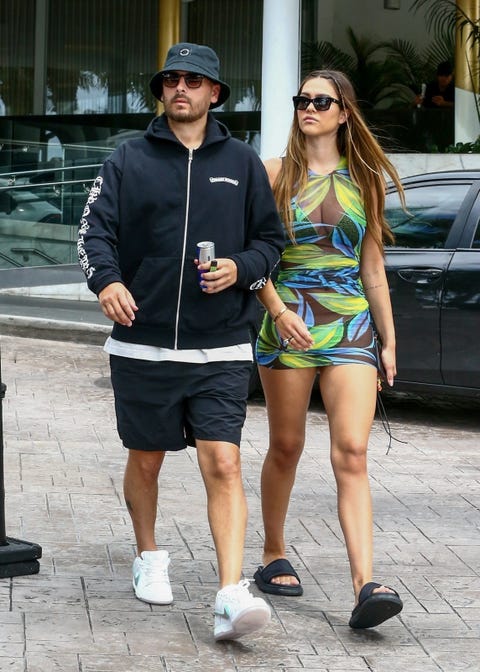 Lisa reposted the pic with the caption "Welp we both seem to share a love of bucket hats" and then dropped a side-by-side of herself and Scott in which she's wearing this hat:
https://www.instagram.com/p/CNTL6dij0GJ/?utm_source=ig_embed&utm_campaign=loading
A post shared by L I S A R I N N A (@lisarinna)
Truly, an icon.
Looks like Lisa has a pretty good attitude about Scott and Amelia's whole thing—though back in 2019 when rumors of their relationship were first floating around, sources said she had concerns. An insider close to the family told The Sun that Lisa is "worried" for Amelia but wasn't planning to speak out about it: "Lisa isn't going to acknowledge this publicly for now because she's still trying to wrap her head around it and thinks this is a phase. But when she does speak about it, she'll keep her cool, but really, she's worried. That's her youngest kid."
Meanwhile, another source told E! News that both Lisa and Harry Hamlin "believe this is just a phase" and were upset about Amelia splitting with her ex Mercer Wiederhorn: "Harry and Lisa were sad to see Amelia and Mercer Wiederhorn split because they loved Mercer. He was like family, but they understand."
Scott, his bucket hat, and Amelia have been dating for months now, so looks like they're going strong!
You love celeb drama. So do we! Let's overanalyze them together.
Source: Read Full Article