In case you hadn't noticed, Prince William and Prince Harry are in a 🗣️ ROYAL FEUD. Or as some are calling it, a 🗣️ ROYAL RIFT. This drama has been going on for longer than Miley Cyrus and Liam Hemsworth's entire marriage, and chances are, you're vaguely confused. We all are! Because truly, what are they even fighting about and why can't everyone just get along? Things are a teeny bit better now, but in the interest of living for trying to understand the drama, we've put together a timeline of this brotherly spat. So let's go back, back to the beginning—aka winter 2018.
November 2018
At this point, likely fictitious rumors of drama between Meghan Markle and Kate Middleton had already been floating around the internet for a bit. Remember how Meghan allegedly made Kate cry? It was a whole ridiculous thing. But then veteran royal reporter Katie Nicholl dropped the bombshell that it was actually Harry and William who hadn't been getting along. According to Katie's sources, the brothers had a falling-out around Christmas 2018, when Harry told Wills he wasn't doing enough to include Meghan in the royal family.
Per Katie's source, "Harry felt William wasn't rolling out the red carpet for Meghan and told him so. They had a bit of a fall-out, which was only resolved when Charles stepped in and asked William to make an effort. That's when the Cambridges invited the Sussexes to spend Christmas with them."
You'd think that'd be the end of things, but HA HA HA, please. We've only just begun.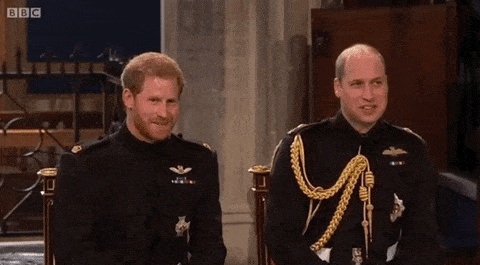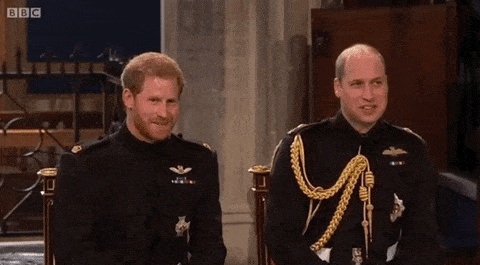 December 2018
The Sussexes and Cambridges spent Christmas together in Sandringham with the Queen, but unfortunately, royal watchers discovered a video of William seemingly ignoring Meghan during the family's walk. Basically, she tried to talk to him and he spent a ton of time adjusting his scarf instead of responding:
February 2019
Truly a woof month for the royal fam. Mostly because TLC started promoting its not-at-all-dramatic documentary, Kate v. Meghan: Princesses at War? I'll give you a moment to side-eye the universe. During the doc, Nicholl explained that "William was quite concerned that the relationship had moved so quickly. And being close to Harry, probably the only person close enough to say to Harry, 'This seems to be moving quickly, are you sure?'"
She continued, "I think what was meant as well-intended brotherly advice just riled Harry. Harry is hugely protective of Meghan. He saw that as criticism. He interpreted that as his brother not really being behind this marriage, this union, and I don't think things have been quite right ever since."
But wait, it gets more dramatic: The doc also featured a quote from The Sun's royal correspondent Emily Andrews, who revealed that Harry "went ballistic and said, 'You're trying to wreck this relationship before it's even started.'" This was probably the point at which the "royal feud" became the ROYAL FEUD.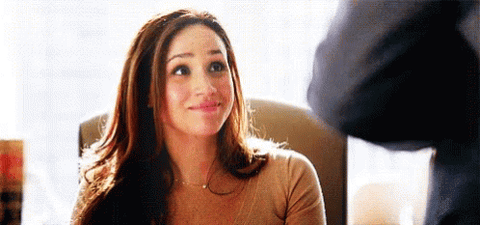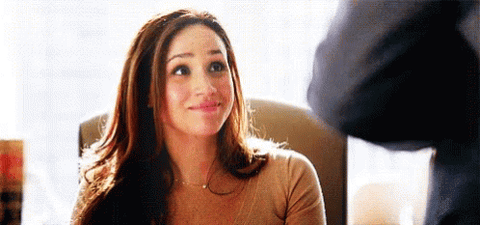 March 2019
In March, royal filmmaker Nick Bullen confirmed to Fox News that Meghan and Kate were never feuding….It was always Prince William and Prince Harry. "It's actually that William and Harry have had a rift," he said. "All brothers fall out. All families fall out. Their fall-out at the moment is becoming public."
Bullen also claimed Prince Charles and Queen Elizabeth II were "working incredibly hard to try and make sure everybody reunites," which apparently was unsuccessful!
April 2019
In an effort to find out what the literal hell was going on, Cosmopolitan spoke to Nicholl, who told us, "I don't know that things will ever be the way they were between William and Harry."
Womp. On top of that, the brothers attend an Easter service together and legit didn't speak. As People noted, "Harry was seen talking to [his cousin] Zara and exchanging pleasantries with Kate but did not say anything to his elder brother." Yup, there's a video:
https://www.instagram.com/p/Bwg3ZHtHEs7/?utm_source=ig_embed&utm_campaign=loading
A post shared by Meghan (fan page) (@_duchess_of_sussex)
May 2019
Things kinda seemed to be improving in May. By which I mean The Mirror dropped news that Kate and William had visited Meghan and Harry's new house, Frogmore Cottage. Apparently, their hang sesh was an "olive branch" between the brothers, and Kate urged Harry to extend the invitation because she was "acutely aware of the importance of William and Harry getting along, not just because of perception but their collective responsibility to the monarchy as a whole."
Plus, we got a video of Kate being super stoked about Meghan and Harry's baby:
https://www.instagram.com/p/BxKjV02l92a/?utm_source=ig_embed&utm_campaign=loading
A post shared by Duke and Duchess of Cambridge (@kensingtonroyal)
June 2019
So, this is when Meghan and Harry officially split from the joint charity they shared with Kate and William. It was honestly just a logistical decision and had nothing to do with drama, but that didn't stop everyone from reading into it.
Here's what they say in a statement:
https://www.instagram.com/p/Bfvnw7UhkIo/?utm_source=ig_embed&utm_campaign=loading
A post shared by Duke and Duchess of Cambridge (@kensingtonroyal)
Awkwardly, June also happened to be the month we found out that William and Harry fully weren't speaking before Archie's birth thanks to Nicholl telling ET, "I was told by a very senior royal source that actually they weren't talking to each other at one point. I certainly think now that Archie is here, it has probably really helped to improve the relationship. William is over the moon that his brother is a dad."
July 2019
Positive update! William and Kate joined Meghan and Harry for Archie's christening and they took a group photo. Negative update! William made a weird face and everyone thought he was unhappy to be there:
Body-language expert Judi James told the Daily Mail that William's pose is hard to "fathom," explaining:
Oh, and an Us Weekly source revealed that William and Kate "weren't happy about" Meghan and Harry's decision to keep the christening private and that "William thinks his brother is going overboard keeping Archie out of the spotlight" and "blames Meghan."
August 2019
Sources claimed that William and Harry planned to put their differences aside to remember their mother Princess Diana on August 31, the anniversary of her death. "They talk about the little things about Diana that made them laugh: the ski trips and outings to Thorpe Park [a British amusement park]; the effort she went to on their birthdays…all of it," a source told Us Weekly, adding that Kate Middleton and Meghan Markle planned to "join them later."
October 2019
Good ol' October. Otherwise known as the month Prince Harry broke the internet and admitted there is, in fact, a royal rift. "Part of this role and part of this job, and this family, being under the pressure that it's under, inevitably, you know, stuff happens," he said when asked about the rumored feud during ITV's documentary Harry & Meghan: An African Journey. "But look, we're brothers, we'll always be brothers. And we're certainly on different paths at the moment, but I'll always be there for him, as I know he'll always be there for me."
He continued, "We don't see each other as much as we used to because we're so busy, but you know, I love him dearly. The majority of this stuff [in the press] is created out of nothing, but you know, as brothers, you know, you have good days, you have bad days."
At this point, a source told Us Weekly that Kate hated seeing Meghan and Harry "so miserable" and hoped "William and Harry will eventually heal the rift and let bygones be bygones. The way she sees it, life's too short to make enemies—especially with loved ones. She's very levelheaded like that. Kate's a family girl."
Meanwhile, royal expert and author Phil Dampier backed this news up to The Express:
November 2019
The month kicked off with a source telling Us Weekly that things are still "not great" for Harry and William and that "they both need to put in the effort to rebuild their relationship."
Awkward, since the palace revealed that Meghan and Harry would be spending Christmas with Meghan's mom, Doria Ragland, instead of at Sandringham with the royal fam. They tried to downplay the drama, saying, "This decision is in line with precedent set previously by other members of the Royal Family and has the support of Her Majesty the Queen," but sources said there's more to the story.
"The rift between William and Harry is one of the main reasons behind their decision. As it's Archie's first Christmas, they want it to be super special. It'll be just Doria and the three of them," a source told Us Weekly following Buckingham Palace's formal mid-month announcement. "The drama surrounding the couple has caused a huge amount of stress. They're making their family their number one priority right now."
But did you honestly think that was all? LOL, sure. As the holidays swiftly approached, People gave more context about why the Sussexes and Cambridges have been drifting apart as of late.
"Everyone was doing their duties, doing what they needed to do on behalf of the family—and that was that," the source said. "But there is a divide between the four of them. It's hard for people to digest, because everyone wants them to be such a unit."
It also doesn't help that William and Kate are prepping to be the future king and queen of England, obviously—the source admitted that this is driving an even bigger wedge. "William is the future king. There is going to be some competitiveness between him and Harry," the source said. "That already puts a rock in the relationship."
But despite all the ~drama~ behind the scenes, the royals have no choice but to keep up appearances. "They're going to have to try to figure out how to be civil, but they are on different paths now," the source added. "It's just the reality of the situation."
January 2020
WOW WOW WOW. Only a few weeks into 2020 and an absurd amount of royal news has already gone down. Harry's friend and journalist Tom Bradby spoke to Good Morning Britain and made some comments about the royal rift between Harry and William, and boy, did he give us juicy details. According to Bradby, "things" were definitely said, but the good news here is that Harry and William are trying to become closer in the wake of the drama.
Meanwhile, Meghan and Harry announced that they'll be stepping back from their senior royal duties, adding even more fuel to the feud fire. A source told Us Weekly that "William was blindsided by Harry and Meghan's decision and statement" and that "there's still a rift between the two brothers. It's sad because when they were younger, William would be the first person Harry would go to with big news like this."
It didn't help that Harry's announcement came RIGHT before Kate's birthday, which admittedly is a bit of a scene stealer. But the brothers tried to keep things calm, issuing this joint statement (which alluded to reports of William "bullying" Harry out of the fam):
The good news? The Sun's Dan Wootton reported that the brothers managed to patch things up during negotiations about Harry and Meghan stepping down, with a source saying, "William and Harry have spent time together privately away from the official Sandringham Summit working on their relationship and discussing their future. It has been groundbreaking in terms of saving their bond as brothers and has been totally driven by them. But Kate and Meghan, who was in Canada, did join in with some of the talks on more than one occasion—which is another sign of a real thaw in their relationship. Things are better."
February 2020
Now that the dust has started to settle, insiders are coming forward with more intel about the aftermath of Harry and Meghan's departure. People sources said Harry and William's relationship is "better than expected," although "they didn't leave on good terms by any means" and "they are both relieved that it's over."
March 2020
I'm just gonna go ahead and call March the "it gets worse before it gets better" month, alright? Here's why: Harry pays Queen Elizabeth a visit, but it only seems to worsen his relationship with William. A source tells Us Weekly that Harry and William are "both filled with anger and resentment" after going to England, which, yikes.
On top of that, William still can't get behind Harry's decision to move to Canada. "Harry knows William's mad at him for uprooting and leaving him to pick up the pieces," the source adds. "But the way Harry sees it, Meghan's happiness is way more important….Harry's fed up with being judged or expected to act a certain way."
All this tension was on full display during Meghan and Harry's final appearance with William and Kate at the Commonwealth Day Service. Body-language expert Blanca Cobb analyzed their collective interactions and thought they were "lackluster among the four of them, particularly Kate's lack of acknowledgment."
Toward the end of the month, though, Harry and William's relationship seemingly begins to improve as the Sussexes prepare to officially step back from the royal fam—they're communicating again! Sure, it took a whole-ass pandemic to make it happen, but who cares about the logistics? According to a report from Daily Mail, Harry and William are on speaking terms again and both agreed to do their part with helping out their homeland in this crazy time.
Leading up to Meghan and Harry's March 31 cutoff date, "Meghan told her inner circle of friends that Harry has been communicating with Prince William and the Queen on a pretty consistent basis. She said this world crisis has actually brought them all closer together, especially Harry and his brother," a source tells the outlet. "Harry has made it very clear to them that he will do whatever he can to help from Canada. Meghan said they are grateful, especially Harry, that they could spend time with his family before all this insanity began."
Sounds promising, right? Well, it gets even better because Meghan, who admittedly felt kinda bad for being a factor in Harry and William's disintegrated relationship, thinks the guys can "patch things up eventually."
April 2020
Meghan and Harry are completely done with their royal duties as of April 1, 2020. This is just the beginning of the Sussexes' new life, so we'll have to wait and see how William takes to royal life without Harry nearby.
https://www.instagram.com/p/B-XTsETJsU0/?utm_source=ig_embed&utm_campaign=loading
A post shared by The Duke and Duchess of Sussex (@sussexroyal)
June 2020
Harry and Will are apparently leaning on each other right now, which sounds pretty healthy/good/not feud-ish! As Harry adjusts to life away from the UK, he's leaning more and more on his big brother, according to a new Us Weekly report.
"Moving to a completely different country is never easy for anyone, including Harry. And he wasn't expecting to be faced with so many obstacles," Us's source says. "William's advised Harry to return to London or move elsewhere, somewhere safer. He's concerned about his brother's well-being and safety."
Ah, but just when we think that things are starting to turn around, Us drops another report—this time claiming that William is still hella annoyed with Harry's decision to up and leave England (here we go again).
"William is so tired and done with the drama of it all," the source said. "Seeing Harry cut ties with virtually every aspect of his English life and identity is so hard to fathom." And while the move "breaks William's heart," the distance is good for him and Harry because they "need space and time to breathe, then hopefully they'll work it out."
July 2020
Thought the royal feud was dying down? Welp, think again, because Finding Freedom—a new biography about the Duke and Duchess of Sussex by royal reporters Omid Scobie and Carol Durand—is pretty much reigniting the whole thing.
Apparently, William told Harry that he needed to "take as much time as you need to get to know this girl," which Harry didn't take very kindly to. And on top of that, a source close to William says he didn't want his brother to be "blindsided by lust."
The excerpt also says, "In those last two words, 'this girl,' Harry heard the tone of snobbishness that was anathema to his approach to the world" and that "to remove Meghan from the equation, Harry was tired of the dynamic that had become established between him and his older brother." *le sigh*
August 2020
William and Harry kick off the month on speaking terms, which is a good start! Royal author Phil Dampier told New Idea (via the Daily Mail) that "the pair are speaking at the moment but the conversations are stilted and difficult."
In other promising developments, Will and Kate wished Meghan a public happy birthday with this super cute Insta:
https://www.instagram.com/p/CDdbi1Jl2LG/?utm_source=ig_embed&utm_campaign=loading
A post shared by Duke and Duchess of Cambridge (@kensingtonroyal)
And then a new source talked to ET, saying this whole "royal rift" is actually about money more than anything else:
September 2020
After a relatively quiet month of no big royal family events and nice happy birthday wishes, huge news drops: Prince Harry and Meghan Markle signed a multimillion dollar deal with Netflix. The news probably wouldn't ruffle feathers, except for the fact that Netflix is responsible for The Crown, which the royal fam has very…mixed feelings about.
According to The Sun, Prince William was especially unhappy with Harry over it. "William and other senior royals are incredibly uncomfortable about this drama and livid Harry is now in partnership with the company that's airing it."
Later that month, a new book by royal author Robert Lacey is released titled Battle of Brothers, and it gives more insight into William and Harry's feud. Lacey claims William actually went ahead and got Princess Diana's brother Charles Spencer involved in how fast Harry was moving with Meghan, and Harry was…not…thrilled.
"The result of the Spencer intervention was an even more bitter explosion," an excerpt from the book published by the Daily Mail reads. "Once again Harry refused to slow down. He didn't blame his uncle. He understood why Diana's brother should want to help. Yet he was furious with his elder brother for dragging other family members into the row. The fraternal fissure became established. There would be patch-ups and reconciliations, especially when a public show of unity was required. But that anger and mistrust—that distance—has lasted to the present day."
The book also claimed Harry was "fighting back tears" during one particular "royal snub" by his brother during one of their final royal events together.
October 2020
Robert Lacey released another excerpt of his book Battle of Brothers publicly, and this time alleged that William and Harry had a "showdown" over Meghan being involved in British Vogue's "Forces of Change" issue because not all the content was impartial.
https://www.instagram.com/p/B0ebh7tlnVl/?utm_source=ig_embed&utm_campaign=loading
A post shared by The Duke and Duchess of Sussex (@sussexroyal)
Per The Mirror, Lacey claims that literally no one knows what ~exactly~ went down during this conversation, but it was "another classic Harry explosion, followed by a further, even deeper rift."
Separately, Lacey claimed William took this picture to send a "message" to Harry:
https://www.instagram.com/p/B636hFwHEyc/?utm_source=ig_embed&utm_campaign=loading
A post shared by The Royal Family (@theroyalfamily)
"According to insiders, this formal photograph, taken in the Buckingham Palace Throne Room a week before Christmas 2019, was the idea of Prince Charles, anxious to promote his cause of the 'slimmed-down monarchy.' Palace sources have also let it be known that the plan of depicting the direct line of royal succession was enthusiastically supported by Prince William, who was not saying anything for the record—but who wanted to send his younger brother a message."
Well, it kinda worked. The Times claims Harry and Meghan were indeed upset and saw it as a "signal that they were being excluded from royal life."
November 2020
Okay clearly things have not been fantastic between the royals lately, and Queen Elizabeth seems to know it. A new report from The Express claims she's planning a group counseling session for everyone to clear the air.
Later in November, Remembrance Day passed in the U.K., and Harry and Meghan, and William and Kate all honored it separately.
According to The Sunday Times (via People), Harry asked to have a wreath of poppies laid on his behalf, but the request was turned down by courtiers because he doesn't represent the royals in an official capacity anymore. FYI, the Queen was apparently not aware of Harry's request.
Either way, Harry is said to be "deeply saddened" by the decision, and he and Meghan Markle went ahead and visited the Los Angeles National Cemetery in order to lay flowers at the graves of two Commonwealth soldiers.
https://www.instagram.com/p/CHVE5V_FZmC/?utm_source=ig_embed&utm_campaign=loading
A post shared by Duke and Duchess of Cambridge (@kensingtonroyal)
In short: What a time to be alive.
Source: Read Full Article