Attention everyone waiting for either Camila Cabello or Shawn Mendes to drop a breakup song: looks like Shawn is about to do just that 'cause he hit up Instagram to tease a new single called "It'll Be Okay."
As Billboard notes, the clip features Shawn singing some pretty telling lyrics like "Are we gonna make it?" and "Is this gonna hurt?" And we won't need to wait long for the rest of his musings because the song drops tonight, Wednesday, December 1, at 7 p.m. ET.
A post shared by Shawn Mendes (@shawnmendes)
Comments on the post make it clear fans think this is, indeed, a song about Shawn and Camila's recent split, with one person writing "HEARTBREAK ERA" and another adding "it's the breakup song yall," and yet another saying "He always wrote songs about Camila and is still writing songs about her 😢❤️ I miss them."
"It'll Be Okay" comes just a couple weeks after Shawn and Camila's split, which they announced on Instagram in a joint statement on November 18. "Hey guys, we've decided to end our romantic relationship but our love for one another as humans is stronger than ever," they said. "We started our relationship as best friends and will continue to be best friends. We so appreciate your support from the beginning and moving forward."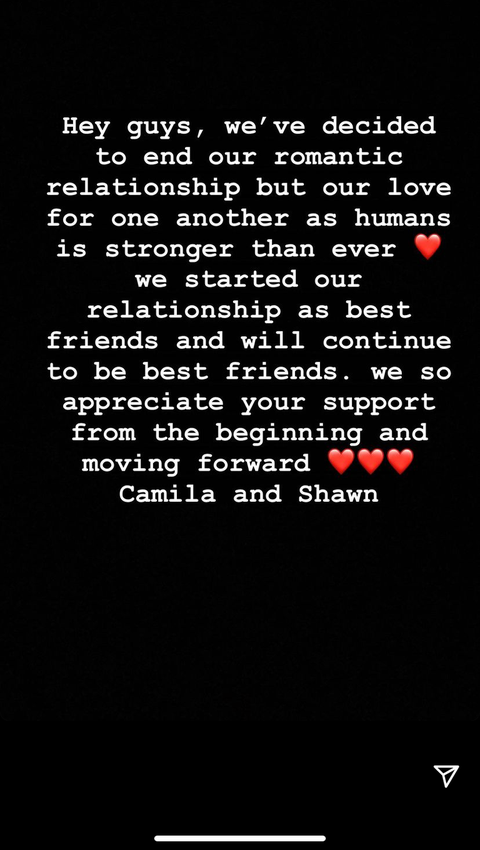 The former couple haven't spoken out further about their breakup, but stay tuned for Shawn's song tonight for more insight into how he's doing, I guess!
Source: Read Full Article