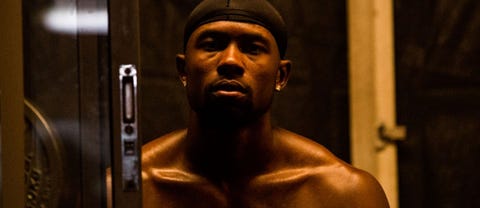 You have to get up very early in the morning to get as cut as Trevante Rhodes. Like you literally, actually have to get up before dawn if you want to build the same impressive physique as the star of Moonlight, The Predator, and Susanne Bier's new movie, the postapocalyptic thriller Bird Box (available on Netflix Friday).
"I wake up at 4:30, I meditate, then I go to the gym for a couple hours, do abs, whatever muscle that is for the day, we jog, and we start our day at eight," Rhodes tells Men's Health of his highly regimented regimen.
It's said that successful people start their day at 4 a.m. That's one among many possible explanations for the increasing success of Rhodes in the last two years following his breakout role in Barry Jenkins' Oscar-winning Moonlight. His routine is as good for the body as the soul. "I think it's kind of like a chicken-and-egg thing," says Rhodes while discussing Bird Box, his career, and his holistic approach to fitness. "But I think everything starts mentally. Everything starts mentally and spiritually, emotionally, all of those things. Everything is, for me at least, inside out."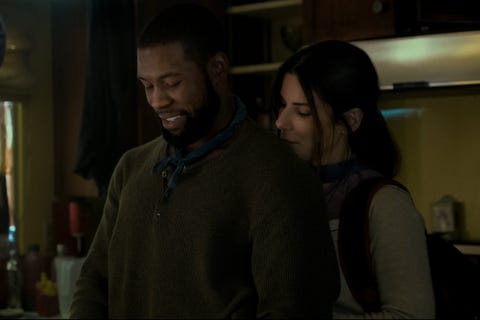 Trevante Rhodes and Sandra Bullock in 'Bird Box.'

Merrick Morton/Netflix
Getting out of bed and hitting the weights requires a conscientious effort: For most, an alarm clock's caterwauling is something met with exhausted appraisal rather than enthusiasm. Rhodes is no different.
"I'm human," Rhodes offers. "The alarm goes off, I'm like, 'Ah, I want to sleep!'" But the days when sleep prevails, he notes, are the days when he simply doesn't feel the same. It's a matter of lifestyle. "I know that personally I need this, and I need to get up, I need to drink my water, I need to do all these things for me to continue the quality of life that I like."
View this post on Instagram
#Happy @calvinklein
A post shared by Trevante Rhodes (@_trevante_) on
A good, early gym session leaves him feeling like he can do anything. To hear him describe his workouts is damn near poetic, a process of breaking down both body and mind through fatigue, washing that fatigue away in the shower, and emerging invigorated, ready to confront the day. If that sounds punishing, take it back to meditation. "I jog on the treadmill with the lights off, man. It's just peaceful, you know? I know it sounds strange, but it's so quiet, I feel like you can breathe."
Rhodes' mindset regarding the marriage of the interior to the exterior has no doubt helped propel him through a busy 2018, though that isn't how he's processed the past year. "Honestly man, it's real weird," he chuckles. "Or not weird but… at least me personally, I don't see that. To me it just seems real slow. I guess I just live every day as every day." A good philosophy for taking life as it comes at you.
All the same, on the outside looking in, Rhodes has kept his plate generously portioned: After starting off in January with Nicolai Fuglsig's 12 Strong and carrying into September with Shane Black's The Predator, he's ending the year playing alongside Sandra Bullock in Bird Box, an adaptation of the 2014 Josh Malerman novel. (Oh, and he was in Westworld.)
Bird Box reads like a blend of this year's runaway horror hit A Quiet Place and the 2008 M. Night Shyamalan disaster The Happening: Unidentified entities arrive on earth and instigate global hysteria plus mass suicides, the key being that the poor suckers who see the invaders unceremoniously off themselves. See no evil, or you're dead. Enter Rhodes as Tom, a marine among a group of survivors including Bullock's protagonist Malorie. Tom, of military make and possessed of Rhodes' musculature, strikes an imposing figure at first glance but immediately establishes himself as a calm, collected voice in the crowd, one of the only cool heads in a room full of terrified civilians. The rest of the cast mostly carries on with clamoring impatience, but with his unflagging composure, Tom wills them to remain composed, too. (Though not for long: Poise and self-control are vices when facing the apocalypse.)
The character's perfectly suited to Rhodes, part action hero, part kindhearted guy you want in the foxhole with you regardless of his uppercut. Rhodes' zen, found in that intersection of physical and mental health, gave him a foundation for Tom as well as his other recent roles, which he sees as deeply connected. "This year particularly, it was interesting. All the characters for me are intertwined," he says. "The workout has been relatively similar in regards to that, but I want there to be something positive about the person you see."
"Positive," of course, could come down to treating the body with respect (if seeing Rhodes inspires you to get into shape, that's a win for him). But as much as Rhodes loves to entertain, he loves to educate, too. "I want you to feel everything whenever you go to a film that we're involved in," he says. "Those are the things that speak to me, you know, so I have to be true to what I believe in, what I love."
Rhodes sees definitions of masculinity changing—"not enough," he admits, but still. He highlights the #MeToo movement as one source, but he too has indelibly shifted the culture. His Chiron in Moonlight, an extension of a character seen through three life stages, scrambles cultural expectations of a muscular black drug dealer. His pose is hard, but he's sensitive and desperately in need of love, including from a man. Masculine identity, of course, isn't a monolith. Rhodes especially hopes that his work steers audiences toward varied representations of the black American male experience in film. "A hundred percent," he enthusiastically declares. "Because Denzel did that for me, you know?"
Rhodes carries his influences with him in each of his movies, from Moonlight to Bird Box, citing his mother as having a formative impact on his own identity. "I was raised by a single mother. So seeing her life and how she maneuvered it is interesting," Rhodes explains. He credits his mom for putting him in sports as a kid, from taekwondo to soccer to football. He played running back for Little Elm High School, and competed as a sprinter while at the University of Texas from 2008 to 2012, helping his team secure a championship victory.
"I'm happy we're having more conversations about what masculinity is, and what it means to be a man," Rhodes says with pride. "And I liked the opportunity that I had to show what I feel to be a strong, good man."
At some point, maybe we'll see Rhodes walk away from action and genre material that makes use of his looks and let himself go: "I'm gonna wait until I'm a little bit older to put on the fat body and then do that kind of stuff," he laughs. "I kind of want to live. I want to be here for a minute!" Until that day comes, he's going to keep choosing projects that allow him to push the boundaries of what it means to be a man—including being a dude who could knock you down who happens to have a mushy heart.
Source: Read Full Article