Celebrities such as Tyler Perry, Lenny Kravitz, and Dionne Warwick mourned Cicely Tyson in Jan. 2021. Many artists shared their memories of working with the Sounder star and how they considered her apart of their family.
Although she was close to several stars, was Tyson biologically related to singer Whitney Houston? Here's what we know.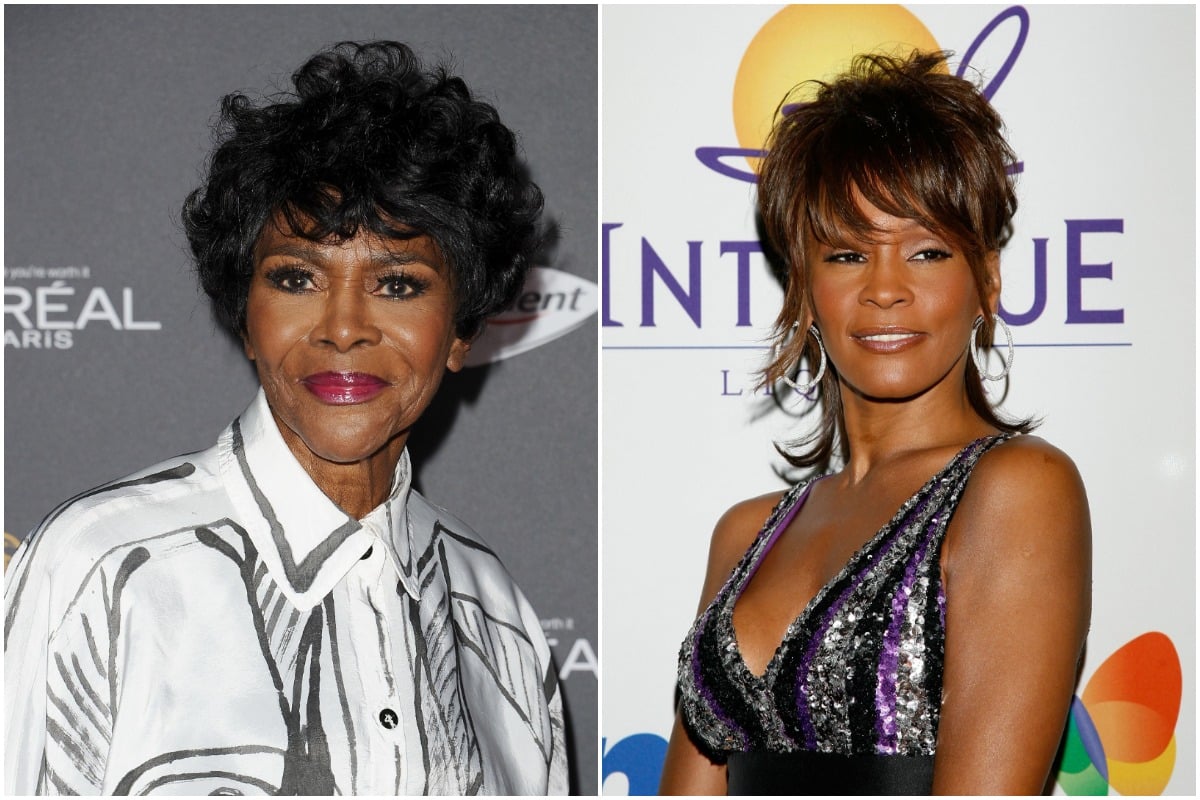 Cicely Tyson attended Whitney Houston's funeral in 2012
Tyson landed her first significant role as Rebecca Morgan in Sounder in the 1970s. Following the film's success, she continued to work on more projects, including Roots and The Autobiography of Miss Jane Pittman. She also became close friends with Houston's cousin, Warwick. After Tyson died, Warwick said the actor was a "dear friend" of hers and shared a photo of them with Maya Angelou on her Twitter page in Jan. 2021. 
"Another of our True Giants has gone to collect her Reward," the singer wrote. Cicely Tyson Was and Is one that I personally had the pleasure of knowing and revering as a Friend and Champion on many levels. She gave us so very much with her passionate talent that luckily will be preserved for."
Warwick and Tyson's friendship is possibly how the actor connected with Houston and her mother, Cissy Houston. In 2012, after the singer died from accidental drowning, the Fried Green Tomatoes actor attended her funeral. According to NJ, she mourned the singer alongside Jennifer Hudson, Brandy, and Angela Bassett. 
Are Cicely Tyson and Whitney Houston related?
While Tyson was a close friend of Houston's family, the entertainers aren't related. However, both women left legacies behind when they died. Two days before her death, Tyson released her memoir, Just As I Am, which gives her fans a look into her personal life, including her marriage to Miles Davis. Additionally, the actor, who had a reported net worth of $10 million, earned an honorary Oscar in 2018 after multiple award nominations.
As for Houston, the "Exhale" singer continues to make history years after she died. In addition to having 11 No. 1 songs on the Billboard chart, the Rock and Roll Hall of Fame inducted her in 2020. That same year, Houston became the first Black artist in history to have three diamond-certified albums, per Forbes. 
Cicely Tyson opened up about her family before she died
Although she wasn't related to Houston, Tyson discussed her famous extended family members in her book. She dedicated several pages to her "beloved godson," Kravitz. Additionally, the actor became the godmother of Perry's son in November 2014.
In her memoir, the Emmy winner discussed her family life publicly for the first time. When The Help actor was 18, she and her ex-husband, Kenneth Franklin, welcomed a baby girl. Despite her fame, Tyson strived to keep her daughter's life private. The actor even used a pseudonym, "Joan," to describe her child throughout the memoir. 
"Joan felt, as a child, that she had to share me with the world," she wrote. "I give her now, in adulthood, what my heart has always longed to bestow — my undivided focus, along with the full measure of her privacy."
Source: Read Full Article