When it comes to your wedding day, women dream about that day since they were little girls. They think about every aspect of the wedding, from who is going to be their maid of honor to what kind of flowers they want. Picking out a wedding dress is one of the most important aspects of the wedding and it's something that brides take very seriously. As a bride, you want to look perfect on your big especially since there will be a photographer. There have been many insanely beautiful celebrity weddings over the years and the dresses have been to die for. We suppose it helps when you have millions of dollars at your disposal, but mostly it has to do with the great taste of the bride. From Kate Middleton to Lauren Conrad, there have been celebrity brides out there that have been giving us true inspiration for our own weddings.
Not every celebrity has great taste, though, and sometimes, a few of them have even shocked us when it came time to show off their wedding dresses. We have seen camo print among other absurdities that have made us wonder why they wore a dress at all. They would have been better off in jeans. Some brides just don't have the class that it takes to make their big day and elegant affair. Check out these 12 best-dressed brides in Hollywood and 12 who were better off getting married in jeans.
24

Best-Dressed: Kate Middleton Shined
When it comes to royal weddings, it's a pretty big deal. Unlike celebrities, the Royals don't hide their weddings from the press, they come out in style and show off for all the world to see. In the case of Prince William and Kate Middleton, two billion people watched the royal wedding in 2011. That's insane. Kate Middleton was, of course, breathtaking in a modest gown that had her own sense of fashion in it. The gown was designed by Sarah Burton of Alexander McQueen. The Clarence House stated, "Miss Middleton worked closely with Sarah Burton in formulating the design of her dress." As it should be. It is her big day, after all, she should have a dress that suits her personality. The best part of the dress was the fact that the lace was cut by hand.
23

Worst-Dressed: Gwen Stefani's Ombre Dress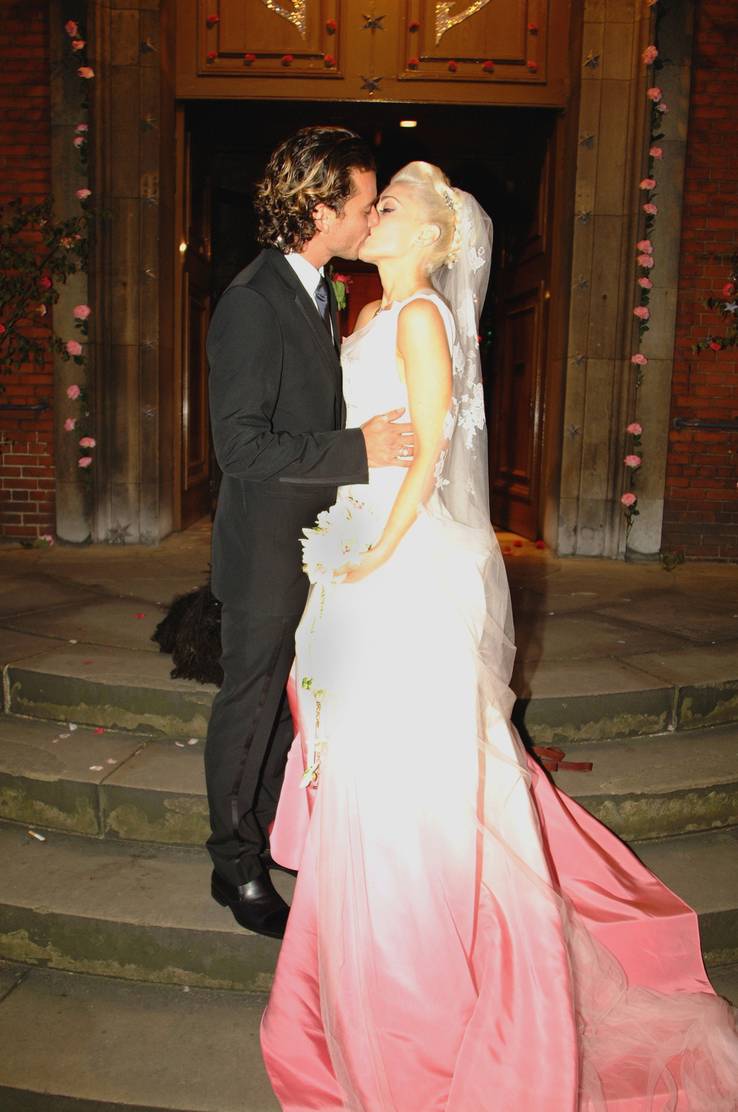 We should have seen it coming, after all, it is Gwen Stefani and she certainly has a unique sense of style. But even so, we expected more out of her dress than this. The bodice looked loose and unflattering and don't even get us started on the pink ombre. She has now divorced from Gavin Rossdale so again maybe it was the dress. Either way, we hope if she marries Blake Shelton, she chooses something more iconic. The gown she wore on The Voice when she did the rendition of Used to Love You was more breathtaking than her own gown. She has stated that she felt tortured before the divorce. "Nobody except for my parents, the people involved, and whoever they told [know specifics]," the singer said. "Nobody would believe it if I could really say what happened. I went through months and months of torture."
22

Best-Dressed: Jessa Duggar Was A Princess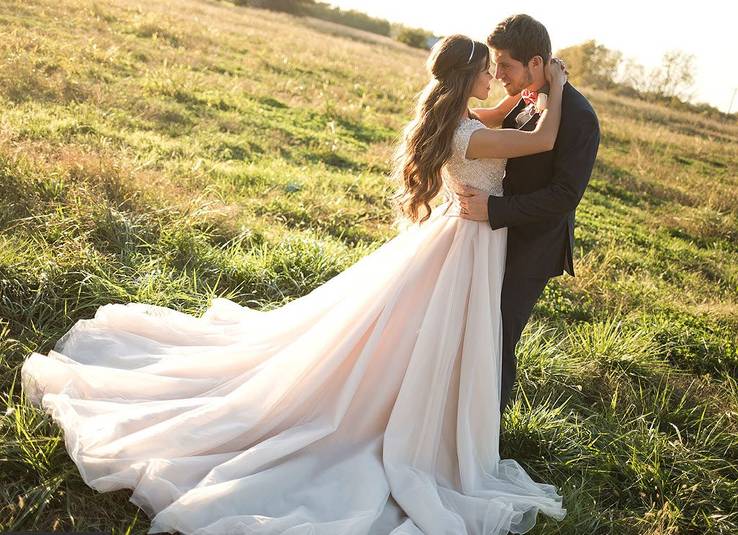 There's nothing like a long flowing gown to make a woman feel like a princess. This will be one wedding dress that we didn't mind in pink because it was so pale it was almost white. Jessa Duggar had a real reason for choosing a pink dress. "I don't want to have the exact same dress as Jill," she revealed.
"Our weddings are pretty close together, so I thought it might be fun to have something just a little bit different."
It certainly was a huge difference from her sister's dress who had a form-fitting dress. She was a young girl when she got married so it must have felt like a dream come true for her. "I know, this is a day I am going to remember for the rest of my life."
21

Worst-Dressed: Katie Price's Dress Was Overboard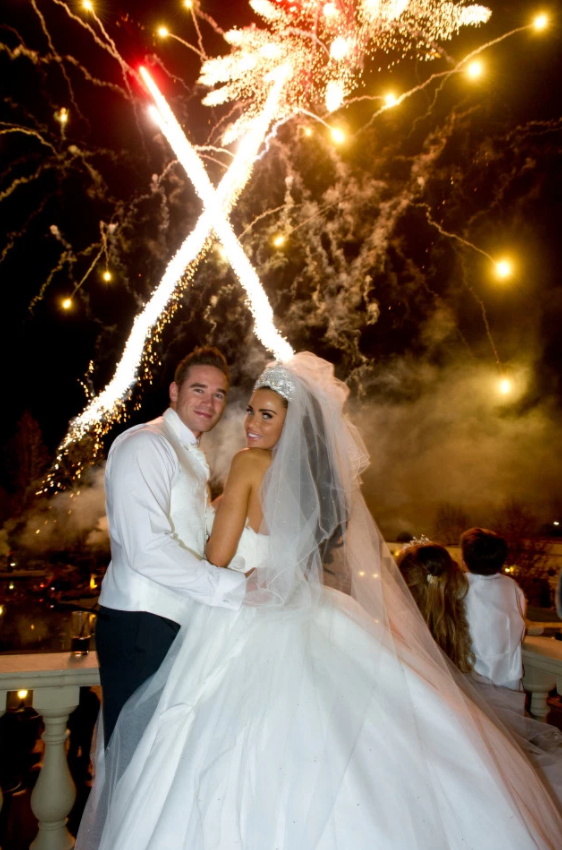 Katie Price has been married three times and each time her dress has been horrendous. She has the worst sense of style especially when it comes to picking a wedding dress. We can't even get over the pink dress she wore, it was so overboard. It was revealing, flashy and downright gaudy. That's the dress, but the crown was on a whole other level. Her choices were so overdone that it was borderline ridiculous. She had a Disney-inspired wedding which was half the problem.
The dress "had a tulle skirt five meters wide, as well as a seven-meter train and thousands of hand-sewn Swarovski crystals."
Price admits that the dress was one of her biggest faux pas, but she loved it. "I still love my dress," she revealed.
20

Best-Dressed: Jewel Looked Elegant In Lace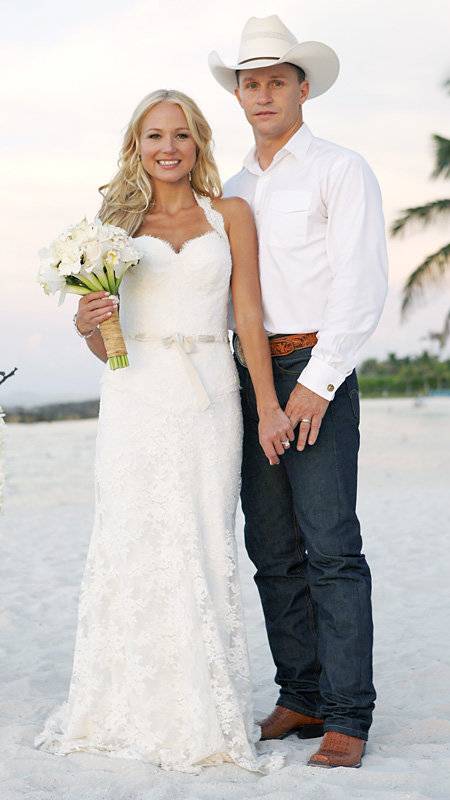 Her wedding to Ty Murray was obviously a country theme and the lace fit in perfectly. At the time we thought that the pop/folk singer would have got glitzier with her wedding dress but in the end, she went for the elegant touch. It might have had something to do with the fact that she was marrying a rodeo man. The dress itself was a Monique Lhuillier gown and the form-fitting style fit her to perfection. The two were married for six years, but they got divorced in 2014. She told PEOPLE,
"So we try to do it with as much humanity as possible, and we try and make sure we always think of our child first as we co-parent. Which can be challenging, but the child deserves nothing less than that.
I don't know if that's a regret. One of the reasons I got divorced, though, is when I looked at my child, I realized I wasn't the woman I wanted him to know. I had to change some things about myself."
19

Worst-Dressed: Julianne Moore's Backyard Wedding
We get it, she didn't want a traditional wedding, especially since nothing about her lifestyle is really traditional, to begin with. When she got married, her son was in attendance, so that was a good indication. But still, for a famous person who has bag loads of money, why wouldn't you at least buy yourself a pretty dress. In the case of Moore, her dress wasn't anything to write home about and she had a simple wedding in the backyard of her home. She didn't wear a white gown which is totally fine, but we didn't like the dress that she chose to wear either. She and her husband have been married for almost 22 years now and she claims their secret is that they can laugh at life and even the weird quirks that each other has.
18

Best-Dressed: Ronda Rousey Chose A Girly Dress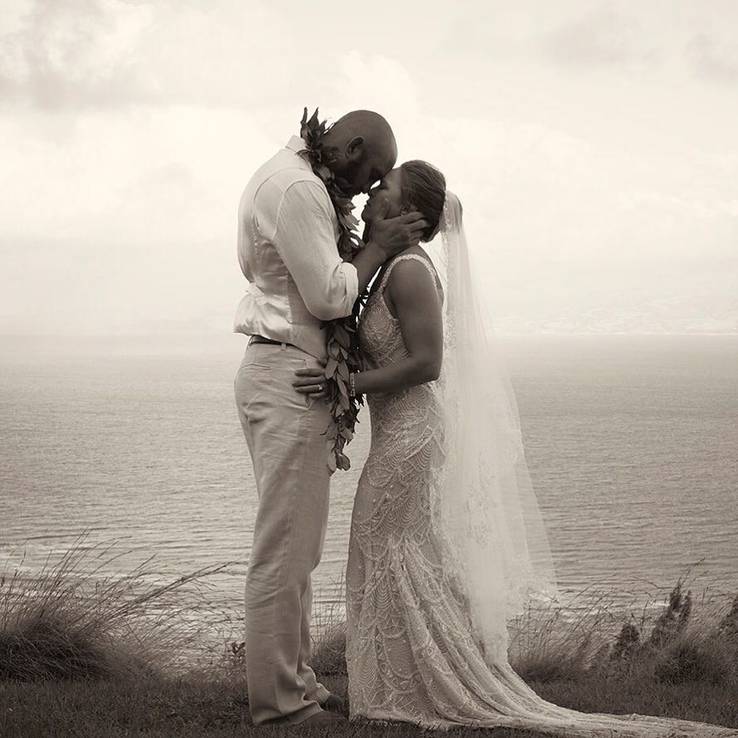 We wouldn't have expected Ronda Rousey to be on the best dressed list especially for weddings because she's such a tough girl. But she actually does pretty well when it comes to picking out amazing gowns. Her dress wasn't certainly a surprise because we didn't expect her to pick something so girly. She married Travis Browne on the same day as the epic fight between Floyd Mayweather and Conor McGregor. Her beautiful gown was embroidered and we have to say it's nice to see a smile on her face. Galia Lahav was the designer of the gown and she said working with Rousey was like working with any other bride.
"It was such a relief to work with someone like Ronda, who knows who she is and knows exactly what she wants.
We can't speak for Ronda, but we feel that she felt comfortable with our service and designs."
Featured Today
20 Surprisingly Cute Outfits That Miley Cyrus Has Worn Recently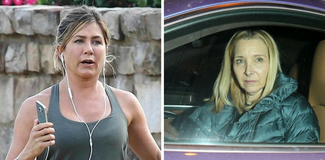 The 20 Most Unflattering Photos Of The Cast Of Friends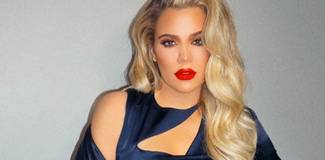 Khloé Kardashian Drops Big Money On Her Baby's Travel Gear

17

Worst-Dressed: Mama June Stayed True To Herself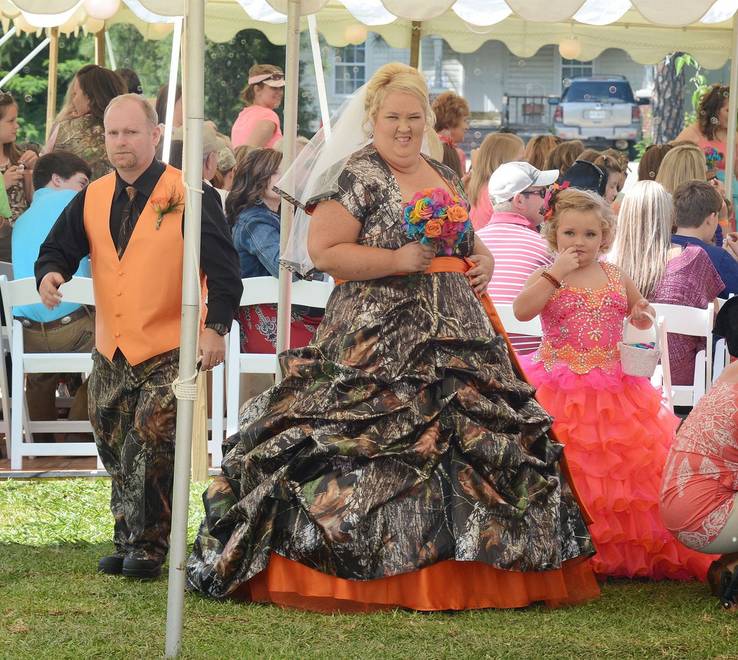 We've seen Mama June be a redneck for many years so her choice of a wedding dress should not have been shocking to us. Unfortunately, it still was. We will never understand why people will choose their wedding day of all time to sport their love of camo. We get it, your man loves to hunt but your wedding day shouldn't be the time to showcase that passion. It was painful to look at both her and her groom. Orange should never be part of a wedding dress. Mama June said this of her wedding,
"My sister baked the cake, and we spent most of the money on barbecue. We stayed true to our roots and made the focus on the family and my commitment to Sugar Bear.
You can definitely plan an event on a budget!"
16

Best-Dressed: Lauren Conrad Was Breathtaking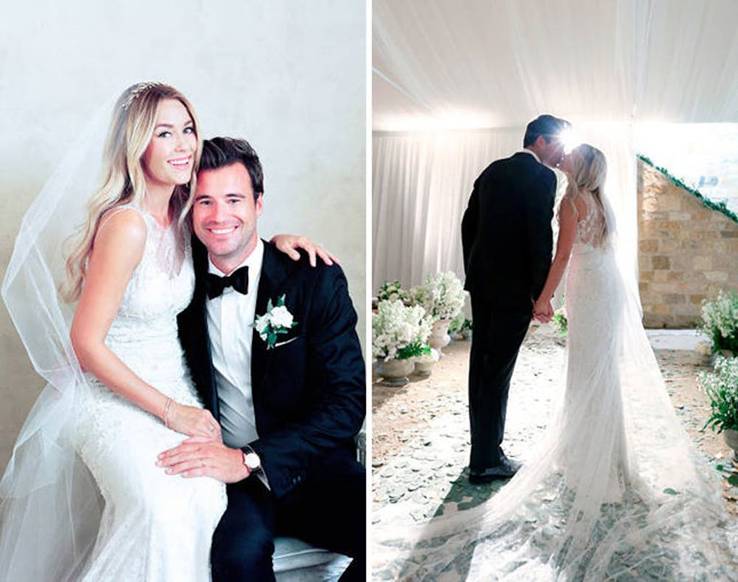 We're not really surprised that she was breathtaking on her wedding day, she is in fashion after all. She had the most elegant train on her dress made of lace that seemed to go on forever. It's definitely one of the more traditional aspects of the dress that we don't see too much of these days. It sounds like she really took care of her bridal party after all the work they put in for her wedding.
"My bridesmaids were such an important part of the entire process of getting married. From my bachelorette party to my bridal shower (and everything in between), these girls planned and partied with me for months,"
Conrad wrote on her website. "So, to show them how much I love them and how lucky I felt to have them by my side on my big day, I put together a package of gifts for each of them."
15

Worst-Dressed: Celine Dion And Her Headdress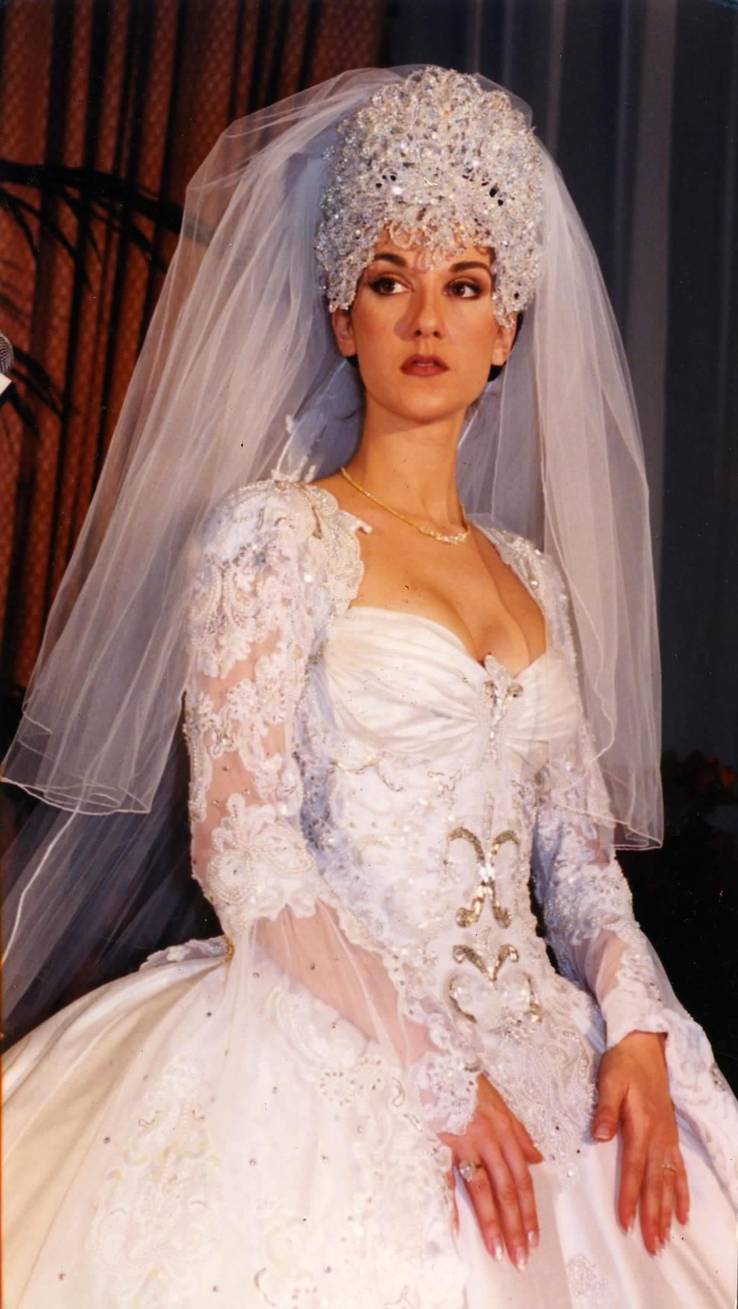 We were sad to see Celine Dion on this list, but really it had to be done. Her wedding in 1994 was so overdone and elaborate it made us speechless. We complain when rich people don't spend their money on pretty things, but there's also the other side of the extreme. When she married Rene Angelil she had an Age of Innocence inspired dress and the crystal tiara was what topped everything for us. It was covered completely in what had to be hundreds of huge Swarovski crystals and it was to the point that it was gaudy. We don't know how much the whole dress cost but it's rumored that the lace alone for the dress was $25,000. We think it was just a little overboard especially the crown.
14

Best-Dressed: Kim Kardashian Goes Big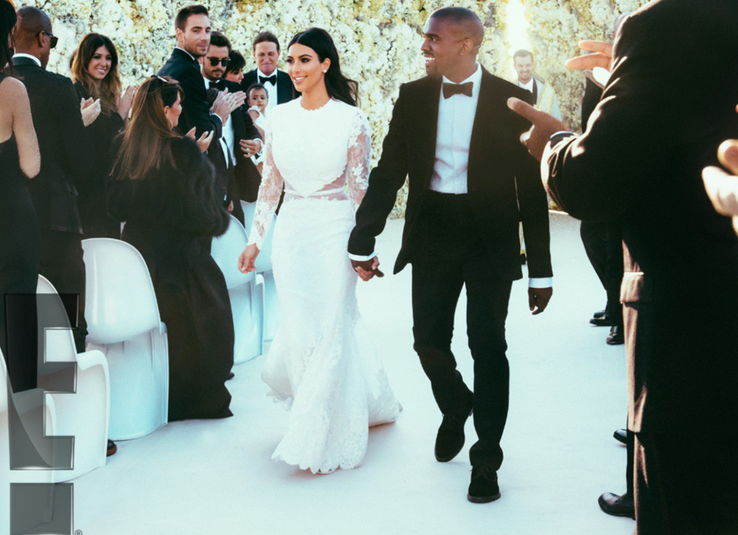 Kim Kardashian pulled out all the stops when it came to her wedding with Kanye West. The gown was breathtaking and we loved the gorgeous long train. It was also backless and Kim looked spectacular in it. It was definitely a good choice for her body type as well as the fact that it was truly a classy choice. She posted this caption on social media in 2016, "#TBT: My Wedding Dress Fitting. Our second wedding anniversary is coming up on May 24!
It's hard to believe it's been two years since we exchanged vows in Florence, Italy. I love all these Polaroids from my dress fitting with our good friend Riccardo Tisci from Givenchy.
There is no one else I could imagine designing a dress this special."
13

Worst-Dressed: Angelina Jolie's Coloring Book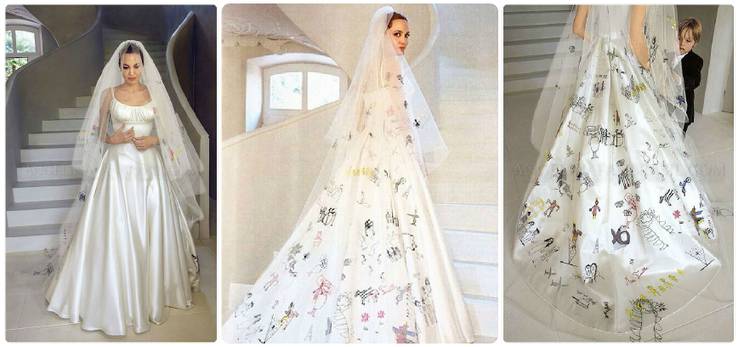 We know a lot of people thought it was super sweet when Angelina Jolie had her six children color pictures and then print them on her wedding gown, but we just cringed. Again, just like when it comes to camo, there is a time and a place and your wedding just isn't it. It's pretty clear that having children and caring for them has been the priority in Jolie's life, but we just think that the wedding dress was a scream for attention. It was just too much. Even without the colored pictures all over the dress, the dress itself was uninspired. Angelina told PEOPLE,
"We are discussing it with the children and how they imagine it might be, which is verging on hysterical, how kids envision a wedding,"
she told the magazine back in May. "They will, in a way, be the wedding planners. It's going to be Disney or paintball — one or the other!"
12

Best-Dressed: Emmy Rossum Was A Class Act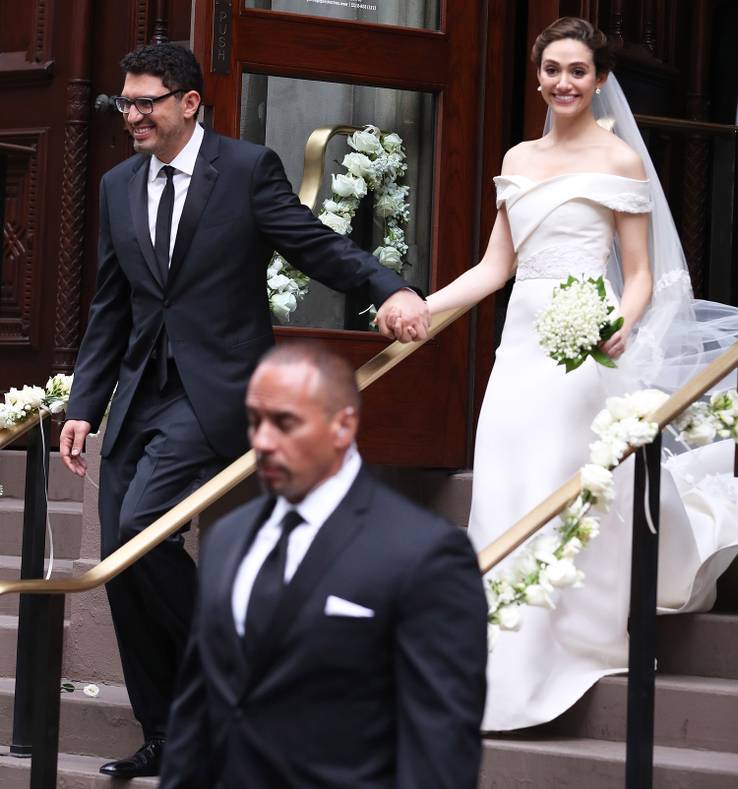 Emmy Rossum has the same classy elegance about her as we would expect from Audrey Hepburn. Before she even got engaged, she knew immediately who was going to design her wedding dress. "As soon as I got engaged, I immediately knew that I wanted Mrs. Herrera to make my wedding dress," she told Vogue. "I went in, and Mrs. Herrera and I talked about silhouettes she'd done for bridal and silhouettes I'd worn before.
I knew I'd be getting married at the temple, which is quite grand, and that the reception would be at the Guggenheim, so we knew that it needed to be a dress that could hold up to that.
And it was Mrs. Herrera's idea to make it quite modern and fresh, and kind of use the shape of the Guggenheim on the bodice."
11

Worst-Dressed: What Was Emma Thompson Thinking?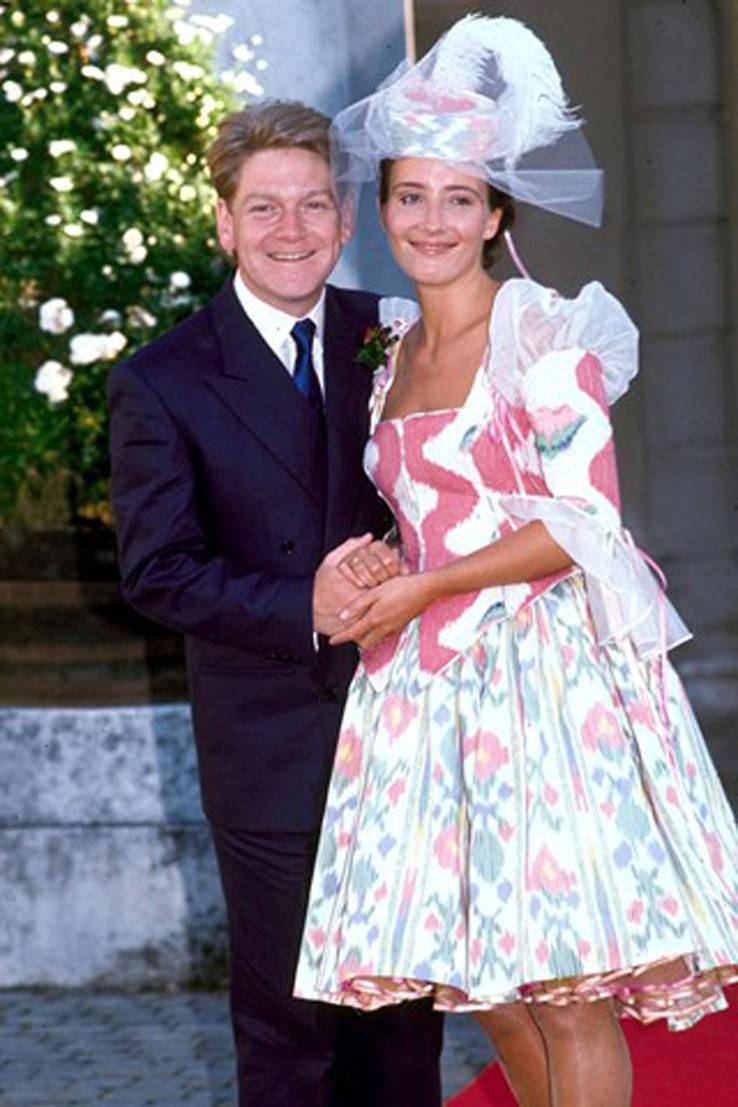 Looking back, we have to wonder what Emma Thompson thinks of the dress that she chose to get married in? It's almost painful to look at and we can't imagine why anyone would want to wear it ever, never mind for their own wedding. She was married to Kenneth Branagh for six years before she found out he betrayed her with her friends. Even after being betrayed by her friend, she still managed to call her a wonderful person. "[It] is – as Mike Nichols [the director] once said, all blood under the bridge. You can't hold on to anything like that," Thompson, said during an interview, "She's a wonderful woman, Helena." She's definitely the better woman we just wished she would have picked a better dress.
10

Worst-Dressed: Chrissy Teigen's Foxy Gown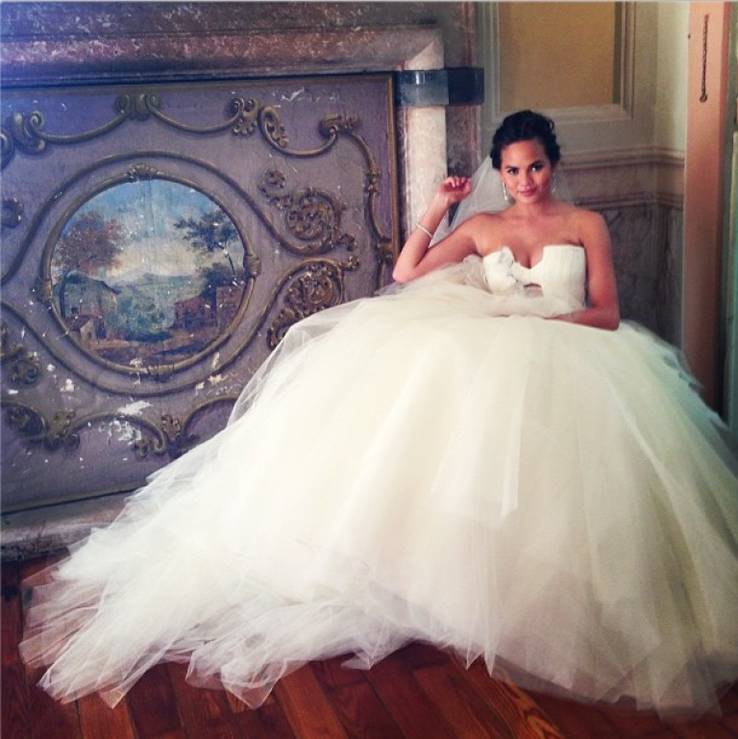 We know when it comes to Chrissy Teigen, she's usually the best dressed girl wherever she goes. She really pulled out the best when it came to her wedding gown. Not only was it a gown made for a princess but it had Teigen's classic signature fox appeal attached to it as well. Her dress had a ton of tulle, "tulle to last a lifetime.
Tulle so thick you could lean back and feel like you're sitting on a chair."
When it came to Teigen's wedding she wore three gowns, and why not when you're Chrissy Teigen. She wore one to the ceremony, which was the one that you see here and one for the reception and of course she had her afterparty dress. Teigen doesn't mess around when it comes to her wedding.
9

Worst-Dressed: Dita Von Teese Made Too Much Of A Statement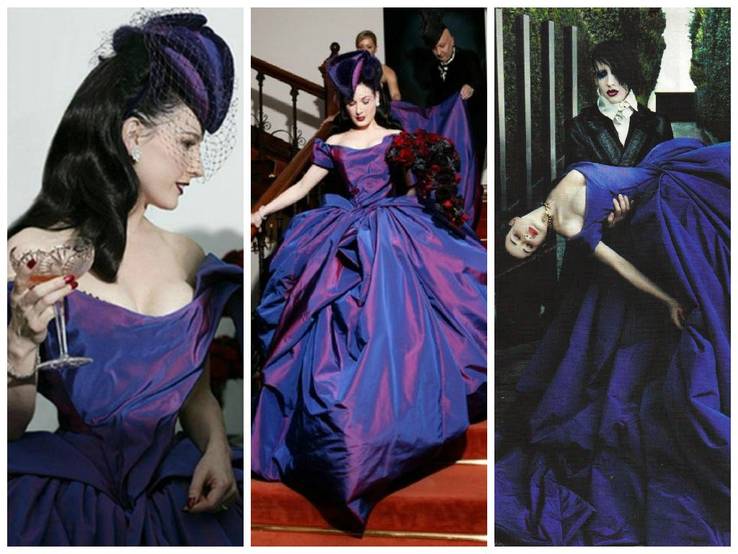 We just really don't know what Dita Von Teese was thinking when she put on this dress. She was definitely out to make a statement and it came to us blindingly. It's just the last thing that you would expect to see at a wedding. Of course, if you are marrying Marilyn Manson, we suppose you might as well throw away any sense of normalcy, to begin with. The two divorced after it was rumored that he betrayed her with actress Rachel Wood whom he dated for years after the divorce. "I would not get married if I didn't believe in it," she says firmly during an interview with Harper's Bazaar.
"I've always believed in tradition. I think both of us did, at the time.
I've even had people come to me since, saying, 'Well, didn't you have an open relationship?' No! Never! We were completely monogamous. I think people thought we were real free and open, but we really believed in commitment and tradition and our vows. But sometimes people change their ideas, I suppose."
8

Best-Dressed: Serena Williams Was A Queen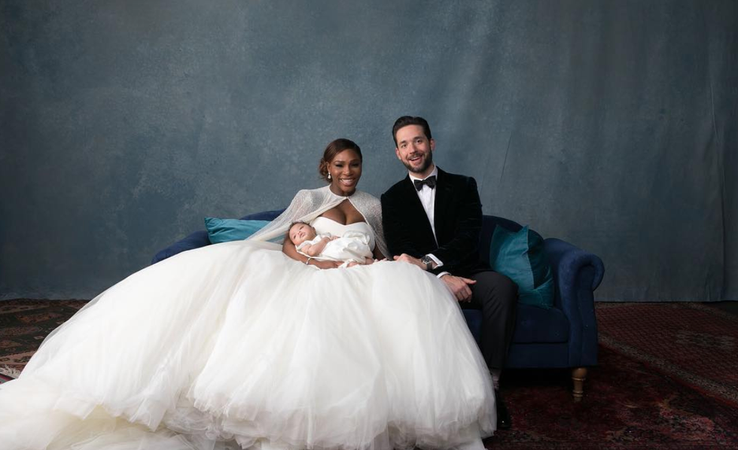 Serena Williams did awesome when it came to the choice of her wedding dress. We love it! It's so elegant and very queen-like. Her wedding was like a fairytale and the dress alone cost $2.6 million and that's a little crazy. We love the little cape around her shoulders. No one would have ever thought that the owner of Reddit would ever get a chance with the greatest female athlete ever, but it happened. It was his idea to get married in New Orleans. "Alexis really wanted to do New Orleans," explains Serena.
"It's his favorite city besides Brooklyn. It's got a heavy European influence; it's fun and has amazing food. He just loves the vibe.
The venue the Contemporary Arts Center of New Orleans — was a decision we both made. Painting and art is something I'm really passionate about, so it just felt natural and different to do it at a contemporary art museum."
7

Worst-Dressed: Luisana Lopilato Needed A Stylist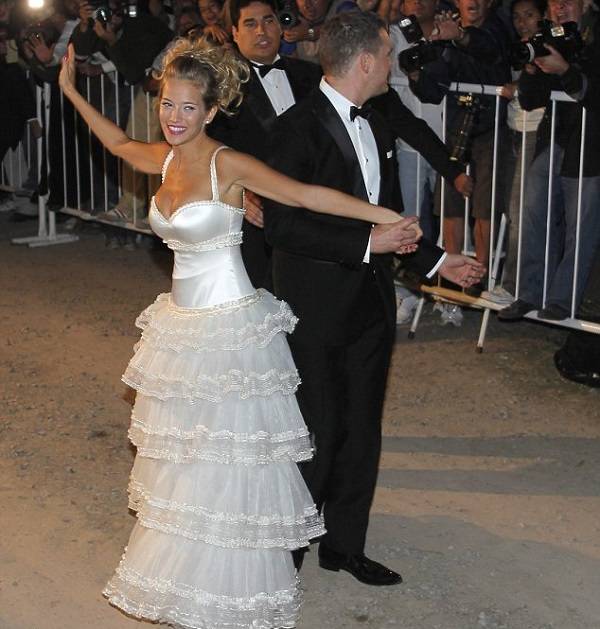 Michael Buble's wife Luisana is gorgeous, but she cannot pick a gorgeous wedding gown if her life depended on it. We can't believe out of all the choices she must have had, that this was what she decided on. She would have been in front of those three-way mirrors doing a twirl and it was this dress that she said yes to. It just blows our minds. Buble's proposal was pretty sweet, so we'll give him that. "One night, we were having dinner in my house with all my family — my father, mother, brother, sister, brother-in-law, and a few cousins too —
and suddenly Michael turns to me and says, in Spanish, 'I want to marry you.' We thought he was joking and he said, still in Spanish, 'No, really. I really want to marry you,' and then he took out the ring and gave it to me.
I still thought he was joking. Then I noticed that my mother was crying, my sister was crying, even my father was crying, and I thought, 'This is real because my father never cries.' So I started to cry too. I loved that he proposed that way — I am a family girl and it was perfect that he said it in front of them."
6

Best-Dressed: Kate Upton Was A Classy Bride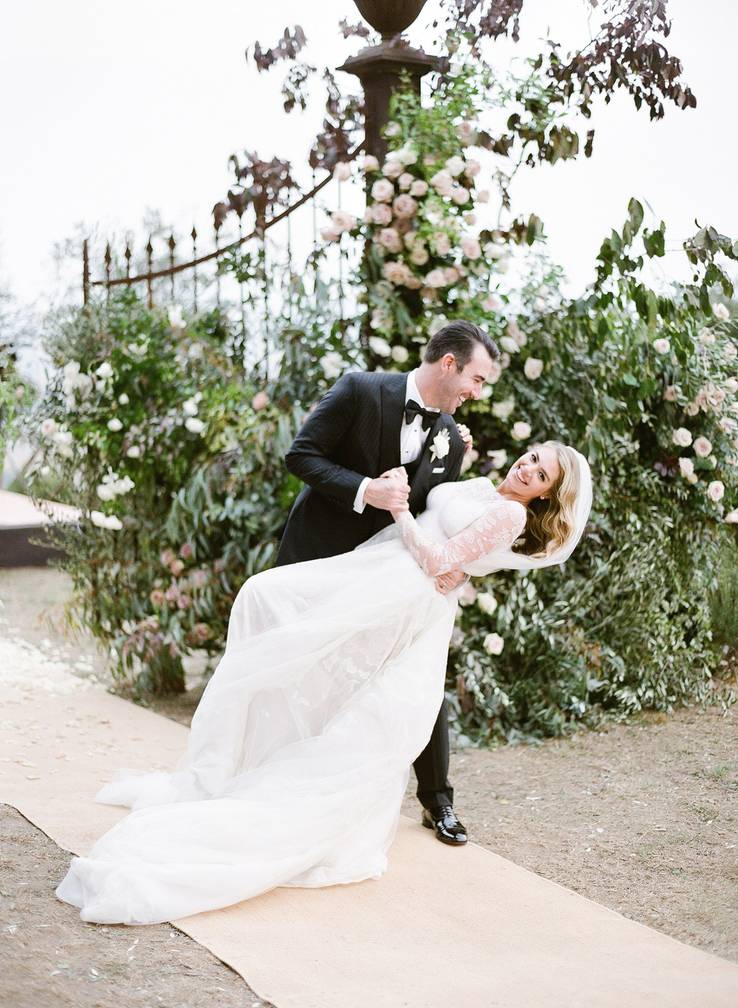 Kate Upton actually wore three gowns for her wedding, but this elegant number was for the ceremony. Considering her job often has her in bikini's we expected to see something a little steamier on her wedding day, but she busted out an elegant number that covered her from head to toe. She waited until the party started before donning a form-fitting dress. The two married in beautiful Tuscany and judging by the photos it was a magnificent location.
"It's extremely romantic and will always be a special place for us,"
Upton told Vogue. "We fell in love with the Rosewood Castiglion Del Bosco resort because of its amazing history and incredible scenery." It definitely looked like an amazing location and it offers a little more privacy from the press as well.
5

Worst-Dressed: Pamela Anderson's Nautical-Themed Attire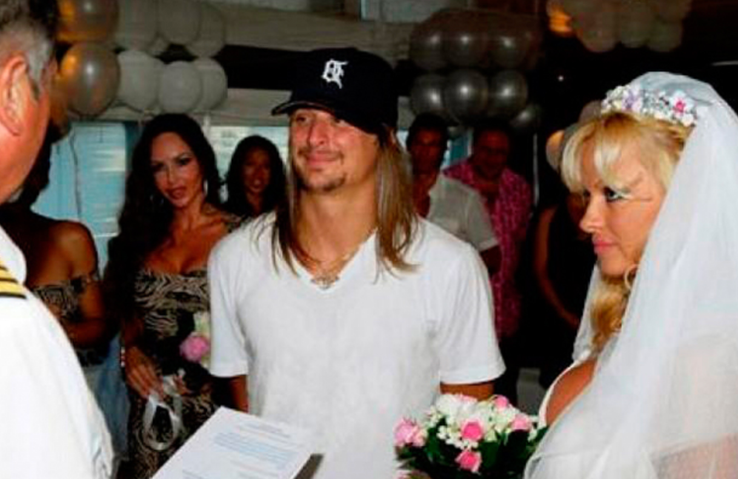 We're not even sure why she bothered at all. No, these two aren't on vacation or at a party. This is their wedding day and the bride most certainly wore white, just not a lot of it. She had the opportunity to be classy for once and she blew it right out of the park when she decided to wear a barely-there white bikini for her wedding party. Her husband had no shirt on and it just turned out to be the most redneck wedding. At least Mama June put on a dress. We knew that Anderson wasn't going to go the traditional route, but we don't think that anyone expected this. The effort put into their nuptials was probably a strong indication of how much effort would be put into their marriage.
4

Worst-Dressed: Jessica Biel Chose Cotton Candy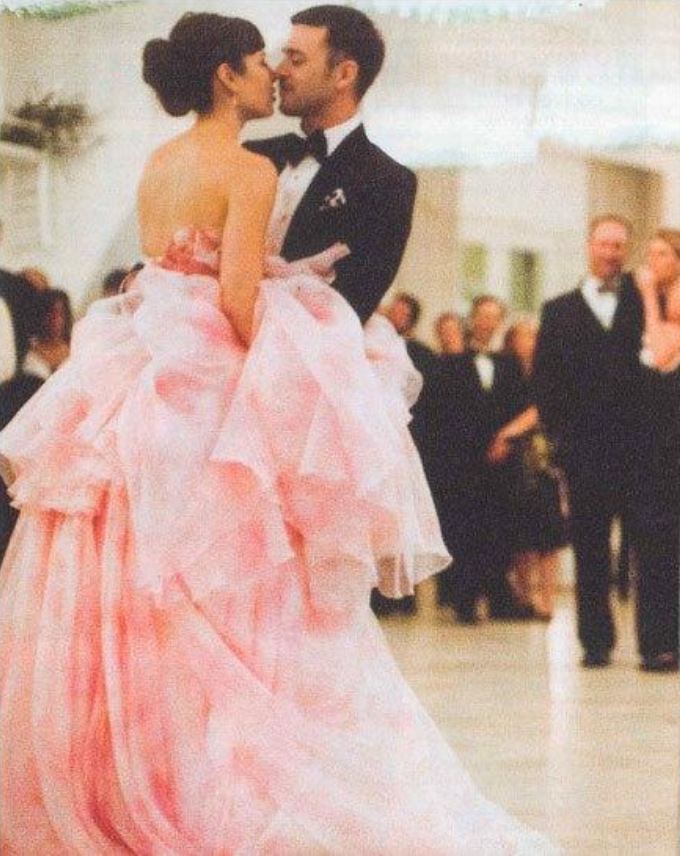 We adore Jessica Biel, especially her relationship with Justin Timberlake, but we're not sure what she was thinking when she chose this dress. We know that not all brides choose to wear white, but this looks more like a prom dress than it does a wedding dress. It may not be our favorite dress, but Biel said there was a reason why she chose it.
"I wanted the dress to be very romantic and feminine and a shape that I very rarely wear. I have never been crazy about all-white wedding dresses, for me at least.
[Giambattista Valli] had created that same fabric in a fuchsia-and-pink combination for a dress in a previous collection, and I asked him if he could create that same pattern in a white combination, and he suggested pink. It was a bit of a leap of faith at the time, but it turned out better than I could have ever imagined. [Putting it on], I felt like I had made the right choice. I felt elegant. And it moved like a dream."
3

Best-Dressed: Idina Menzel Looked Like A Princess Bride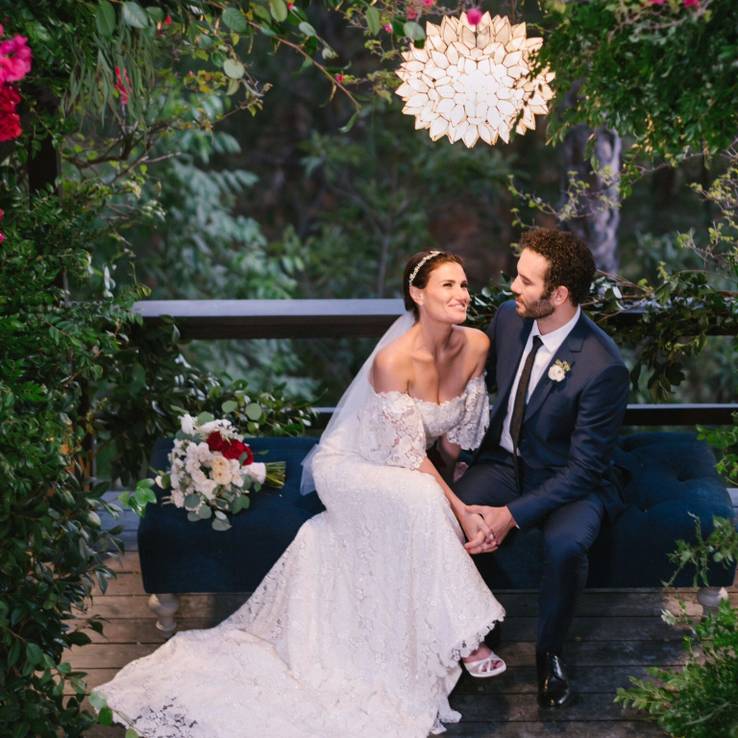 There is just something about off the shoulder dresses that make our hearts flutter. It's just such a romantic look. The dress probably made this actress feel like a goddess on her wedding day and isn't that the way it's supposed to be? She's definitely one of the best-dressed brides out there and she's probably inspired many brides to go off the shoulder. She's been enjoying married life and feels that there is no doubt in her mind that she picked the right guy. "He's my guy. Family, to me, means being able to be yourself, sit back on the couch and relax, and watch a movie with the people that know you better than anyone else in the world," she said. It sounds like she has a great life.
2

Worst-Dressed: Kaley Cuoco Should Have Said No To Pink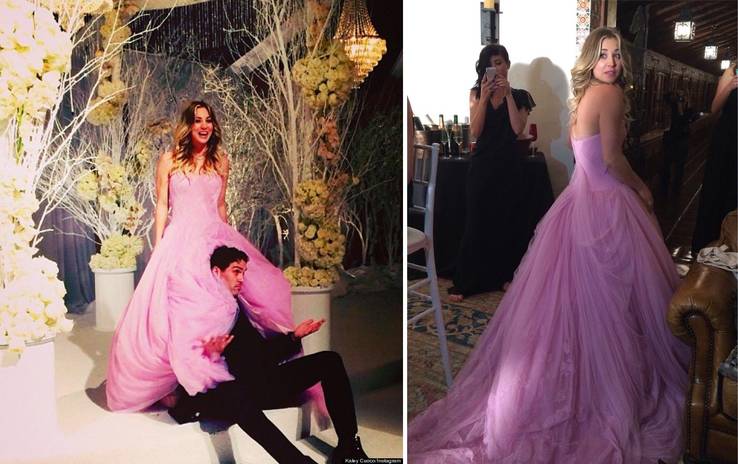 What is with all these gorgeous brides choosing pink for their wedding day? I guess we can at least be glad that she didn't go with hot pink, but still, these sweet pink shades are giving us a toothache. Considering she is divorced from Ryan Sweeting now, maybe the dress was an omen. She is now engaged to Karl Cook and it will be interesting to see what dress she chooses for her next wedding, hopefully, she won't go the pink route again. "You know what, I'm not ashamed of anything that happened," the actress said of her divorce on CBS This Morning. "I fall in love really hard. I go deep and that person is it for me. I love hard, and when it's over, it's over."
1

Best-Dressed: Nikki Reed Was Urethral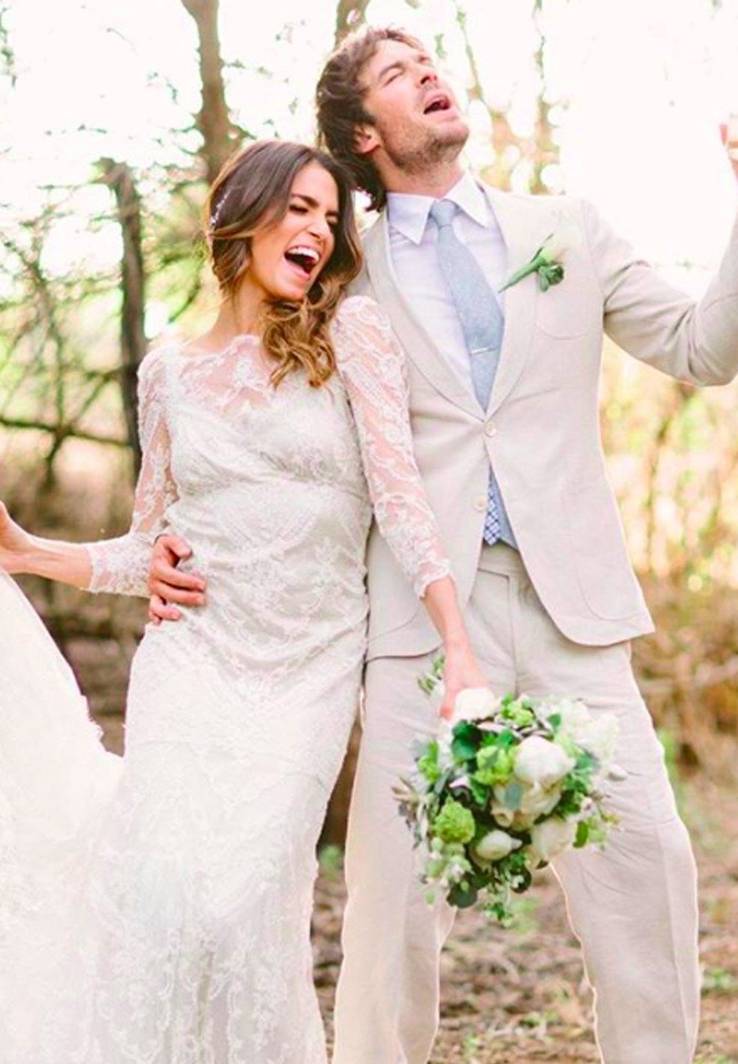 Seriously how happy do these two look and a little drunk, we might add? Just kidding, they probably weren't. Everyone thought that Ian Somerhalder and Nina Dobrev were going to end up together, but when they broke up, it was her friend Nikki Reed that got to wed the handsome vampire. Reed made an elegant choice and we love the fact that it was backless. The dress was designed by the couture legend Claire Pettibone.
"Nikki was a delight to design for, and I wish the beautiful couple every happiness,"
Pettibone said. Reed may have been even more happy about her ring. "It's so gorgeous, and I'm very lucky for many reasons, but I look at it every day and best-dressed think, 'Wow,'" Reed gushed to PEOPLE about her ring. "I don't even know what to say. Is that not the most beautiful thing you've ever seen in your whole life?'"
References: cosmopolitan.com, harpersbazaar.com, instyle.com
Source: Read Full Article