Over the last two years, life as we know it has shifted. People started—and continued—spending more time at home, a side effect of pandemic living that just sort of stuck. Rather than getting dressed for the function, folks have been looking for pieces for a movie night at home—and Jerry Lorenzo, the designer behind Fear of God, is now there to help them.
Entering into the loungewear space with Fear of God Home, Lorenzo has created a unisex collection of elevated basics that allow you to rest and relax without looking like a slob. Available in two shades, cement and black, they include an oversized waffle robe, boxer briefs, and sleepwear separates. In celebration of the collection, launched exclusively at Just One Eye, Lorenzo worked with interior design studio Clements Design to create in-store bedroom simulation that brings to life the Loungewear campaign. "I thought it was the perfect place to create this environment and imagine where our hero from the campaign lives," Lorenzo told me of the installation.
The designer also released a series of images and a short video starring model Adonis Bosso and his son Saphir, both wearing the collection. "The piece that we created was honest to my life and where I'm pulling from," says Lorenzo, a father of three. "It was also something that I felt like the world hasn't seen a lot of."
I sat down with Lorenzo at his showroom to learn more about the future of Fear of God Home, what he likes to do in his downtime, and the eternal quest for the perfect pair of underwear.
I read in a story that you feel that your talents lie in creating clothing that tackles the question, "How do you make something sophisticated for everyday reality?" Is that what you wanted to do with Fear of God Home? What made you want to get into loungewear?

It's this indoor/outdoor, California lifestyle that really informs so much of what we do. You get up in the morning and you may want to run and go do something. You want to kind of have on something that allows you to do that without having to think about changing. Our lives are so busy and our goal is for the wardrobe to give you the freedom to do what your day is requiring of you. For us, it was important that we created pieces that are defined for the home. But, if you wanted to step outside in them you could do that too.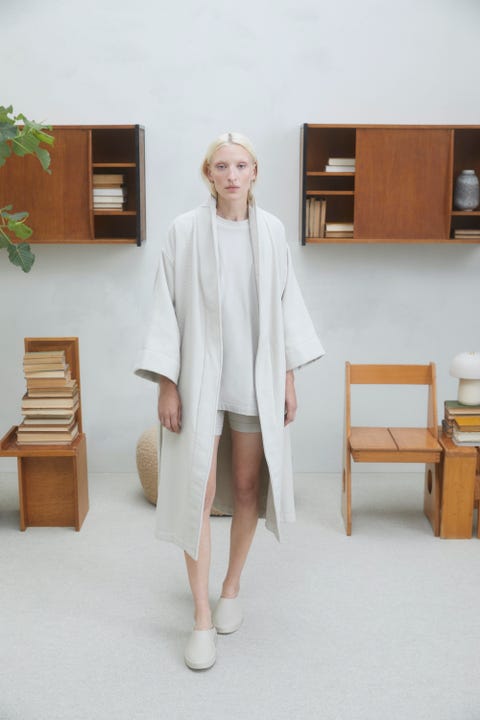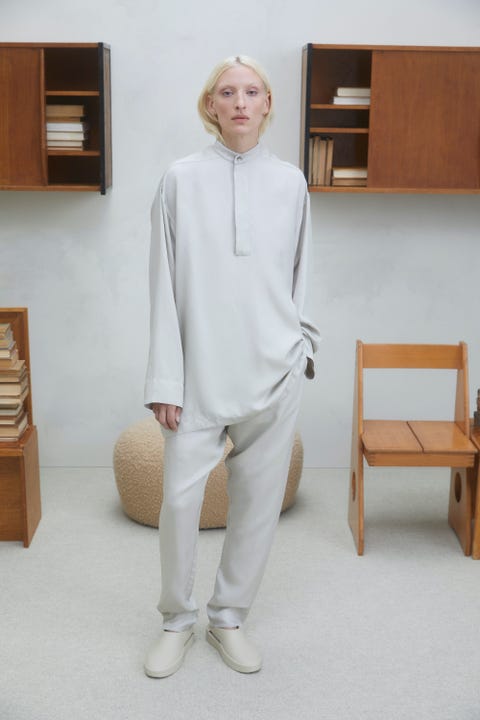 I think the "how" is the magic, right? Making every day wear sophisticated and elegant is the goal. The, how is the 10,000 hours. It is fabric, constraint, it's fit, proportion. Thinking about how the pants live with a blazer. If I choose to go and get a paper with these lounge pants on and my California slides, am I going to be looked at like, I have my pajamas on? How do you make sure we're solving against that?
Tell us about your thought process in terms of design around the collection.

It's always rooted in what I don't have at home, first. It's been hard for me to find the perfect robe. Sometimes it's a little too plush, it's a little too luxury. Sometimes it's a little too hotel giveaway. I felt like the waffle we landed on was in an in between. It was really just solving for pieces that I didn't have, the underwear specifically. I been looking for the underwear my whole life.
I know, the eternal quest.
If the fit is perfect and the support and structure and fabric are good, usually it's got some horrible designs or bad colors. If it's luxury, it's cut a little too high or too low on the pelvis or just a little too sexy. I always use Kenny G as an example, right? Like if you want to tune into it's, wow, this is some dope jazz. There's some good background music. If you don't want to pay attention to it, it goes away. That's kind of how I wanted to approach the underwear. It's not going to call attention. But if you do want to look in deeper at it you see the color is actually not white, it's cement. It's a more beautiful, natural tone. On the black pair, you can't really see the logo unless you're kind of looking for it. And so there's this little bit of discovery.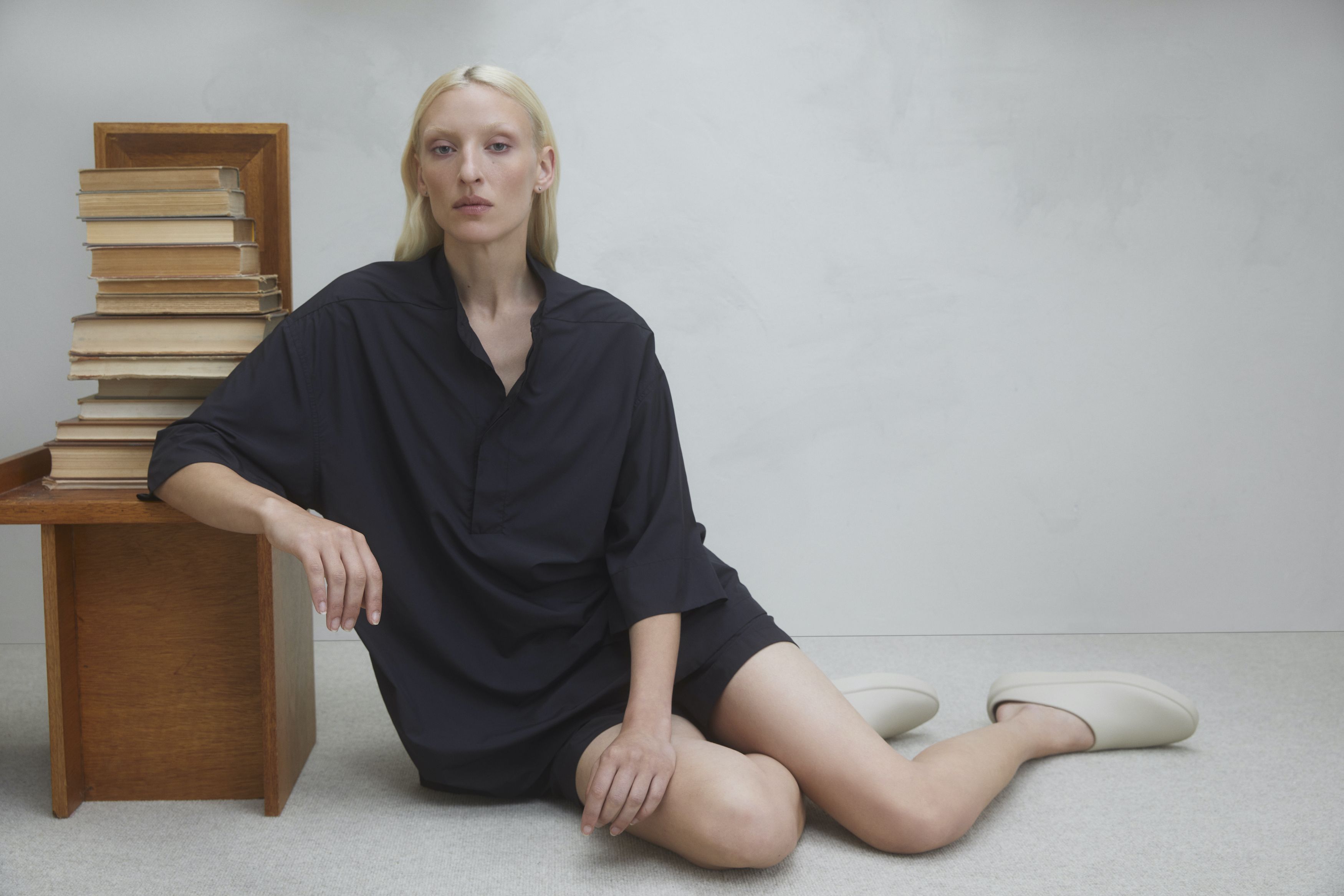 What were your influences when you were creating this collection?

Living at home and beginning to have the same desire to look and feel at home, the way that I do outside the house. Like we just got our house done, kind of like monochromatic crib, and then I look over and see these bright yellow Crocs lying around. I was like, we need a solution for that.
Yeah, to your point we are spending a lot more time at home. And I think a lot of people are choosing to spend a lot of time at home now rather than having to spend a lot of time. So they are just being more intentional and considerate about what is in their home.
Yeah, they're being considerate about what's in their home and what they're wearing in their home. Home has always been a place of refuge and escape and the longer you're there, you become aware that.
When I get dressed for the outside world, I'm really getting dressed for myself. Even when you're at home, you're getting dressed for yourself. And you're not redoing your home to put it in Architectural Digest. You're redoing your home so that you can enjoy it. It was the same approach with clothing as I spent more time at home. I wanted to do this for me. A lot of times we do think that we're getting dressed for the outside world—which there is some element to that—but the reality is we're trying to get dressed in a way that frees us up to be ourself. That makes us comfortable to say what we want to say and express ourselves in the way we want to. That's always been the intention of here. [Fear of ] God is how are we freeing up our customer? Through the product, how do we more so allow [our customer] to be the best version of who they are.
Let's discuss the campaign! Why'd you choose Adonis and Saphir for this?
We're always chasing honesty in everything that we do. As we've grown and matured, our audience has as well. We've been working with Adonis since my third or fourth collection; it was really important for me to have a familiar face that our audience can see in this new space in time that they're also entering in their lives as well. It was also really important for me in speaking about home to touch on the strongest foundational elements of home: Empathy, compassion, love, discipline. It's all the things that you learn from your parents and the home that you live in. I wanted the collection to be an extension of that. It was important for me to number one, celebrate masculinity and fatherhood in a way that's not sexy, but in a way that that is more rooted in the character of the individual and who Adonis really is.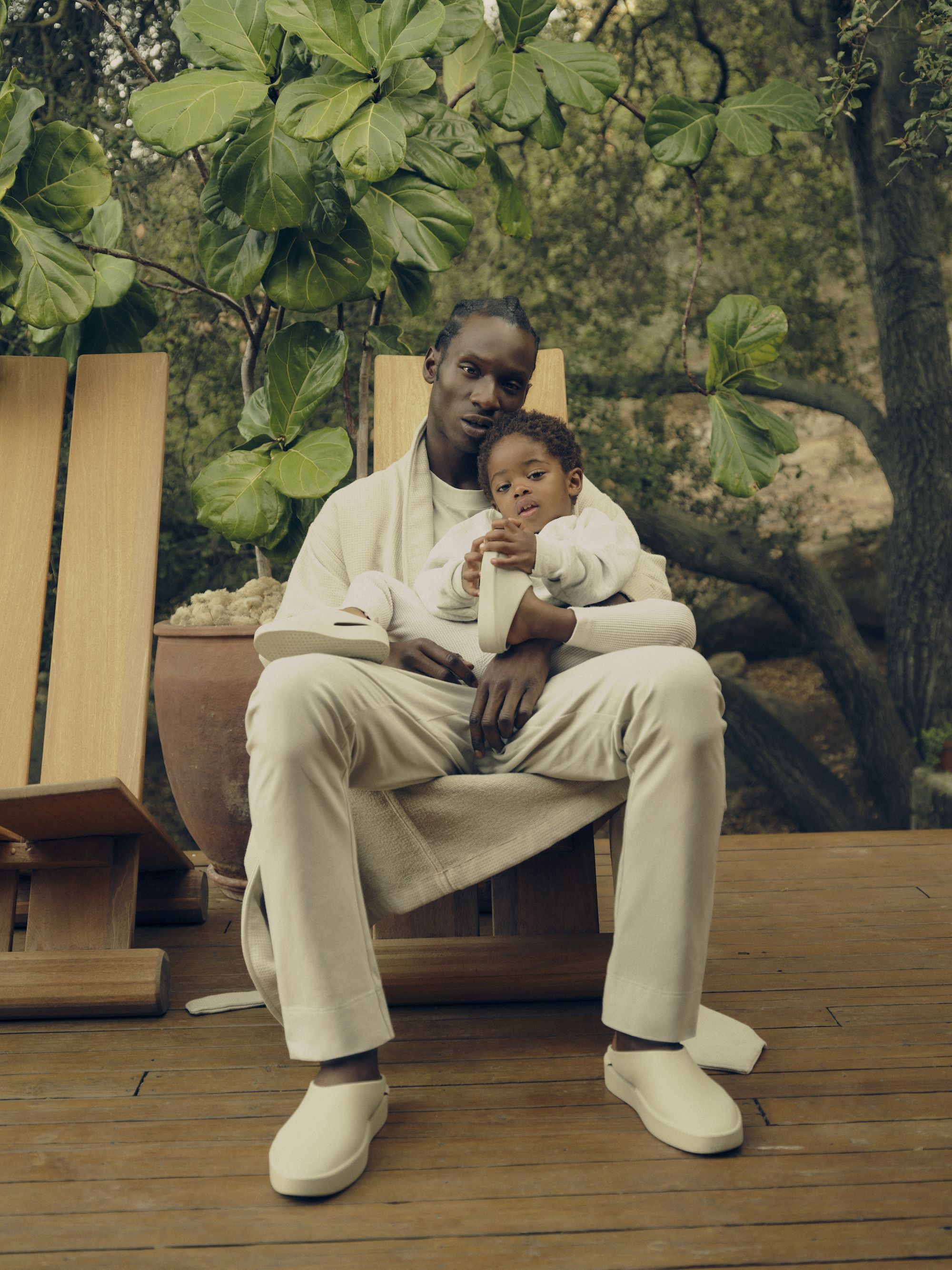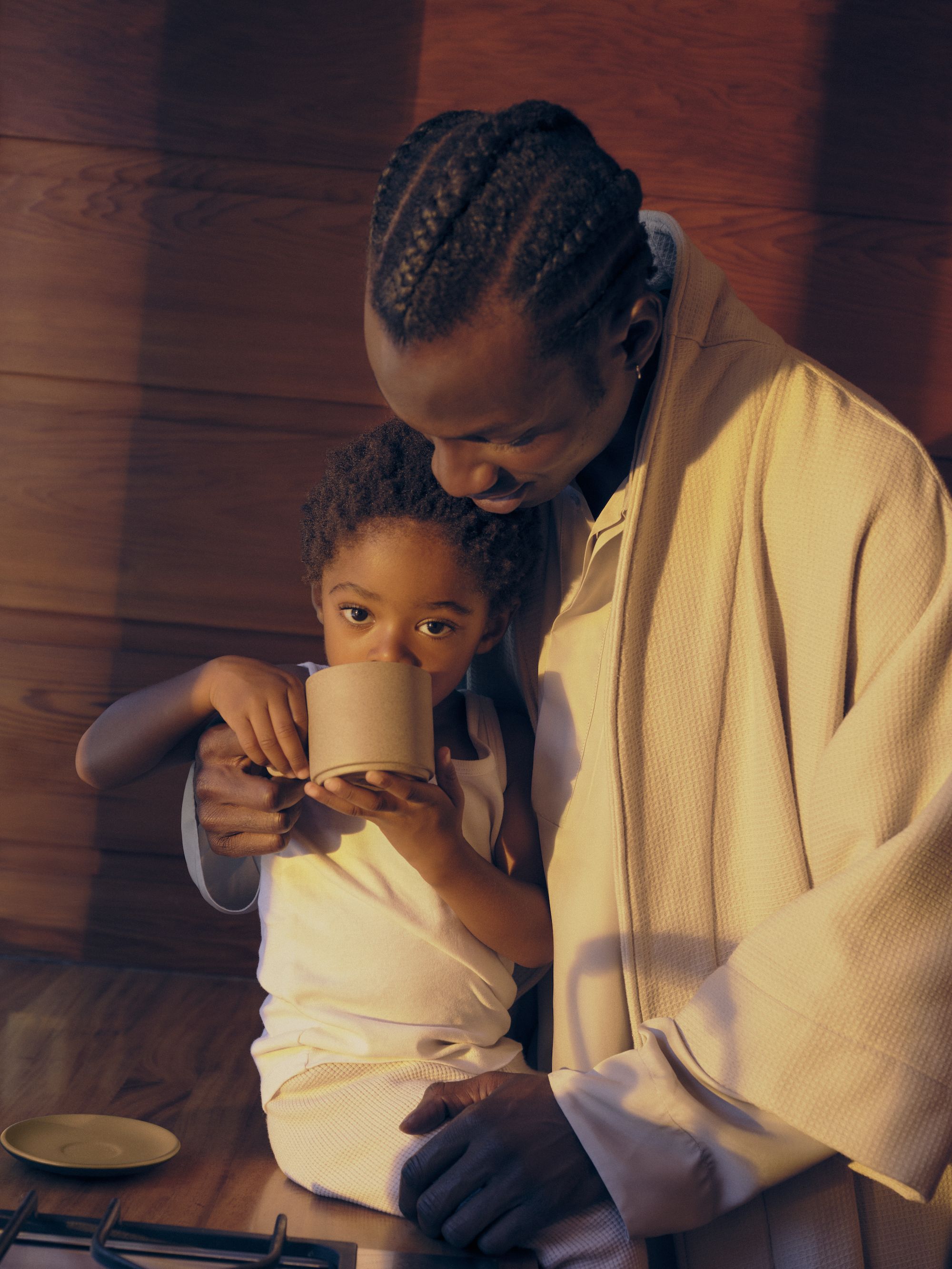 I honestly was just pulling from my childhood and my life. A lot of us as African Americans have a drive to create from a place of not having. So we design and we create solutions because we don't have access to things and we don't necessarily have the resources. Our creativity sometimes is, I guess, stretched a lot further than some that maybe do have. But one of the things that we do have is love and being able to create from love is a superpower.
I had that growing up and I wanted to share that. The piece that we created was honest to my life and where I'm pulling from. And it was also something that I felt like the world hasn't seen a lot of. There's also a responsibility that comes with how we communicate and what we communicate with this platform that we have. And we're very sensitive to and cognizant of that.
A post shared by FEAR OF GOD (@fearofgod)
In media, there are a lot of portrayals of black fatherhood and often times they're not that great, but I found that in this campaign, there was a tenderness and there was a softness that was really beautiful to see.

Thank you. Yeah. We just we wanted to share that. It's just something that is also obvious to us, but we don't get to see broadcasted.
So you chose to celebrate the launch of this collection with an installation at the Just One Eye store in Los Angeles. Why'd you want to do that?
Well, what we love about Just One Eye is that it's unique in the sense that it's luxury, but beyond luxury ready to wear, it spans into art and into home pieces. You can leave with a Jeanneret desk or you can leave with Prada kicks. The point of view of the store was kind of consistent with what we're proposing. We thought this would be a great opportunity to go a little deeper with Just One Eye.
Also, us moving into home and eventually having furniture and things of that nature coming soon, I thought it was the perfect place to kind of like create this environment. To create this atmosphere and imagine where our hero from the campaign lives. Allowing our customers to come in and really soak in the environment of where these ideas are coming from.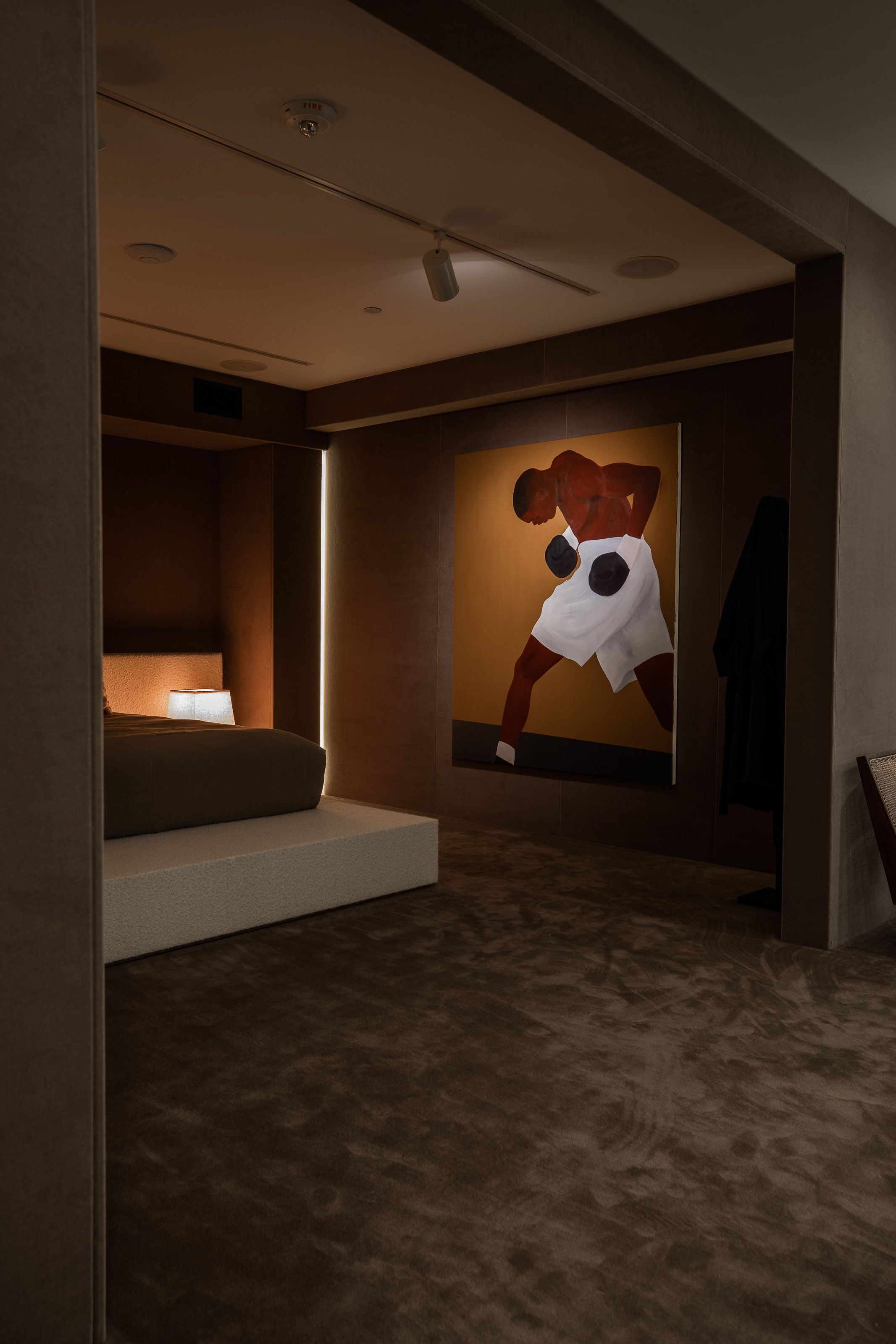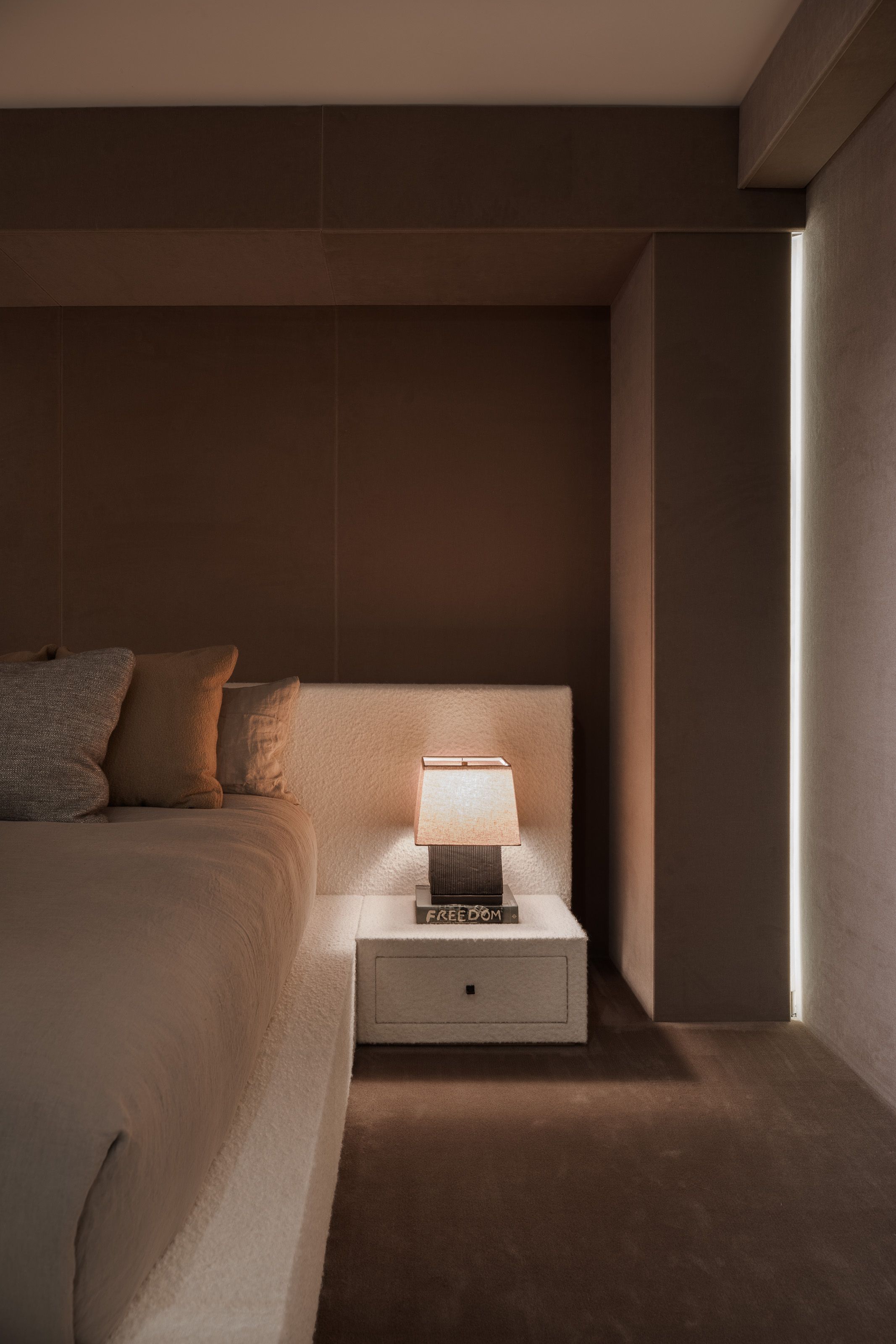 Since this collection is sort of about lounging and off time, I want to pose the same question to you. How do you like to relax and what do you like to do in your off time?

I'm kind of a boring guy. Like I like to be on the couch. I like to have the old school remote and channel up and down, see what I come across, versus going to Netflix. I like to chill at the house, read books to my kids, barbecue in the backyard. I'm sick on the grill.
Okay, we're coming over. What are you making on the grill?

I mean, I'm very classic American. Turkey burgers. I just learned how to start like baking pizzas on this new smoker thing too, which is cool. But I'm like a turkey burger and chicken thigh champion in the Los Feliz area [laughs].
And what's on your lounging playlist, what are you watching? What are you listening to?

Some jazz, old school stuff I grew up listening to like Anita Baker. There's Coltrane, something to kind of vibe out to, something to make me feel at home. Something that sounds like the smell of my mom cooking.
Lastly, how do you hope people feel when they slip into these clothes?
I hope they feel the love that went into it. I'm not going to pretend as if we're reinventing the wheel in this collection. I'm not going to pretend that there's not products that are similar. I hope what separates us is the love and intention that we put into the product. And I hope that can be felt. That's potentially a long shot but, that's the hope, that's the intention.
Shop Fear of God Home at Just One Eye.com. The collection will be available on fearofgod.com on November 26th and globally on December 3rd.
Source: Read Full Article