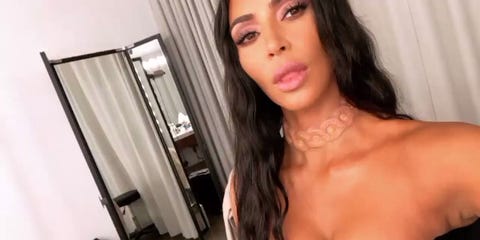 There once was a time when we dubbed smartwatches and fitness trackers "the future of fashion," but A. Human, an upcoming body modification exhibit, is here to take things to a whole new level with fashion implants.
Kim Kardashian West and Chrissy Teigen were amongst the first to wear the alien-like body modification accessories, which appear to be implanted into their skin. Yesterday, Kim took to Instagram Stories to show off a choker necklace that moves in sync with her heartbeat.
Chrissy Teigen, meanwhile, went for an entirely different piece of intricate body artwork resembling skin-like feathers across her chest.
A. Human also enlisted model Andreja Pejic as well as Queer Eye's Tan France to debut additional body modification pieces including shoulder horns (à la Nicola Formichetti x Lady Gaga) and a ruffled Tudor collar.
@ahuman Pinnacle SS19 by Nicola Formichetti coming soon. ? @louiebanksshoots #ahuman
A post shared by Andreja Pejic (@andrejapejic) on
You guys!!! I was lucky enough to get an exclusive glimpse of A. Human's new collection, and it looks like I'm taking something home! ?‍♂️ This lil beauty is The Tudor, and you can see it for yourself this #NYFashionWeek when they open their flagship store. @Ahuman #Ahuman
A post shared by T A N . F R A N C E (@tanfrance) on
So what's the deal with all the freaky futuristic accessories? It's all part of A. Human's upcoming exhibition, which is set to debut during New York Fashion Week. The interactive experience was conceptualized by longtime Kardashian friend Simon Huck and explores fashion as a reimagined part of your body, rather than something you simply put on.
Standout pieces include a pair of "biological heels" implanted into the foot and exaggerated horn-like shoulders that Huck tapped Nicola Formichetti to design.
Shoes are so 2017. Embrace your golden ratio ? with the A. Human Nautilus, the first entry into our biological heel series. Experience them all on display at our NYC flagship store. Tap the link in the bio to reserve your appointment today. ✌?✨?: @lukeabby . . . ahumanbody.com #ahuman #nyfw #ss19 #fashionweek #newyorkfashionweek #nyfashionweek
A post shared by A. Human (@ahuman) on
The A. Human exhibit will debut on September 5 at 48 Mercer Street and run through September 30. Tickets, which cost $40 per person, are available to buy now at ahumanbody.com.
And who knows, you may even run into Kim K and her heartbeat choker while there.
Source: Read Full Article