"War, what is it good for? Absolutely nothing," Edwin Starr once chanted.
And yet, war, specifically military uniforms, has had a profound influence on men's fashion that continues until this day.
Pitti Peacocks … visitors at the menswear fair Pitti Immagine Uomo.
Peek inside the modern man's wardrobe, from the suburban dad to the high-flying fashionista, and wartime influences are everywhere, from the bomber jacket to the double-breasted pea coat.
"Military dress is often very splendid, little bits of that still survive, for example gilt buttons on sports jackets," says Peter McNeil, a professor of textiles and design history at UTS, and the author of a book on the history of menswear, Pretty Gentlemen.
Professor McNeil, who has researched men's fashion for 20 years, thinks men's dress standards have waxed and waned with societal expectations about masculinity and the ideal physique.
"There was a psychoanalyst called [John] Flugel, who argued that in the past it was a sign of power to be splendid and beautiful but in the 20th century, men had lost that and supplanted that with sport [and] militarism," he says.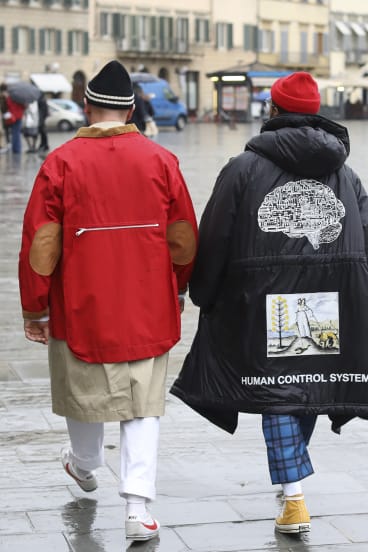 Street style photographer Lee Oliveira says men's silhouettes are changing to once again embrace oversized styles.
Even earlier, the French Revolution had a profound impact on the way men dressed, says Roger Leong, senior curator at the Museum of Applied Arts and Sciences, which is about to launch the world's largest exhibition dedicated to menswear history.
"Before the French Revolution, fashionable men wore elaborately embroidered or brocade suits in pastel colours, silk stockings, buckled shoes. After, the key men's fashion centre shifted from France to England. Men start to wear wool, tailored jackets that fit closely to the body, and instead of breeches, they wear tight pantaloons that emphasise their muscular side," Leong says. "Coats pulled the shoulders back and broadened them, you start to get padding and the waist was very tight."
Considering some
Detail on a brocade coat from the early 1800s, one of the pieces that will feature in a new exhibition at the Museum of Applied Arts and Sciences in Sydney.
of the styles that have dominated since – the tight jeans of 1970s' punk rock or the cigarette trousers favoured by designer Hedi Slimane at Dior in the 2010s – and it's clear that the more things change, the more they stay the same.
At the coalface of current fashions are street style photographers such as Lee Oliveira, a regular contributor to the New York Times.
Sydney-based Oliveira travels from fashion week to fashion week, shooting everyone from celebrities to Instagram trend-makers. He says magazine editors are still the most influential people in fashion, although "anyone with an iPhone and a creative eye can all themselves an influencer".
Oliveira has observed a recent shift in menswear since 2014, when he first spotted a man wearing a suit with sneakers at the famous Italian fashion fair, Pitti Uomo.
Instagram influencers, such as Australian Roberto Malizia, are having an impact on men's fashion trends.
"I remember going in the early stages [of Pitti]. Everyone looked like a peacock. It made me
wonder whether people wore that on a daily basis," he says. "It [suits with sneakers] became a trend because it's so clean and simple and visually refreshing."
Looking ahead, Oliveira sees a trend towards more oversized cuts, influenced by 1990s' streetwear. "I like men who dress with a hoodie under a coat in a more grown-up way. I like the pop of colour. There is still the 'Ralph Lauren men' out there but there's a lot more relaxed tailoring. The fitted, tight jeans which are so not flattering for guys are going. Men are embracing more colour than ever – the check, the floral. It's going to become even stronger."
Military dress, such as this WWII tank suit, still influences men's fashion trends today.
Shah, 39, says he would often see couples on dates when he performed at comedy clubs. The women would dress beautifully, while the men "looked like they'd just come off the beach".
"If you're a barista, dress how you want. If you're on a date, put some effort into your presentation. Wear a shirt. When did shirts stop happening? When did pants stop happening? When did closed shoes stop happening?" he says.
While Shah thinks many men have fallen back on "the Aussie way" as an excuse for poor dress, McNeil believes men may be finally reclaiming some of the sartorial ground they lost to women over the past two centuries.
"The acceptable range of men's clothing became restricted in past 200 years but when that happens you have a focus on detail. Men's accessories are often quite marvellous and exciting," McNeil says.
Replay
He thinks Australian men's style is "much more liberated, less constipated than it used to be", and credits the influence of multiculturalism, particularly the influx of fashion-obsessed students from Asia.
"It's exciting to see the younger generation revelling in what's possible with fashion but also the past – it's very optimistic compared to 20 let alone 30 years ago when the country suffered from an old, tired Anglo-centric anxiety about men and their appearance."
Reigning Men: Fashion in Menswear 1715-2015 is at the Powerhouse Museum, Ultimo, from May 2-October 14. A talks series, Industry Threads: First Edition, will be held on May 3. Bookings: maas.museum.
Source: Read Full Article