Serena Williams still won't confirm if she's headed to the royal wedding next month, but she does have some advice about the big day for her friend Meghan Markle. 
"I just think it's so important to enjoy the moment. And eat the cake ― I didn't get to eat mine at [my] wedding. We were just having so much fun!" Williams said during a recent interview with Robin Roberts on "Good Morning America." 
The tennis player added, "I think if I could give her any advice it would just be to enjoy the preparation and enjoy the planning. It just goes so fast." 
When Roberts asked Williams if she'd be able to make the wedding, the tennis star played it coy. 
"I don't know. I think it's during one of the tournaments, so we'll see if I can make it," the 36-year-old said, before smiling and saying, "Robin, don't be asking me them questions!"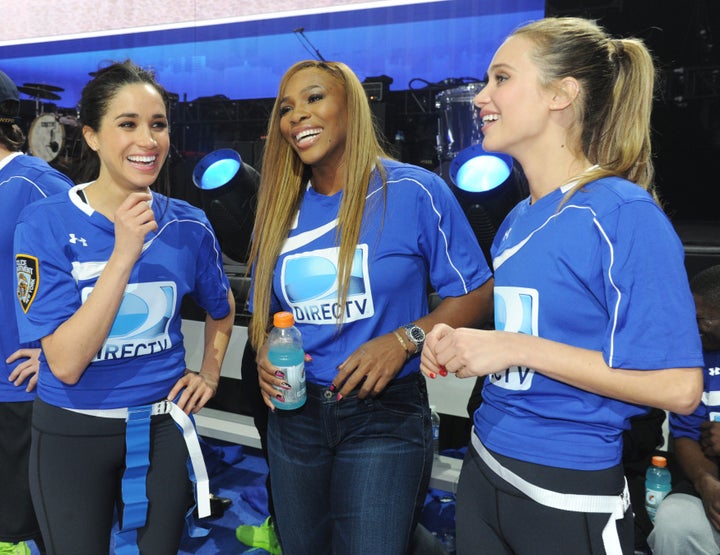 Williams and Markle have been friends since around January 2015, according to Entertainment Tonight. At the time, the "Suits" actress tweeted out a photo of herself hugging the tennis player at the U.S. Open.
Markle later wrote about her friendship with Williams on her now-shuttered lifestyle blog, The Tig. 
"She quickly became a confidante I would text when I was traveling, the friend I would rally around for her tennis matches, and the down to earth chick I was able to grab lunch with just a couple weeks ago in Toronto," she said. 
While Williams may or may not be present when Markle ties the knot with Prince Harry on May 19, the bride's other very famous friend Priyanka Chopra told Us Weekly that she'll be there. 
"I've known Meghan for three years and I'm so happy the way the world has responded to her because as long as I've known her … she is a relatable young woman of the world today," the actress said.
"She's that girl who thinks out of the box. She has always been an activist. She has always had a strong voice," Chopra said. "She's an ambitious girl of today. I think the world needs strong role models like Meghan. I think, I hope, Meghan will end up being one of those people." 
Source: Read Full Article