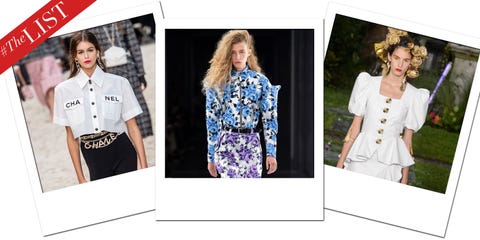 And that's a wrap on another season of collections—but really, it's just the beginning. Here, our 12 top looks from a season that favored bold shoulders, vacation-wear, pastels and a return to pretty.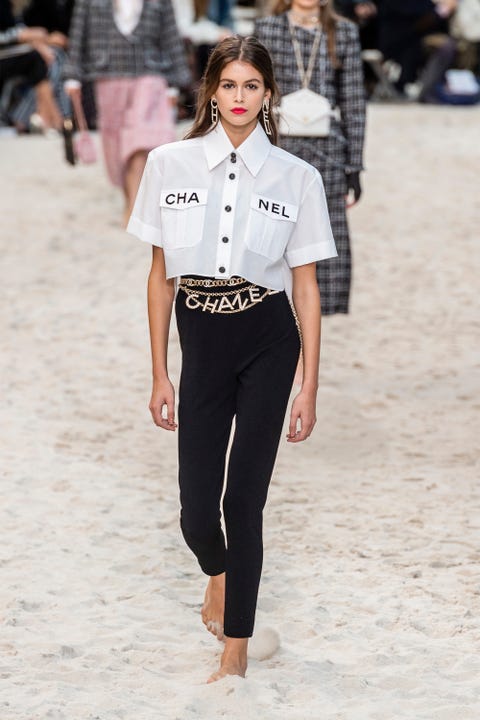 Karl Lagerfeld took showgoers to la plage for Spring 2019, complete with sand, blue skies and a tide. There were straw hats and suiting, little dresses and lace pants—but it's this seemingly simple black and white number on Kaia Gerber that stole our hearts.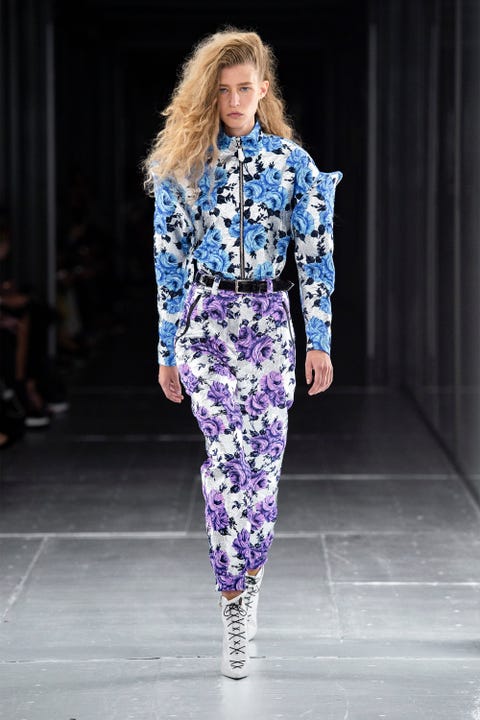 Nicolas Ghesquière has always been at home in the future. His space age set sat in direct opposition to the ornate Louvre , whose grounds it stood upon. Futurism was a hallmark of the 1980s, a decade the designer borrowed from, while simultaneously embracing modern fabrications. But it's this Memphis Milano wallpaper print on a "Blade Runner" shaped suit that is haunting our dreams.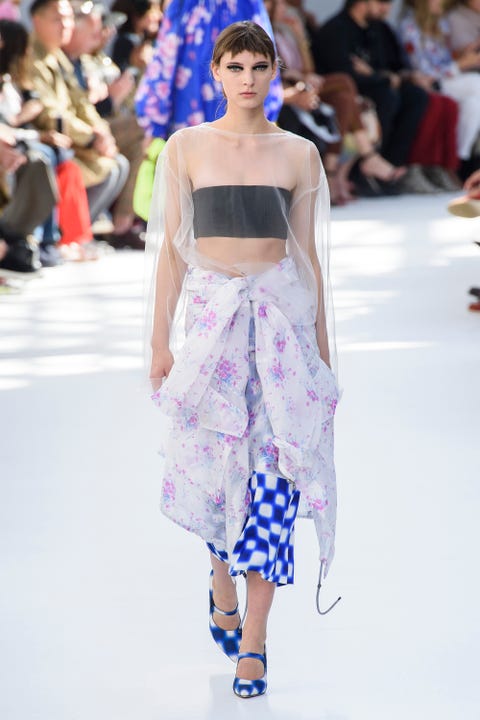 Looking through Dries van Noten's Spring runway gives us that excited Christmas day feeling that only the rare collection we really, really want to wear can give us. It conjures those terms that aren't so much about fashion as they are about joy—like wow these pieces are so "pretty" and "cool." Forgive us for our lack of eloquence, but something about a floral print, a bandeau top, a sheer overlay and a blue and white plaid skirt with matching shoes leaves us at a loss for words and a vast appreciation for one of the Antwerp 6.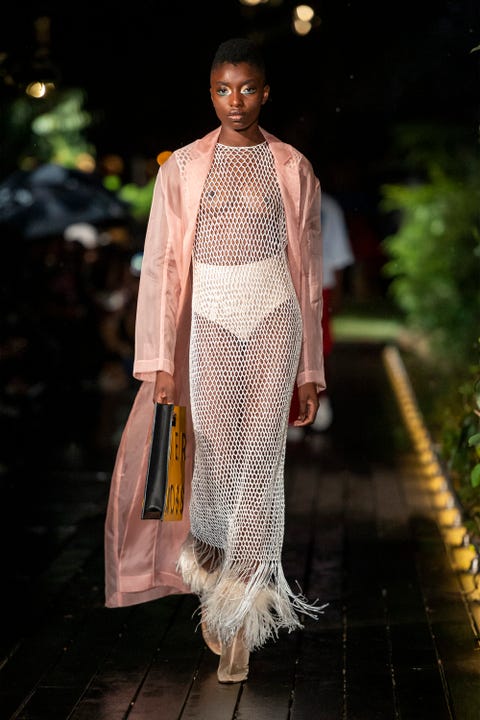 Kerby Jean-Raymond made the New York set decamp to Brooklyn—and Weeksville in particular. Not the sort of spot Alexander Wang throws parties or Eckhaus Lata shows off its cool factor, but instead a place rich in history, as home to one of the country's first free black communities post abolition.
The Spring runways were rife with nods to seaside life, but this net dress with fringe and feather detail with a sheer pink overlay coat was our favorite.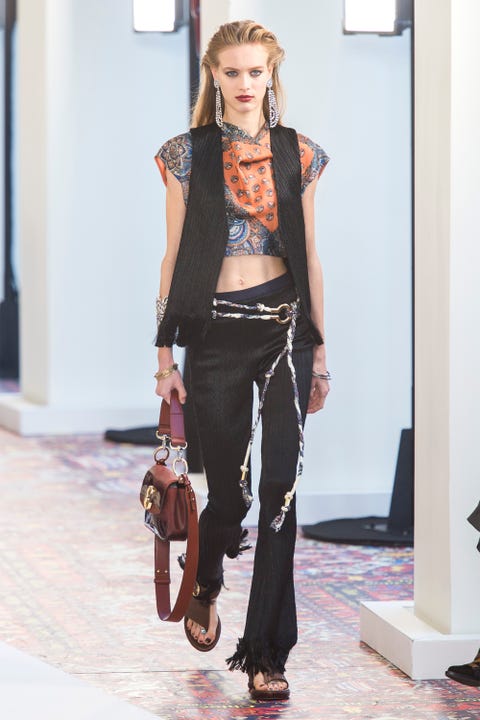 Just when boho was starting to feel like a forgotten word, Natacha Ramsay-Levi is bringing back the vibe, thanks to a collection inspired by, well, Morocco and Ibiza of course. This scarf print, fringed pants and vest, low slung belt and beaded earrings look is the boho babe grown up, a little tailored, but still laid back af.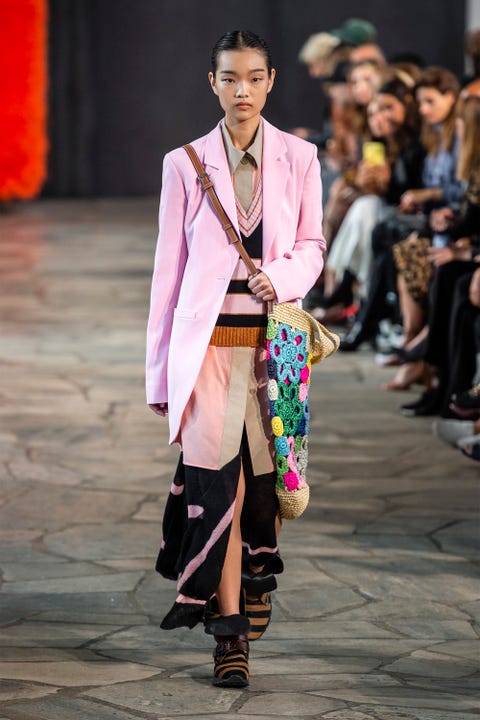 Jonathan Anderson can do no wrong as far as we're concerned. His collections feel like the well-curated rooms of art collectors and architects. They're smart, never overwrought, and just the right amount of playful. Yes, there's a blazer, but it's pink, and it has a matching sweater vest and there's shirting and cool boots, but it's all finished with a bold crocheted raffia, oversized bag. It's Anderson's world right now and we're happy to live in it.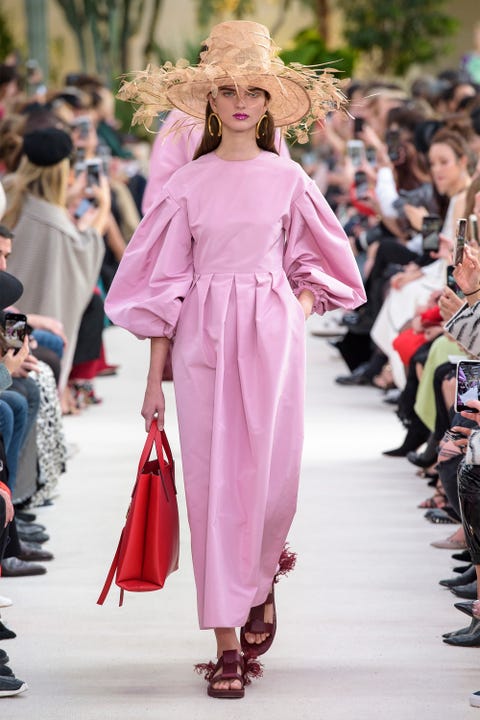 Pierpaolo Piccioli has cornered the market on beautiful and beautifully made dresses and gowns. Spring 2019 elicited a standing ovation from a crowd of people who had seen somewhere between 20 and 50 runway presentations in the preceding weeks. Consider it proof of pretty then that his billowing cotton dresses, kaleidoscope prints and sequin suiting literally got people to their feet. This pin-tucked pink number with oversized sleeves and a jaunt chapeau has our number.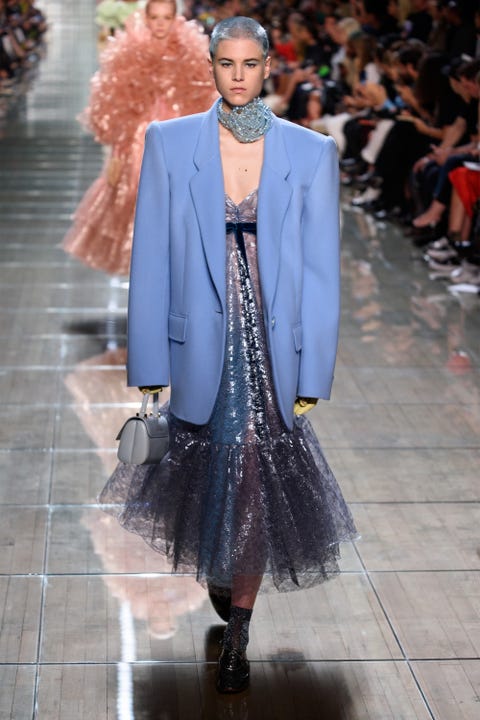 There are the clothes you want to step into the moment they leave the runway and the clothes that create the fantasy we all want to live in. Marc Jacobs is a bit dreamer, a bit Mad Hatter. His dive back into the 1980s last season helped create a veritable wave of returns to the Greed Decade. This season, we're here for this prom dress and oversized blue jacket with matching hair.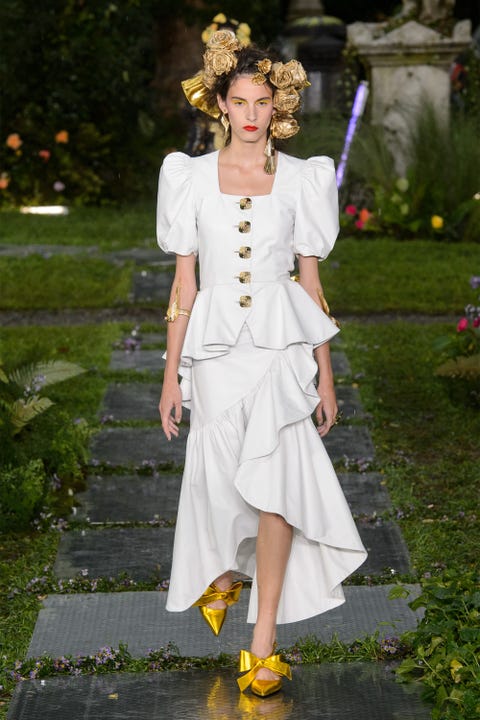 We'll take a walk in Rodarte's garden anytime we're invited. With glorious, diaphanous gowns, lace skirting, and a shimmering, bold gold dress, all topped off with flower crowns that would make Frida Kahlo proud, Spring was a magical showing of ultra-femininity by Laura and Kate Mulleavy. This white suit with puff sleeves is seemingly simple, but just the sort of special and timeless look we've come to expect from the sister design duo. Welcome back to New York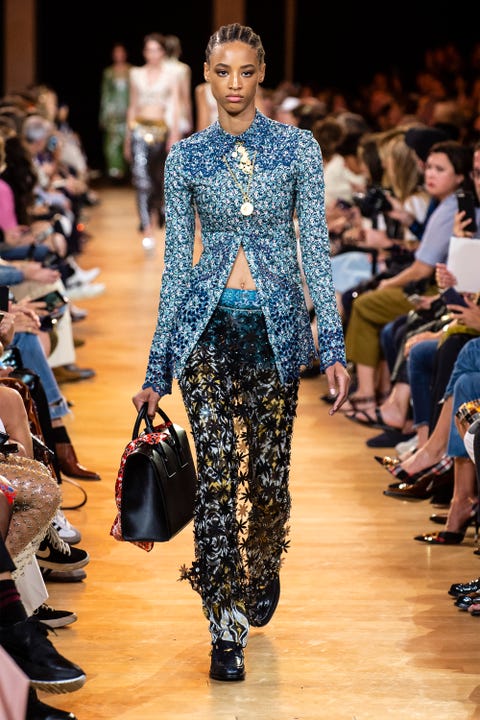 Julien Dossena has taken the fashion world by storm since beginning his tenure at Paco Rabanne. What started as a study of Rabanne's well-known futuristic designs has evolved into a clever mix of those famed chain links, mixed with prints from far off lands, lingerie details and a decidedly-90s silhouette. Even with that lean silhouette throw-back these looks feel incredibly new. Put us on the pre-order list for these fantastic pants and maybe 5 other looks on our wish list.
Source: Read Full Article