No matter the season, a comfortable and stylish bra is always a wardrobe staple. The right bras lift, support, and smooth, helping you feel put-together, and helping your clothes look and fit better too. And when you're supported in all the right places, hello confidence! Want to experience that magic for yourself? It all starts with the fit.
Enter Torrid. Torrid has made it a mission to create clothing that empowers curvy women. The brand's bra line, ranging from cup sizes B to H and band sizes 38 to 50, is especially innovative as each silhouette provides incredible all-day comfort and support without sacrificing sexiness or style. Rather than cover up or resist your curves, they're designed to embrace and adapt to every unique form. Whether you're wearing a chunky sweater, a low-cut tee, or a strapless dress, there's a flattering fit to make you feel your best.
We curated a few of our favorite Torrid bras complete with fall's newest arrival pieces. The looks ahead are curve-enhancing and versatile, with each corresponding bra going above and beyond to make you feel unstoppable in your own skin.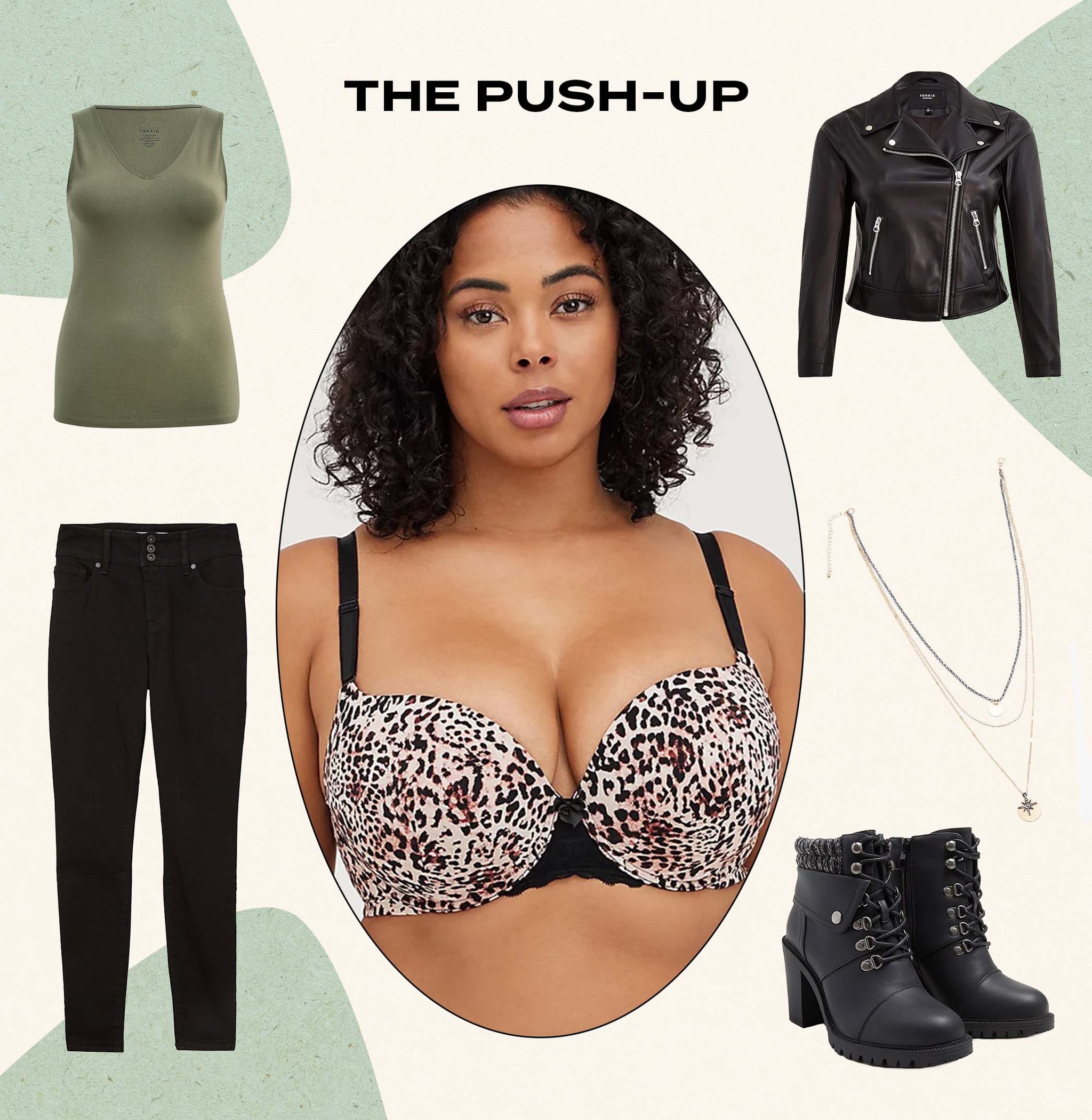 This padded T-shirt bra isn't your typical everyday bra. It's armed with 360° Back Smoothing™ technology, which means it has extra fabric in the back for a design that sculpts, smooths, and supports from every angle; it doesn't poke and it doesn't ride up. While it's great for everyday wear, the plush padding makes it especially fit for deep V-necks and other lower-cut outfits.
Push-Up T-Shirt Bra

$57

Buy Now

V-Neck Foxy Tank

$26

Buy Now

Jegging

$67

Buy Now

Moto Jacket

$110

Buy Now

Sweater Hiker Boot

$80

Buy Now

Starburst & Disc Layered Necklace

$20

Buy Now

T-Shirt Bra in Floral Lace

$53

Buy Now

T-Shirt Bra in Camo Rose

$53

Buy Now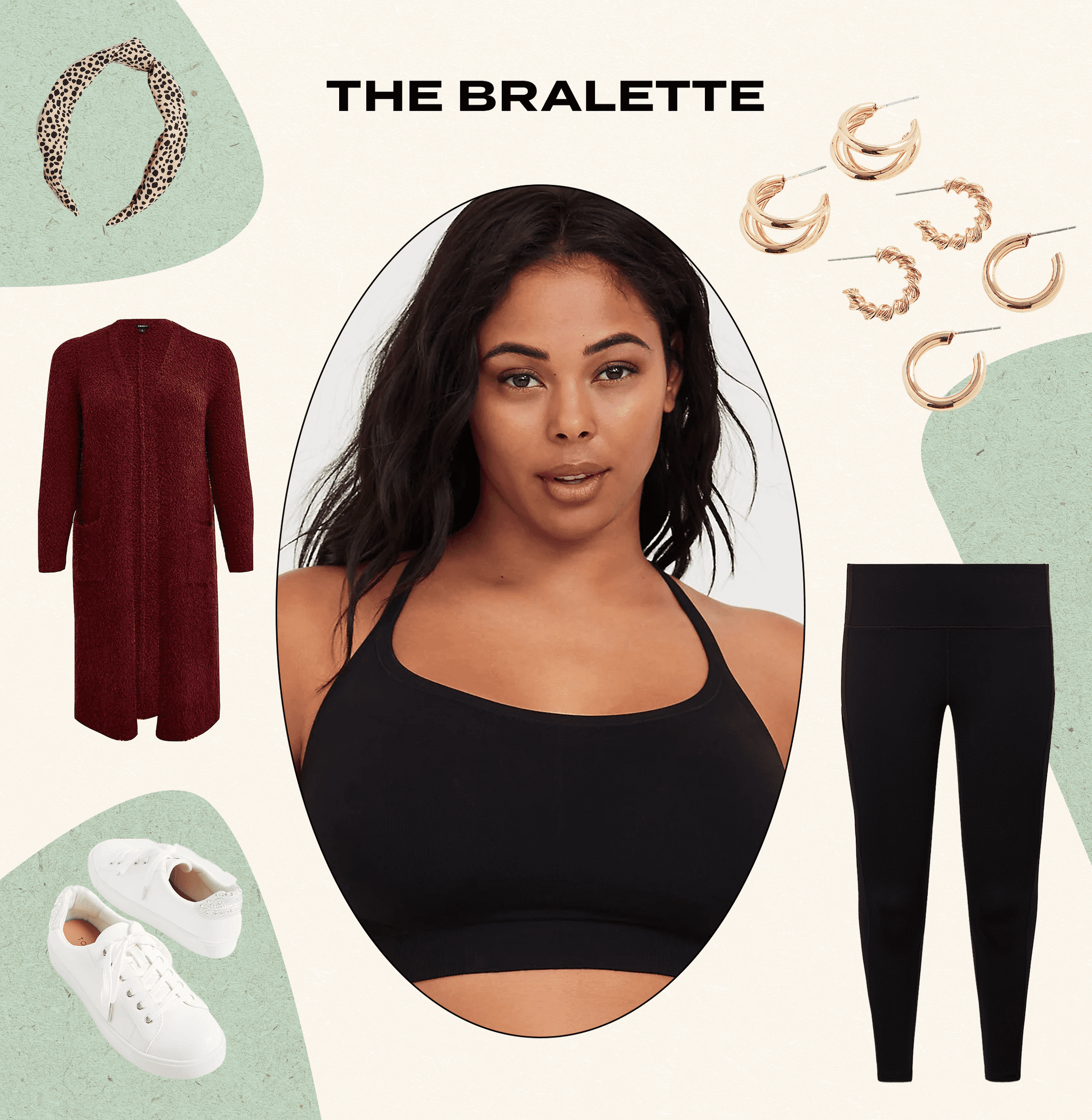 We love a bra worn as a top, and this racerback bralette is one of the most versatile options we can think of. Its seamless design is soft and stretchy and we love how the longline silhouette gives it a sporty vibe while providing more coverage, making it easy to style as a top. It also features wireless cups, adjustable straps, and a double layer of support. Try wearing this underneath an open sweater or even a blazer for a night out. Pair it with high-waisted jeans or leggings.
Black Racerback Seamless Bralette

$35

Buy Now

Popcorn Duster

$80

Buy Now

Full Length Active Legging With Pockets

$60

Buy Now

Wide-Width Faux Leather Rhinestone Sneaker

$56

Buy Now

Knot Headband

$15

Buy Now

Mini Hoop Trio

$17

Buy Now

Black Lace Racerback Bralette

$35

Buy Now

Black Lace Racerback Bralette

$35

Buy Now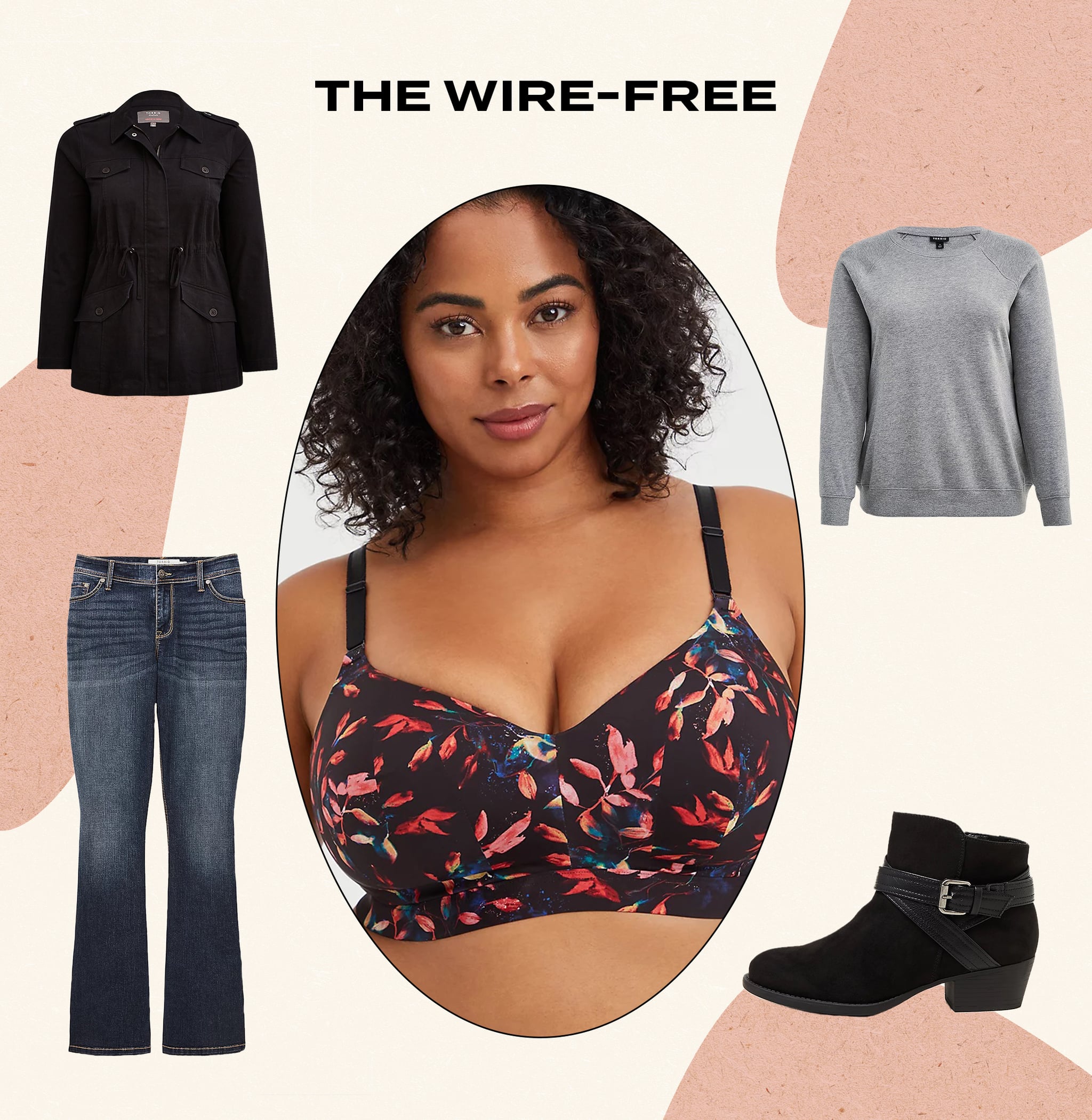 This is the type of bra you can feel completely supported in and comfortable in all day long, a rarity in wireless styles. It has multiple clips to help you get the perfect fit and the memory foam cups mold to and enhance your natural shape. Just like with the push-up bra, it features 360° Back Smoothing™ technology and the smooth, microfiber cups disappear under your thinnest looks. Try it underneath a body-skimming sweatshirt and experience the extreme comfort for yourself.
Lightly Lined Longline Wire-Free Bra

$53

Buy Now

Raglan Sweatshirt

$50

Buy Now

Luxe Slim Boot Jean

$66

Buy Now

Lace-Up Essential Anorak

$100

Buy Now

Double Strap Ankle Bootie

$66

Buy Now

Lightly Lined Lace Wire-Free Bra

$55

Buy Now

360° Back Smoothing™ Push-Up Wire-Free Bra

$55

Buy Now

360° Back Smoothing™ Push-Up Wire-Free Bra

$55

Buy Now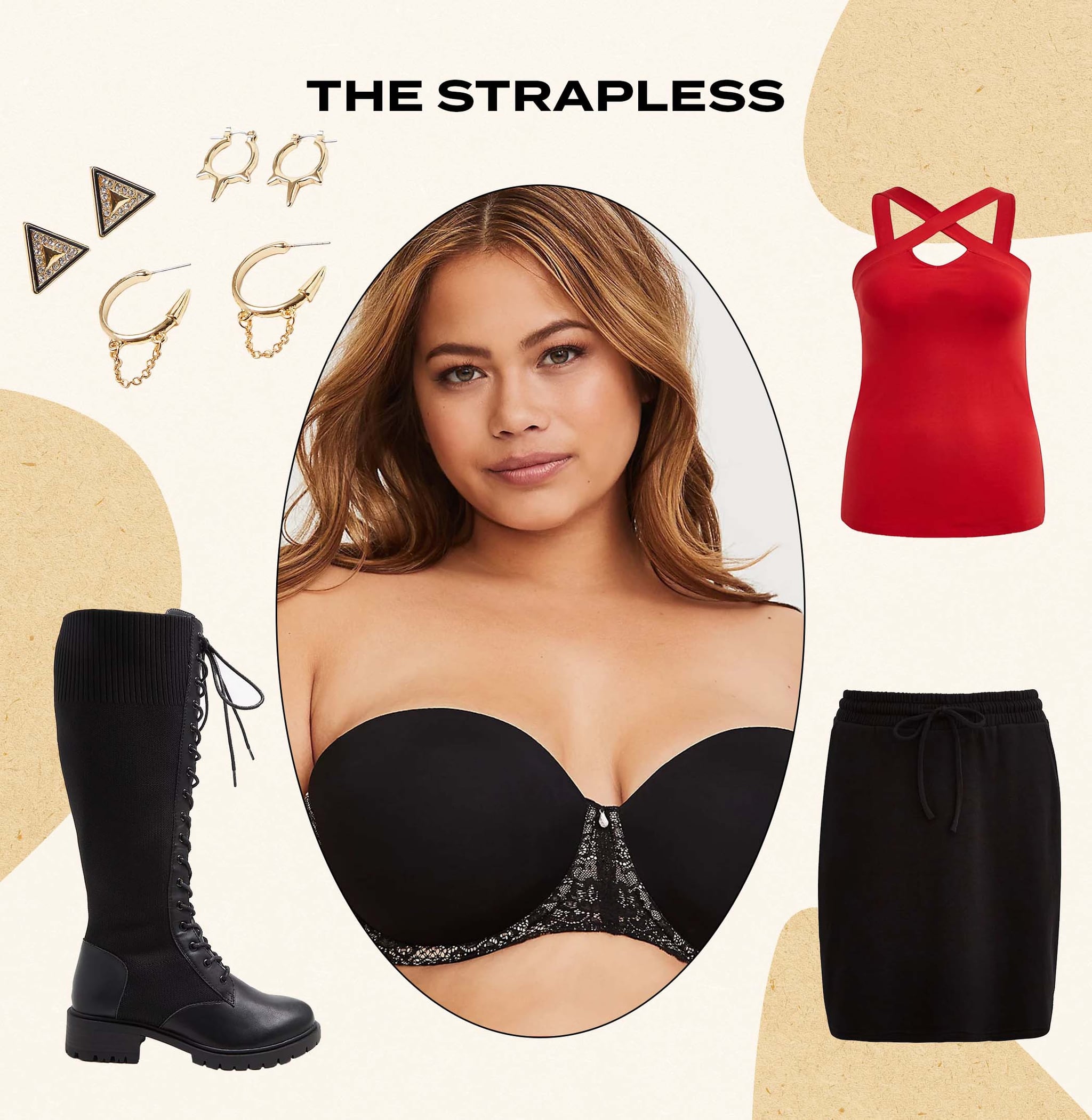 An effective strapless bra is hard to find. This one checks every box and is not only supportive and smoothing, but also features no-slip silicone piping to ensure it stays put. Versatility is a key selling point too, as it comes equipped with detachable straps that can be crisscrossed five different ways. From one-shoulder tops to no-shoulder tops, this bra's got you covered. We love it with a cross-front tank paired with a miniskirt for date night.
Multiway Strapless Bra

$50

Buy Now

Strappy Foxy Tank

$26

Buy Now

A-Line Mini Skirt

$46

Buy Now

Stretch Knit Combat Knee Boot

$90

Buy Now

Geometric Huggie Earring Set

$17

Buy Now

Microfiber & Lace Push-Up Multiway Strapless Bra

$55

Buy Now

Microfiber & Lace Push-Up Multiway Strapless Bra

$55

Buy Now

Boudoir Strappy Push-Up Strapless Bra

$60

Buy Now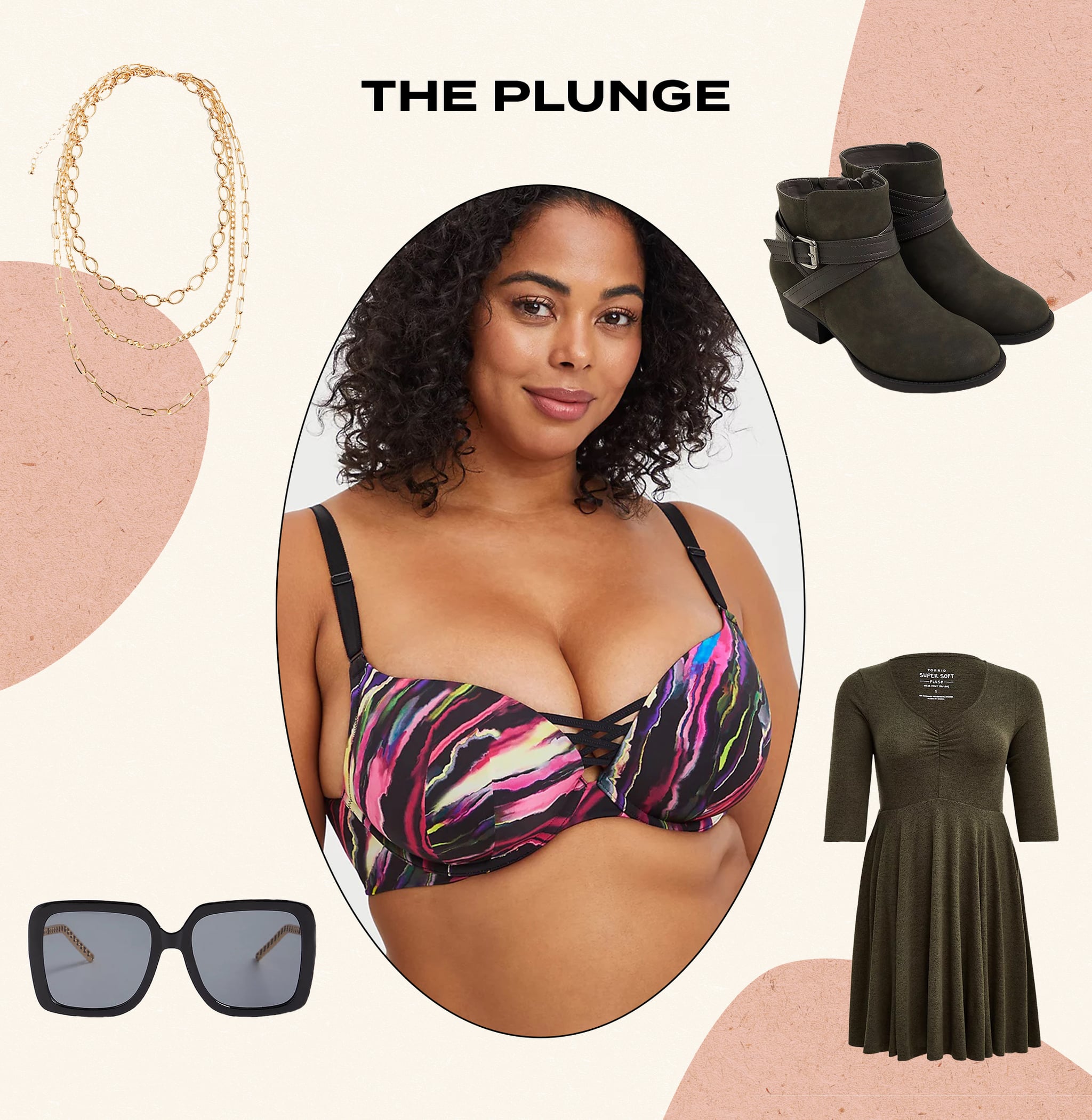 In this bra, sexy is an understatement. Its plush padding effortlessly pushes your chest up and center, resulting in dramatic lift that's meant to be shown off in your deepest necklines. At the same time, it's comfortable and supportive and, once again, features a flattering back-smoothing design. Try this one underneath a head-turning LBD or anything with a plunging neckline.
XO Push-Up Plunge Bra

$57

Buy Now

Skater Dress

$66

Buy Now

Double Strap Ankle Bootie

$66

Buy Now

Chunky Link Layered Necklace

$23

Buy Now

Square Oversized Sunglasses

$15

Buy Now

XO Push-Up Plunge Bra

$60

Buy Now

XO Push-Up Plunge Bra

$57

Buy Now

XO Push-Up Plunge Bra

$55

Buy Now
Source: Read Full Article