By now, you've probably streamed your favorite Halloween movies about a dozen times this season. It's a given that Hocus Pocus has been set on repeat since Oct. 1, and you have plans to watch Beetlejuice with the girls Friday night. But have you ever wondered what the houses from classic Halloween movies would look like today?
Maybe you're looking to step up your interior design game with an apartment makeover. If you're inspired by films like Hocus Pocus and The Nightmare Before Christmas, you'll love what interior design startup, Modsy, has put together for some incredibly spooktacular vibes.
Modsy is awesome if you're looking to redesign your space, but need a little visual inspiration. Where some of us are used to creating vision boards of things we like and winging it from there, Modsy will help create a lifelike picture of your space (complete with furniture from popular brands) to take out any of the guesswork on how it's actually going to turn out.
So, if you're just as Halloween-obsessed as me, these five Halloween homes will give you the creative inspiration you need to revamp your home. Modsy has created them based off of some of your favorite movies and TV shows, so get ready to feel the nostalgia.
1

Channel The Sanderson Sisters With This 'Hocus Pocus'-Inspired Design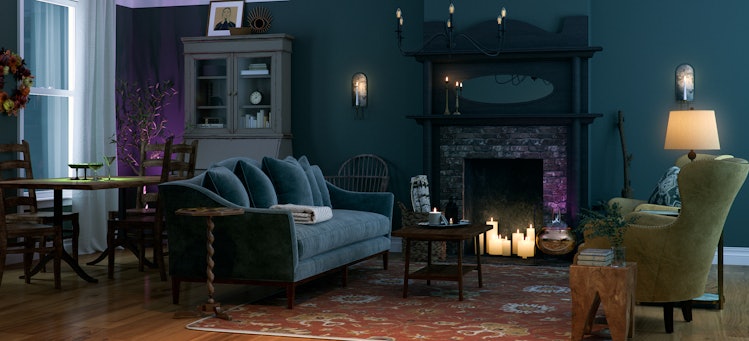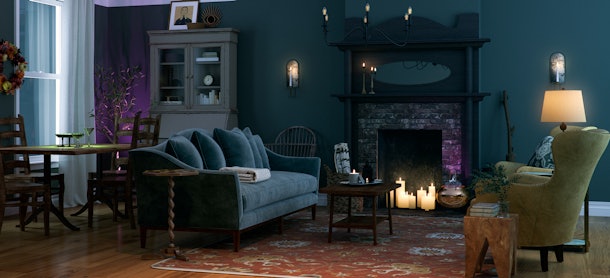 If you saw the Sanderson sisters' cottage in Hocus Pocus and thought, "I want that," you're probably falling under the spell of this awesome design by Modsy. This room shines a spotlight on that old American charm seen in the movie, but with a modern take.
It features witchy accessories, including this copper candy cauldron from Pottery Barn and a large lantern from Crate and Barrel. (I'm personally obsessed with this starburst mirror set and these candle wall sconces that instantly set a cozy mood.)
2

This 'Nightmare Before Christmas' Room Is Spooky Chic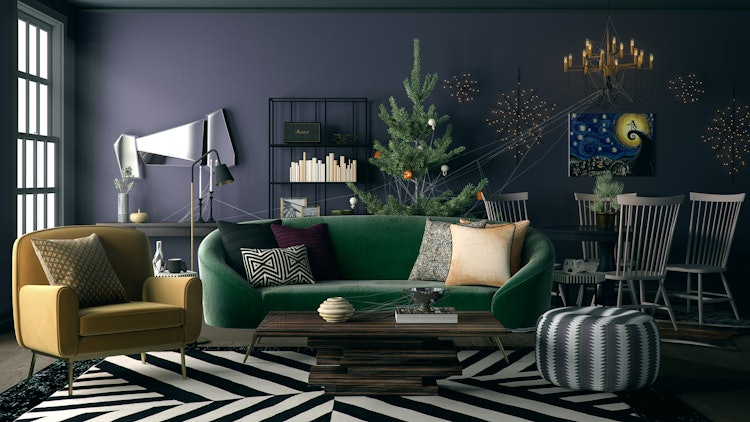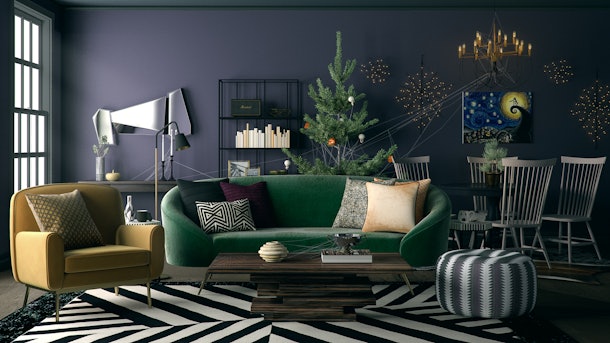 If you're a big Nightmare Before Christmas fan, you're probably looking at this room and wanting to move in ASAP. This Modsy design features a mix of whimsical, chic, and spooky vibes with bold black and white lines, in addition to bright pops of color.
If this room speaks to your soul, you might want to invest in some black and white decor like this vase from CB2 and a few throw pillows. Modsy also included nods to Halloween with this adorable ghost mug from Pottery Barn and a white ceramic pumpkin from Crate and Barrel. Add a touch of color with a Benjamin Moore purple-accented wall to really make this space worthy of the Pumpkin King.
3

Live Like The Undead In 'Beetlejuice'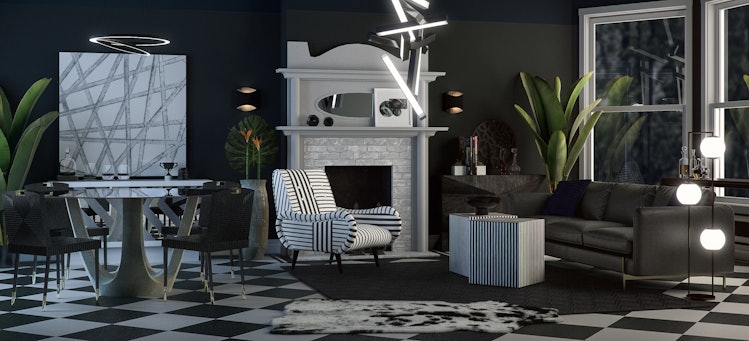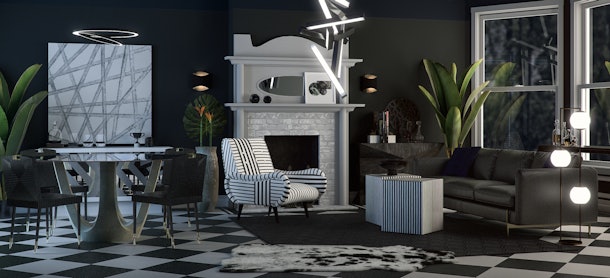 Let's be honest: Tim Burton is the king of Halloween, and this list wouldn't be complete without a Beetlejuice room. Modsy's Beetlejuice-inspired space has asymmetrical lines and black and white stripes. A black and white chair from Anthropologie would make a great accent piece. But if you're just looking for some accessories to spruce up your living room, you might want to check out this floor lamp from Crate and Barrel, artwork from Minted, and LED wall sconces from Lumens.
4

This 'Rosemary's Baby'-Inspired Room Will Give You Chills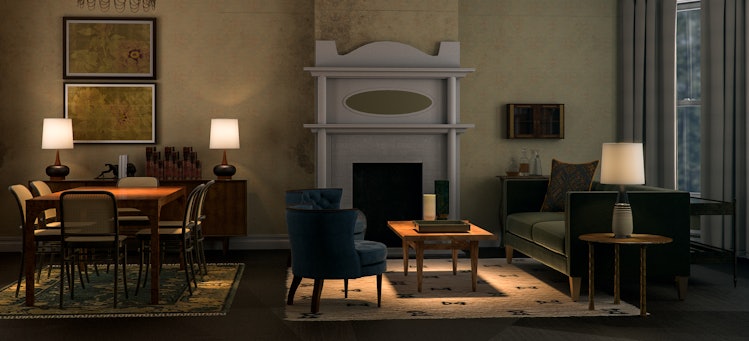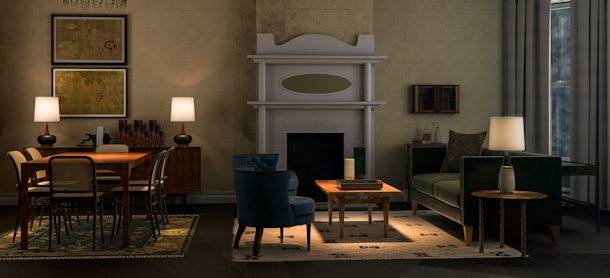 If you're looking to channel major creepy vibes this Halloween, a Rosemary's Baby room will surely do the trick. Achieve the above retro look with some simple accessories like this lamp from Lamps Plus and a brass arrow cabinet from Anthropologie. You can also get a few decorative vases like this light green vase and dark green one from CB2 to place around.
5

Turn Your Home Upside Down With This 'Stranger Things' Design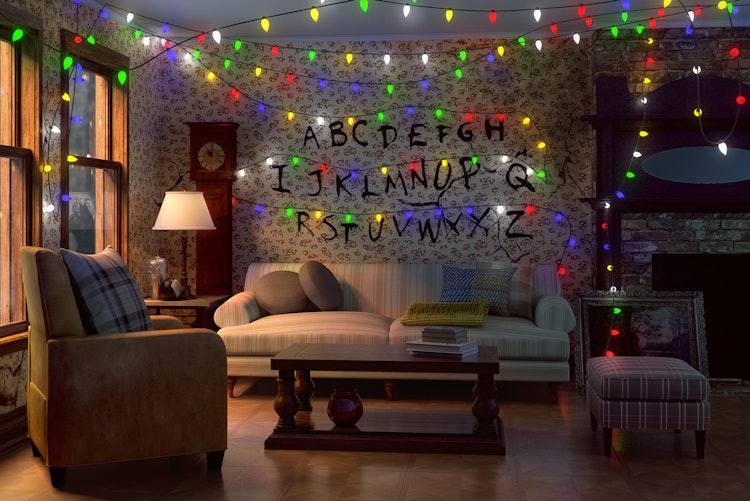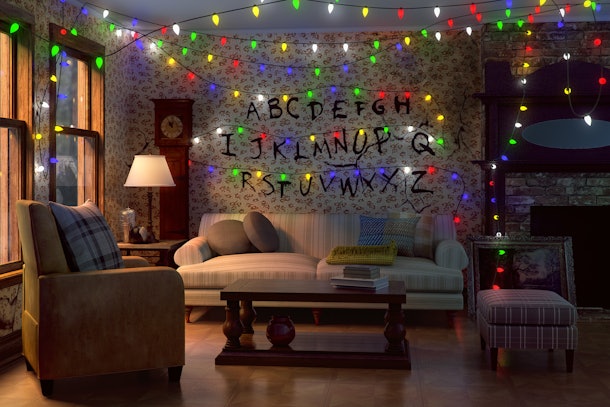 The Byers house from Stranger Things has a very retro '80s feel which may not be the most modern of the designs, but is definitely cool nonetheless. (I don't know how comfy it will be when the Demogorgon is trying to break through the walls, but luckily, we're not in Hawkins.)
To achieve this look, you need lots of plaid like this throw pillow from Overstock and this colorful plaid pillow from Crate and Barrel. This plaid ottoman will also look great in your living room. Add an accent wall with vintage floral wallpaper, in addition to several strings of Christmas lights, and you're all set.
Source: Read Full Article