"Beauty is skin deep"– it's starting to mean something in Hollywood. Yes, the pressure to look #InstaPerfect is insane. Yes, this industry ranks looks. No, not everyone is doing it right. Even the Victoria's Secret models have been slammed for Photoshopping their pics. Behind the meadow backdrops and windswept hair though, there can be an army of makeup artists, stylists, and digital touch-ups.
Taylor Swift didn't become a pop icon for being the only girl who can write about love. Ariana Grande? The ponytail might be powerful, but the angelic face sure did help. Even the industry's most-feared and intimidating women all have the same thing in common. Beauty. Angelina Jolie was doing it back in the 90's. She's still doing it now. 20 years later, the new kids on the block are following the same pattern. Jennifer Lawrence, Scarlett Johansson, Margot Robbie… All of them are landing their auditions with "looks" as part of the "yes, we want you."
It's when these women go makeup free that we get one of two outcomes, though. Either they look the exact same. Or they look like completely different people. And when we say completely different, we mean completely different. Here are 10 celebs who look the same without makeup (plus 10 who are literally different people).
20

LOOKS THE SAME: SELENA GOMEZ

You don't need to name your album Bad Liar when there's nothing to lie about. These November 2017 shots of Selena Gomez aren't just #nomakeup. The singer had undergone a full kidney transplant just months earlier (and she was brave enough to post it on Instagram). Selena suffers from the auto-immune disease, lupus. This plucky 20-something is way more than just a pretty face. Anxiety and depression are both subjects that Selena has freely spoken about– and she's a sufferer.
You don't need to name your songs "Bad Liar" when there's nothing to lie about.
Selena was photographed hitting the gym off Sunset Boulevard in West Hollywood. For a celebrity, that's a zip code that comes with one word: paparazzi. Selena has bigger things to worry about than having a hair out of place, though. TMZ threw out: "Jennifer Aniston is apparently 'mad' for whatever Selena and Justin Theroux 'might be.'" That's the thing. Whether it's Justin Bieber or The Weeknd dating Selena, they're all seeing the same thing (makeup or not). "I just can't understand when– and no offense– people have to wear makeup all the time," Selena told Elle. Who needs a Revival when you're beautiful.
19

DIFFERENT PERSON: KATY PERRY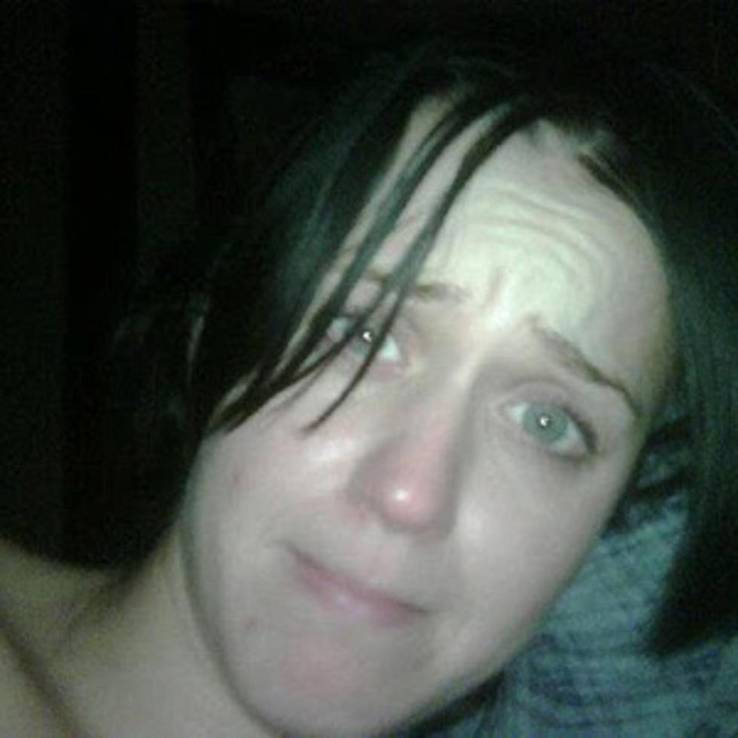 What? You clicked on this for predictable stuff? 2012 was a shock year for Katy Perry fans. It was also an unlucky moment when her ex-husband, Russell Brand posted this no makeup shot of Katy on Twitter. The bubblegum colors and neon wigs suddenly disappeared, and we saw someone we literally didn't recognize.
The weird thing? The more you look at the picture, the more there's an untamed beauty to her. For someone whose most-trending song is called "Roar," it kind of makes sense. The pic prompted Katy to peel back the layers and show us more, though. It was quite refreshing actually. For her Part Of Me film, Katy decided to post less of the lipsticks, and more of the real."It's a bit scary because there's lots of shots of me bloated with zits and normal," Katy said.
The decision to make a movie about the real Katy was enough to land the singer a spot on The Ellen Show couch. "I thought it was important to show everything in between," Katy told Ellen. "I think sometimes people think that we're perfect and we know we're not perfect, at all." While The Daily Mail reported that Katy was "furious" with Russell's tweet, fans were kind of glad. Aren't you?
18

LOOKS THE SAME: GAL GADOT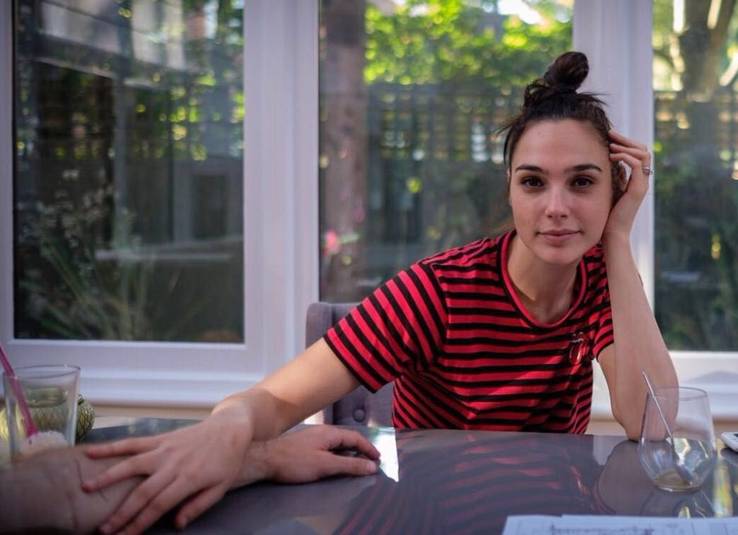 It's like a giant wave of refreshment just hit Hollywood– from an actress whose name means "wave" in Hebrew. Gal Gadot is the kind of grounded beauty who has women ditching their makeup and men straight-up gawking. Okay, so gawking and a little bit afraid. Gal served for two years in the Israeli Defence Forces military as a combat instructor. A face like that doesn't get past Hollywood, though. Then again, nor does experience– "they liked my knowledge of weapons," Gal casually said about the Fast & Furious producers.
Wonder Woman – in so many ways. Gal was a wave of refreshment for Hollywood. Her name even means "wave" in Hebrew.
All 5 feet 10 inches of Gal are 100% real. And so are the workouts. Kick-boxing, pack-punching, and deadlifting some serious numbers, Gal is a Wonder Woman actress who was born for the role. What did Gal do after becoming a Hollywood icon overnight? She stayed the exact same. Vogue even had a shock when they interviewed her (although the "Gal next door" nickname was spot-on). Gal gave the interview in old rubber flip-flops, cut-off denims, and she even served up home-made egg sandwiches. Here she is, looking as beautiful without makeup as she does on the red carpet.
17

DIFFERENT PERSON: CHRISTINA AGUILERA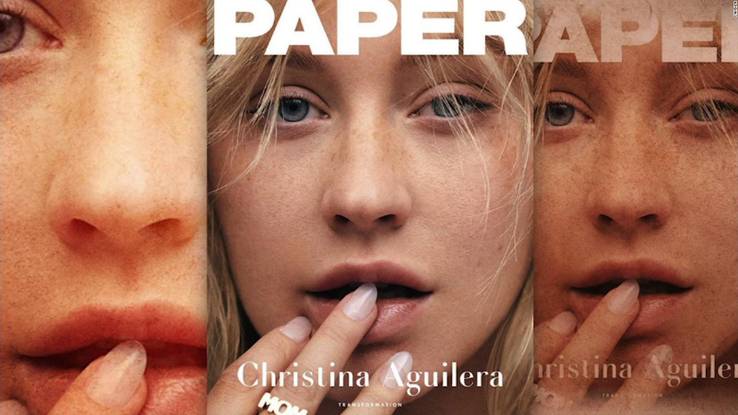 This is just sad. When Christina Aguilera wiped off the metric ton of war paint for her 2018 Paper cover, the world saw the one word Christina has been repeating since 2002: "Beautiful." The pint-sized pop icon is 100% real with those vocals, but the real Christina has been hiding behind more makeup than the Kardashians sell in a week. The default look of burlesque blonde, layered-on rouge, and heavy eyeshadows make you wonder how The Voice's judge can lift her face off her own desk.
Christina called the experience "liberating." Looking right into the lens with nothing but a "Mom" ring for accessories, Christina looked a good ten years younger than her 37 years. Freckles? We didn't even know Christina had them. Soft blue eyes? We haven't been able to see past the caterpillar lashes for over a decade. Fresh-faced and so unbelievably beautiful, Christina was finally able to put her money where her mouth is.
"I've always been someone that obviously loves to experiment," Christina told Paper. "Someone that loves theatrics, loves to create a storyline and play a character." You'd think that proving your beauty like that would encourage Christina to show us the real girl a little more. Nope. She told the magazine that her heavily painted look would be back soon. What a shame.
16

LOOKS THE SAME: ZENDAYA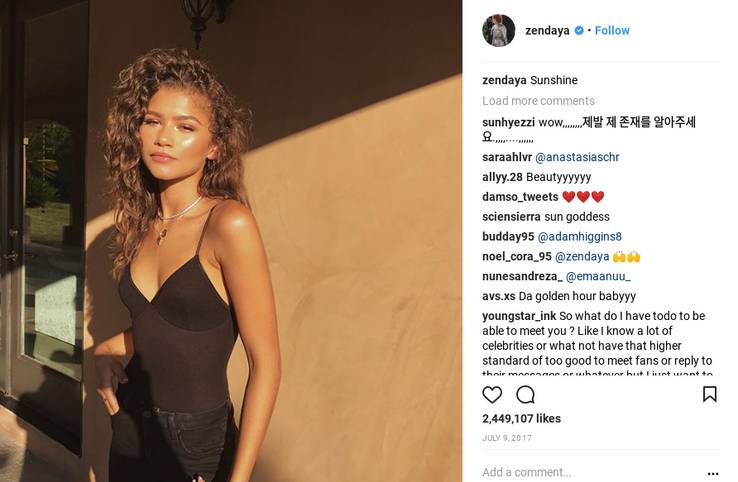 Zendaya has the kind of face that doesn't need makeup. A bronzed complexion that naturally catches the light gives this singer and actress a really relatable warmth– precisely why over 50 million of us are following her on Instagram. Trawl the makeup counters all you like. You won't find any answers. Why? Because they're all selling the same thing. Fakery.
"Fearless, free, rule-breaker" were the three words Zendaya used to describe her look. No matter what she wears, Zendaya will always be beautiful.
Magazines have a difficult time interviewing naturally beautiful celebs. It's harder for them. No fancy or overpriced products to plug. No stupid beauty routine with 20,000 different face masks and expensive vitamins. When W Magazine interviewed Zendaya, she didn't have much to say in that department. "Mostly natural products, witch hazel, rose water" were her medicine cabinet contents. The only tip she gave was to wear sunscreen. Zendaya is a natural beauty through and through, which is more than we can say for the next celeb…
15

DIFFERENT PERSON: MILA KUNIS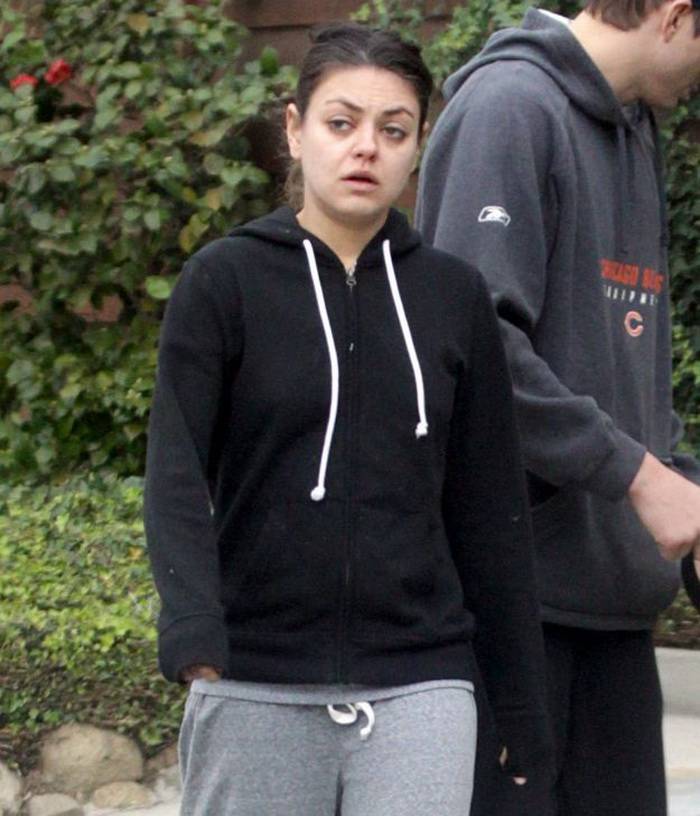 Props to Mila Kunis, here. When she and Ashton Kutcher left their Los Angeles home to walk the dogs back in 2012, Mila was brave enough to do it without makeup. Don't think she didn't know full well that the paparazzi were waiting for her. The Black Swan actress has been topping "Most Beautiful" lists for a long time, now. Guys are digging Mila's doe-eyed, girl-next-door looks for the same reason that Ashton married her. Well, that and the infectiously giggly vibe. Swamped in sweats and sneakers, Mila wasn't looking red-carpet ready. What counts here? That she didn't care.
Mila gets the best of both worlds when it comes to showing her face. She'll look a million dollars for her red carpet appearances (those dresses, already). Then again, when you're voicing Meg on Family Guy, nobody is going to see whether or not you've brushed your hair.
While fans on social media slammed the actress: "Mila is completely fake, I thought she was so beautiful. All lies!!" The press actually didn't. The most The Sun called Mila was "unrecognizable". What, you look so perfect when you're walking the dog? Mila was one of the highest-paid actresses of 2017, with earnings of $15.5 million, according to Forbes. Mila may not be looking a million bucks here, but she's still not bad. Enough to land herself on the "different person" side of this list, though.
14

LOOKS THE SAME: TAYLOR SWIFT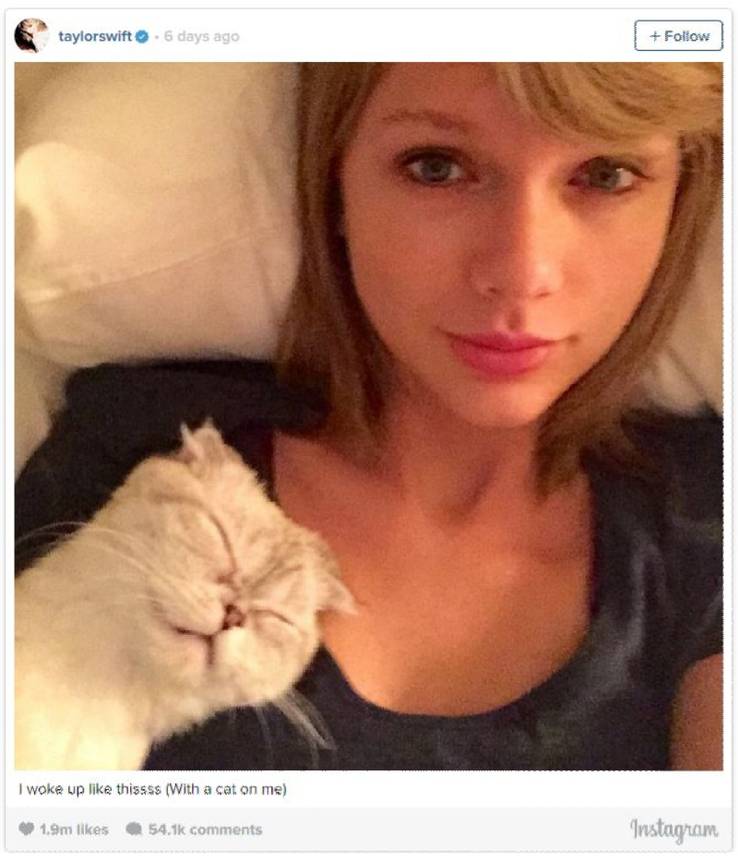 Here's something ironic. Taylor Swift basically spent the best part of ten years experimenting with her look. What are we loving most? This. The bleary-eyed, cat-cuddling morning selfie captioned: "I woke up like dis." In 2006, a country Taylor was rocking long, flowing curls at the CMT Music Awards. In 2007, Taylor had chopped off her hair, but it was still awkward with a bit of an old lady perm. The red lips arrived in 2009– judging by her lyrics, they haven't gone anywhere. "I've got a list of names and yours is in red underline." Whether she's slicked-up with poker-straight hair or just walking around New York City in a plaid shirt and a beanie hat, Taylor is always sending the same message: Naturally beautiful.
Just take a look at Taylor's highest-voted pics– by men. Her Reddit photo fanbase is 99% guys. The actual photos? Guys aren't upvoting shots of Taylor caked in makeup. The more natural she is, the higher-rated the picture. "I don't mind being pale," Taylor told Allure. "In high school, it seemed like everybody cared about being tan all year round, but I haven't really thought about it since then." Taylor's nighttime routine? Taking her contacts out, washing her face, and putting her glasses on "so I can watch Friends."
Featured Today
20 Once Major TV Stars Who Forgot They Are No Longer Famous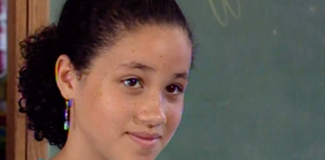 24 Rare Photos Of Meghan Markle Before She Became A Duchess

13 Pics Of Jessica Simpson's Best Outfits (And 13 Times Ashlee Simpson Outshined Her)

13

DIFFERENT PERSON: TYRA BANKS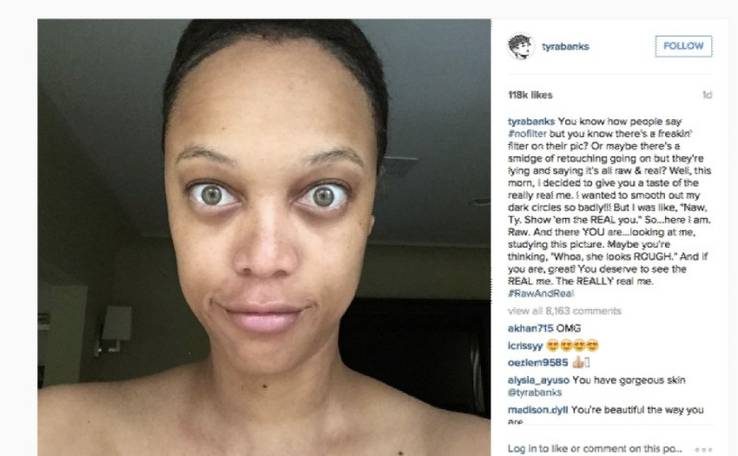 You don't get to judge America's Next Top Model unless you were one yourself. Tyra Banks grew up being called an "ugly duckling," before going on to become one of the highest-paid supermodels in the world. Of course, by the time Tyra posted this 2015 makeup-free selfie, she had already established somewhat of a reputation as a less-than-easy-going judge. By the age of 15, Tyra was walking the runway for some of the biggest designers on the planet, but it's unlikely she was doing it without an army of makeup artists.
Twitter trolls slammed this #rawandreal pic of Tyra. The model has $90 million reasons to prove them wrong, though.
This self-posted Instagram pic made major headlines. "You know how people say #nofilter but you know there's a freakin' filter on their pic," she wrote. "Or maybe there's a smidge of retouching going on but they're lying and saying it's all raw and real? Well, this morn, I decided to give you a taste of the really real me." The reaction was pretty mixed. People who actually have a shred of dignity replied on Twitter with: "She's still pretty. Can't do unpretty. #rawandreal." The trolls were less kind. "WHY TYRA BANKS LOOKIN LIKE BEANS FROM RANGO?!" Troll all you like, Tyra has a net worth of $90 million.
12

LOOKS THE SAME: EMMA STONE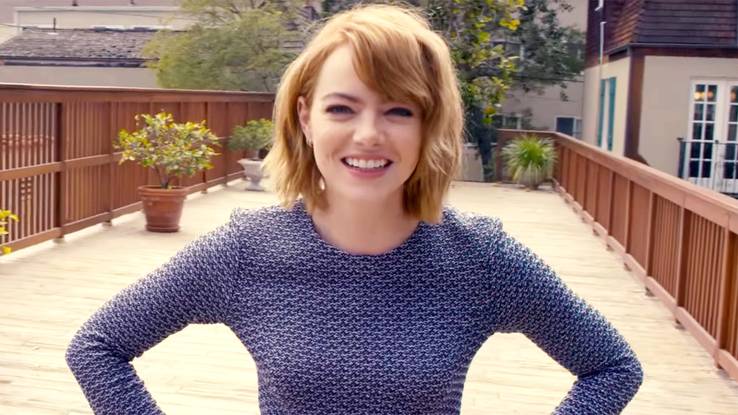 The irony of this pic? Emma Stone was letting Vogue into her home for their 73 Questions interview. You'd think that an Oscar-winning actress with $26 million paychecks would have developed the expected ego by now. Nope. What you see is what you get with Emma. The La La Land actress has come a long way from her teen drama days on Easy A, but the giggly school-girl charm hasn't gone anywhere. Emma just has to scrunch up that face of hers, and the world is putty in her hands. And it isn't just guys. Girls are embracing their freckles all over again, thanks to the one girl in Hollywood who is willing to show them off.
Christina Aguilera? We didn't even know that she had freckles until Paper wiped off her makeup. Not only did Emma go makeup free for her interview, she welcomed the magazine's reps in jeans you could probably buy in Target. Innocent as this girl may seem, Emma had to fight it out like the rest of them. Convincing her parents to let her move to California to pursue acting didn't come easily. "When I feel really passionate, I get overwhelmed and it makes me cry," Emma told Vogue. Good thing you aren't caked-up in mascara, then!
11

DIFFERENT PERSON: BRITNEY SPEARS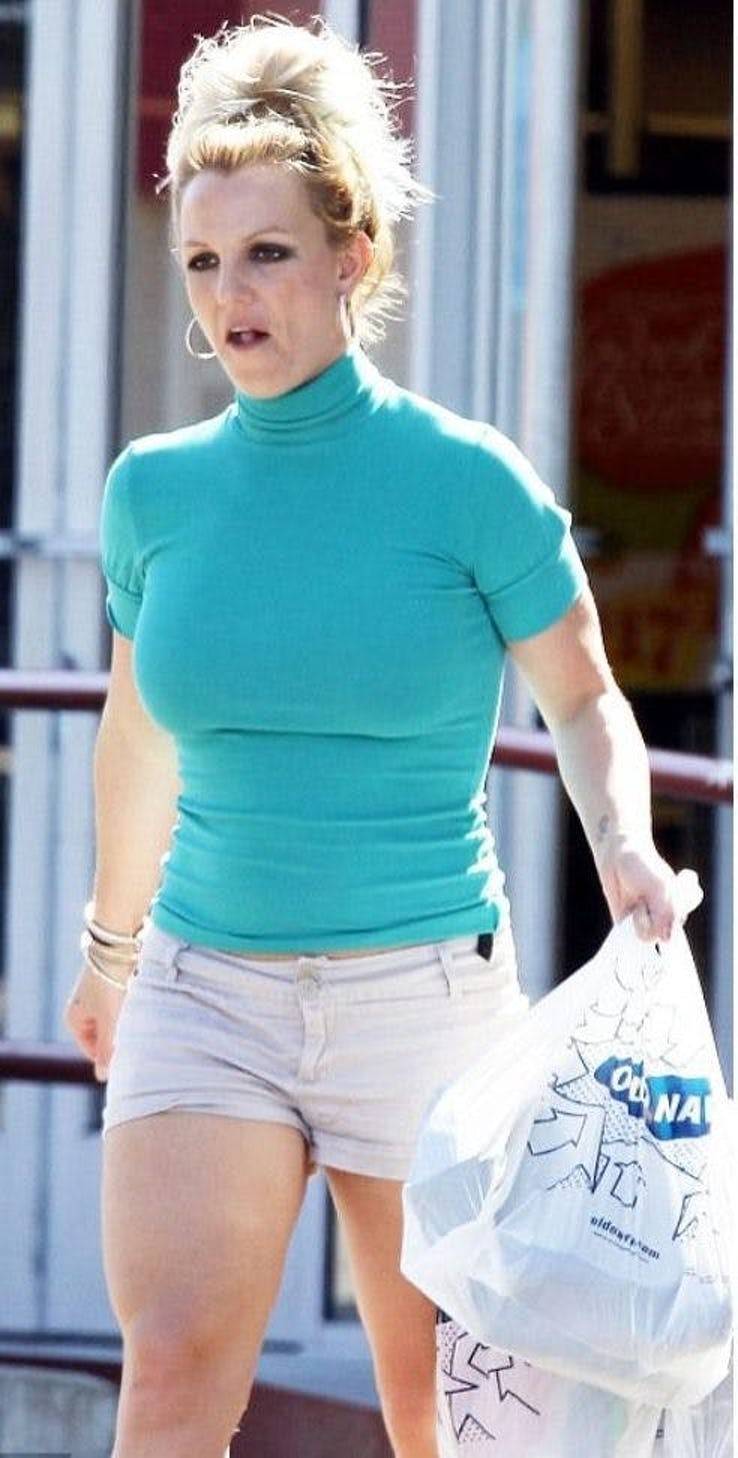 Tread carefully if you're going to slam Britney Spears. The Piece Of Me singer might look like she's employed by a trash collection company, but she's brave enough to take the trash out herself. Which, er, is more than we can say for Kim Kardashian and her Louis Vuitton trash cans. Britney does "parking lot looks" on a whole other level. Stained sweats, torn shorts, and $5 tanks are her jam, but it's hard to slam. Why? Because Britney doesn't care. The singer has come a long way from her downward spiral. The Louisiana roots are as proud as they are solid– Britney's Piece Of Me Las Vegas Residency was so popular, she extended it for an extra two years.
Taylor Swift might "Shake It Off," but so does Britney. "I'm Mrs. Lifestyles of the rich and famous (You want a piece of me) I'm Mrs. Oh my God that Britney's shameless!" Shamers– consider yourselves spoken to. Britney is currently working out five hours a day, according to The Daily Mail. Britney's social media is showing us a grounded mom. That creep, K-Fed (admit it) went away a long time ago, and we're seeing a happy, fit, and healthy Britney. Go check her social media yourself. The #nomakeup shots are there.
10

LOOKS THE SAME: GIGI HADID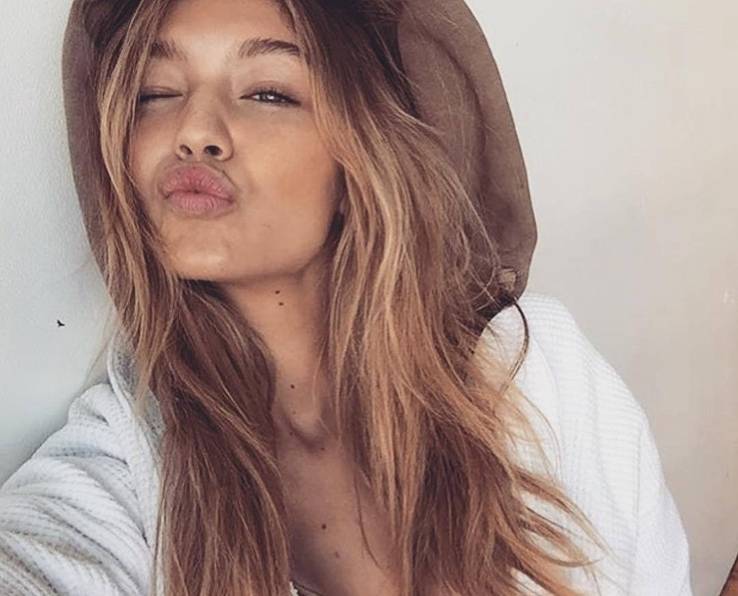 If you think that these models get to audition with makeup, you're seriously deluded. The modeling world might slowly be learning that body positivity exists, but getting into it hasn't changed. This is how it goes. They want you raw, with a capital R. You go in (jeans and a t-shirt, please). Heels aren't allowed and nor is makeup. The whole point of choosing a model is finding that face that's a versatile canvas. That means one thing. That's got to be some good quality canvas they're spotting.
The modeling world wants you RAW (with a capital R). Auditions are strictly no makeup. Gigi looks the same whether it's a polaroid or a Versace campaign.
With over 40 million Instagram followers and a pretty impressive dating portfolio, Gigi may be freshly updating her relationship status, but this model will never go stale. The first place Gigi hit after the 2016 Victoria's Secret show in Paris? A burger joint with her BFF, Kendall Jenner. "Burgers keep me sane," Gigi told Jimmy Fallon (while eating a burger). Bella Hadid's younger sister is proving every inch as beautiful as her older sibling, although these two do have the one thing money can't buy. Good genes.
9

DIFFERENT PERSON: JENNIFER LAWRENCE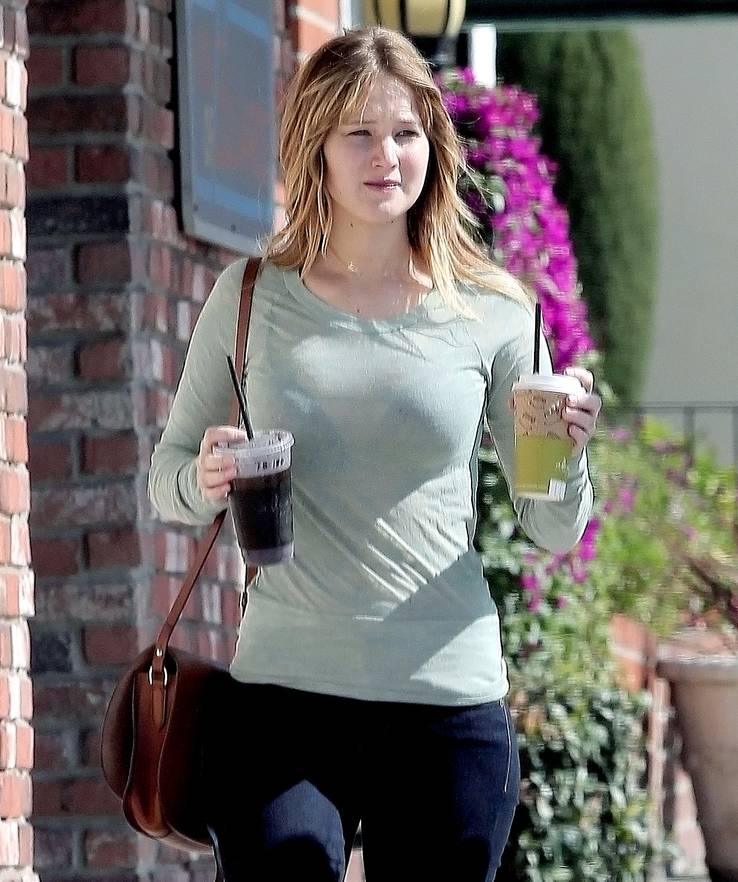 Newsflash. It might be time to change your tune when Title Magazine are running headline stories: "When Did Everyone Turn on Jennifer Lawrence?" The Hunger Games actress took a giant risk joining an industry as fickle as Hollywood– but hey! You get what you asked for. JLaw is known for her powerful performances, go-getting stunt attitude, and her (usual) blonde beauty. Every time Jen hits a red carpet, search engines crack under all the clicking. It's when Jen steps out the door without makeup though, that the real cracks start to show.
Jen's slight dwindle in popularity isn't based on her looks. The actress has trashed other movies. Title kind of had a point when they reported that Jen had said she "couldn't last three minutes into Phantom Thread." That got Jen noticed. On this list though, you get noticed for something less complex. You want in on an industry that values looks? You're going to get papped without makeup. And yes, at $20 million for your new Red Sparrow movie, people are going to give an opinion.
8

LOOKS THE SAME: ANGELINA JOLIE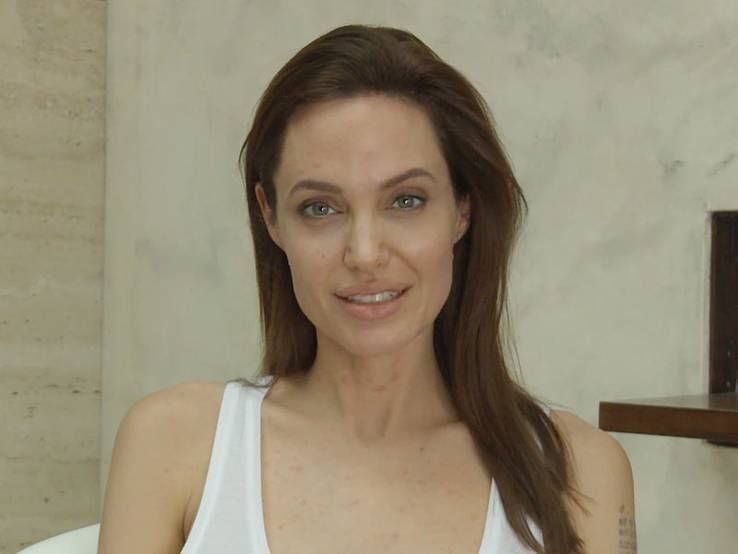 Good-looking women in Hollywood are a dime a dozen. Not many get to be crowned "Most Beautiful Woman In The World" by Vanity Fair. Even fewer look as good visiting an African village as they do on the red carpet. Angelina Jolie has been turning heads since she was a teenager. The Lara Croft: Tomb Raider actress took Hollywood by storm as a hard-hitting, gun-toting, stunt-pulling actress with an opinion, and it's kind of snowballed. Angie is as famous for her movies as she is for her humanitarian work– if anything, that says: "Beauty comes from within."
3 divorces and 6 kids later, Angie might not be what she was. The "World's Most Beautiful Woman" hasn't left the building, though.
At 42 years old, Angelina actually looks her age. The accolades might have come easy to Ange, but relationships are still something this actress needs tutoring on. As her third marriage to Brad Pitt collapsed in 2017, the world saw a less-appealing side to the glittering smile and angelic features. Brad's interview with GQ saw him compare the "chaos" of their marriage to One Flew Over The Cuckoo's Nest– a movie set in a mental asylum. Six kids and three husbands later, Angie is single. But she's still beautiful.
7

DIFFERENT PERSON: LADY GAGA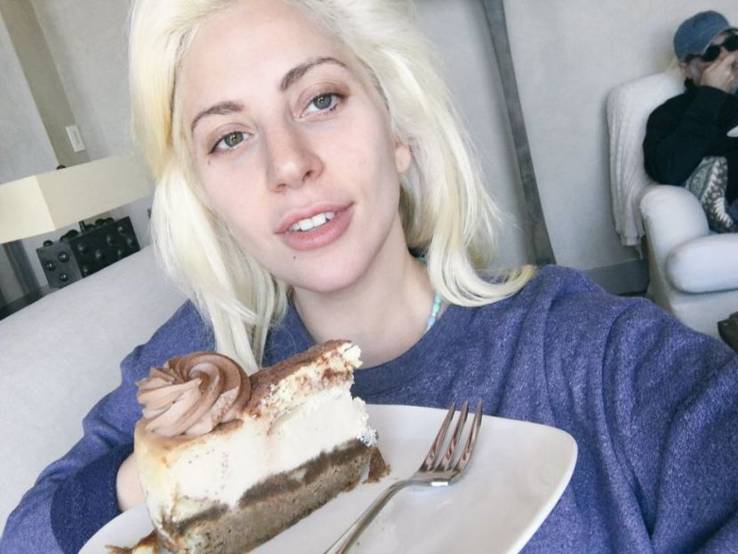 Lady Gaga doesn't just come as a title. She comes as a persona. Just this week, the Born This Way singer decided to show us exactly that – her #AStarIsBorn Instagram post accompanies the name of her upcoming feature film. Lady Gaga hit us with a giant carousel of sharp-faced looks, oversized wigs, and statement shades. From her futuristic music videos to that raw meat dress she wore to the 2010 MTV Video Music Awards, Stefani Joanne Angelina Germanotta has been hiding behind her moniker since day one.
The "Bad Romance" star is currently channeling the Joanne in her. The discotheque incarnation of David Bowie makeup and platinum blonde hair is getting a makeunder, and fans are loving it. This isn't the first time Lady Gaga has made a beeline for the baby wipes. In 2016, she celebrated her 30th birthday with this stunning no makeup shot of her (plus a well-earned slice of cake). "I save a piece of birthday cake for my fans," she captioned her post. That's the thing about being beautiful underneath. You can have your cake and eat it.
6

LOOKS THE SAME: RIHANNA

Rihanna is a hard lady to please. In June 2018, NBC confirmed reports that Rihanna had "dumped her billionaire boyfriend," the Saudi businessman, Hassan Jameel. Just this week, the singer showcased her Savage X Fenty lingerie line in London. Between her tours, recording, fashion dabbling, and filming of Ocean's 8, there's kind of no way out. This girl is going to get papped without makeup. Big surprise, the star's lyrics come right out in her face.
"Shine bright like a diamond." Rihanna is out to push boundaries in every way possible. Chris Brown didn't know who he was messing with.
As Rihanna's Fenty Beauty line flies off shelves (yes, all 40 shades of foundation), you might think that it's all a bit hypocritical. A woman selling makeup, yet campaigning for real beauty? While makeup is a "secret weapon" for Rihanna according to her interview with Time, this hard-hitting businesswoman isn't as shallow as you might think. "I love challenges," she said. "I'm going to continue to have fun and push the boundaries in this industry." Think she hasn't gotten to work yet? Rihanna was a "huge support" to Anne Hathaway on accepting her post-baby body. Chris Brown didn't know who he was messing with.
5

DIFFERENT PERSON: BLAC CHYNA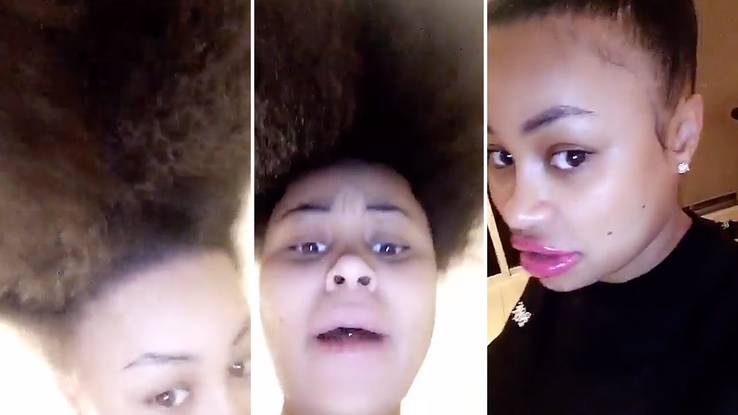 Queen of baby momma dramas, six-inch lashes, and all the bling in the world, Blac Chyna is rarely seen without her statement hair and makeup. With full bangs, garish blondes, and a lot of contouring, the model and self-proclaimed style queen is pretty liberal with the war paint. Well, that and dumping her baby daddy, Rob Kardashian on social media. Yeah, this girl is a handful. Feuding seems to be what fuels this outspoken reality star – People even reported that Blac Chyna wants to sue the Kardashian's because her Rob & Chyna show got canceled. Good luck.
This pic? It's from her "My Natural Hair" Snapchat video back in 2016. Slam her all you like, but she was brave enough to post it– and no, she isn't looking her best. "I'm trying to grab all this hair," she starts, "and put it in a ponytail." Not only is she 100% makeup-free, she is filming herself from below. Any girl will know that "from below" is the worst possible angle. What was pretty brave here, is that halfway through the video, she switches to a makeup tutorial. That's basically giving us a before and after shot. One minute, it's bathrobes and crazy hair. The next, it's lip glosses and plumped-up lips. She'll never be low key, but Blac Chyna does know how to be two people.
4

LOOKS THE SAME: HILARY DUFF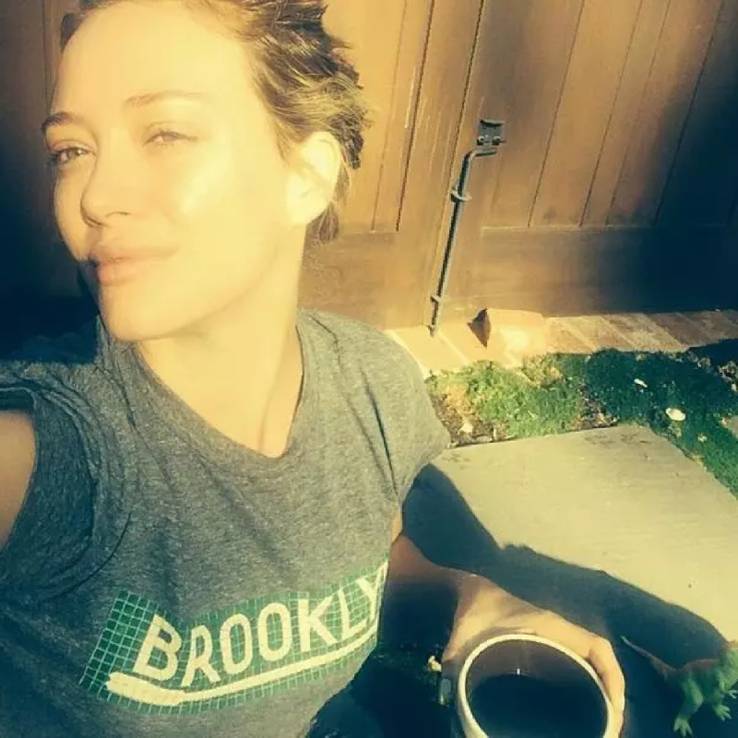 The sun just shines on this woman. Hilary Duff is fast-becoming the ultimate girl crush, thanks to her totally real image, down-to-earth personality, and binge-worthy role on Younger. While the rest of Hollywood spends more than you earn in a year on Photoshop teams, Hilary is steadily feeding the world what it wants to see. An Instagram account that's literally: "I woke up like this." Scrunched-up morning selfies are Hilary's style. Her accessories? It's either her kids or her dogs.
Stretch marks are "battle wounds" to be proud of for Hilary. The only filter you'll see with her is a coffee filter.
Speaking to Shape, the newly-pregnant actress said that adapting to her body changes during and after pregnancy has been tough, but totally worth it. "When I look at my body and see stretch marks from being pregnant, I look at Luca and think: I can't imagine my life without you, so if I have a few of these battle wounds from having you, I don't really care." Crushes, this girl may have, but Hilary is crushing the haters. "Women are so amazing," she added.
3

DIFFERENT PERSON: GWYNETH PALTROW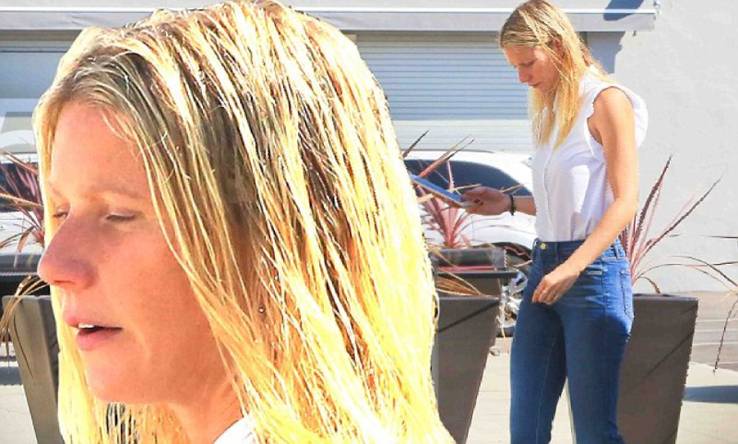 Not her glossiest moment. Gwyneth Paltrow is a rare breed. For all the 90's actresses whose careers fizzled out the minute that millennium clock hit midnight, Gwyneth hasn't done too badly for herself. Getting herself in with the MCU? It wouldn't be Tony Stark's penthouse without a Pepper Potts floating around. That said, would Tony have been eyeing Pepper up looking like this? Gwyneth isn't great on the whole reputation-building. Her GOOP lifestyle website has been repeatedly slammed for its unrealistic and unhealthy recommendations– unless you count $950 toilet tissue as "reasonable."
Gwyneth's red carpet look is….not this. Nor is the Gwyneth Movie Look. Gwyneth is known for her super-healthy, organic and gluten-free lifestyle– something she reportedly imposes on her kids, according to The Sun. To be fair, it's all a bit up in the air with the Shakespeare In Love actress. Apple and Moses are her kids' names, although a teen Apple is turning out to be quite the beauty. Does the apple fall far from the tree? Not on this occasion.
2

LOOKS THE SAME: KENDALL JENNER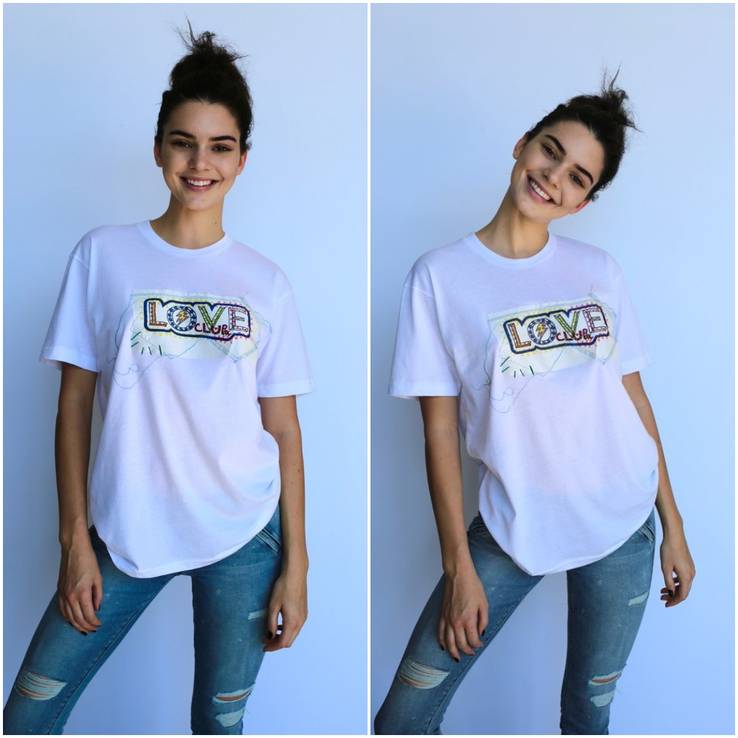 Stepping out with no makeup is pretty brave going when your sisters basically run the cosmetics world. Kendall Jenner is surrounded on all sides. While big sis, Kim rules the contouring world with the KKW Beauty Line, her little sister, Kylie is doing the same. The Kylie Cosmetics empire turned a staggering $420 million in 2017 sales according to Forbes. Meanwhile, Kendall is outshining her sisters, one makeup-free selfie at a time. Kendall is a supermodel with an edge. Her hipster vibes are more swinging by In-N-Out in her vintage Corvette than fussing over lip glosses, although Kendall is the face of Estee Lauder cosmetics.
"Less is more," Kendall told W Magazine. "Nothing too crazy." It's a simple affair for the Victoria's Secret model, who listens to her dermatologist's advice: "Don't ever pick at your skin!" That might be advice worth listening to, since brands like Balmain, Calvin Klein, Adidas, and La Perla have all picked Kendall to be their face. Over 90 million of us are following this girl on Instagram– and we're not doing it for the complicated brushes.
1

DIFFERENT PERSON: JENNIFER LOPEZ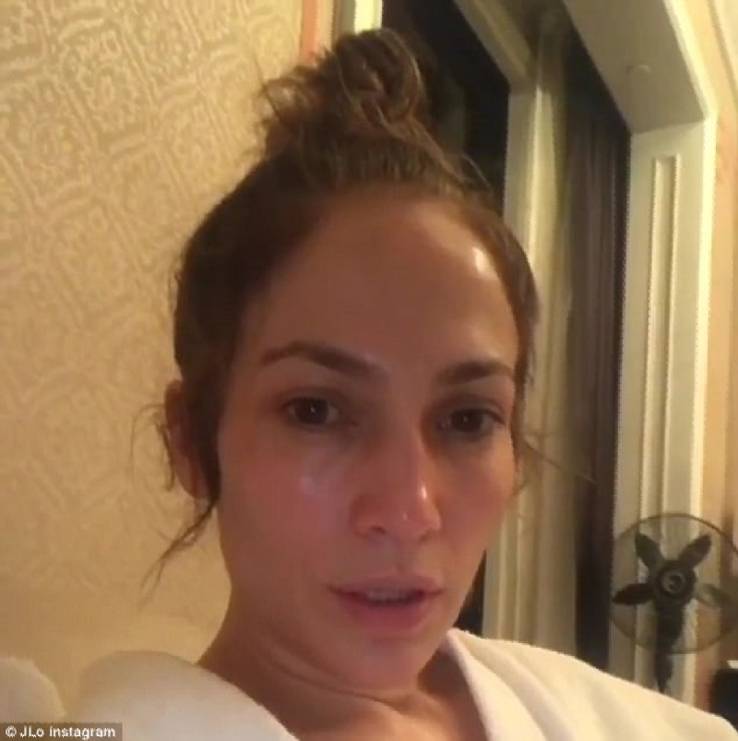 Hey! If you're going to write songs called "I'm Real," you're going to have to step up to the plate. A million miles from the polished J-Lo we see behind that American Idol desk, Jennifer Lopez showed us a very different side of herself with this 2017 selfie. This feisty Latina may have earned herself a diva reputation, but she isn't above showing us the girl underneath. The timing was pretty brave, too. Showing us "all she has," Jen sent out this Instagram pic just before performing her All I Have residency at Planet Hollywood in Las Vegas. "So this is what it's like before the show. I sit here, no hair, no makeup, no nothing," she said into the camera.
J-Lo might ghost her own in-flight attendants. But, she'll put her money where her mouth is though. The "I'm Real" singer posted this just before a performance.
Jen looks like a different person. Those cheekbones suddenly seem… well, normal. The wispy hair is just like yours. The shiny nose and uneven complexion? Amazingly, that's called being a human. J-Lo is not an easy-going woman. When Business Insider posted her list of diva demands, the world was shocked. "Meltdowns" if Jen's sunflower seeds don't have shells.  Diamond-encrusted headphones. $500 Jo Malone candles. At the same time, the diva will land (without makeup).
Admit it – that Katy Perry shot? Tyra? Even the great goddess, Jennifer Lawrence herself? Oh, and Mila? We were pretty shocked. If someone on your Facebook friends list is a giant fan of any of these 20 ladies (or just can't drag herself away from Maybelline), hit share. The world needs to see both sides. Leave us a comment once you've hit share– we want to know who literally made you do a double take.
Source: Read Full Article