While for some fans it might be hard to believe, it looks like the Duggars' fame might finally be coming to an end. After maintaining the top spot in the reality television world for more than a decade, it looks like the Duggars' 15 minutes of fame is dwindling down to a mere few seconds and counting. Why? Because fans are simply over everything the Duggars stand for and how they go about their lives. They are tired of keeping up with all of the courtships, the pregnancies, the marriages and of course, the same old controversies. At this point, they've realized that the Duggars really don't have much to offer other than their same reality television formula and that's why they are moving on.
But for Michelle and Jim Bob Duggar, this is concerning. That's because they depend on their celebrity status to help pay the bills at home. After all, they have 19 kids and several grandchildren to take care of. Jim Bob's failing businesses won't be able to keep the lights on for too long and that's why they need to keep their family on television for as long as possible. With that being said, here are 15 reasons why the Duggars' fame is finally coming to and end.
15

No More Duggar Babies
Michelle Duggar has stopped having babies years ago but it's her daughters who have picked up the baton and carried on the Duggar tradition of having one baby after another. But it looks like fans have lost interest. In fact, no one can name any of the Duggar grandbabies anymore just because there are so many of them. In fact, people were quite surprised that Josh and Anna Duggar still had a child, despite all of his scandals from 2015. You'd think they would have other priorities in their life, but sadly, no.
"For nearly the last two years, we have quietly worked to save our marriage, focus on our children, and rebuild our lives together as a family. Doing so is never easy after a breach of trust," Josh and Anna wrote in a blog post back in 2017.
"We've learned that a life of faith and rebuilding a life together is simply done one day at a time," the post continues. "As we continue our journey as a family and rebuild our lives, we are delighted to share with you that we are expecting a new baby boy later this year. Beauty comes from ashes and we cannot wait to see and kiss the face of this sweet new boy!"
14

The Duggar Hypocrisy
When it comes to the Duggar family, their mantra seems to be "Do as a I say, but not as a I do." They like to portray themselves as a wholesome family with Christian values who do very little wrong. But when they are caught in the middle of a crisis, they like to sweep everything under the rug and downplay it as if nothing happened. They will point their fingers at you, but no one can dare to even think about pointing fingers at them.
It took several long months before the Duggars could even release a statement about Josh and his controversies.
Michelle and Jim Bob wrote on their web site back in March of 2016, "Josh has completed his residential rehabilitation program. We are so thankful for everyone who worked with Josh in this program. It was a crucial first step in recovery and healing for Josh. Josh has now returned to Arkansas, where he will continue professional counseling and focus on rebuilding relationships with his family. We look to God for help and guidance and place all of our trust in Him. We are forever grateful for the love and prayers offered by so many and hope you will continue to pray in the days ahead."
13

The Same Old Gossip 
As we all know, the Duggars are a family with very strong Christian values. And if you are someone who doesn't agree with their values or lifestyle, they will definitely voice their opinion about it, just like when Derick had a few words to say about fellow TLC star Jazz Jennings. He couldn't understand why someone like Jazz was given a platform to showcase her life.
According to Us Weekly, Derick Dillard tweeted on Thursday, November 9, "I pity Jazz 4 those who take advantage of him in order [to] promote their agenda, including the parents who allow these kinds of decisions [to] be made by a child. It's sad that [people] would use a juvenile this way. Again, nothing about him, just unfortunate what's on TV these days."
A lot of people slammed Derick for bullying the trans star on social media. Derick defended himself on Twitter by explaining that he "was just expressing his concerns as a Christian" and wrote, "Never bullied anyone, just said I didn't agree with what is being propagated on TV. I'm expressing my view of what should be treated as reality; if I say I feel like I am Nepali, that doesn't make me so."
12

TLC Doesn't Want Them Back
With everything that the Duggars have said and done in the past, it's no wonder that the TLC network has all but cut ties with the family. They are just keeping them on for contractual obligations or at least until their ratings completely dry up. And this is mostly because Josh Duggar hasn't been their only problematic reality star. Jill Duggar's husband Derick Dillard has been quite a controversial figure and simply put, the network is just over it.
They want nothing to do with him just like they want nothing to do with Josh. They know that Derick is capable of creating a dumpster fire of problems and that's why they've let him go from the Duggar spin-off shows.
"We want to let our viewers know that Derick Dillard has not participated in Counting On for months and the network has no plans to feature him in the future. We want to reiterate that Derick's personal statements do not reflect the views of the network," a statement shared on TLC's Twitter account on Saturday, November 11, read (via Us Weekly). "TLC is proud to share the story of Jazz Jennings and her family and will continue to do so."
11

They've Lost A Bunch Of Their Sponsors
Losing TLC is one thing, but losing your sponsors and advertisers is another. After the Josh Duggar scandals made headlines back in 2015, all of the Duggar sponsors and advertisers began abandoning the reality television family, one by one. And they haven't looked back since. Jim Bob and Michelle Duggar really relied on these companies to help pay their monthly bills. At this point, the Duggars really are in survival mode.
Some statements from advertisers have included, "Hotwire's ads appear on many cable networks including AMC, Bravo, HGTV, TNT, TBS, USA as well as TLC Network. While we are able to select which cable networks air our ads, we do not select the specific shows. After further consideration we have decided to remove this network from our plan."
Many companies have been dropping from the Duggar family like flies. 
Another one read, "The Gerber Life ad was inadvertently shown during the premiere of Counting On. We have been assured that Gerber Life ads will no longer be shown during this program" and "We did not have control over when the advertisement ran, as it was a direct response buy. We did not purposely intend to advertise during any specific TLC program."
10

No Forgiveness For Josh Duggar
At this point, it's pretty obvious that the public will never forgive Josh Duggar for what he did to his sisters when he was a teen and more recently, the humiliation he caused for his wife Anna. It's just not going to happen. And while it doesn't look like Anna will ever pull the plug on her marriage to Josh, viewers have definitely pulled the plug on them. Simply put, they don't want to see the couple on reality television anymore.
There is very little sympathy left for Anna, simply because she decided to stay with her husband, despite all of the things he's done in the past. Fans just can't forgive and they don't want to forget.
"They were horrified that she'd been persuaded to talk on-camera about Josh, and then wheeled out with the children, looking like everything was fine," a source said back in 2016 to The Daily Mail. "The 'new friends' must have made a huge impression on Anna, who had previously been unwavering in her support of her disgraced husband. Hearing those outside views changed Anna incredibly,' sources shared, adding that she 'agrees and feels angry that Josh has treated her so appallingly for so long."
9

Their Formula Is Not Working Anymore
For the longest time, the Duggars relied on the same old reality television formula: introduce a new courtship, get your daughter or son married in a televised ceremony, make sure they get pregnant within a matter of weeks (if not days) and introduce a new Duggar grandbaby to the world. The only problem with this formula is that no one seems to be paying any more attention to it. Simply put, fans are bored and completely over it. And even though it's not working for the Duggars anymore, they seem not to get it. They are still getting pregnant and popping out babies like robots, so to speak.
"We are so excited to introduce our little baby boy to the world," Jessa wrote in a blog post after the birth of her second child (via People Magazine). "I think it's really awesome that we have two little boys so close together in age. I know they're going to be best friends and love growing up and doing everything together, so I'm looking forward to seeing that. I know Ben's probably going to have them out in the backyard playing football in the next couple of years!"
Hello? Anyone in there? Fans are just not interested in what is going on in the Duggar daughters' womb anymore. Time to move on, if not carry on, too.
Featured Today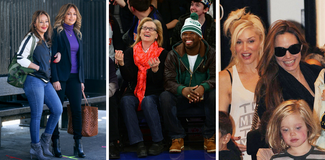 20 Hollywood BFFs Fans Would Be Surprised To See Together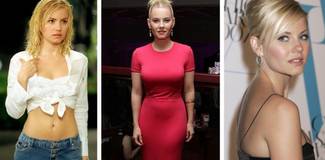 20 Reasons Why Hollywood Dropped Elisha Cuthbert Forever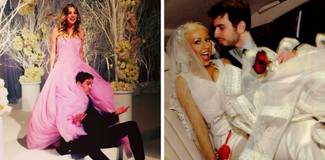 25 Awkward Celebrity Wedding Photos That Give Us Second Hand Embarrassment

8

No One Is Paying Attention To The Younger Siblings
If that weren't enough, no one is paying much attention to the younger siblings, either. In fact, they are barely even featured in any of the spin-off shows. You'd think that Jim Bob and Michelle Duggar – being the quick thinkers that they are – would do something about this by coming up with a creative spin-off show for the younger Duggar kids, but that hasn't happened yet. In fact, fans rarely get to see any of the younger kids anymore, that they are surprised by just how much they've grown when they do see them. Case in point: Josie Duggar, who was born back in 2009, has changed so much over the years. She's no longer a baby and now a little girl, much to the surprise of Duggar fans. Apparently, she's also following in the footsteps of her mother.
"It's hard to believe we'll be looking at her holding her own baby in roughly 10 years," one person said (via In Touch Weekly). Another wrote, "Maybe seeing as they treat Josie as being younger [than] she really is, they'll keep her at home for more years."
"You are such a good little helper," another commenter said. "And always doing on the babies, being a little mother."
7

Fans Have Moved On
While the Duggars were hoping that fans would help "count on" with them, they've moved on instead. After all, the entertainment business is a cruel and cutthroat one. One moment you are in, the next moment you are out. And while there have been plenty of reality television stars who have managed to weather each and every storm, that doesn't seem to be the case with the Duggars. Their critics and their haters want to see them out. Yet, the Duggars are still holding on to whatever hope they have that they can remain in the public spotlight for as long as they can.
Speaking about Josh Duggar's controversies, his wife Anna said back in 2016, "It's such a betrayal for a spouse for through what we're walking through and it was hard." Anna explained she couldn't act based on how she was feeling because she'd "turn a mess into a disaster. In my heart, when I got married, I vowed to God first and then to Joshua, 'For better or for worse. 'Til death do we part.' I pray that through all of this that I would be an extension of God's love to Joshua, that I would love him and forgive him and wait patiently and allow God to work through our hearts. My prayer and my heart's desire is for our marriage to be restored."
6

The Adult Children Are Over It
At this point, it seems like the only people who are willing to continue putting on a show are Jim Bob and Michelle Duggar. Truth be told, even their children seem like they are over it. A lot of the older kids want nothing to do with their family, their strict rules, or even the fame anymore. Take Jinger Duggar for example. Ever since she married her husband Jeremy Vuolo, she's taken on a completely new lifestyle and has moved to a different state. She's also – gasp! – started changing her appearance and her wardrobe, signaling that she no longer wants to be a Duggar. All she wants to do is be a married woman who is making her own decisions in her life. For her parents Jim Bob and Michelle, that realization might be a hard pill to swallow.
"So excited to share this news that we are now engaged," Jinger and Jeremy told People Magazine following their engagement in 2016.
"From both of us, thank you all for the countless well-wishes we've received during the courtship. We are so excited to take this next step in spending our lives together. We are so grateful for how the Lord has brought us together. It has been an incredible journey so far and we are excited about serving Christ together in the coming days."
5

No One Is Following Michelle's Rules Anymore
The Duggar children grew up in a very strict household. Everyone knows that and they've seen it on their reality television show. Well, as most things in life, many of Michelle's rules have come to an end. Her older children have their own lives, their own marriages, and their own families. And they've made it pretty clear that they don't want to raise their kids the way she once did. Yet, Michelle doesn't seem to realize this. She still regularly posts her marriage advice on her official blog, believing that everyone is still listening to what she has to say and adapting it to their own lives. Now, we don't want to say that Michelle Duggar is tone-deaf, but a lot of critics have said that about her in the past.
Michelle truly does believe that she has all of the answers that the world are looking for. She recently wrote on the family's blog, "We encourage all of you guys out there, pursue your wife as if you were dating her, treat her like a queen, humble yourself and ask for forgiveness when offenses come, before the sun goes down, serve her in every way you can think of and never under appreciate the love she's offered you by becoming your wife!"
4

All The Jill Duggar Backlash
If all of the above weren't enough, there is a lot of hate for Jill Duggar online these days. For some reason that just can't be explained, critics love to slam Jill for the things she posts on social media, no matter how mundane it may be. Most of this hate is because they also can't stand her husband, Derick. Out of all the Duggar husbands (excluding Josh Duggar) he does seem to be the most opinionated and the most controversial, too. And for many reality television fans, they just don't want to see this couple anymore.
Speaking about the root of bitterness, Michelle wrote on her blog, "Taking care of little ones, working with older ones, work pressures, and relationships can all put a stress on our joy. One particular thing that came to me while reading is that bitterness can also steal our joy. Having bitterness in our spirit robs us of life's most beautiful moments. Comparing ourselves to others, envy, and jealousy all lead down a road to bitterness. Bitterness can cause us to be harsh and to treat others unfairly—sometimes unknowingly! One thing we must do as Christians is to pray that bitterness finds no place in our hearts."
3

Michelle And Jim Bob Are Losing Control
Simply put, Michelle and Jim Bob are slowly but surely losing control of their family and everything they've built at this point. Their older children have their own lives and their own household rules. TLC doesn't want to air them anymore. Producers are not extending their contracts and advertisers are keeping their distance. The Duggar empire is crumbling, piece by piece.
Thankfully, (and we truly do mean it), Jim Bob and Michelle still have each other. Because at this point, it's very doubtful that Michelle would ever leave her man's side, no matter how tough things might get in the future for them. She will stick with him to the very end. And with everything they have been though together, that does say a lot.
Jim Bob wrote on the family's official Duggar website, "Also, commit to pray with your wife everyday. Start protecting your family by removing books, magazines, television, or internet that have worldly or sensual content. Replace them with good things like wholesome music, biographies of great Christians, good old-fashioned family fun and games. Love God with your whole heart and look for opportunities to serve others as a family and tell others about our Saviour."
2

Financial Desperation
With 19 kids and several grandbabies to take care of, you would think that Jim Bob would have a head full of grey hair by now. It is a whole lot to think about, and even more responsibility. Yet, there have been reports indicating that the Duggars have had some financial trouble in the past. And one point, they even went as far as to ask their fans for monetary donations on their web sites. Clearly, supporting this many people is becoming more and more of an issue for the Duggar family. All these kids end up just being many more mouths to feed, and this is far more expensive than Michelle and Jim Bob Duggar once thought.
Back in 2015, The Daily Beast wrote, "The Duggars famously pride themselves on living within their means by budgeting for groceries, buying used cars, making their own laundry detergent, and cutting their own hair, which only makes their recent pattern of public requests for money all the more conspicuous. Racked by scandal and suddenly cut off from their seven-year-long stream of TLC money, the future of the Duggars' media empire is increasingly uncertain." Clearly, the Duggars need to come up with a new financial plan, now that things are quickly heading south.
1

Their 15 Minutes Is Finally Up
Believe it or not, the Duggars' 15 minutes in the spotlight is up. After all, no one is really paying attention to them, no one is watching any of their spin-off shows on television and there are less fans following them on social media. In other words, the jig is up. People are over it, the same way Michelle is over getting pregnant. Of course, this wasn't the situation over 14 years ago, when the world was first introduced to the Duggar family. This was when Michelle and Jim Bob were still in their prime and popping out babies like they were hotcakes.
"I have always left it up to Michelle because she's actually the one that carries them and does all the labor," Jim Bob said in an interview with CBS News back in 2004. "But we both love children. Even yesterday, she said she would like to have some more."
Now, as far as what is next for the Duggar family, no one really knows. Some time away from the cameras would be best. But what we do know is that there is another reality television family waiting to take their place. And yes, the clock is already ticking on them.
Source: Read Full Article