Who doesn't love a sneaky trip to the drive-thru? If you feel bad for all the times you ditched cooking for a Big Mac, we've got news for you. Celebs are indulging in all the greasy goodness just as much as you are. Raking in millions and living in marbled mansions doesn't stop them scarfing down the burgers and pizzas, and we've got the pics to prove it.
Everyone from Selena Gomez to Kendall Jenner is chowing down on their greasy favorites, and that includes most of the Victoria's Secret Angels. If you thought Paris Hilton was allergic to McDonald's, she's not. The Kardashians practically live there, and even Barack Obama has been snapped eating the Dollar Menu.
The pressure to have a perfect body in Hollywood is enormous. Celebs are getting up at the crack of dawn for gruelling workouts–even Kim K wakes up at 5.30 a.m. to work out. For all the macrobiotic and low-carb diets these celebs might claim to be following, they've got these pics to answer to. Fortunately, a fair few are happy to admit that it's perfectly normal to treat yourself once in a while, although a Happy Meal before the Golden Globes hardly says "red carpet." In all their greasy glory, here are 25 celebs you'd never have guessed are eating fast food just like you are.
25

BEYONCE AND JAY-Z HAVE BIG APPETITES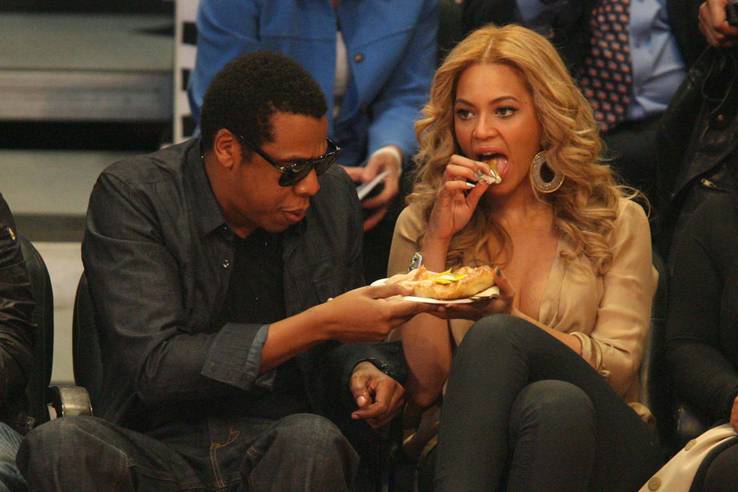 Power couple Beyonce and Jay-Z are mostly spotted at glamorous events like exclusive premieres and Fashion Week. While Beyonce is known for her super healthy lifestyle and balanced approach, she isn't going to miss out on food at the game.
Beyonce raked in a staggering $104 million in 2017 according to Forbes, but she's showing us that she can buy $3 nachos just like the rest of us.
Beyonce's treat day is Tuesday, according to TMZ. Her fave snack? Classic cheeseburgers and fries from In-N-Out. Bey and Jay-Z make headlines for dropping $80,000 on diamond-encrusted barbies for their kids according to People. Still, they've shown us here that they're totally down to earth.
24

VICTORIA'S SECRET MODELS DO EAT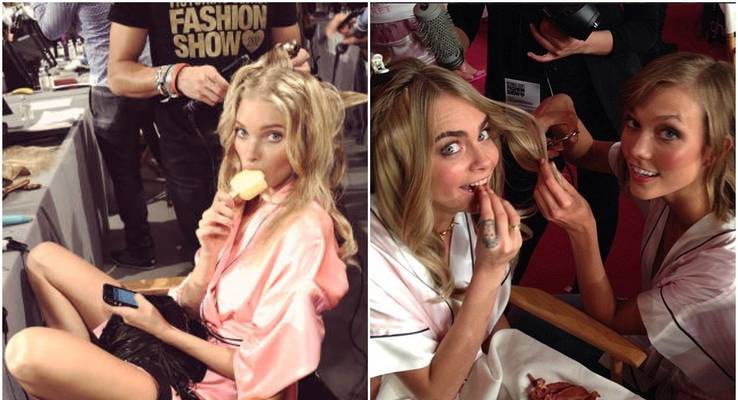 Of all the celebs, models face the most pressure. The modelling world is still very strict about size, and it's only just accepting that curvy can be beautiful. It's well known that the industry sometimes turns models away because they're 5lbs too heavy, and a lot of models have spoken out saying "enough is enough."
Victoria's Secret models may strut the runway in tiny outfits, but they've got big appetites. There's always a ton of food backstage. Kendall Jenner and Gigi Hadid even headed straight to a burger joint in Paris after the 2016 Victoria's Secret show.
If you thought models didn't eat, these pics prove that they do. The modelling world is slowly waking up and realizing you can be beautiful at any size. It's got a long way to go, though.
23

SELENA GOMEZ GETS TACO BIRTHDAY CAKES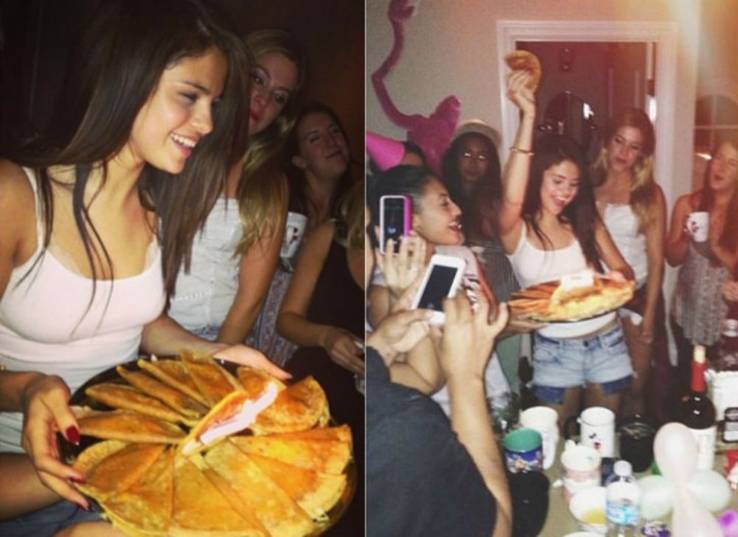 Selena Gomez may be rich enough to exclusively eat at Michelin-starred restaurants, but this girl wants the real stuff. Jack In The Box holds a place in Selena's heart, and she isn't afraid to show it.
Seasoned curly fries, burgers, and chicken or fish sandwiches are only half of Selena's favorites. The Daily Mail reported that Selena is the taco queen. Her friends even made her a taco birthday cake. Aww.
Selena chowed down on the surprise platter, and she even shared it on her Instagram. We love Selena for her laid-back vibe, totally cool spirit, and epic personality. Pity we weren't invited to the taco party, though.
22

PARIS HILTON LIVES AT TACO BELL AND MCD'S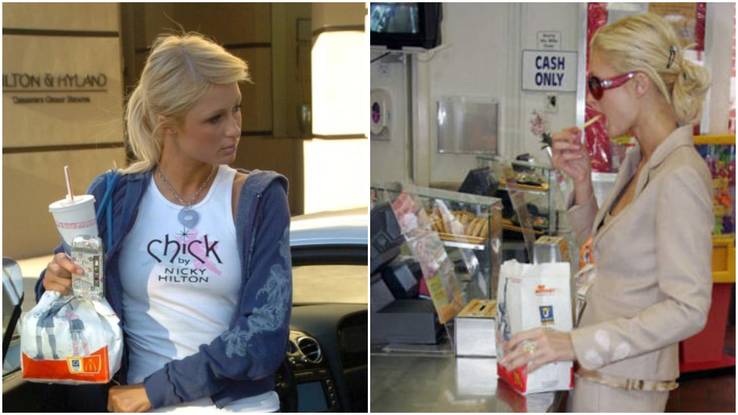 You'd think heiress and socialite, Paris Hilton would only touch the finer things in life. While Paris drives around in a pink Bentley and steps out head-to-toe in designer clothes, she's eating at McDonald's like the rest of us.
Paris is regularly photographed at either McDonald's or Taco Bell. In 2014, Paris filmed a commercial for burger chain, Carl's Jr. The same year, she told The Daily Mail she was "staying away from the drive-thrus." We beg to differ.
Paris is obsessed with Taco Bell. She's also been spotted making pit stops at McDonald's in the airport lounge. Hardly the luxurious life, but please. When there are fries and shakes, who can say no?
21

KATY PERRY IS MCHAPPY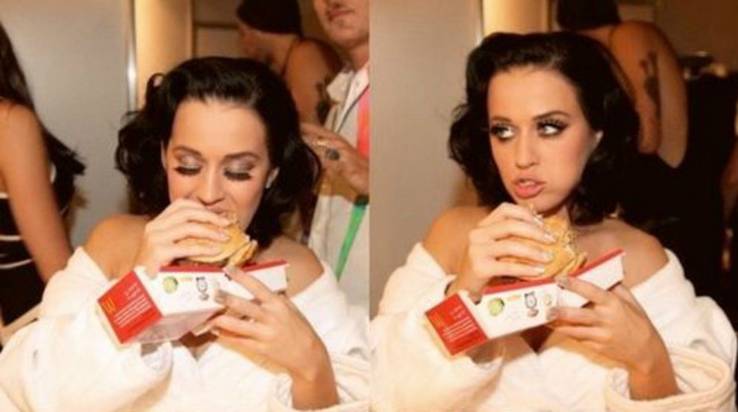 Just one more celeb caught in a less-than-glam moment. Katy Perry actually indulges fairly often, according to People, with McDonald's here as living proof. In-N-Out burgers are a pro of being a "California Girl." Even celebrity chef Gordon Ramsay eats there.
At the 2016 Golden Globes, Katy treated her entire table to a huge platter of In-N-Out burgers. Gooey, cheesy burgers all around was Katy's way of saying thanks, and she sure is showing she can enjoy them here.
Katy does try and follow a strict and healthy diet to stay in shape. She has however admitted that she "loves Taco Bell." We don't blame her! Keep reading for the best pics to come.
20

CHILI DOG FOR YOU, MR PRESIDENT?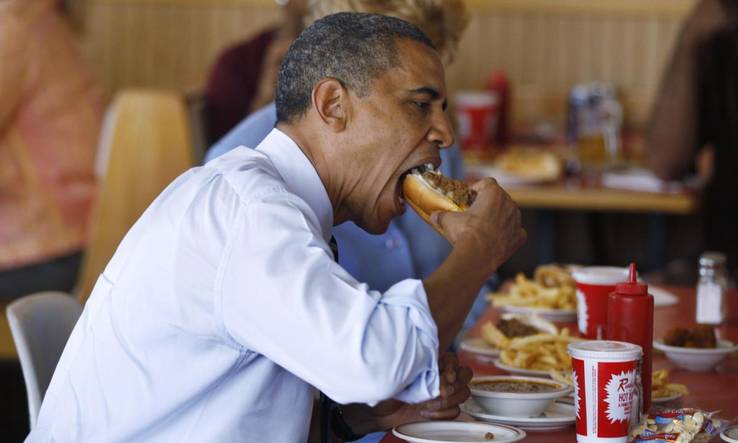 Seriously? Barack Obama? Didn't he only eat prime gourmet meals in The White House? Barack was known for being in amazing shape throughout his career as President. He was a basketball lover, and he definitely didn't pile on the pounds.
Did you know Barack Obama used to work at Baskin Robbins? His hands-down favorite though are Five Guys burgers, and he has a soft spot for cheeseburgers. He also told Business Insider that "chips and guac and Ben's Chili Bowl in Washington, D.C." were up there.
Barack's schedule as President was super hectic. While Michelle had a vegetable garden and the family generally led a very healthy lifestyle, this pic proves that even Barack was up for some beef.
19

THE KARDASHIANS LOVE FRIED CHICKEN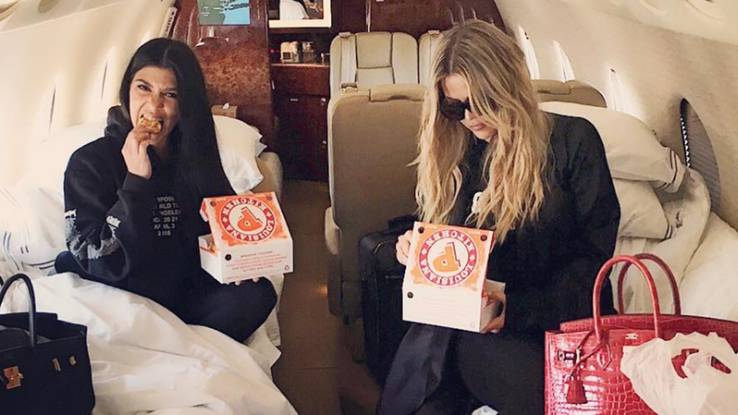 Yes, that's right. The Kardashians may fly exclusively by private jet, but fast food is doing the catering. Khloe and Kourtney made sure they got Popeyes to keep them going during this flight (and it's not the first time).
Kourtney often speaks about her gluten-free and wheat-free diet on Keeping Up With The Kardashians. Khloe is the biggest fitness fanatic in the family, but these girls love their fried chicken just like the rest of us.
Khloe recently welcomed her baby girl, Truth, into the world. Kourtney already has three kids with her baby daddy Scott Disick. Whoever said moms can't eat a little fast food?
Featured Today
Abby Lee Miller In Tears As She Leaves Halfway House

10 Royals Kate And William Are Close To (And 10 They're Not)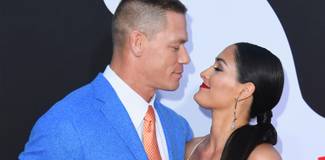 John Cena Tweets After Splitting From Nikki Bella

18

MILA AND ASHTON ARE JUST LIKE US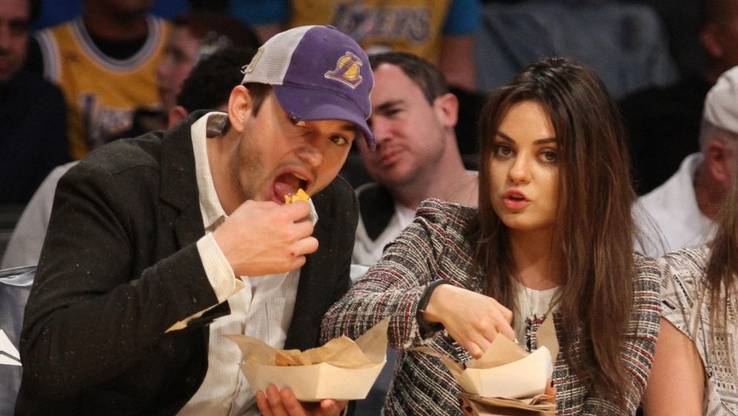 Watching the game without some greasy food? Where's the fun in that? If you go to the movies, you get popcorn. If you're watching sports, you have to go for a hot dog or some nachos.
Mila was indulging in her pregnancy cravings in this 2014 shot, according to Page Six. "This is the worst craving to have," she said, adding: "sauerkraut smells, so every time you open up a jar it just reeks out the whole kitchen." Mila proves that even the most beautiful and most glamorous Hollywood stars can stuff themselves silly. She may be known for her strict parenting, but Mila knows how to relax.
17

J-LAW IS LITERALLY THE HUNGER GAMES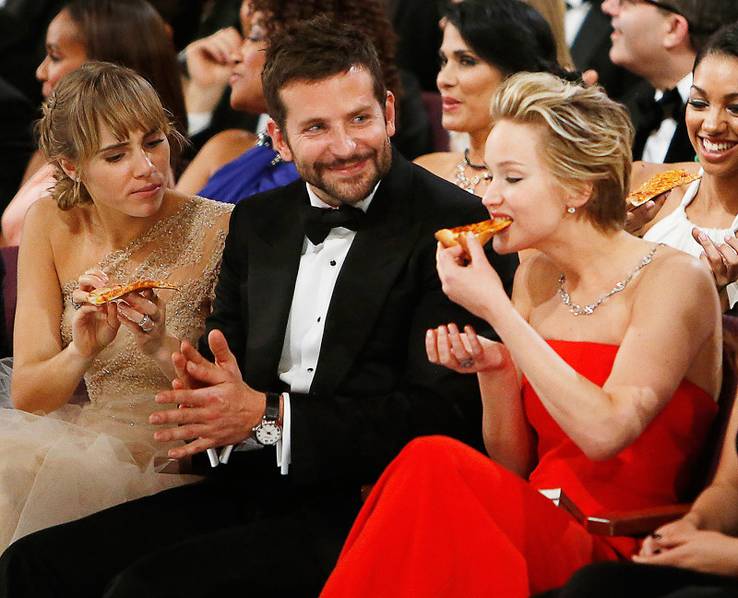 Just watch any interview with Jennifer Lawrence. This actress may have an Oscar to her name, but she talks more about fast food than anything else. The Hunger Games star might shop at Whole Foods, but she can eat a whole pizza at red carpet events.
"I just would want Jack In The Box," she told ET Online. J-Law's biggest weakness is pizza, though. She even created her own pizza chili sandwich. "Pizza fixes everything," she said.
J-Law even couldn't stop thinking about fast food while being interviewed on the red carpet. "I'm seeing you talking," she said to a media interviewer, adding: " but all I can think about is getting fries." Haha!
16

CARA GETS HER SNEAKY FIX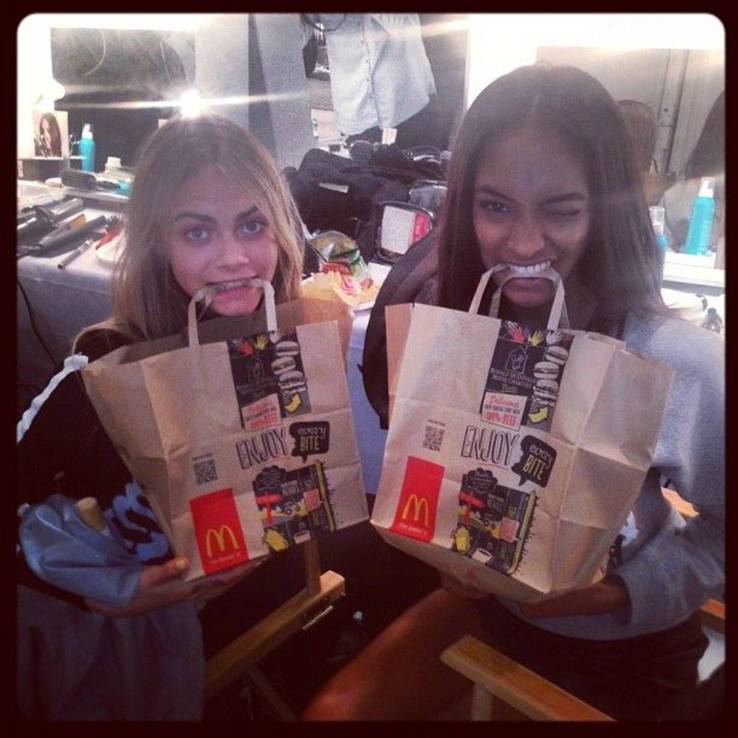 Oh, look. Another supermodel showing us that even the best bodies in the world live off fast food. Cara Delevingne hasn't just posted this pic of her grabbing a McBag to her Instagram. We literally don't see her doing much else.
Cara has posted this McDonald's pic, plus her with a pizza slice the size of her head. The Victoria's Secret model is always grabbing burgers at music festivals. In 2014, she even turned down an award ceremony in favor of a burger.
Cara has super lucrative contracts under her belt. She may be the face of Dolce & Gabbana and Burberry, but she can dine on the cheap like the rest of us.
15

BAD GIRL RIRI?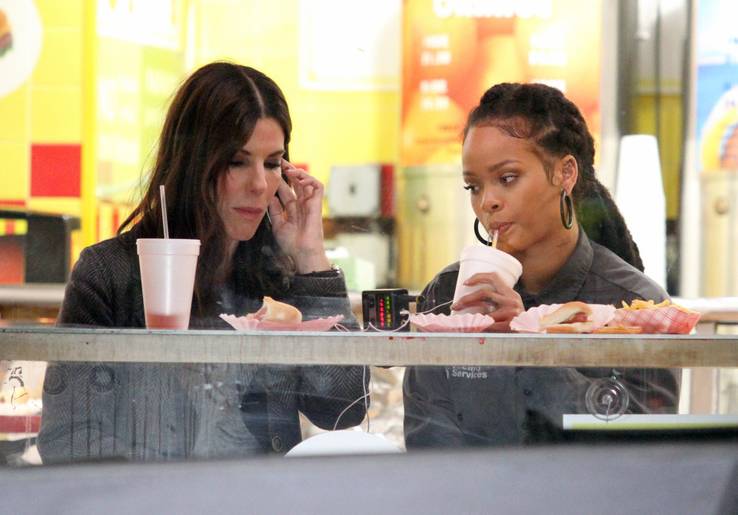 Rihanna definitely looks at peace here. Maybe it's because she's with actress, Sandra Bullock. Most likely though, is that she's eyeing up some tasty treats at her favorite Barbados food joint.
Rihanna has shared pics of herself munching her favorite chicken nuggets from Chefette in Barbados, where she has a home. "She likes those carbs," her trainer told Vogue. Good thing RiRi spends most of her time dancing, then!
Rihanna has had a tough time. Her very public struggles with Chris Brown have shown us that she'd made of tough stuff. It's good to see this girl get down to her roots, especially when she's eating Barbadian rice dishes from her native heritage.
14

CHRISSY TEIGEN IS A FAST FOOD QUEEN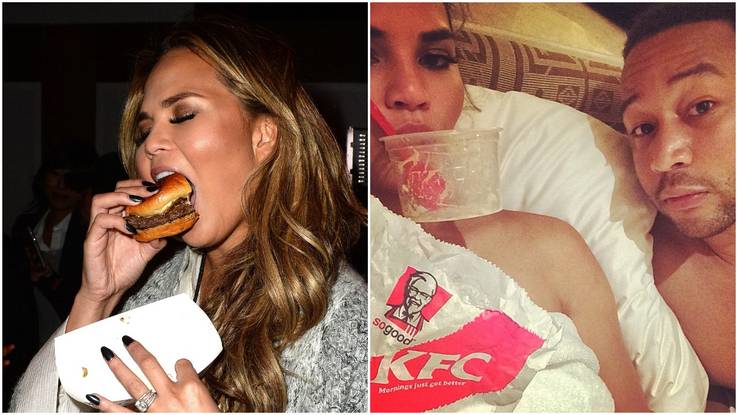 Considering Chrissy Teigen is a food and lifestyle blogger, you'd think that she would stay away from the fast food. Nope. Chrissy hasn't just given us one shot here of her chowing down on KFC. She's also got a more embarrassing shot of her stuffing her face with a burger.
This Instagram pic of her with her husband John Legend shows that celebs are getting their KFC just like us. Chrissy also told EliteDaily that pineapple pizza is her favorite food.
Chrissy may have best-selling cookbooks, but she can hit the drive-thru just like us. Her Instagram snaps at Shake Shack can quickly turn fancy with Vietnamese pho, but deep down, Chrissy loves deep-fried chicken.
13

KYLIE'S "KWICK FIX"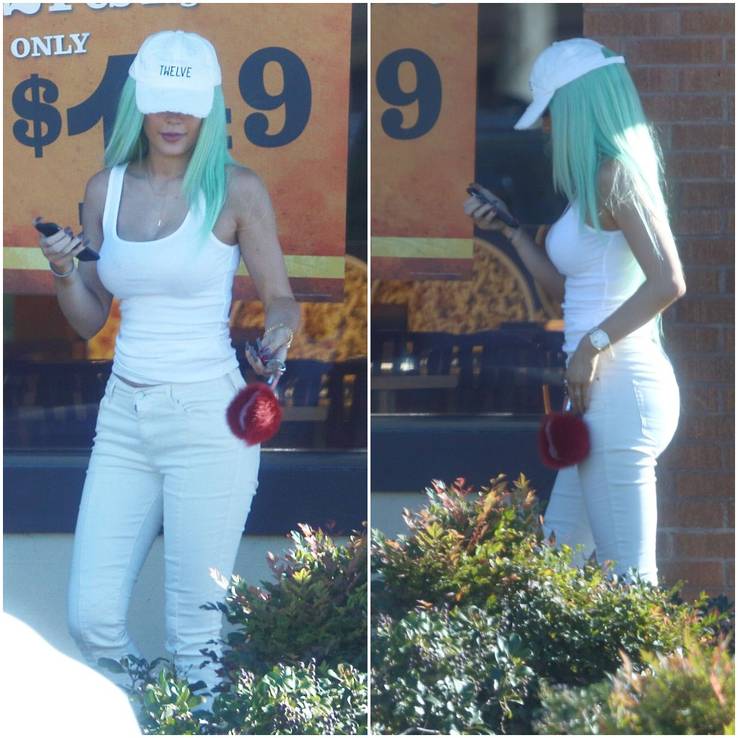 Kylie Jenner spends most of her time enjoying her ridiculously luxurious lifestyle. Dropping $1.4 million on a Ferrari is like spending 5 bucks for Kylie, but even this new mom isn't past hitting the drive-thru.
Kylie is attempting a low profile at this Popeyes pit stop, back when she was with her ex Tyga. The long green hair and "Kardashian Kurves" are a total giveaway, though. Elite Daily reported that Kylie is "obsessed with Twizzlers, fried chicken, and Mexican food."
Definitely proving it in this pic. Kylie and BFF Jordyn Woods also rarely hit the private jet without a bucket of fried chicken. Of course, Kylie is now a mom. But moms can eat, too!
12

KALEY'S BIG BANG BURGER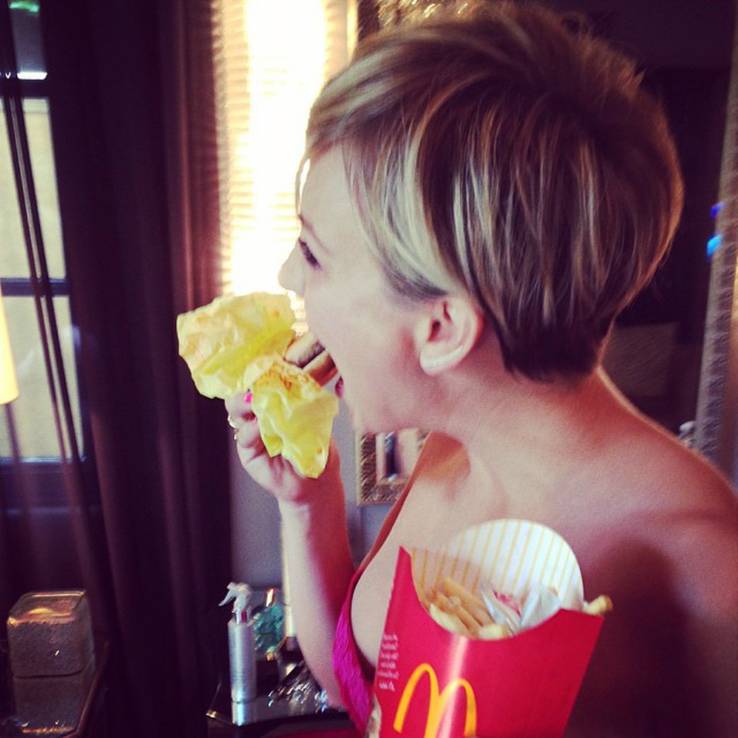 If you've watched The Big Bang Theory, you'll know that Penny is no cook. The character (played by Kaley Cuoco) is either working at The Cheesecake Factory or getting Thai take-out with her friends. The real Kaley may lead a healthy lifestyle, but her Instagram shows a healthy appetite.
This 2014 pic was taken just before Kaley hit the red carpet at the Emmy Awards. McDonald's definitely makes a change from her usual diet. Kaley told Women's Health Mag that "an apple and peanut butter" is her usual snack.
Kaley also eats salmon and vegetables, and she starts the day with yet more peanut butter. She probably draws the line at peanut butter burgers, though.
11

JUSTIN BIEBER IS MCHAPPY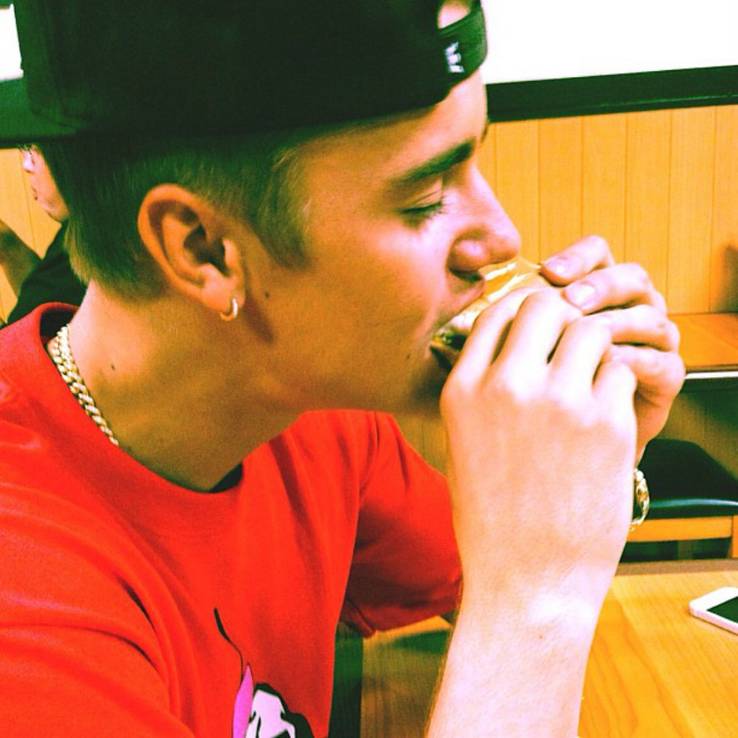 Justin Bieber pretty much has every teen girl in America worshipping him. The Canadian pop sensation has become the idol of his era. McDonald's is a big deal for Justin, who has been spotted at the joint in Australia and the USA.
"Id probably work at McDonald's or something," he told Capital FM when they asked him what he'd have done as an alternative career. We did our research. Justin's Mexican favorites are actually extra spicy chicken burgers. He even tipped $200 according to The Daily Mail when he dined out in London.
Justin's millions are proof that even a mega-star is up for a McFlurry. Justin couldn't look more intense here, but he also seems super happy.
10

YOU'D BE SURPRISED WHAT KENDALL EATS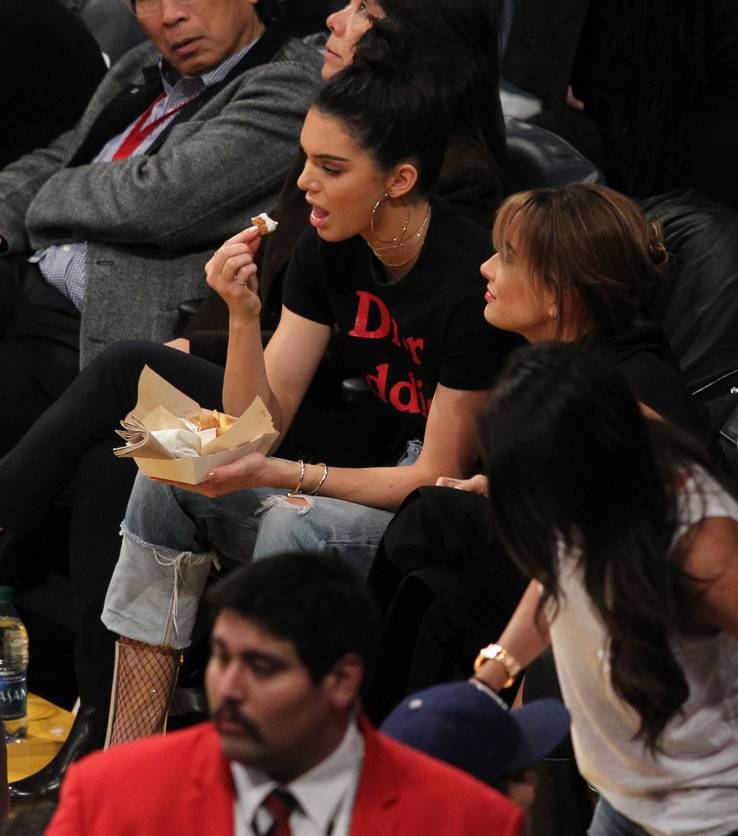 For all the high-class modeling gigs Kendall Jenner gets, she still eats junk food. The model balances out her healthy diet of carrot sticks and nut butters with her fave dressing room must-haves, and she gave Elle the inside scoop.
"I definitely need things to keep me going," she said. Twix bars, chips and guac, plus hummus are on her dressing room list. But this is a model who doesn't turn her nose down to burgers, cheese fries, and pizza. Kendall regularly posts Instagram pics of herself at In-N-Out. After the Victoria's Secret fashion show in 2016, a very hungry Kendall just posted, "Burger, please?"
9

J-LO PROVES SHE'S JENNY FROM THE BLOCK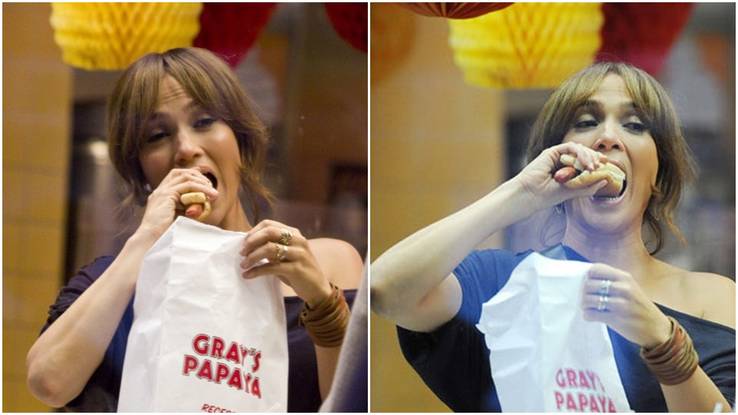 We struggle to find one thing wrong with Jennifer Lopez. This singer and businesswoman has broken down barriers to become one of the most powerful Latina women in America. Her music is awesome, she's a mom to twins, plus she has a boss body.
Jen is chowing down on NYC's best hot dogs here: Gray's Papaya. J-lo's trainer told The Daily Mail that Jen "only eats organic, fresh, high quality proteins." Presumably, this was the trainer's day off… Jen works hard to maintain her powerful physique. She works out and eats clean, but Jen is a balanced lady. Everything in moderation, right?
8

JUSTIN TIMBERLAKE GOT MCRICH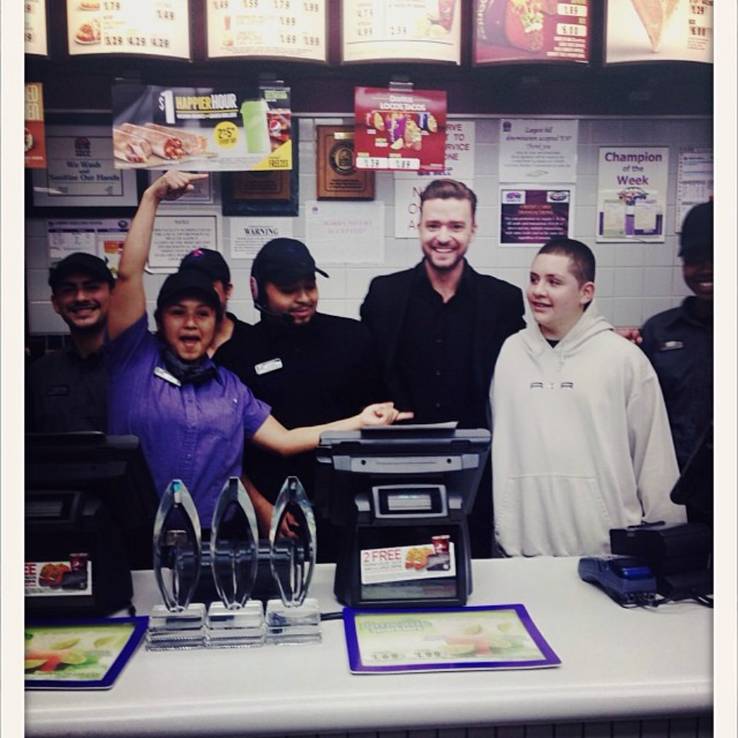 Justin doesn't just love McDonald's, he gets rich from it. The singer is known for having a super fit body, but he's put his name to his favorite food joint. Justin even took time to pose with the hard-working burger crew here.
For "I'm lovin' it," Forbes reported that Justin was paid $6 million. That may be nothing compared to Beyonce's reported $50 million Pepsi deal, but it sure does buy the Dollar Menu.
Justin might not get the approval of his wife, Jessica Biel here. The actress and mom is a yoga fanatic and super healthy. That said, she's probably not complaining about the money.
7

MILEY CYRUS MUNCHES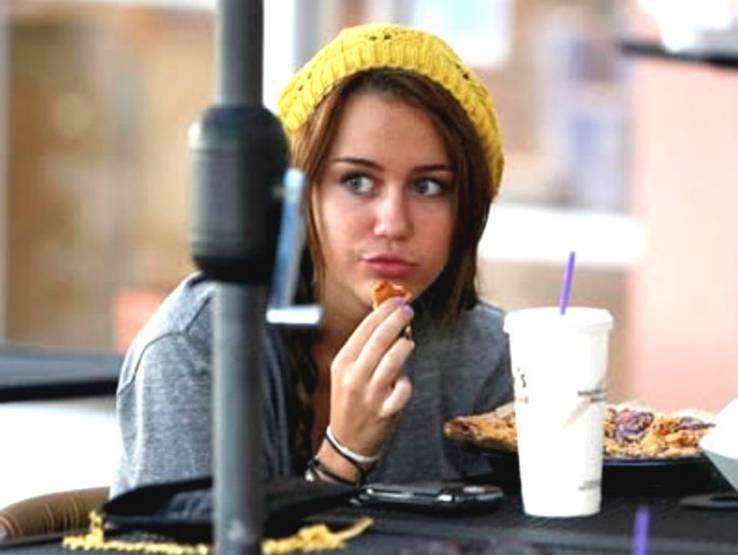 Just because you're busy making music, doesn't mean you don't have time for fast food. Miley was caught off-guard here–did she think she was alone? Like most of these California residents, Miley is a huge fan of burger chain, In-N-Out.
In 2014, Miley took a homeless guy as her VMA date and treated him to burgers and fries. For all the vegan food we see on her Instagram, Miley can eat junk food like the rest of us. Miley proved she'd taken her date to the burger chain with a cute Instagram snap of them wearing matching In-N-Out hats. Aww.
6

KANYE WRITES POEMS ABOUT MCDONALD'S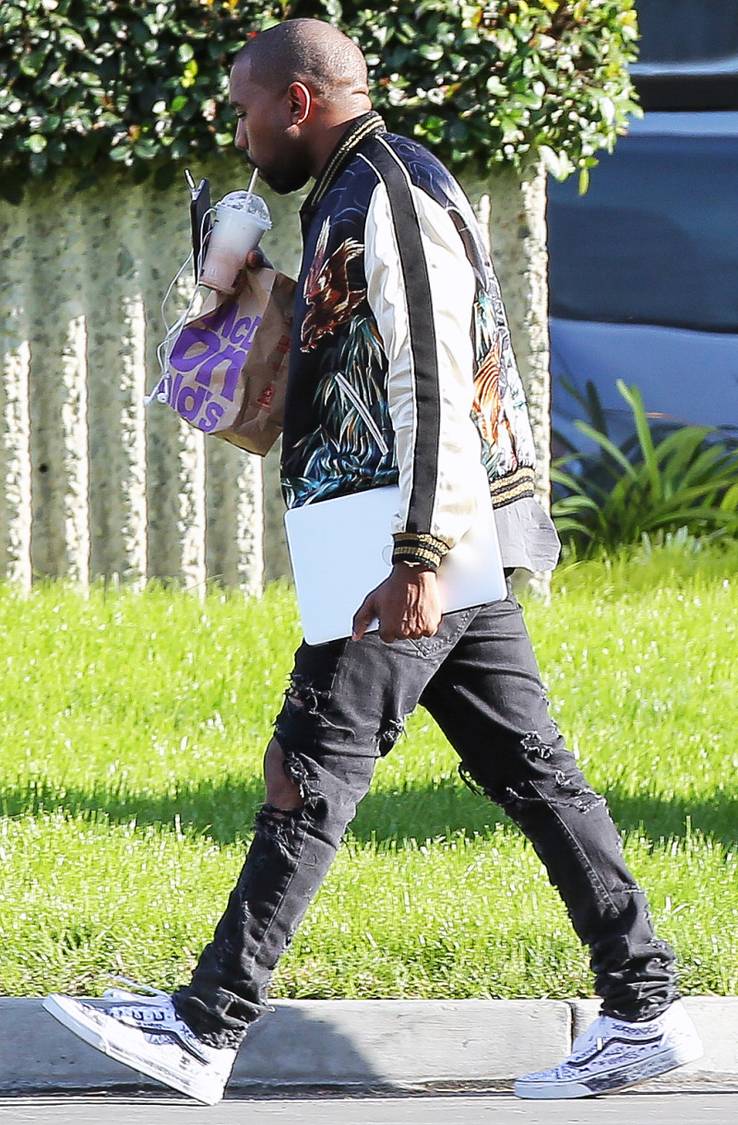 Cutting a lonely figure here, Kanye West was probably thinking that no-one was following him. The rapper and husband to Kim K may be very opinionated when it comes to himself, but he's humble when it comes to food.
Kanye even wrote a poem about McDonald's in 2016. "The french fries had a plan," he wrote about "the McDonald's man." Er, Kanye. Are you the McDonald's man?
Kanye is a sucker for McDonald's ice cream. Kim K also posts her McD cravings to Instagram. Kim will literally leave her $20 million mansion just go grab an ice-cream cone from the chain.
5

GIGI EATS BURGERS TO "STAY SANE"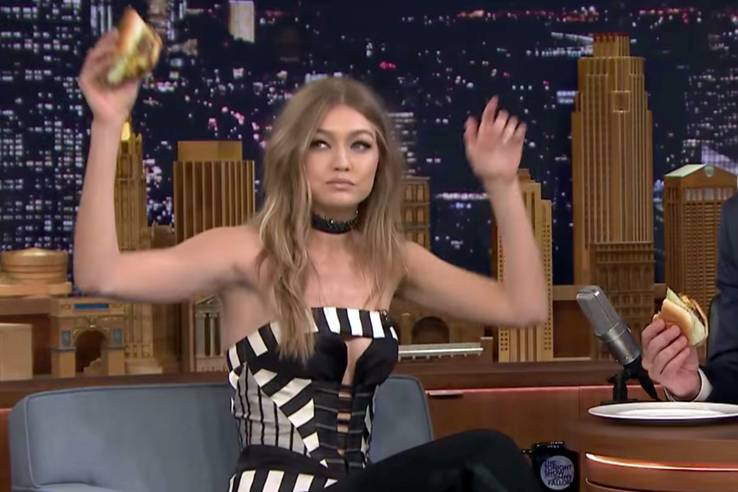 If you think Gigi Hadid doesn't eat, think again. The model has naturally long limbs and a small waist, but she's got an appetite, all right. She even proved to the world that she'll eat burgers on TV.
In 2016, Gigi joined TV host, Jimmy Fallon for some on-screen snacking. Time actually reported that Gigi "eats burgers to stay sane." You can find Gigi at JG Melon- her favorite burger joint on NYC's Upper East Side.
Gigi joined Kendall after the Victoria's Secret show for a burger extravaganza. For this snap, Jimmy Fallon got burgers from her favorite joint. It was, after all, her birthday.
4

EMMA ROBERTS PULLING OFF GLAM AS USUAL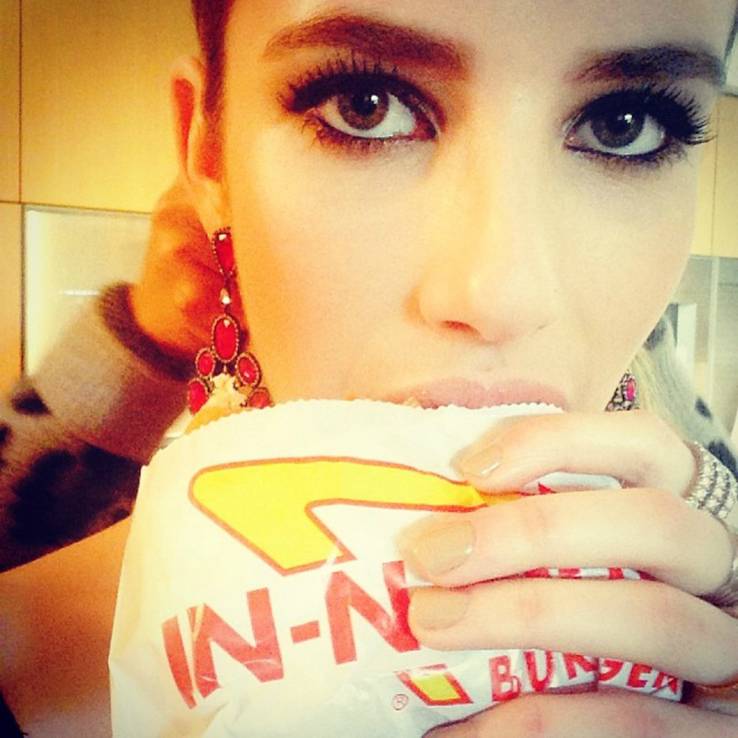 Hollywood actresses may have the world's top designers flying out for custom fittings, but they've shown us they dig the special sauce like the rest of us. Emma Roberts is no different. She's hopped on the In-N-Out bandwagon here, and boy does she seem to be enjoying it.
Greasy thin patties squished onto soft buns with lettuce, onions, tomato, and melted cheese are nothing without that special "secret sauce." Emma kind of looks like she knows what's in it here…
Emma posted this pic of her chowing down before hitting the red carpet. Given how many celebs are doing this exact thing, we're wondering how they don't get sauce all over their gowns.
3

MARIAH JOINS THE MCDONALD'S SQUAD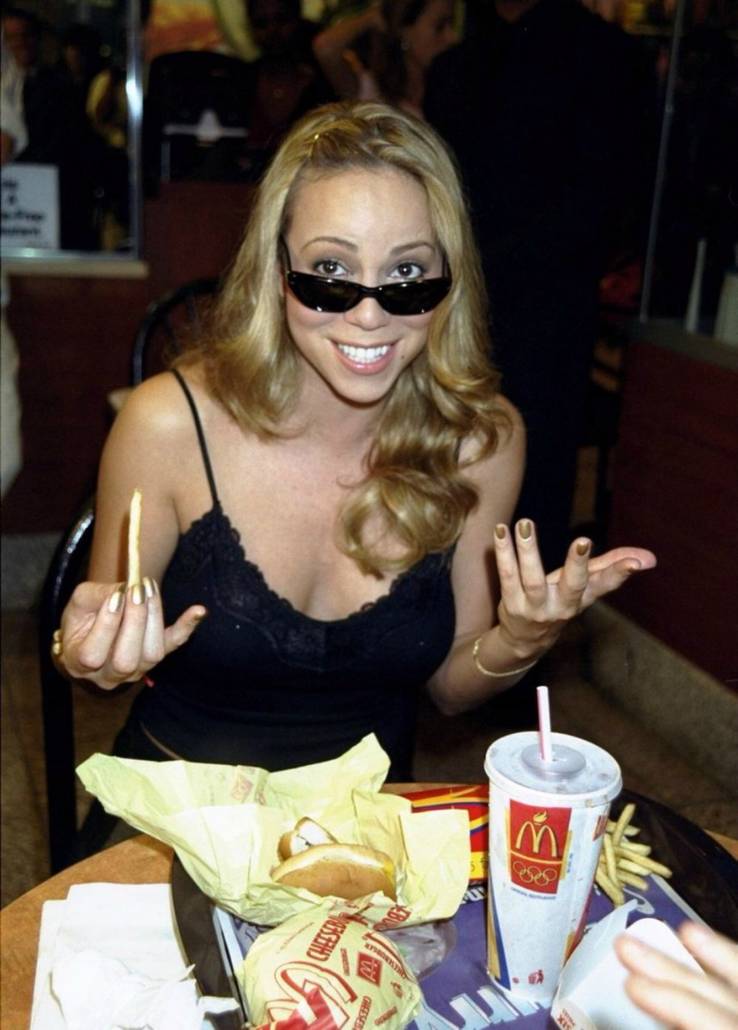 This pic may be from way back, but it hasn't been deleted off the internet. Mariah Carey is known for her extravagant spending. People reported that her $125 million mansion is the most expensive property ever purchased, but Mariah can dine out on the cheap.
Despite her net worth of $535 million, Mariah looks very satisfied with her McDonald's meal here. Mariah might drop $19,000 on looking good for a single appearance, but she's shown us she can keep it real.
Mariah's actual favorite foods are fancy. Caviar and Norwegian smoked salmon are something she's said she eats "every day." Except when she's at McDonald's, right?
2

GWEN STEFANI FEEDS HER ABS PIZZA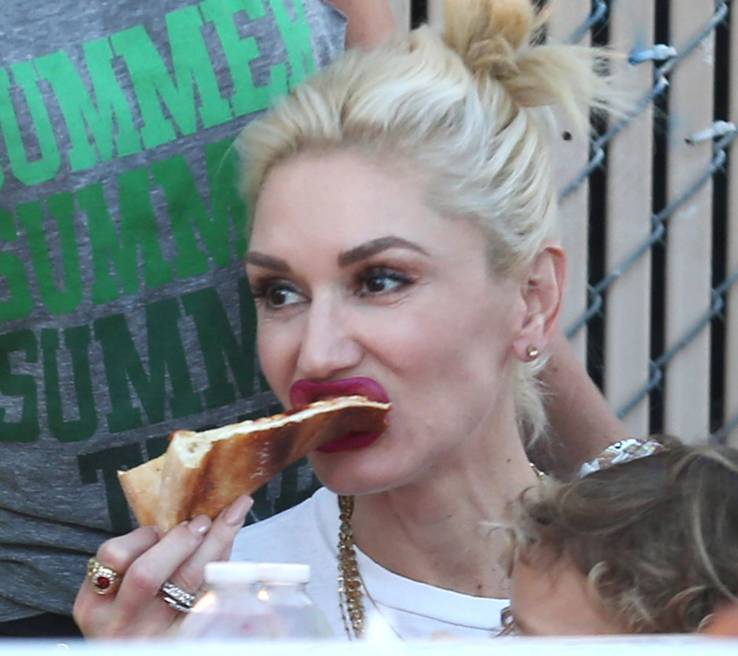 Abs wars are a big deal in celeb land. Having a washboard stomach is part of your status, and these celebs work hard for an enviable body. Gwen Stefani may be older than some of the A-Listers, but she's proving she's still got it.
Despite her super healthy diet, Gwen has this pizza pic to answer to. The punk-meets-doll singer isn't above a gooey slice of pie. Chicago deep dish pizzas are her cheat food. Is anyone else suddenly craving pizza?
Gwen's diet usually includes lean proteins and a ton of fruits and vegetables. Hey! Tomatoes are a fruit, and if you have peppers on the pizza, that's a vegetable, right?
1

HEIDI KLUM CAUGHT ON CAMERA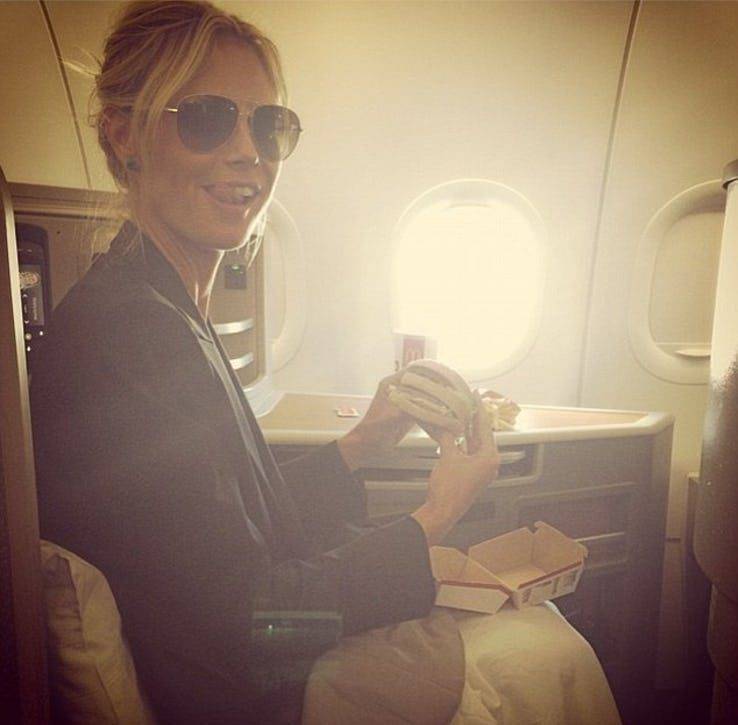 To be fair, Heidi Klum is used to being in the spotlight. The supermodel and Project Runway star has earned a fortune from her high-profile career, but this is a model who can eat low-brow.
Heidi puts her money where her mouth is. She's aired a commercial for Carl's Jr, but what would the chain have to say about this pic? She's clearly eating McDonald's here. Heidi even threw a burger in Simon Cowell's face on America's Got Talent.
You've made it! 25 pics of celebs caught eating the grease is more than enough to show that you can treat yourself, too. Hitting the drive-thru every day isn't the best approach to keeping healthy, but even Victoria's Secret models treat themselves. Your friends need to see this if they haven't already. Leave us a comment and hit share. Unless of course, your hands are full with tacos…
Source: Read Full Article