Walt Disney didn't just help create the modern theme park with Disneyland. He also brought to life park merchandising as well. From the very beginning, those "Mickey Ear Caps" were a must-have for guests and helped Disney stand out. As the years have gone by and Walt Disney World rose up, the merchandising is bigger. It's impossible to go to WDW and not come back with something. The place is packed with an astounding selection of gifts. Some can be pretty expensive like full-scale models of famous rides and buildings and some rather high-end outfits.
But some Disney items can be serious bank-breakers and are meant for the truly rich and dedicated fans. Some items can be bought only briefly, usually for anniversary events. The Crystal Arts store is famous for having some incredibly expensive items only on sale for a year or two before they go to the collector's market. Disney does offer the option of shipping this stuff home which may be smart as you wouldn't want to risk losing these on Splash Mountain. Also, some are available online yet many are exclusive only to the parks. Naturally, you need to have some serious cash on you to get some of these as even a regular Disney item can be more expensive than anywhere else. But if you've got the green, here are 25 of the most expensive souvenirs you can buy at Walt Disney World.
Click the button below to start this article in quick view
25

Partners $1000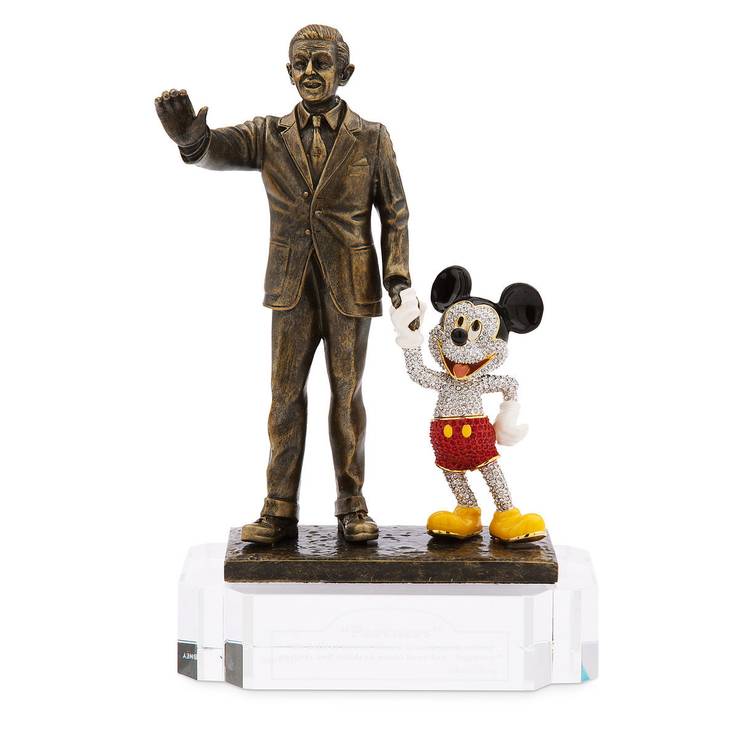 Obviously, the link of Walt Disney and Mickey Mouse is one that changed the entire world. In 1997, Disney finally paid tribute to that with the statue "Partners", showing the two side by side together. It's at every Magic Kingdom park around the world and a major photo spot for any visitor. This figurine nicely brings it to life with Walt in solid bronze and showing his famous smile off. Mickey is set in authentic Swarovski crystal stones and features high gloss enameled accents to stand out with his own huge grin. The two are on top of a crystal base marked with one of Walt's famous quotes and it showcases the partnership that created Disney.
24

Winnie the Pooh and Tigger $1200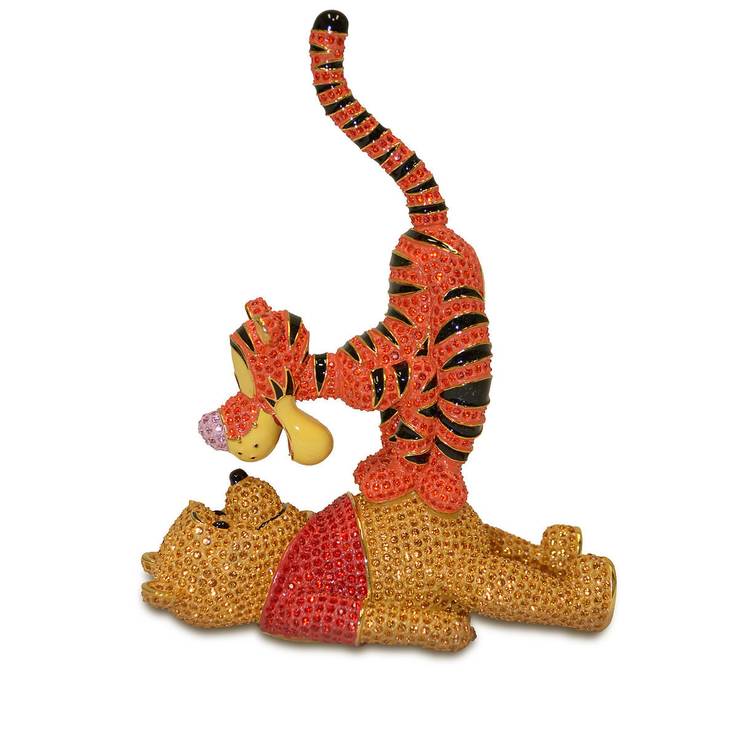 When Walt Disney brought the classic Pooh characters to life, few could have guessed they would be as iconic to Disney as Mickey. At Disney World, Pooh and his friends show up at various parades, meet-and-greets, and a very popular Magic Kingdom ride. Fans just love to meet up with them and this figurine pays tribute to the scene from the first movie of Pooh meeting the wild Tigger. 2,678 Swarovski crystals highlight the lovely design with Pooh unable not to smile at Tigger's antics.
23

Mickey Necklace $1250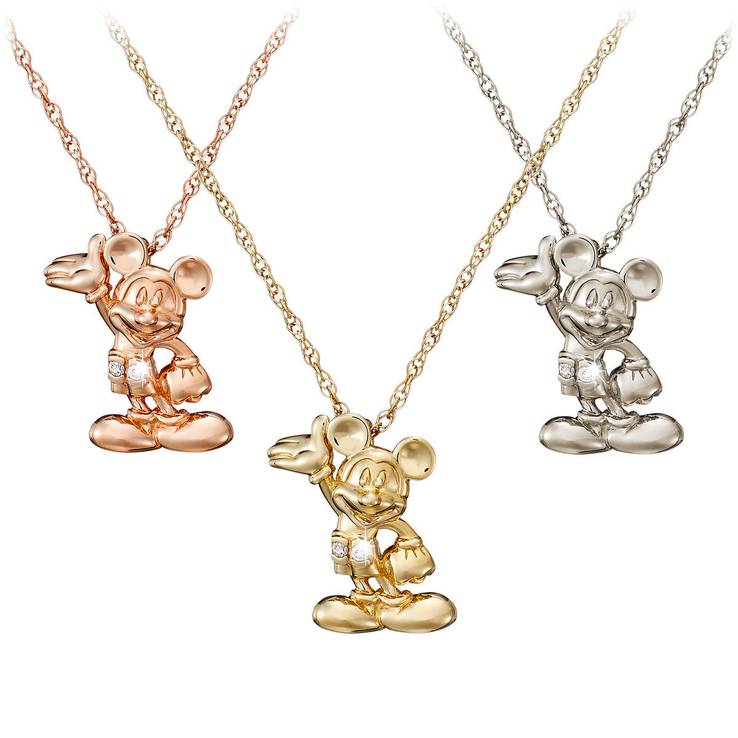 You can't throw a rock in a Disney park without hitting a store that has something with Mickey Mouse on it. The character is obviously the key one as kids (and some adults) never get tired of seeing him in person, in parades, shows and the occasional ride. This necklace is fun for its unique design. We get the classic Mickey, a hand thrown up in greeting and a wide smile on his face. The figure is in 14 karat gold and a variety of colors to boot on a gold chain. The standout is a pair of diamonds on his shorts to give it an extra sparkle.
22

King Mickey Figure $1250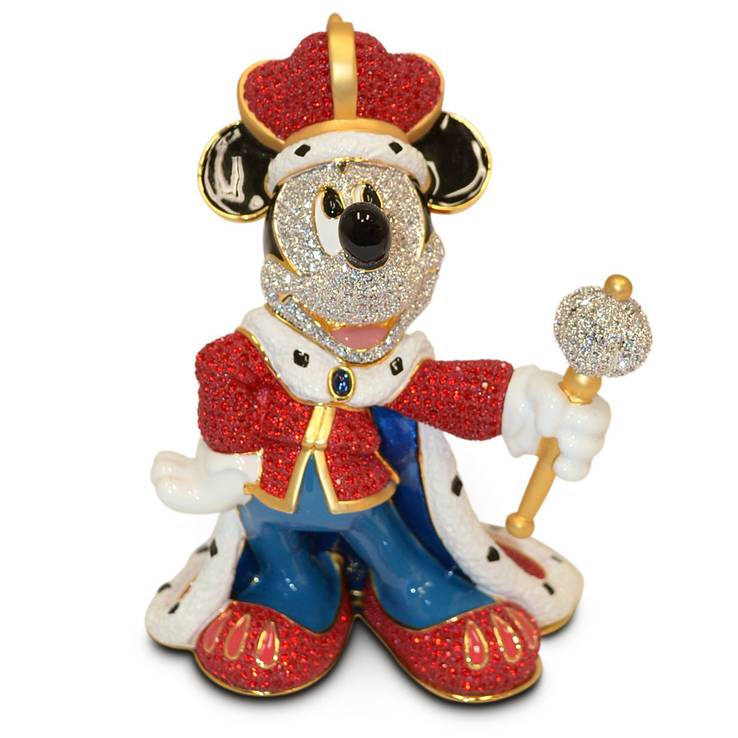 He's often been called the king of all cartoon characters. So it only makes sense this statue (first crafted in 2006) make that literal. Mickey is in regal bearing with a gorgeous uniform, long furred cape, crown and a scepter. It's a reminder of the Mickey version of the classic story The Prince and the Pauper and Mickey looking great with it. It can be found at the World of Mickey store but (naturally) also the United Kingdom pavilion at Epcot. It's all made up of 2,040 Swarovski crystal stones.
21

Little Mermaid Figurine $1400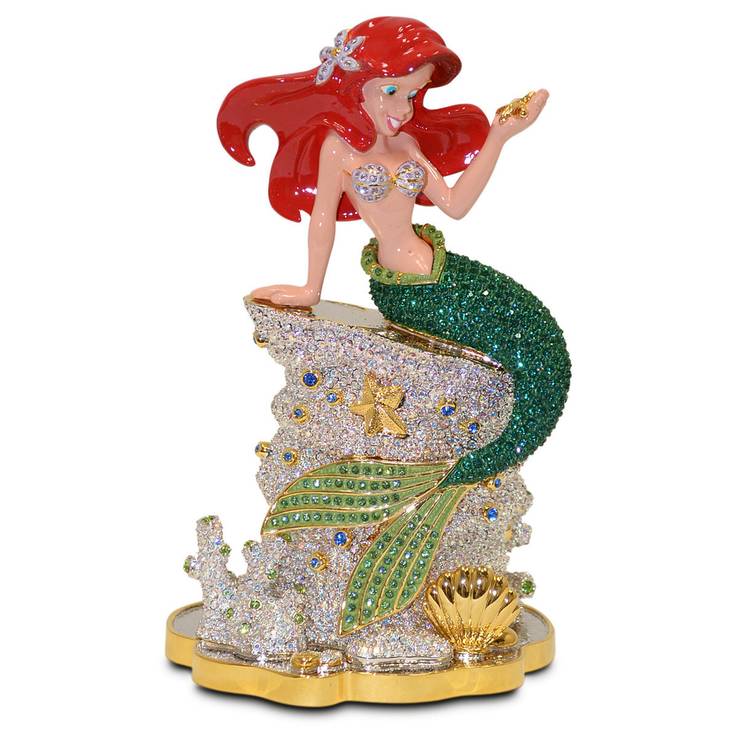 Back in the 1980s, Disney was actually having problems in movies with too many flops and floundering badly. But in 1989, they turned it around with The Little Mermaid, a hit that began "the Second Golden Age of Animation." To this day, Ariel is a force at Disney World with a stage show at the Hollywood Studios and a ride at the Magic Kingdom. This statue was first created in 2009 to celebrate the movie's 20th anniversary and still a prime grab. Enameled metal set with 2,544 Swarovski crystal stones, it showcases Ariel in her "Part of Your World" song, sitting on a rock, her hair flowing and tail mixed with the crystal rocks nicely showing off.
20

Crystal Genie $1500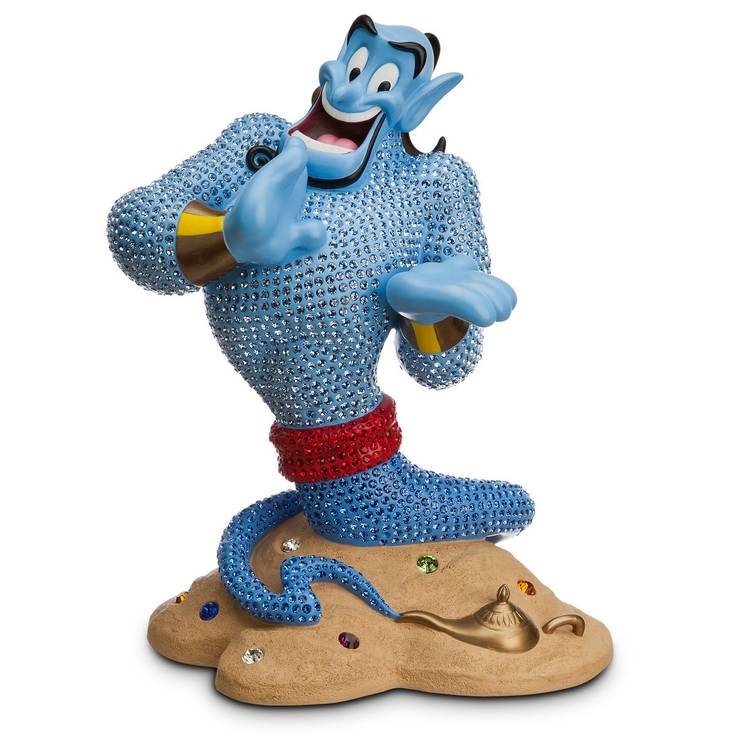 The late, great Robin Williams was a well-loved figure at Disney World with constant visits and a presence at the old Animation Studio in the Disney Studios. Of course, Williams is remembered for his fantastic performance as the Genie from Aladdin that made the movie a much-loved classic. Disney pays tribute to him with this fantastic statue, enameled metal encrusted in 3,193 Swarovski crystal stones. The base has a few more gems in it and it showcases the Genie's wild grin and fun style that made him a winner.
19

Mickey Mouse with Globe $1500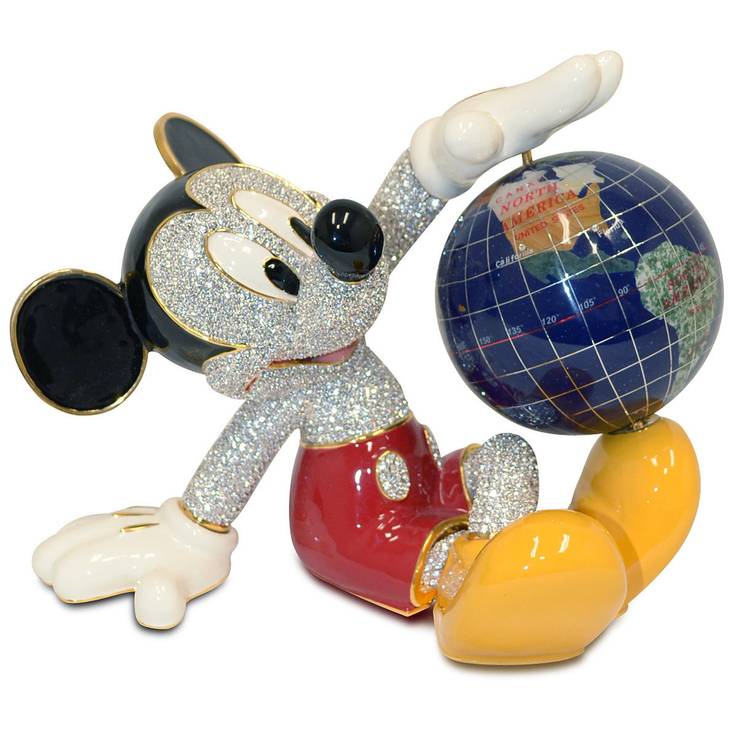 This unique figurine puts the "World" into things literally. The figure himself is notable for his body made up of numerous fine stones, sparkling brightly and set off against the famous red shorts and yellow shoes. Look closely and you can see the spots of every Disney park around the world. There are about a thousand of these pieces sold at the parks and while only five inches tall, showcase the power Mickey carries across the globe.
Featured Today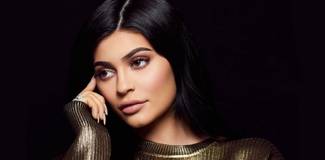 13 Fashion Brands Kylie Jenner Is Loving (And 13 She Stopped Wearing In 2018)

Ranked: 25 Of The Most Expensive Pets That Only The Rich Can Own

20 Of The Most Iconic Pieces From Alexander McQueen

18

Anna Figurine $1950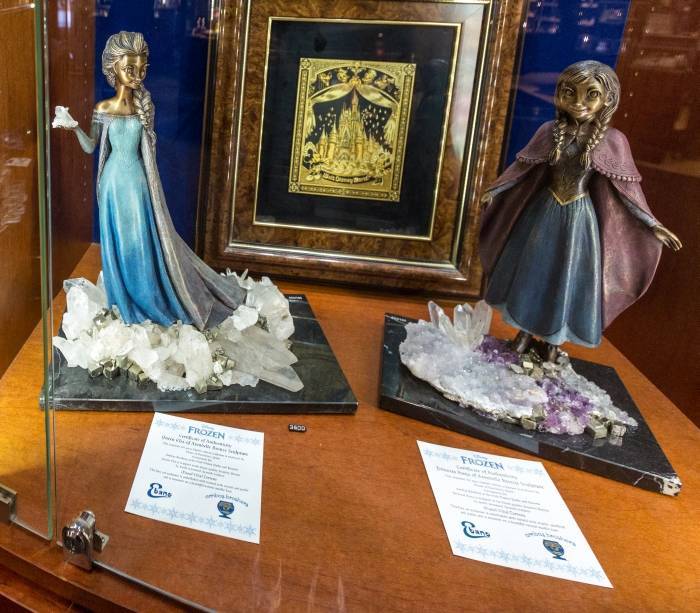 Elsa may get the press and major attention but Anna is just as important to the story of Frozen. Her cheerfulness and fun manner along with her dedication to helping her sister, is the key to the movie and has led to her own following. This statue is notable for using the rare and little-taught lost-wax technique, crafted in Spain by Manel Vidal Torrens. Mounted on a marble base with natural rock crystal, amethyst and pyrite, it hints at the scene of the film's climax of Anna frozen.
17

Gold Castle Necklace $2200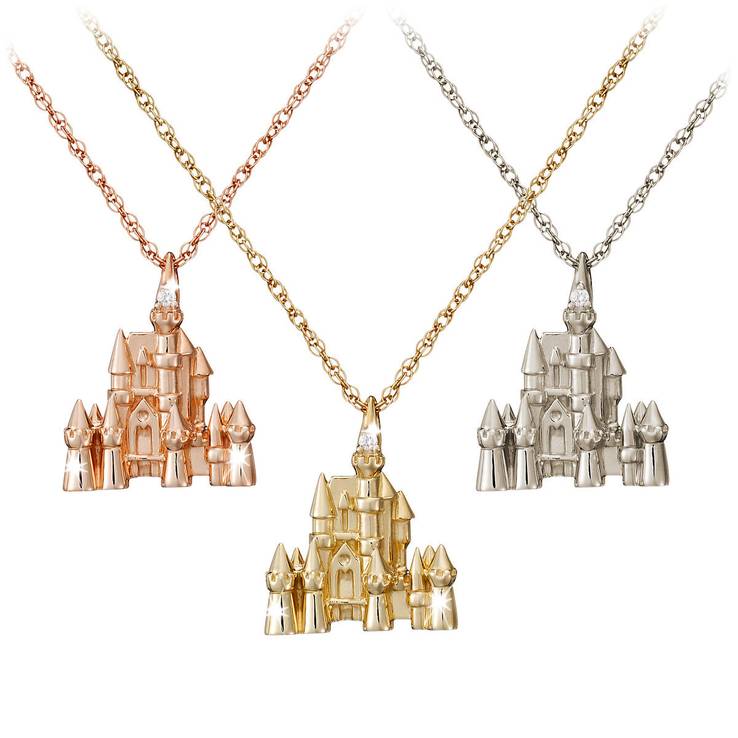 A play on a classic design, these special necklaces are crafted out of 18 karat gold with matching chains and specially formed with versions in pure gold, rose and darker like silver. Each one is shaped like the famous Cinderella's Castle and designed to shine nicely in the light. A key touch is the diamond set in the top tower that's meant to catch attention even more.
16

Blown Glass Figure $2500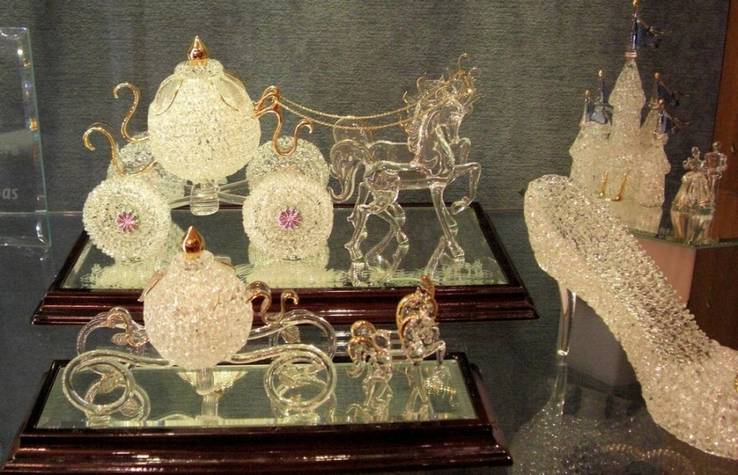 Most visitors rush by Main Street in the Magic Kingdom to get to the main park. But tucked away at a small spot is a shop where workers do original glass blowing of vases, bowls and statues right before the eyes of guests. It became so popular that an entire glass blowing studio was set up at the Disney Springs shopping location. Both places can take orders from guests on hand-crafted glass and porcelain figurines of Disney characters and specially autographed.
15

Castle Necklace $3675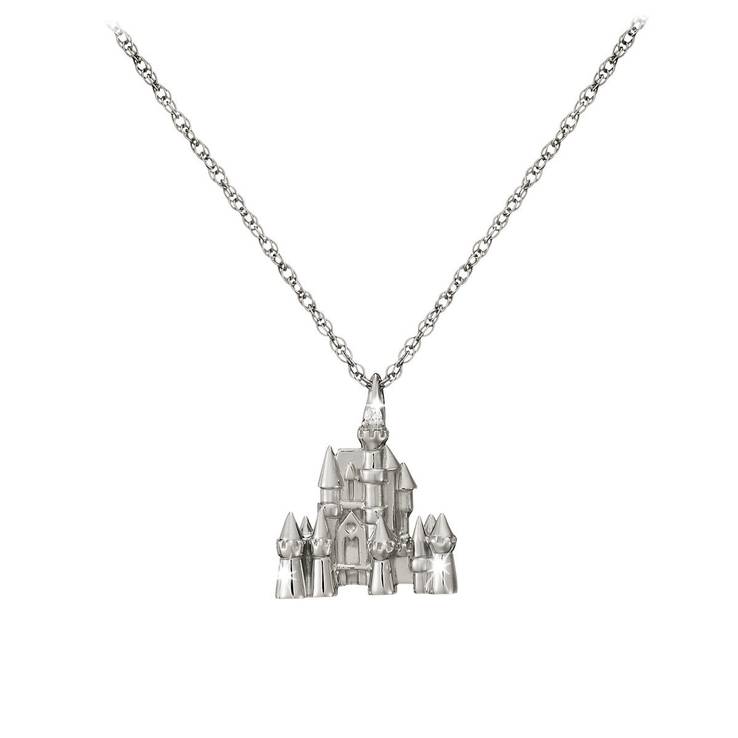 It may look simple but it's actually a lot more expensive than your typical Disney necklace. The rope is fine platinum as is the main body of the necklace, designed like the iconic Cinderella's Castle. The highlight is the single diamond set at the top tower, small but quite expensive as Disney always goes for the best in diamonds for their jewelry.
14

Diamond Mickey Ring $3950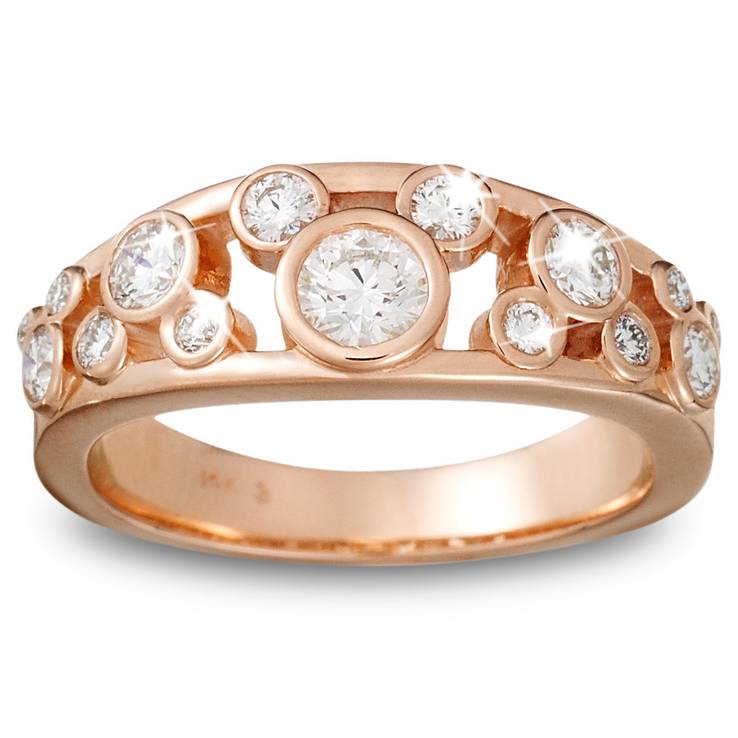 Designed for women, this lovely ring is set in a 14 karat rose gold band that makes it look far fancier than your typical diamond ring. The Mickey heads are nicely formed with the diamonds in the ears and in a fun pattern with the alternating upside down characters. This is part of the Disney Dream collection which goes out of its way to provide fans with the best in Disney-themed jewelry.
13

Diamond Pendant Mickey $4900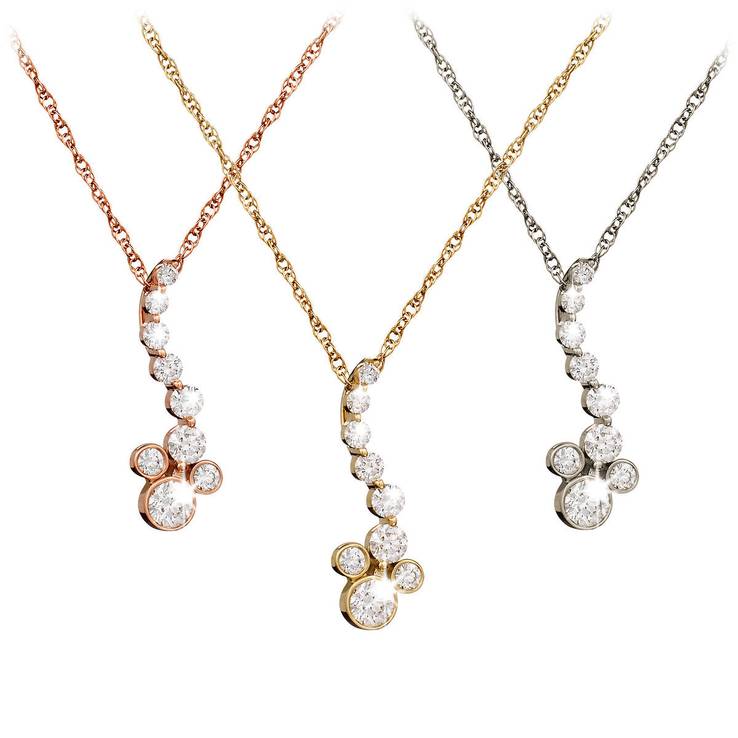 It's always fun to see how jewelers take the classic Disney motif and find ways to give it a new spin. Such a case is this great necklace. A 14 karat gold chain leads to a set of diamonds (.71 karats) that flow together into the Mickey icon. The chains can come in gold, pink or clear for those who want them to shine more and the diamonds are the highest quality to ensure they look great.
12

Tea With Alice $4900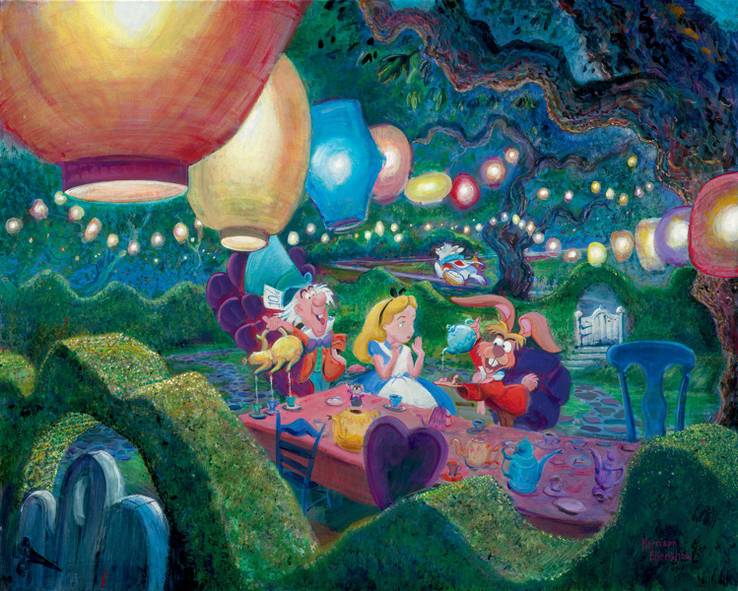 Crafted by Harrison Ellenshaw, this painting can be sold at a couple of the more high-end shops in Disney World and is a very good piece of artwork. It recreates the best scene of the animated version of the Lewis Carroll classic as Alice handles a whacky tea party with the Mad Hatter, the March Hare and the Doormouse. The White Rabbit can be seen running past in the background as Alice tries to handle the insanity of the others.
11

Mickey Swirl Necklace $5815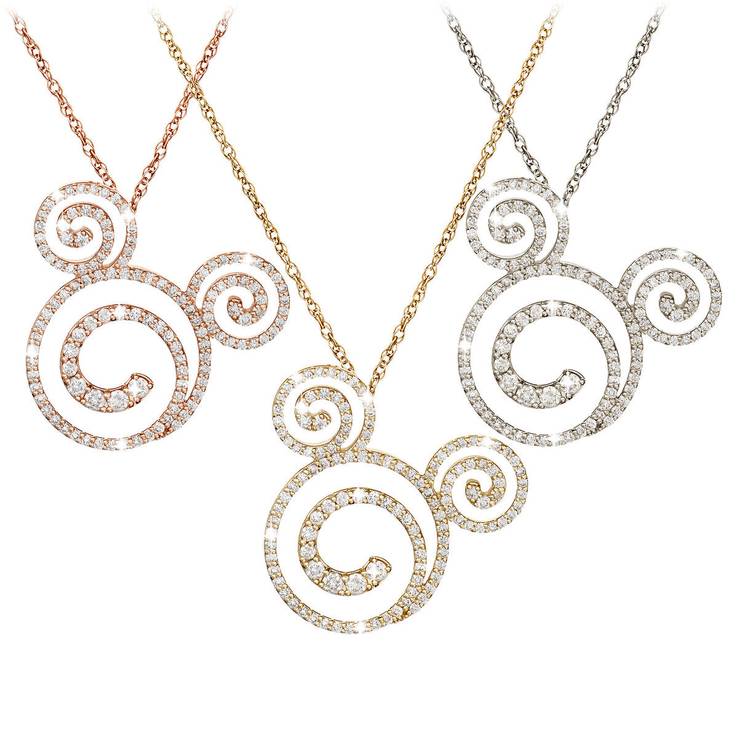 The Mickey icon is obviously a must for the entire Disney World location. Fans love to look for the "hidden Mickeys" scattered around the park that Imagineers have enjoyed sneaking in for decades. This necklace gives a spin on the iconic symbol with a unique swirl to it. The three diamond-encrusted bands come together with an 18-karat gold necklace, each diamond at least a karat in itself. Guests can choose a variety of shades of clear, gold and pink to give it a more unique vibe.
10

Mickey Diamond Icon $6000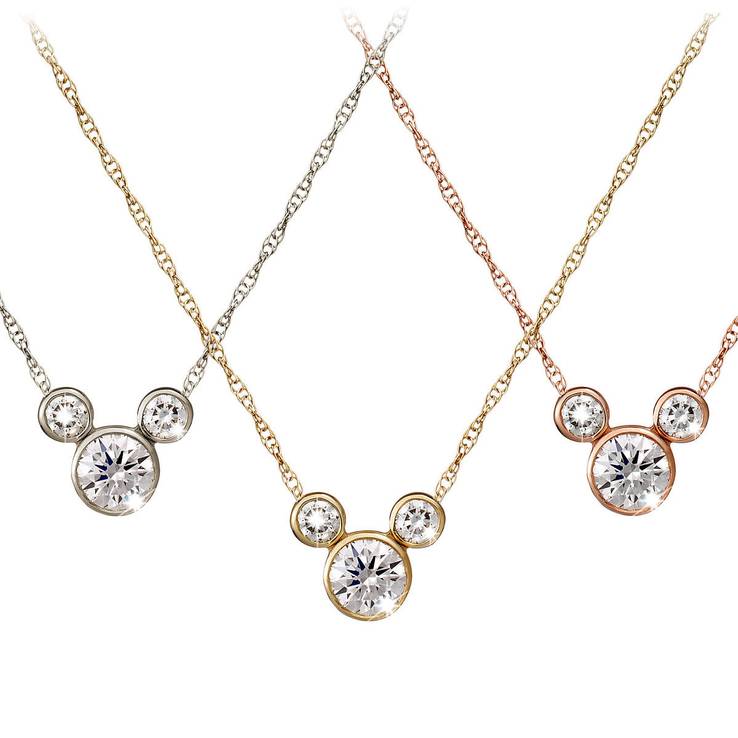 This puts "elegant" into the "elegantly simple" line. The 18 karat gold settings and chains come in a variety of colors to help it sparkle but it doesn't need that much help. Each Mickey is set with a trio of gorgeous diamonds designed to shimmer nicely and while it's not meant to be too detailed, it still comes off wonderfully.
9

Mickey Diamond Ring $6070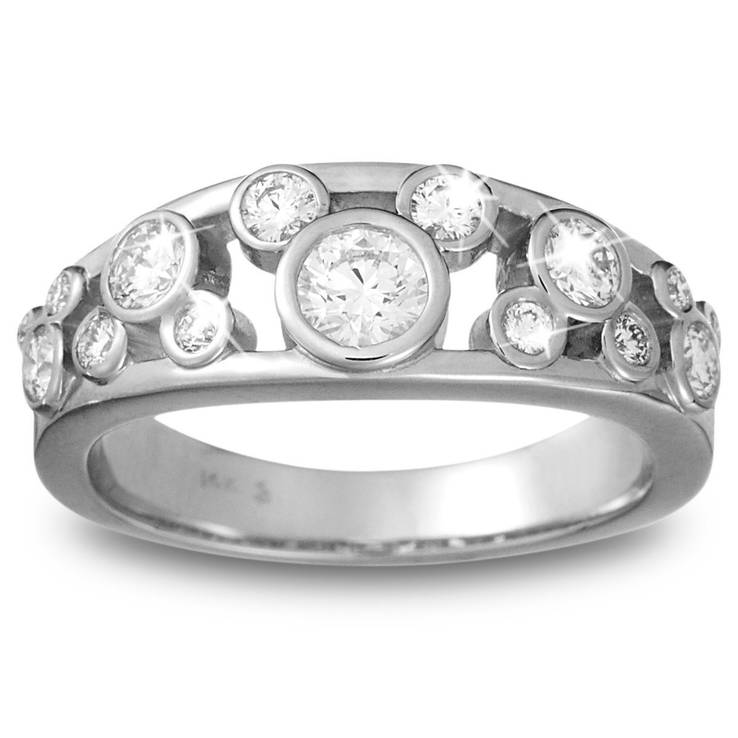 Disney World has become quite the popular spot for relationships. It's impossible to count how many proposals have taken place there, couples can pick it for their honeymoon and there's an entire wedding pavilion set up by their Grand Floridian Beach resort. So you can imagine how some may splurge for this fantastic Mickey-shaped diamond ring. Crafted in platinum, you can see five diamond Mickey logos mixed in the band to shimmer quite nicely.
8

Noah's Ark Crystal Bowl $6750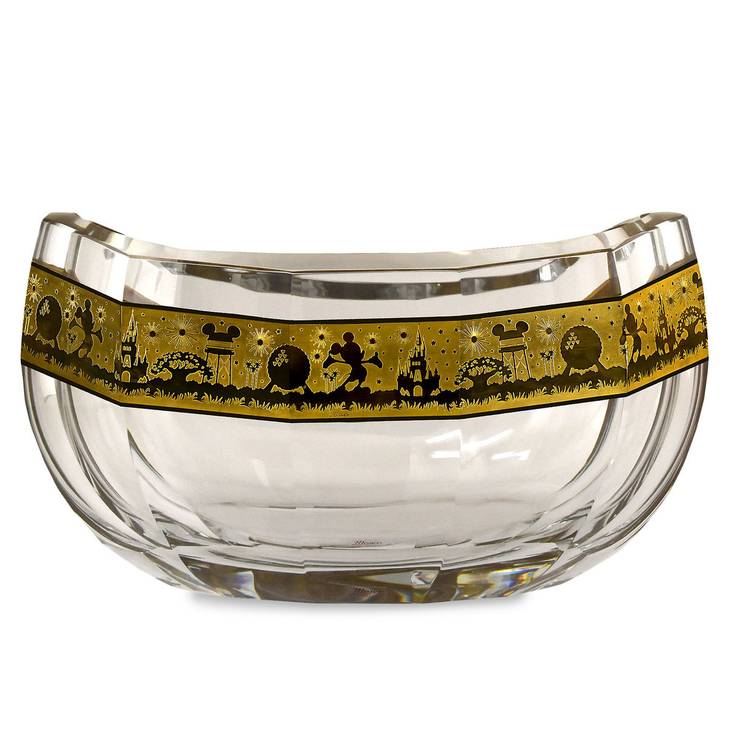 The high cost is mostly because there are only 25 of these in existence. Created by Abbrias Brothers, the glass was hand blown and cut into an ark shape, ensuring no lead or other elements, just pure crystal. The 24-karat gold band boasts Mickey along with the symbols of each park (Cinderella's Castle, Spaceship Earth, the Tree of Life and the Earful Tower) in a hand gilded style. Its great design and low number makes it quite a collector's item for the entire Disney World area and a great collector in several ways.
7

Cinderella Castle Miniature $6800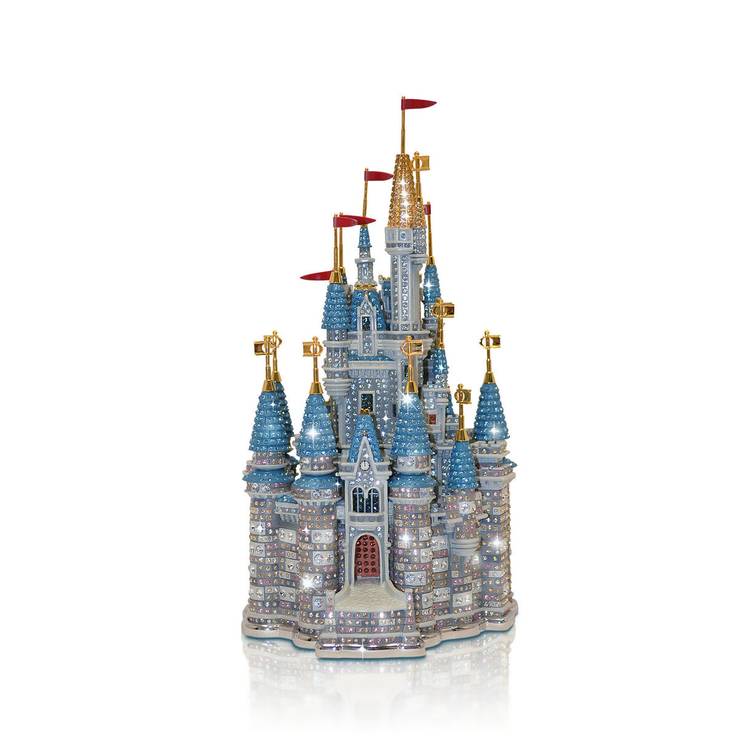 The original Disneyland has Sleeping Beauty's Castle, lovely but rather small. For Disney World, they naturally wanted to go bigger and thus added Cinderella's Castle, standing nearly a hundred feet taller. It's paid off as it's the icon of the entire property and one of the most recognizable sights in the world. This Arribas Brother statue pays tribute to that, standing just seven feet high but still notable. Enameled metal set with over 6,541 Swarovski crystal stones, it sparkles as much as the Castle would under a fireworks show and showcases the magic that Disney World provides.
6

Tinker Bell Jeweled Figurine $6950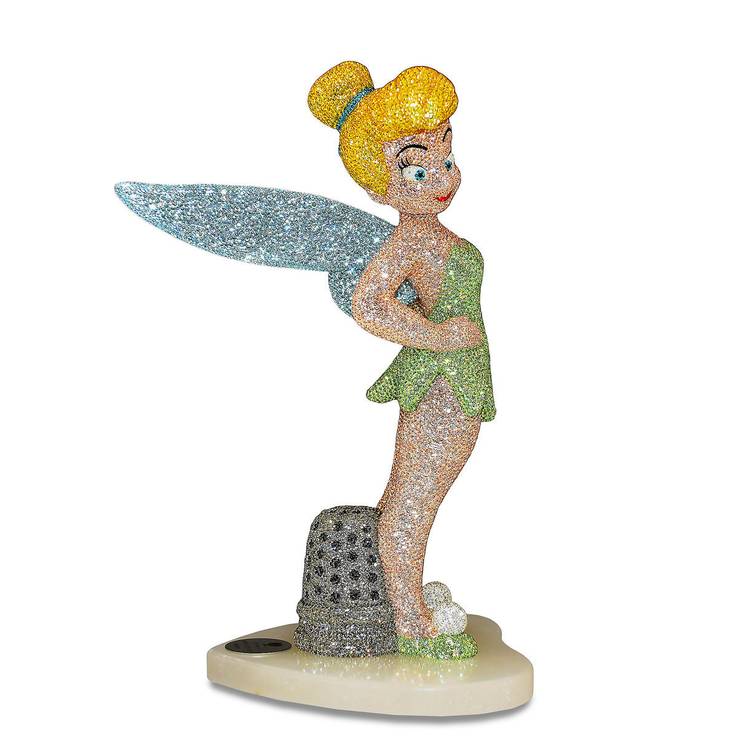 The character of Tinker Bell had been around for a while. The original play of Peter Pan imagined her as just a light on the stage. It was the Disney movie that made her popular with her mischievous manner and flying. She became an icon of the studio as every Disney show's opening ended with her flying in to hit the screen with her wand. She shines just as well in this great statue of her, alabaster set with over 23,000 Swarovski crystal stones.
5

Mickey Icon Diamond Necklace $8000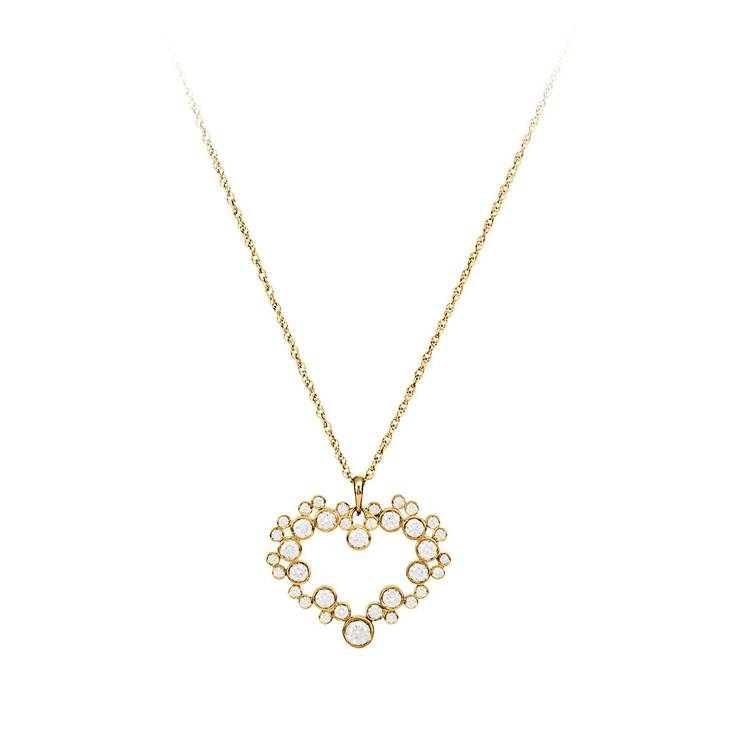 Some Mickey necklaces are nice but this gets attention for its terrific design. Look closely and you can see the links are actually Mickey ears bound together into a heart shape, a great design. There are twelve Mickey icons in all for a total of 36 individual diamonds with a 14 karat gold chain and bindings. It comes together to a gorgeous necklace that may cost a lot but worth it for any lovers at Disney who enjoy some Mickey fun.
4

Elsa Jeweled figurine $8950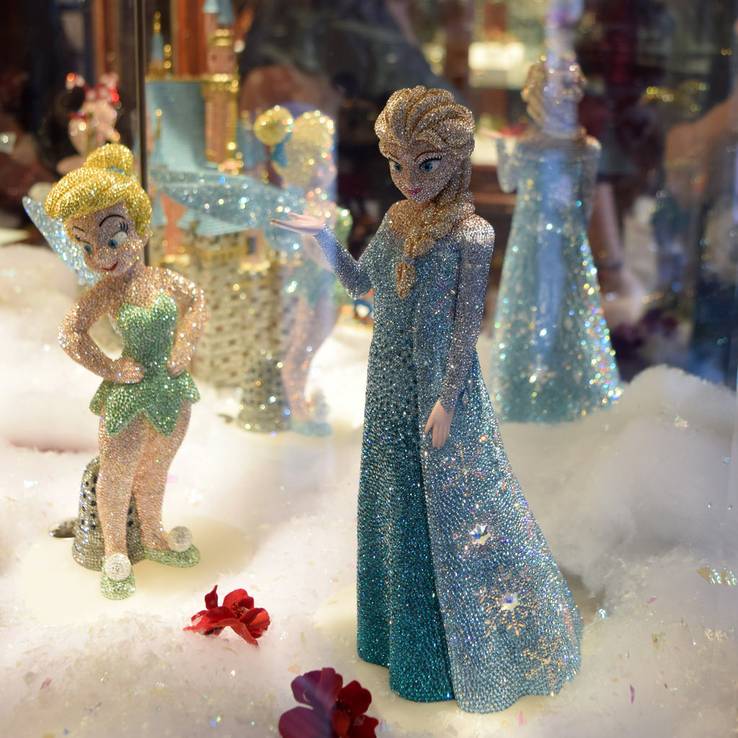 Disney had no idea how Frozen was going to become not just an Oscar-winning hit film but a full-fledged phenomenon. Originally, Elsa was going to be a more villainous figure but when Idina Menzel sang "Let It Go" for the first time, the producers had to change the entire story as they realized making her sympathetic was better. So it makes sense you'd have an expensive souvenir to boot. Alabster set with 24,000 Swarovski crystal stones, this statue is designed to shimmer like the snow Elsa controls.
3

Mickey and Minnie Limited Figure $9000
Entitled "Romance in the Park," this fun figurine has Mickey handing some posies over to Minnie and shows their great romance. Anything having to do with these great characters is a must-get for the kids but this figurine can be unique for adults too. Sculpted from alabaster and encrusted with over 30,000 hand-set Swarovski crystal stones, there are less than 200 of these at Disney World (and Disneyland as well) to make them rarer. It's the most expensive Mickey item you can possibly get at the parks.
2

Dumbo Jeweled Figurine $9000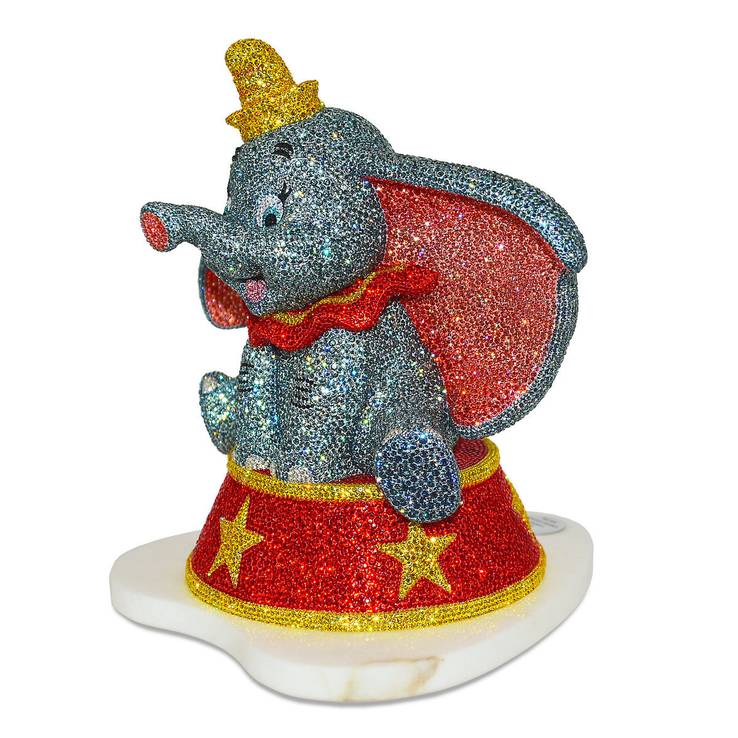 While the story of Dumbo had been around for a while, it was the beloved Disney movie that made him a famous icon. He's a popular sight at Disney World thanks to the long-popular children ride that can still have some of the longest wait times. There are only 188 of these figurines.
1

Cinderella Castle Sculpture $37,500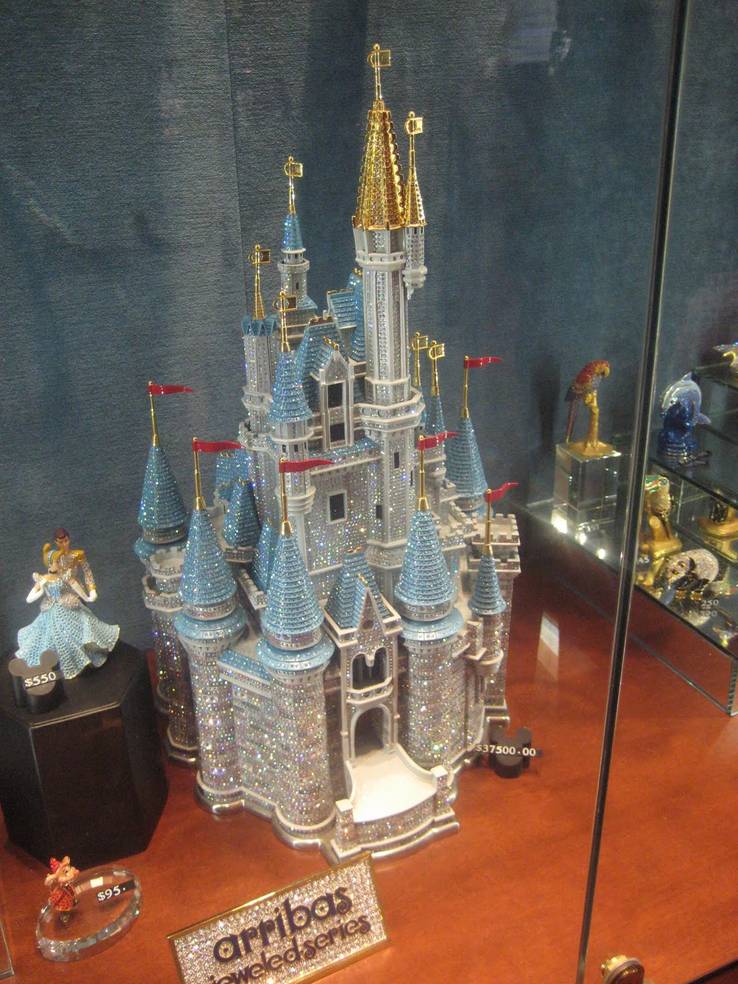 The sheer price of this is astounding. Created by Arribas Brothers, this is sold exclusively at the Disney Parks and was crafted with amazing skill. Recreating the icon of the entire resort, this statue is detailed in hand-enameled metal and set with 28,255 Swarovski crystals. Standing 20 inches high and 11 inches wide, it comes in a special protective metal box, needed with all those gems set in it.
Sources: ShopDisney, Disney Tourist Blog
Source: Read Full Article