There are so many places around the world that we want to visit. They're all so beautiful and they'll simply take your breath away. But today we want to focus on boutique hotels that not only bring the glam, but they'll cost someone a pretty penny if they want to spend a night in luxury. These hotels are located all over the world and they really bring a very unique flair in terms of what they have to offer. But most of all, all of these hotels are places that take pride in what they have to offer to the guests that stay in them. Not only are the locations of these places beautiful in every way from the inside and the out, they're different from your standard hotel because of how innovative they are in their theme, amenities, and surroundings.
We want to explore these top boutique hotels of 2018 so we can be jealous together and wish we were relaxing there right now. From The Wentworth to The Lowell, all of these places have a unique quality about them that helps them stand out above all the rest. Let's discover them together and dream of the day we can spend some time in one of them.
25

The Wentworth Is Full Of History
This is a very classically decorated and homey mansion that invites guests to Charleston, South Carolina The Wentworth is a 5-star hotel that has so much to offer, but the most prominent is its history, which lends this building a sense of luxury and magic. The Wentworth has gone out of its way to preserve the history that has made this place so special. Not to mention they offer free breakfast for everyone. Count us in now that there's free food involved!
24

Feel Like One Of The Elite At The Jefferson
The Jefferson will be hosting you when you visit Washington, DC. It i a very warm and welcoming place for some of the elite in the industries that keep the business world on top of its game. They specialize in European luxury lifestyle for those who are visiting the capital of the US. You'll be quite impressed by the art, bold design choices, and of course the gourmet food very near by and even located in the boutique hotel itself. Quite a remarkable location!
23

The Sea Pines Has The Best Accommodations
The Sea Pines is a fantastic option for those who want to stay in a place that is surrounded by amazing views and full of fantastic green landscapes in the Hilton Head Island in South Carolina. They even offer guests the opportunity to take advantage of the best tech in each room and also the amazingly large bathrooms that will make you feel like you're in a spa. They also have a fantastic Sunday Brunch that they also offer to guests, so prepare to be pampered.
22

It's Super Quiet In Napa Valley At Auberge Du Soleil
Auberge Du Soleil is located in the very calm and quiet area of Rutherford, California. The boutique hotel is perched on top of lush green mountain, which will immediately make you feel relaxed. Speaking of relaxing, this location also has a fantastic fitness accommodation as well as a spa that can help you unwind. You can even enjoy the activities that surround this location as well, such as an air balloon ride or even sightseeing because of all the nature surrounding the property. It's totally the place to be.
21

The Lowell In NYC
If you want a boutique hotel that is a bit more centered in the action and you love the fast-paced feel of being in the city, this one's for you. The classic feel of The Lowell Hotel in New York, NY, will make you feel like one of the elites while you relax in the elegant atmosphere in each room. There are many perks to staying here, but most of all if you love shopping, you'll love being within walking distance of all of the biggest shopping centers, such as Fifth Avenue's amazing collection of high-end designers.
20

5 Stars With The Crosby Street 
Crosby Street Hotel has so much to offer people who decide to stay at this wonderful and ornate place. This trendy NYC neighborhood in SoHo has a variety of differently styled rooms. They have amazing amenities and often have delicious food with elegant decorations that will make you feel like you're staying in a castle. If you stay here, you'll realize that you don't ever want to leave. There's just way too much to enjoy when you spend your time here. It's the perfect vacay spot!
19

The Greenwich Is Super Stylish 
The Greenwich Hotel located in New York City features extraordinary accents and Moroccan-themed rooms. There's such a classic feel to this space. Some might see this boutique hotel as a simple spot to relax, but there are so many amazing spots to discover that are offered by this place. But because this location is so discreet, it is a very popular spot for celebrities that are looking for a place to get away from the crowds.
Featured Today
21 Italian Foods That Real Italians Don't Actually Eat

20 Places That All Geeks Should Have On Their Bucket List

24 Cities To Travel To That'll Make Anyone Feel Rich

18

Calistoga Ranch Is Super Fun 
Calistoga Ranch in Calistoga, California, is a wonderful little spot for those who have a love for the finer things in life. From tasty beverages to the exceptional cuisine at the boutique hotel and in the area surrounding this nature filled spot, there's so much to enjoy in this secluded resort. There's even an amenity that's offered to the guests that allow them to enjoy a private lake and even a program with Mercedes Benz. Talk about feeling on top of the world!
17

Ocean House Has A Spectacular View
In Watch Hill, Rhode Island, the Ocean House is an amazing place to stay if you want to have a relaxing retreat rich with history. They have an excellent staff service that will keep you feeling comfortable and will encourage you to explore the grounds that this resort and boutique hotel has to offer. They even have fresh spa treatments daily and signature cocktails that will keep you feeling refreshed. Ocean House is relaxed and offers the highest end of amenities.
16

Time To Mix It Up At The Little Nell
The Little Nell in Aspen, Colorado, is a classic mountain-style boutique hotel. They pay attention to detail, from the rooms that offer a cozy vibe to the tasty plates that will make your mouth water. There is also snow nearby that makes this place a destination for those who love the colder weather or for those who even love mountain sports and activities. Of course, there are tons of fireplaces scattered around seating areas as well, so you can mingle and be comfortable!
15

Canyon Suites Has A View Of The Mountains
The Canyon Suites located near the Camelback Mountain will provide every guest with beautiful views and you'll be able to relax with the highest quality of linen on the beds you'll be snoozing in. Plus with all different kinds of dining experiences you'll be able to pick and choose how you want to spend your time. But just make sure to stop by the ice cream parlor with your family. It's a must to have on your list during your vacation!
14

Hotel Wailea Brings It All
Located in Hawaii, these tropical gardens are laid-back in all the best ways. Hotel Wailea offers guests a very secluded and intimate space inside and out. Their rooms even have a living room so you'll feel right at home from the moment you step inside. They have award-winning restaurants and they will even help you book a free shuttle to wherever you want to go. This place is perfect for couples who want to escape everyday life.
13

XV Beacon Is For The Elites
A favorite for history lovers with a major modern flair, this boutique hotel embraces the amazing design qualities that are often found in high-fashion districts in the hearts of major cities. XV Beacon often brings the highest quality of service to each and every guest, always making sure your visit to the hotel is unique, extravagant, and most of all, comfortable. If you want to feel like a high-society king or queen, this is the place for you to indulge in that kind of lifestyle.
12

Chatwal Is All About Art Deco
A luxury hotel that loves art deco in the modern age we live in. This location even has a spa that visitors can enjoy. The Chatwal is the perfect mashup of different luxury styles and while many think it's primarily for couples, it's also perfect for families as well who want to relax and spend time together in a special and memorable way. We also have to mention all the activities around this particular location that are just ready to be explored.
11

Bardessono Is So Modern
You can't find a better spa destination than what the secluded Bardessono has to offer. Located in lush greenery, this boutique hotel is ideal for those who just want to let their minds relax the whole time they're on vacation. Bardessono is a retreat where you'll find your inner peace so you can go about your life in a calmer way. Are you ready to find your sense of relaxation and calmness, because we always need more of it!
10

The Sebastian Is Super Luxe
The Sebastian, also known as Timbers Resort, is one of the best boutique hotels, especially since people tend to think that this location has some of the best staff and customer service they've ever experienced. They have many special features here as well, such as an outdoor fire pit and even a library. Each room also has Egyptian cotton sheets so you're bound to get a good night's rest each night you end up staying here. You'll feel so pampered even after one night.
9

The Allison Even Has A Spa
The Allison Inn and Spa is very hard to get into but when you do, it's very worth it. They have exotic beverages and many local restaurants that feature out-of-this-world cuisine. They even offer guests who visit the spa a very special facial that will help you feel fresh and energized. They also offer many other kinds of baths and massages that will make you want to take a nap right after. You even get your own personal terrace as well.
8

Skylofts Is Definitely Pricey
The Skylofts might be one of the most expensive boutique hotels on this list, but this Las Vegas experience is worth it, especially if you love to go all out for your vacation. From the heated infinity tubs that will make you feel like you're at a spa to even the espresso machine right there in your room, it has it all. Would you be surprised to know that there's even more to experience at this hotel? Depending on the room you can even have your own personal pool!
7

The Inn In Virginia
A bit more cute and cozy, The Inn at Little Washington is in Virginia and it's super romantic. It's perfect for a honeymoon or couple's retreat. They have huge four-post beds, a cabin feel, and an amazing chef that will keep you full the whole time you're staying there. The decorations are exquisite and you'll feel right at home and you'll even have the opportunity to join a special club if you're chosen, making it more and more fun to stay there in the future.
6

The Huge Stephanie Inn
The Stephanie Inn isn't what you think of when you think of boutique hotels, but because of how huge and unique this specific inn is, you'll fall in love. There are amazing views of the Pacific and you'll find that the chef knows how to make the perfect meal after a day of exploring and finding your own sense of relaxation. It's a very cozy and special place that more people need to visit. It might be older, but it's a memorable experience!
5

The Gorgeous Rittenhouse
If you're in the great city of Philadelphia, you have to stay at The Rittenhouse Hotel. It's one of the best luxury hotels in the city. It's a very big property and the attention to detail is obvious as soon as you walk in. There are also many restaurants with chefs on the property so you don't even have to leave the area if you don't want to. If you love old-fashioned spaces, this is the spot for you.
4

The Rustic Umstead
The Umstead Hotel also offers a 5-star service and spa. With amazing plants around the property and statues that you'll spend hours marveling at, this is a great place for travelers to rest their feet. There is a very traditional feel about each of the rooms because of the design and green hues that really bring a fresh and old-fashioned feel to the spaces, which is very nice compared to the cold modern spaces in modern luxury boutique hotels today.
3

A Classic Malibu Beach Inn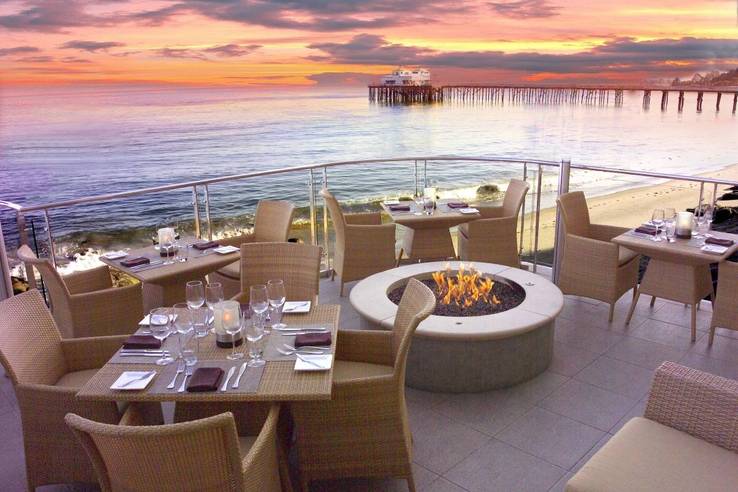 You can't go wrong with the beautiful Malibu Beach Inn. It's everything you want in a beach hotel, but it offers many services to help you relax before you have to go back to reality. The neutral toned spaces and beautiful natural tile in the bathrooms reflect the place's beautiful design. You're never going to get bored here, that's for sure. While some people might have had issues with the staff, they've proven that they'll do anything to make things right, that's for sure.
2

The Montage Laguna Beach
Here is another beach hotel in California, but we just had to feature the Montage Laguna Beach boutique hotel because of the beauty of this place. Sitting right there on the beach, you can experience so much. From countless ideas for a date night, to lounging on private beaches, to even eating at one of the gourmet restaurants on the premises that are offered to the guests, there is so much to do. The overall atmosphere is stunning in every way possible. You can never get tired of it.
1

The Fantastic Quin
Our last – but not least – pick for this massive list is none other than the Quin in NYC. Right there in the heart of the city, this newer hotel is already a celeb hotspot. This was a very popular place for dancers and those in the creative industries, but many people have come to adore the quirky and classic mashup of this hotel. It's memorable and very special. If you want to be right there in the action, you have to stay here.
Source: Read Full Article