TL;DR:
Daphne Maxwell-Reid and Vernee Watson-Johnson will guest star on episode 9 of Bel-Air.
Maxwell-Reid played the second Aunt Vivian and Watson-Johnson played Viola "Vy" Smith on The Fresh Prince of Bel-Air.
Peacock revealed the roles they will play in a scene with Cassandra Freeman on the Fresh Prince of Bel-Air reboot.
Will Smith was the only original Fresh Prince of Bel-Air star to be involved with the Peacock reboot Bel-Air. Smith executive produces the series which reimaginees his landmark comedy as a drama. Fans have been waiting to see if any original Fresh Prince actors might show up on Bel-Air, and the first two have finally arrived.
[Warning: This article contains some spoilers for upcoming episodes of Bel-Air.]
Peacock announced on March 7 that Fresh Prince of Bel-Air stars Daphne Maxwell-Reid and Vernee Watson-Johnson will guest star on episode 9 of Bel-Air. Episode 9 premieres March 24 on Peacock as new episodes drop Thursdays.
'The Fresh Prince of Bel Air' Aunt Viv #2 and Viola "Vy" Smith
Maxwell-Reid's role on The Fresh Prince of Bel-Air was controversial. She replaced Janet Hubert as Aunt Vivian, the matriarch of the Banks family. Hubert left the show after season 3 and spoke out about feeling mistreated by Smith at the time and over the years. Hubert and Smith reconciled on the Fresh Prince of Bel-Air reunion special on HBO Max. Maxwell-Reid played Aunt Viv for seasons 4-6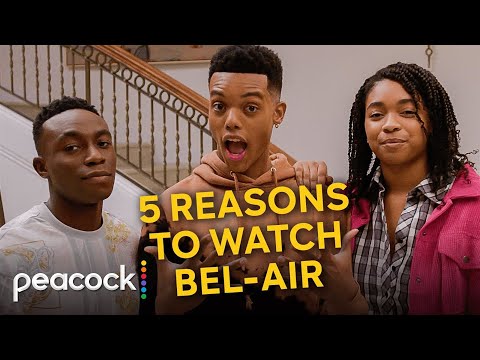 Vy Smith was a character who recurred throughout all six seasons of Fresh Prince of Bel-Air. She was Will's mother, though not the same actor from the opening titles. Once Vy Smith became a character, Watson-Johnson took over the role. 
The roles Daphne Maxwell-Reid and Vurnee Watson-Johnson will play on 'Bel-Air'
Peacock sent out a press release announcing the guest stars. Both will play members of the Art Council Board of Trustees. Maxwell-Reid's character is named Helen and Watson-Johnson's is Janice.
Cassandra Freeman plays Aunt Vivian in Bel-Air. Freeman's Viv is a college professor. She gets back into painting throughout the season, so one can imagine she'll have some business with the Art Council.
The new Aunt Viv, Vy Smith and other characters
In re-imagining The Fresh Prince of Bel-Air as a drama, Bel-Air reinvented a lot of the characters. Besides her career and artistic ambitions, Freeman's Aunt Viv is also the voice of reason when Uncle Phil (Adrian Holmes) feels overwhelmed in taking Will (Jabari Banks) in. 
April Parker Jones plays Will's mother, Vy, in Bel-Air. Will's basketball court fight was considerably more serious in Bel-Air. It wasn't just "one little fight." A drug dealer is gunning for Will. That's why the Banks' agreed to let him move to Bel-Air. 
Will gets along with his female cousins. Coco Jones plays Hilary, now a food vlogger and entrepreneur. Akira Akbra plays the younger Ashley, still in school. But Carlton is more of an antagonist than Alfonso Ribeiro. Olly Sholotan's Carlton is a big man on campus at school, lacrosse star and he indulges in drugs to maintain his overachieving status.
Source: Read Full Article