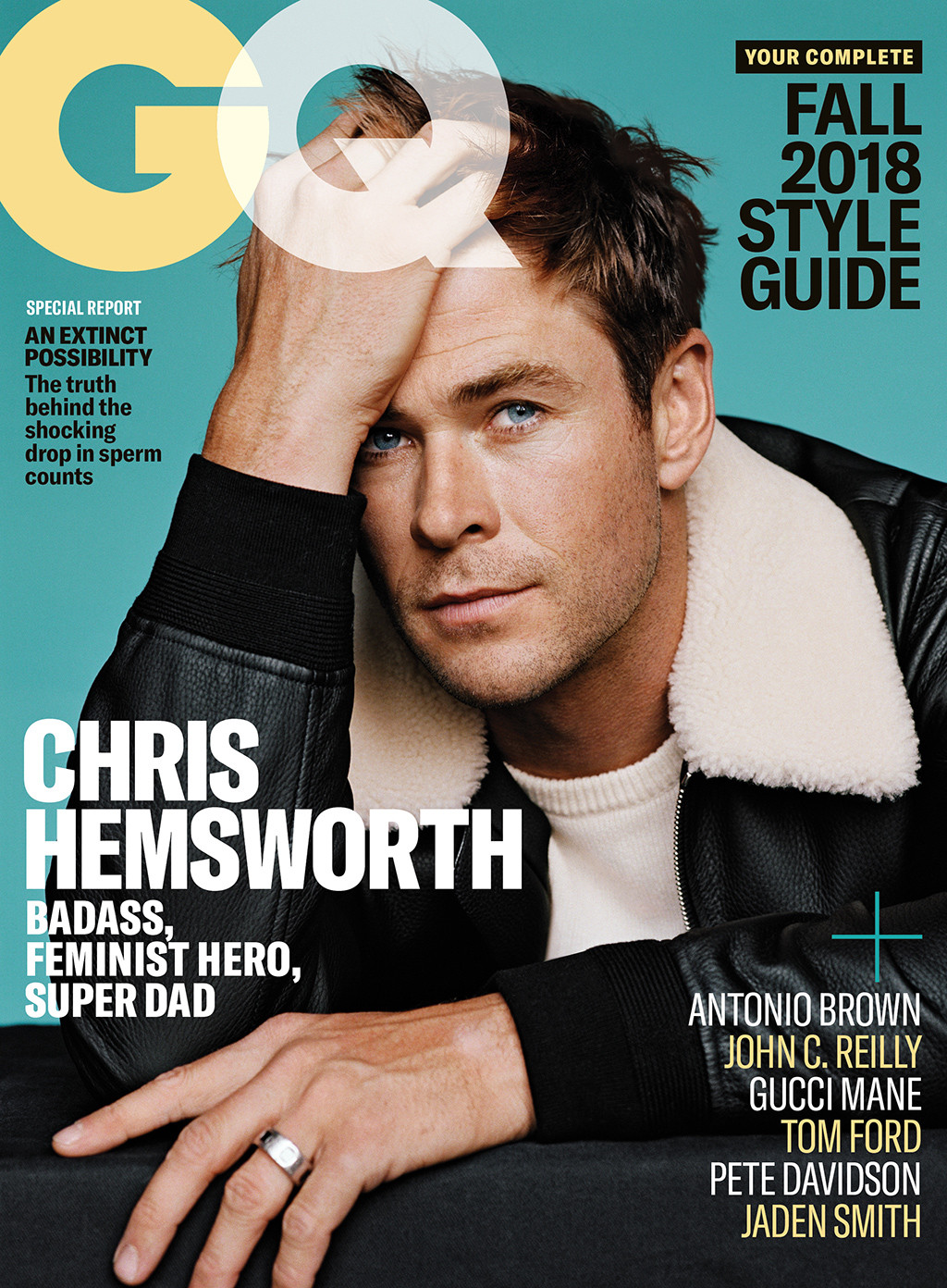 Alasdair McLellan/GQ
Chris Hemsworth is, first and foremost, a father.
The Bad Times at the El Royale actor appears on the cover of GQ's September issue (on newsstands Tuesday), and in associate editor Lauren Larson's profile, he opens up about leaving Hollywood behind. Fed up with the paparazzi in L.A., and despite Elsa Pataky's initial reservations, Hemsworth's family relocated to Australia in 2014. "Both trips we did, it was like pouring rain. And she was like, 'I don't know what the big fuss is.' Then I said, 'Let's do a trip up to Byron Bay,' and we get off the plane and it's raining. I'm like, 'Oh, my God. I'm not selling it,'" Hemsworth recalls. "And she instantly went, 'No, there's something different about this place. It is a very special place.' She went, 'This could be it. It could be the best decision we've made.'"
Hemsworth and Pataky will sometimes share pictures of their children on social media, but the actors are careful not to show their faces. It's a delicate balance, Hemsworth says: "The social media side of it is just trying to work out: How do you keep up with the times?' You see that Sylvester Stallone has an Instagram account, and you kind of go, 'This is the world we're in.'" So, whenever Hemsworth does share shots of his kids, his 20 million Instagram followers go wild. As Taika Waititi, who directed Hemsworth in Thor: Ragnarok, explains, "In the few and rare times that he does, it's genuine. It's, 'Here's this amazing moment when my daughter was surfing!'" Plus, Hemsworth bristles at the notion he's "selling" his private life for likes. "The exploitation is something I'm very wary of. We've been offered things like, 'Advertise such-and-such and have dinner with your family," the 35-year-old actor says. "There's no way."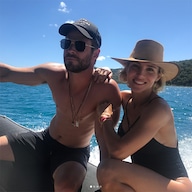 Photos
Chris Hemsworth & Elsa Pataky's Cutest Family Moments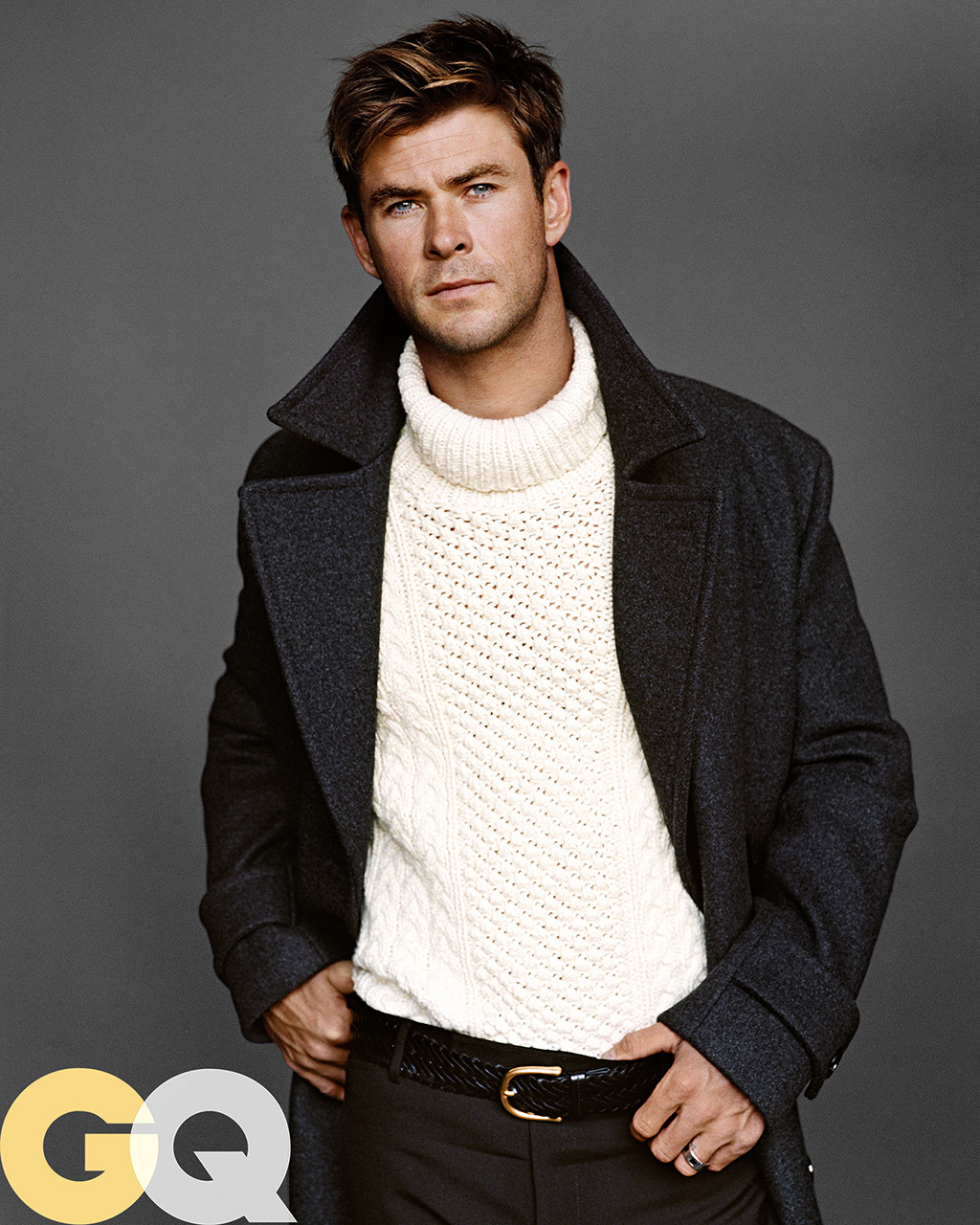 Alasdair McLellan/GQ
The point is, Hemsworth and Pataky want to retain control over how much of their private life they share with the public. And while the paparazzi attention has lessened since they relocated, it hasn't gone away entirely. For example, Hemsworth was recently out with his kids and the paparazzi appeared. Hemsworth ignored them—until one of his sons removed his bathing suit. "He's naked, and I look over, and they're still shooting. I ran over, and they knew. I just very pointedly and definitely said, 'Don't you dare,'" he says. "I was close to destroying the camera."
It wasn't always like this. In his early days in Hollywood, Hemsworth recalls, "I remember trying to be Colin Farrell. Thinking, 'People love the bad boy.' Going out and being sort of reckless. But no one cared. There wasn't the presence of paparazzi, nor the presence of social media, nor the immediacy of all these platforms." Thor—and the fame that came with it—changed everything.
Making movies is still an important part of Hemsworth's life, but it's not his end all, be all. "I really do feel a sense of ease for the first time in years. I don't mean that as an assessment of my achievements," says Hemsworth, who is currently filming the next Men in Black movie with Tessa Thompson. "I just mean I'm content with what's going on and relaxed and open about it."
But make no mistake: Hemsworth is still as competitive as ever.
Recently, at his daughter's school, Hemsworth competed in a dads race—and, to no one's surprise, came out on top. "There was just this wave of nirvana. I turn around, and I go, 'Where's my daughter? Where is she?' And she's like, 'Dad, did you win?' And I'm like, 'Did I win? You didn't see it?!' They gave me a sticker. A first-place sticker," he says. proudly. Pataky, who missed the race due to work commitments, enjoyed his enthusiasm. "I've never seen him so excited, not even about getting a big job. It was probably one of the best things that has happened to him in his life, which is funny, right?" the 12 Strong star says, laughing. "All the things he has achieved…"
Source: Read Full Article