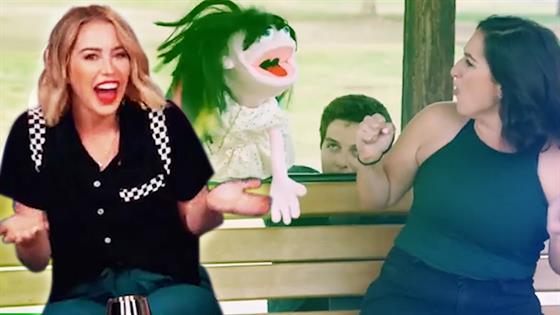 Almost seven months after their festive first date, Daria Roundtree and Allison Joseph are still going strong!
"Going into the show I didn't think it would lead me to my missing puzzle piece," Roundtree tells E! News now, going on thank the folks at Dating #NoFilter for "connecting me with my beautiful weirdo of a girlfriend who's helped me grow more than I thought possible and is everything I've wished for!"
Courtesy of a pet-friendly blind arrangement in May 2019, the 27-year-old cinematographer met her match in Allison, a 25-year-old fashion designer who expresses similar gratitude in her own new comments. "Daria has had my back in more ways than I have ever expected to be supported," she says. "It's been an honor to grow deeper in our relationship."
Daria and Allison got acquainted during Dating #NoFilter's holiday-themed episode, which taped earlier this year and finally aired tonight. In keeping with the series' format, Daria organized the happy couple's initial rendezvous without input from her then-anonymous match. Fortunately for Allison, arriving to a scenic overlook spot where Daria awaited her with a herd of puppies wearing Santa Claus costumes felt like the perfect meet-up.
"I'm a photographer," Daria told her date. "And I wanted to take some photos of puppies that need adopting."
"Oh my gosh, that is the cutest thing," Allison exclaimed, revealing sweetly during a personal vlog update post-introductions that, if the afternoon goes well, "I could definitely see myself kissing her under the mistletoe."
And while there might not have been any romantic foliage hanging around at the time, the pair eventually did seal their date with a smooch.
"I want an update! I want the morning after video! I want to see more of those two!" shouted comedian Zach Noe Towers, just one of six Dating #NoFilter commentators who fiercely rooted for this relationship. Clearly, they were onto something!
View this post on Instagram
I used to wish I liked boys but thank goddess that wish didn't come true! No boy could put a smile on my face this big 😄 Now I get to be in love with this cutie 🥰 Happy #nationalcomingoutday 🌈💕
A post shared by Daria (@ayyedaria) on
In a video update unveiled near the end of tonight's show, Daria told cameras she and Allison met "at the exact moment we needed to be brought together." And more than half a year later, the two are partners in more way than one.
"We are on our way to becoming a power couple consciously evolving to make the world a better more mindful place," says Joseph, who recently won the Emerging Designer Award at L.A.'s Equality Fashion Week.
"I documented it and made a video for her," adds Roundtree, going on to tease an upcoming collaboration with an influencer set to appear at The Streamy Awards later this week. Joseph will design the personality's red carpet ensemble while Roundtree films the occasion.
To learn more about Daria and Allison's first date, scroll through the photos below!
Watch the Dating #NoFilter holiday special this Sunday at 10 p.m., only on E!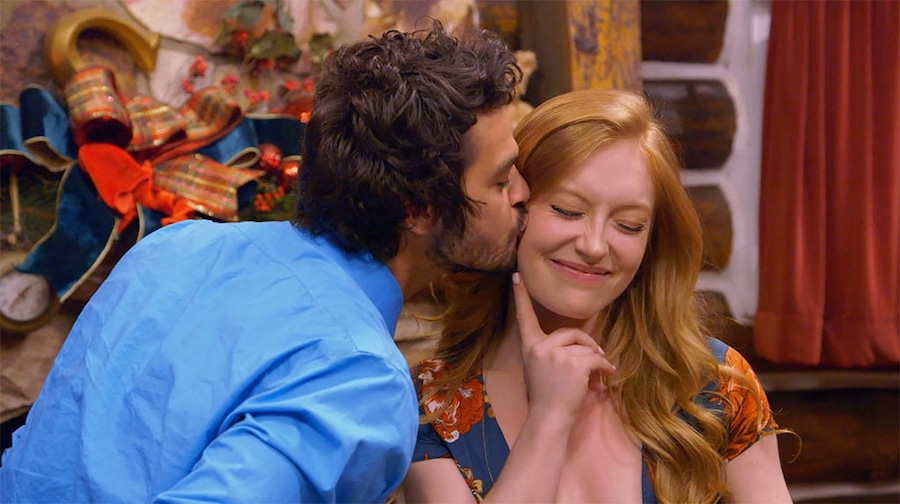 E!
Mallory & Mazen
U.S. Navy veteran Mazen (27, personal trainer) pulled out all the stops during his date with Mallory (23, nanny), who was shocked to learn about his previous marriage and divorce over dinner. The kiss he planted on her cheek at the end of the night felt equally unexpected, but Mazen was obviously smitten and Mallory was game to give him another chance. "I definitely see him as a friend but I'd like to go on a second date to get a better feel," she told the cameras.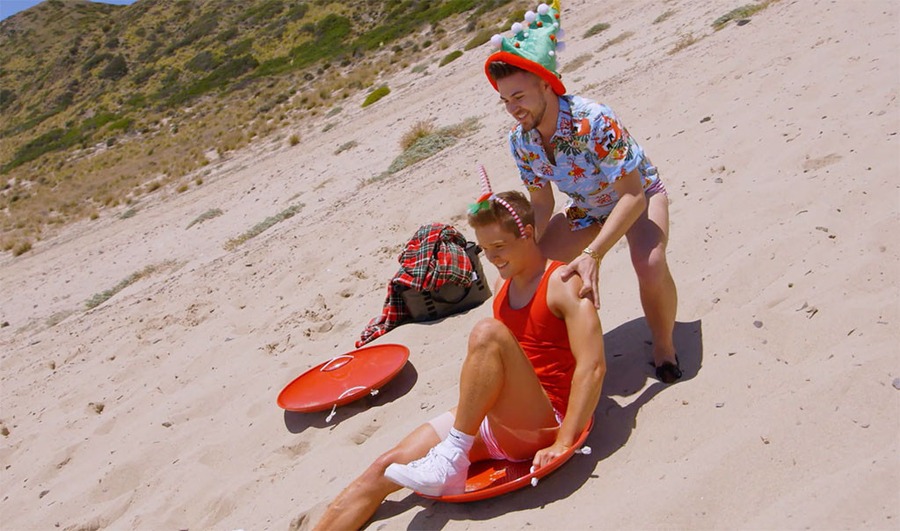 E!
Kyle & Charles
Kyle (28, entrepreneur) and Charles (25, marketing manager) kicked off their blind meetup with an adventurous round of sand sledding, but the two agreed to cut short their subsequent dinner engagement after awkward small talk rubbed them both the wrong way.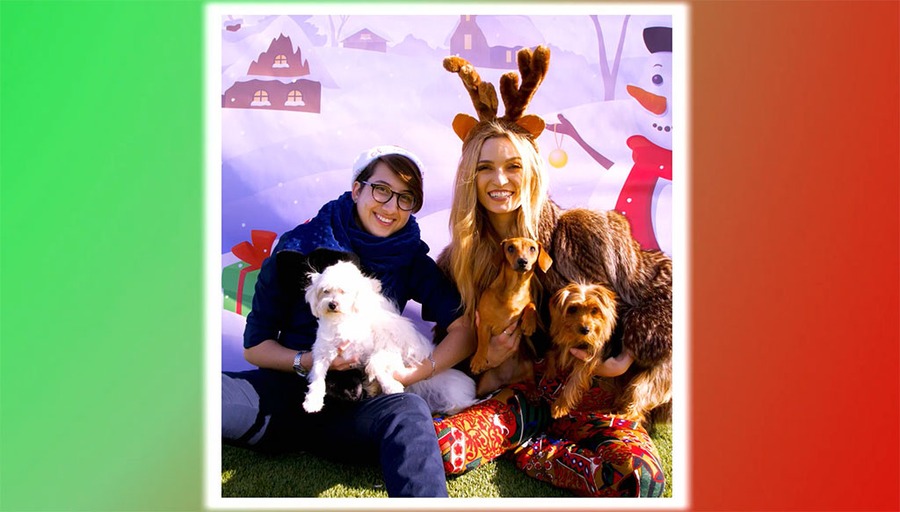 E!
Daria & Allison
All Daria (27, cinematographer) and Allison (25, fashion designer) want this holiday season is each other! Sparks flew immediately when the former blind dater invited her match to a "photo shoot" starring a group of puppies donning festive garb. After getting cozy around a bonfire later on, the two agreed to see each other again. It's been months since then, and they're still together!
Article continues below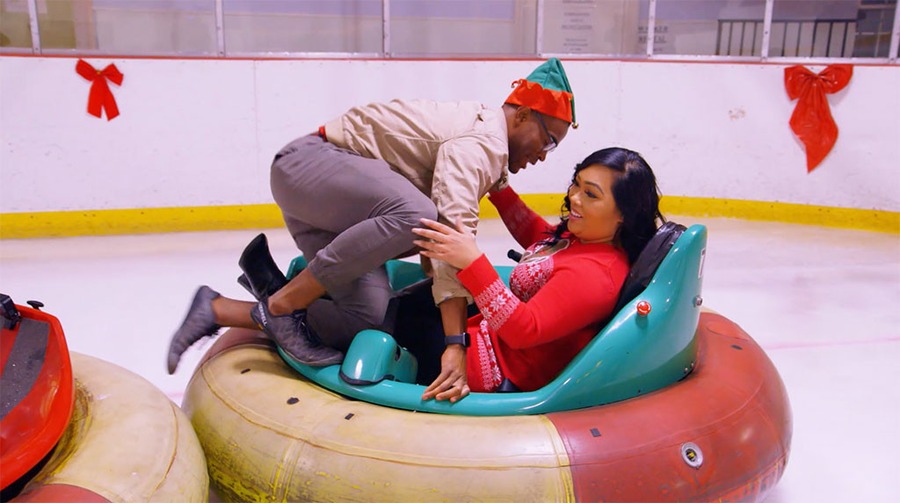 E!
Monica & Adam
Monica (30, food blogger) and Adam (26, personal trainer) broke the ice during a chilly round of bumper cars, when the latter single spontaneously ditched his own contraption to share a seat with his date. Ultimately, it seemed like Monica was in the market for a steady relationship, and Adam wasn't on the same page.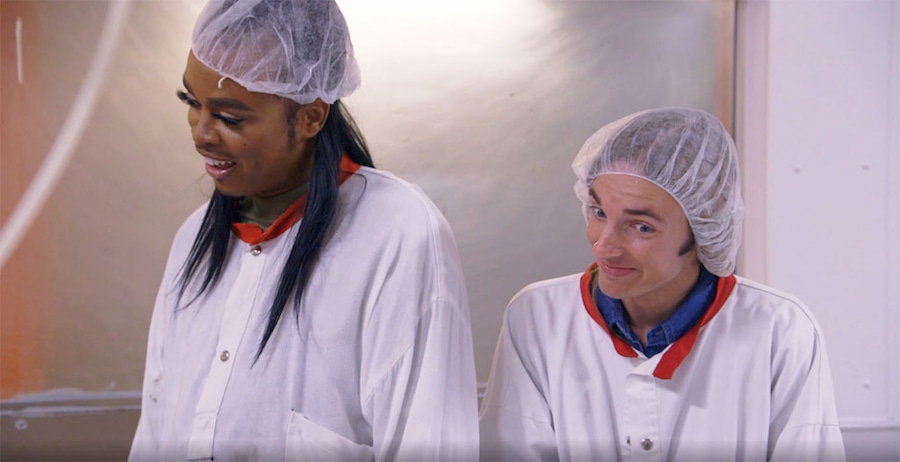 E!
Adam & Reante
No love match here! Things started out rough when Adam (26, writer) brought vegan/vegetarian Reante (28, packaging employee) to a sausage making class. Even though the twosome had fun dancing a little during dinner, they decided to just be friends.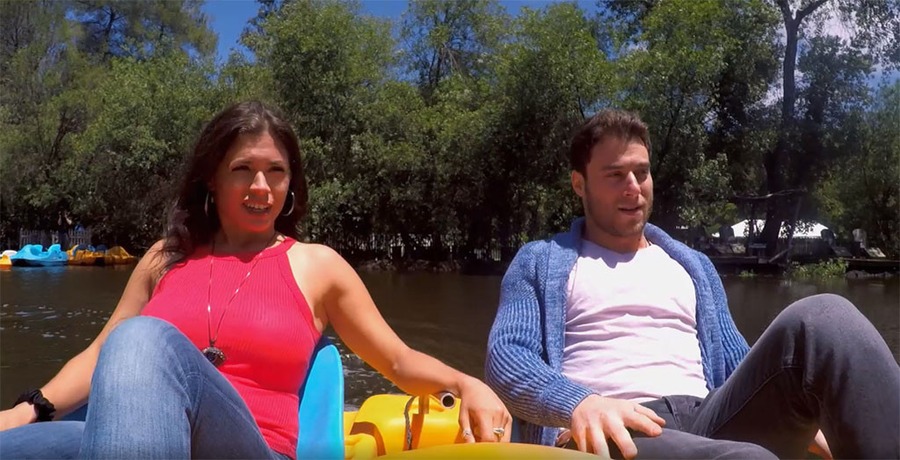 E!
Gabriella & Daniel
Gabriella (27, life coach) and Daniel (27, fitness instructor)'s first date started out strong thanks to a fun paddle boat outing. Despite bonding over a love of spinning, the duo couldn't connect at dinner.
Article continues below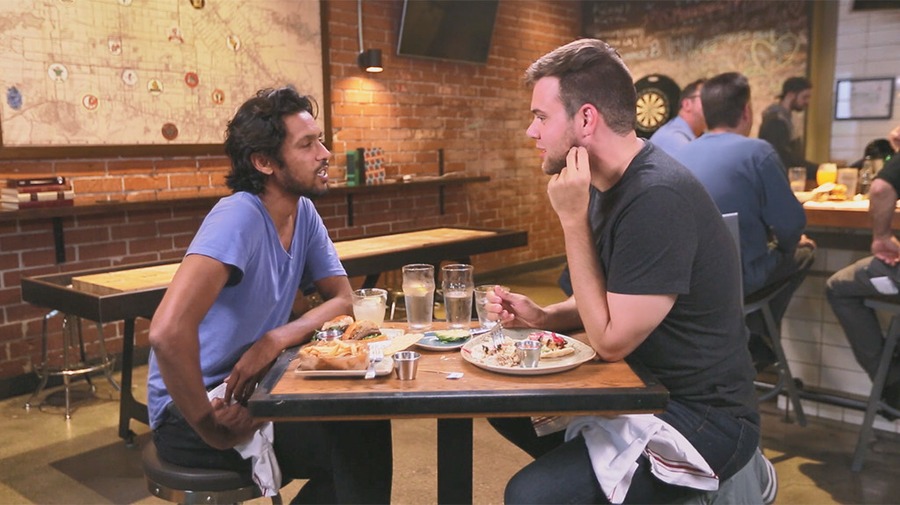 E!
Josh & Govind
Even though Josh (27, photographer) planned an inflatable obstacle course date and accidentally kicked Govind (32, brand ambassador) in the ribs, the pair hit it off at dinner and agreed to hang out again!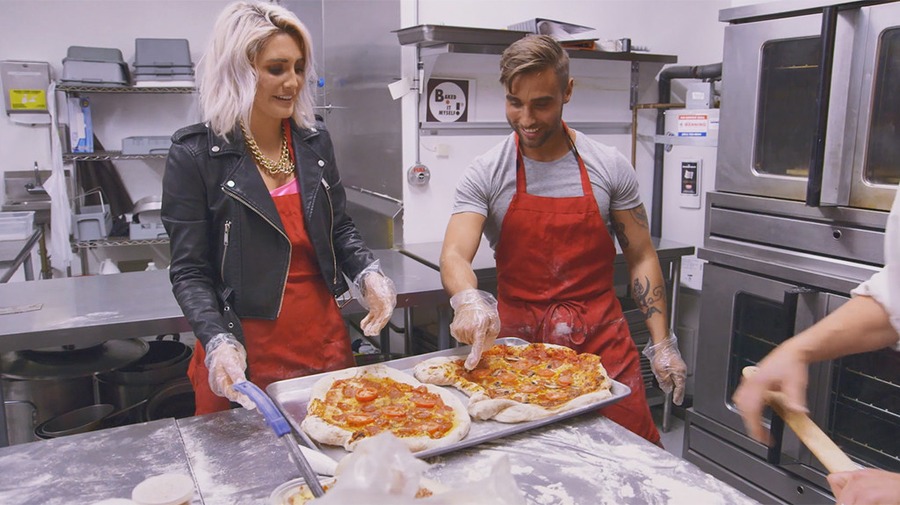 E!
Haley & Nathan
Haley (26, wedding photographer) was so impressed by Nathan's (27, personal trainer) '80s-themed pizza-making date, it almost didn't matter that both singles are definitely lactose intolerant. The pair made plans to meet up again after enjoying dinner and dessert cross-legged on a tabletop Sixteen Candles style.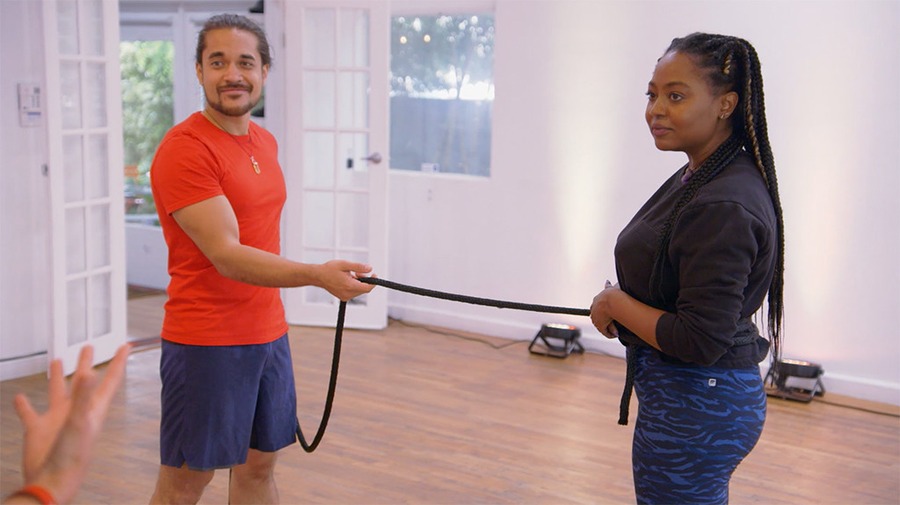 E!
Devin & Lauryn
Devin (32, hair model) and Lauryn (31, professional dog walker) were in sync during interpretive dance class, but things fizzled out over breakfast-for-dinner. Lauryn thought Devin was a "cool person," though!
Article continues below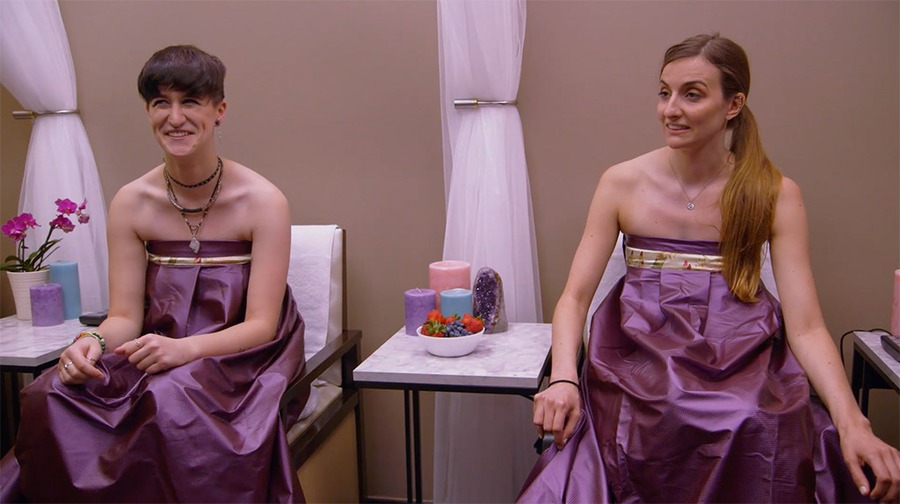 E!
Joy & Hannah
Joy (22, freelance cinematographer) and Hannah (24, cinema attendant) seemed to hit it off during couples vagina steaming—yes, a real thing!—but Hannah told her date point-blank after drinks and dinner that she'd rather just be friends.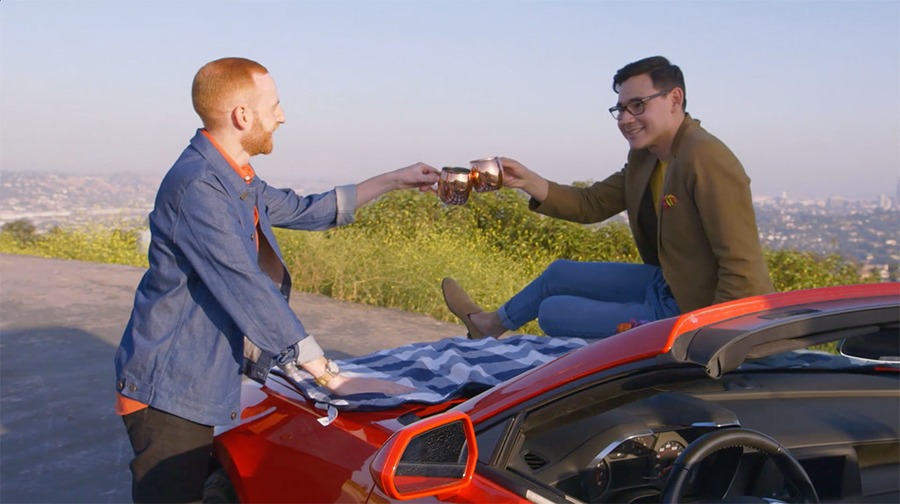 E!
Gregorio & Jamison
Although Gregorio (25, healthcare administrator) didn't love Jamison (37, improv coach)'s car washing date, a romantic picnic overlooking Los Angeles turned things around. In fact, the twosome's date ended in a kiss!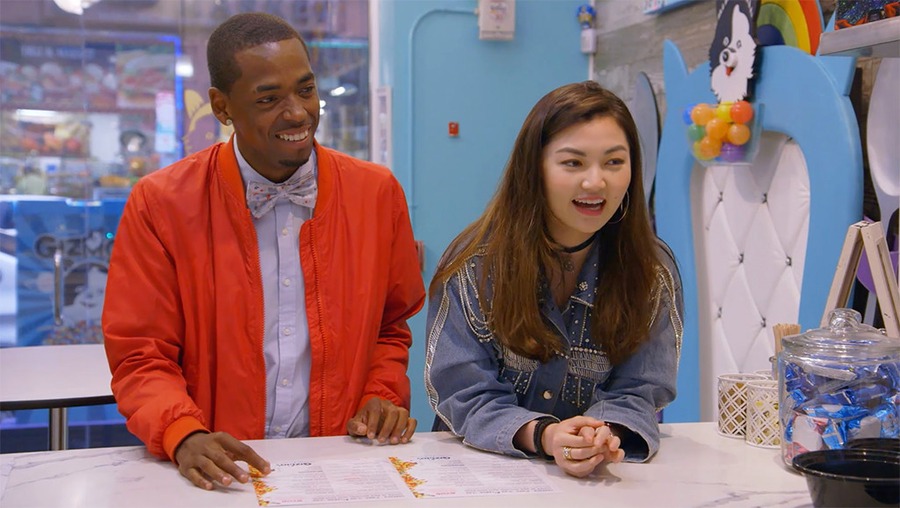 E!
Jolie & Charles
After attending a rapping class together and grabbing some sweet treats, Charles (28, sales rep) though his date with Jolie (23, brand ambassador) "went pretty well." However, Jolie felt a little differently. "He's just a bit too much for me personally so I will probably ghost him," she admitted. Harsh, girl!
Article continues below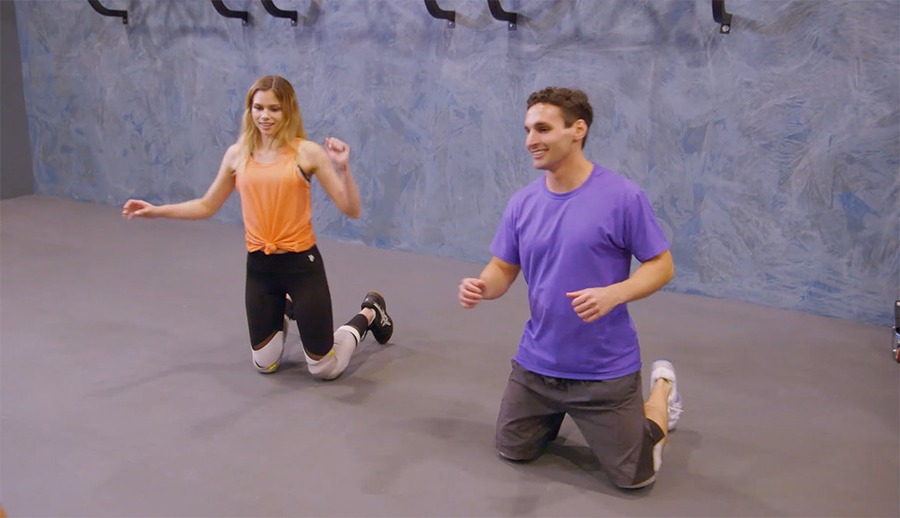 E!
Chris & Denae
Chris (33, analyst) and Denae's (23, waitress) date was awkward from start to finish. During twerking class, he called her mom hot and wouldn't stop talking about booties. "He can't stop talking about people's asses…that really bothers me," a disgusted Denae said after their bust of a date.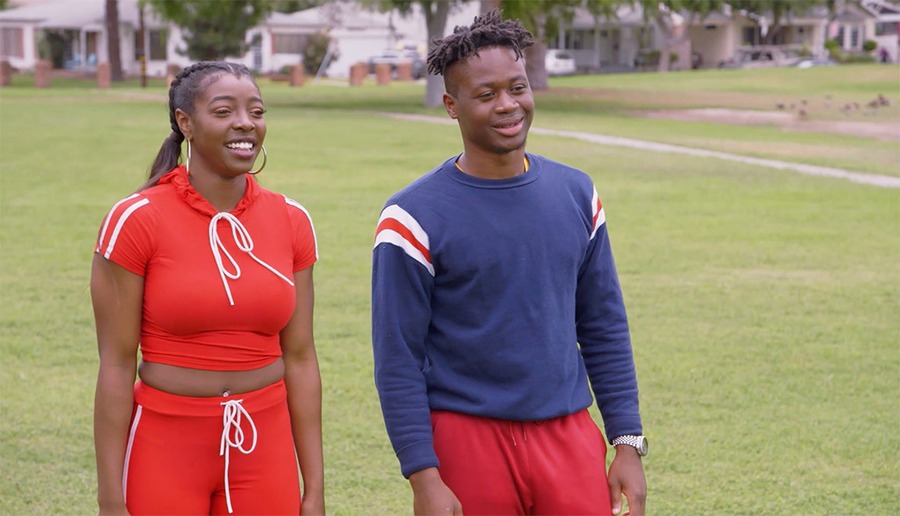 E!
Sakoiya & Mayowa
Sakoiya (22, professional cheerleader) and Mayowa (24, musician) started their date with a cheerleading lesson and ended it with an intense (and hilarious!) talk about Mayowa's "dick size." Despite the dirty talk, these two were definitely feeling each other and decided to hang out again. "Mayowa was such a good time. There definitely will be a second date," Sakoiya said. "I think there's a great future between Mayowa and I."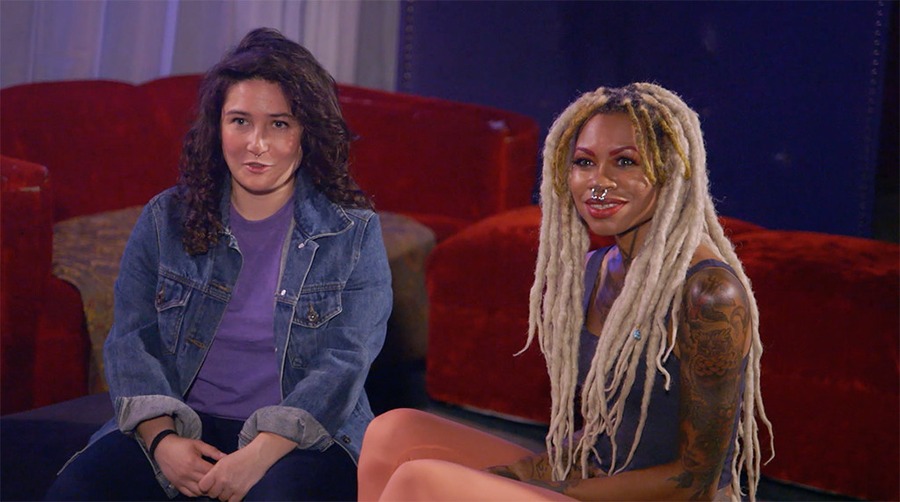 E!
Abby & Jewel
Abby (26, swag maker) was shocked (to say the least) when Jewel (28, spiritual advisor) brought her to a BDSM dungeon for some spanking on their date. And over dinner, Jewel continued to reveal her eccentric personality by talking about her experiences penetrating men and her fondness for sexual "dental play." In the end, these two agreed they're better off as friends. "I think you're really freaking cool but I don't think we have chemistry in that way," Abby told Jewel, who happily agreed.
Article continues below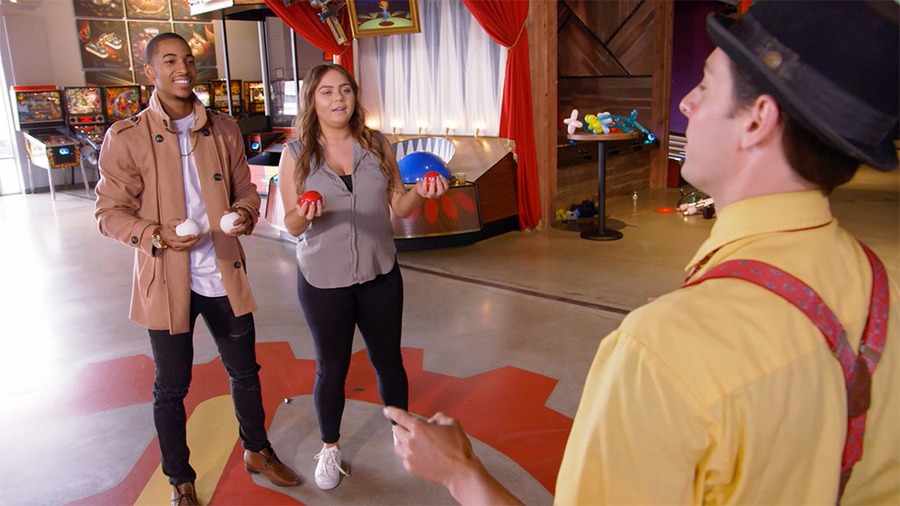 E!
Kourbine & Claire
Kourbine (23, day trader) and Claire (26, server) had such a good time on their juggling date that they decided they didn't want their day to end. After grabbing a food truck lunch, Kourbine invited Claire to a nearby hookah lounge for some more quality time together. "I'm into him," Claire said. "I'm really interested to see what happens next."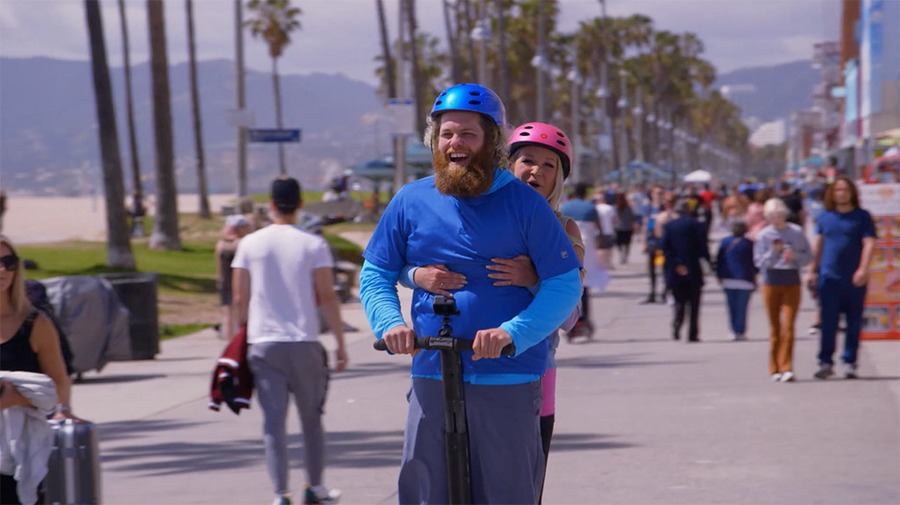 E!
Callahan & Melissa
Melissa (32, server) thought Callahan (36, military vet) wasn't her type at first, but his upbeat personality and goofy demeanor won her over and they were laughing pretty much their entire date. We definitely see a second date in their future. "I can't believe what a good time I had," Melissa gushed at the end of the day.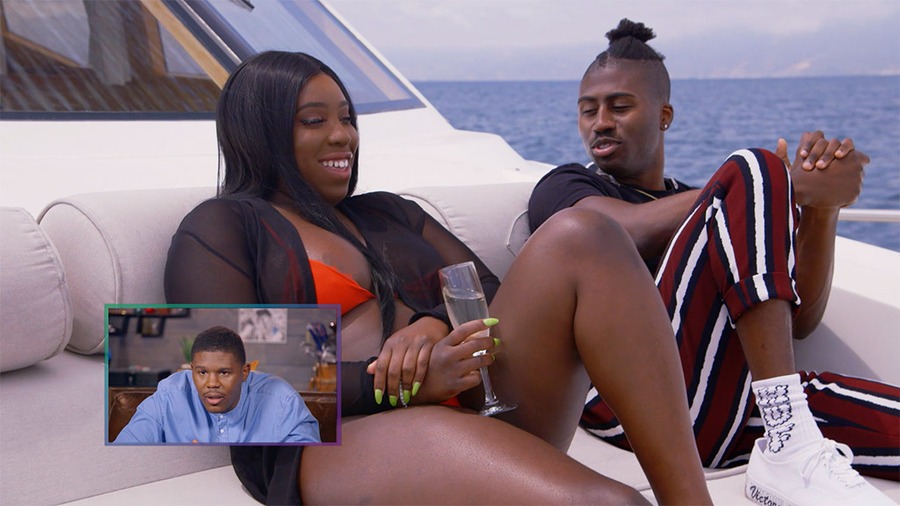 E!
Alaia & Shane
Alaia (26, entrepreneur) and Shane's (24, model) date started off on rocky waters, figuratively and literally! They just didn't seem to be vibing and when Shane revealed he never wants to get married, Alaia officialy friend-zoned him for life. "He's cute for someone, but he's not the one for me," she said at the end of the day.
Article continues below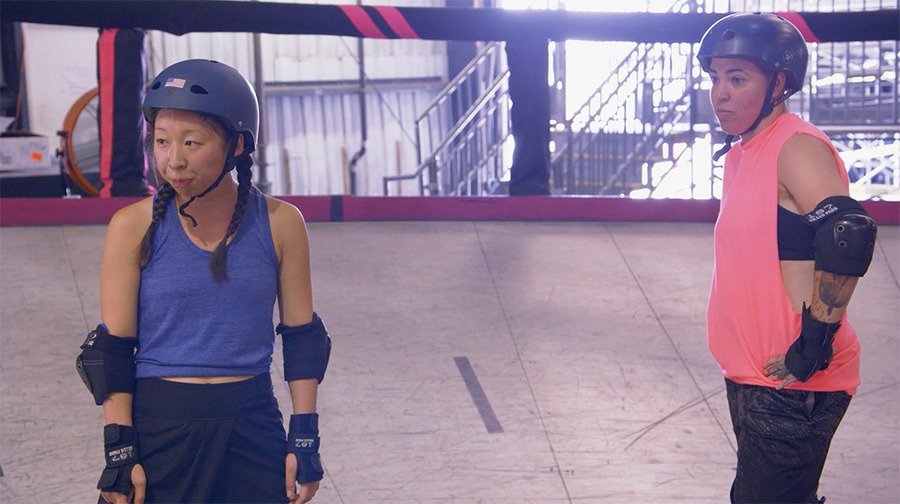 E!
Akemi & Alex
Akemi (28, activist) definitely surprised Alex (27, DJ) with her kooky personality and mystical beliefs (plus, the fact that she's never dated a woman before and she's "partially in the closet" ). In the end, Alex thought Akemi was sweet and "dope," "but to date, I don't think we're really compatible."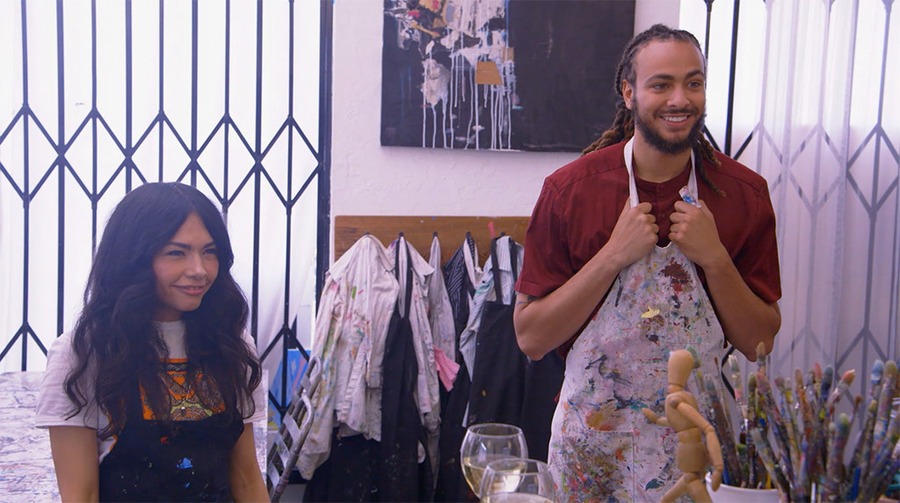 E!
Erica & Maliachi
Erica (30, server) and Maliachi (27, model) started their date off strong by painting a penis naked male model. Later on, during dinner, they moved on to equally risqué topics like threesomes and sexual fantasies. Ultimately, she thought he was a "sweetheart" but a little immature after he tried and failed to plant a goodnight kiss on her lips.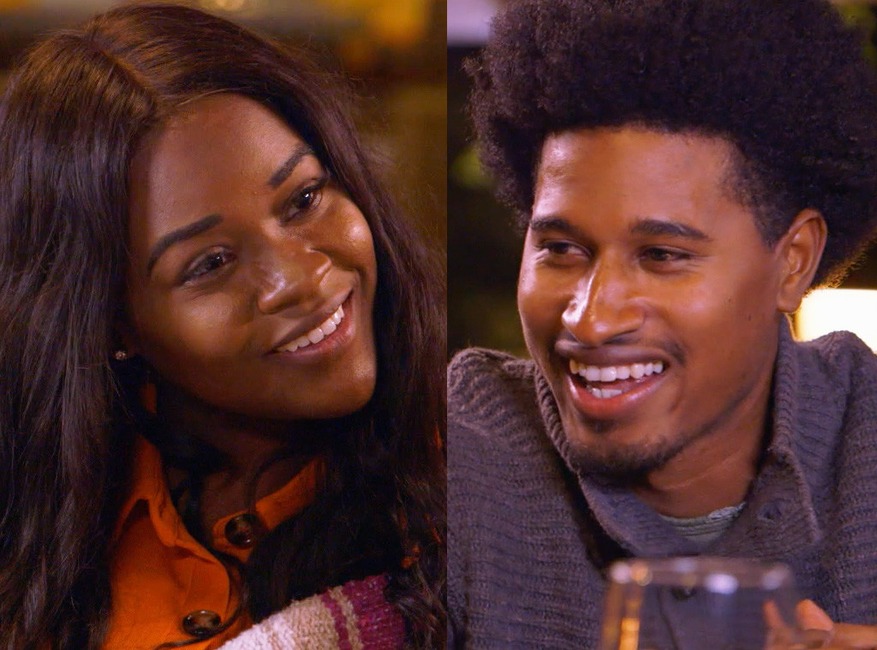 Alex & Elijah
Alex's (27, entrepreneur) loud and over-the-top personality had Elijah (26, geologist) in stitches during their romantic dinner (she took her Invisalign out over salad!), but he failed her dealbreaker when he admitted he isn't into Christianity. Despite their religious differences, the duo definitely had fun together but aren't sure their relationship will get more serious than friendship.
Article continues below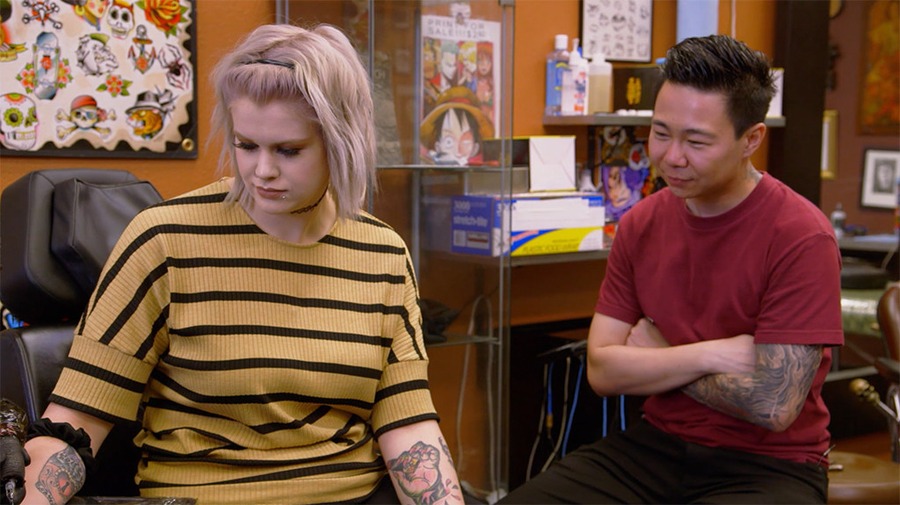 E!
Taylor & Lam
Taylor (26, makeup artist) and Lam (29, bud-tender) both agreed their date went "great" after getting tattoos and bonding over dinner, but Taylor admitted that she thinks it's a little too soon to meet Lam's mother (he stills lives with his parents).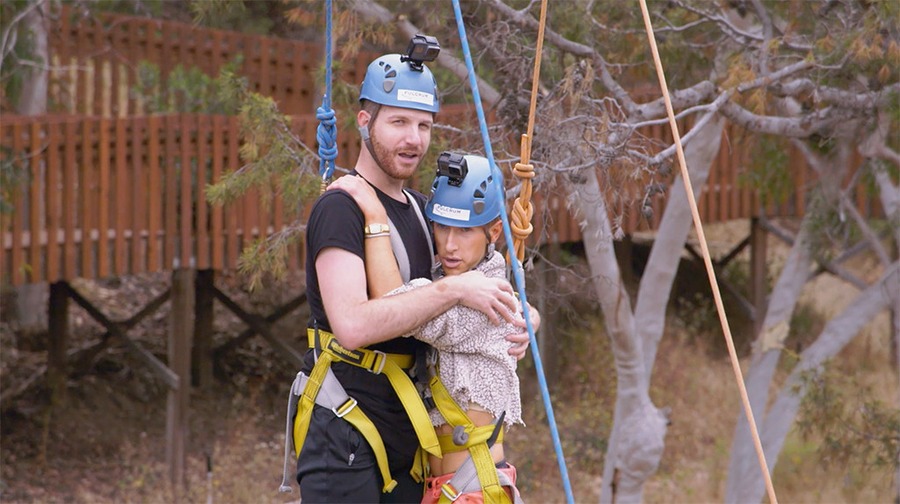 E!
William & Andrew
Crop top enthusiast William (25, fashion designer) charmed Andrew (27, product manager) with his eccentric style, but their ropes course date was another story! Luckily, Andrew was there to catch William (literally and metaphorically) and they ended their date with drinks and a big kiss! We see a second date in these guys' futures.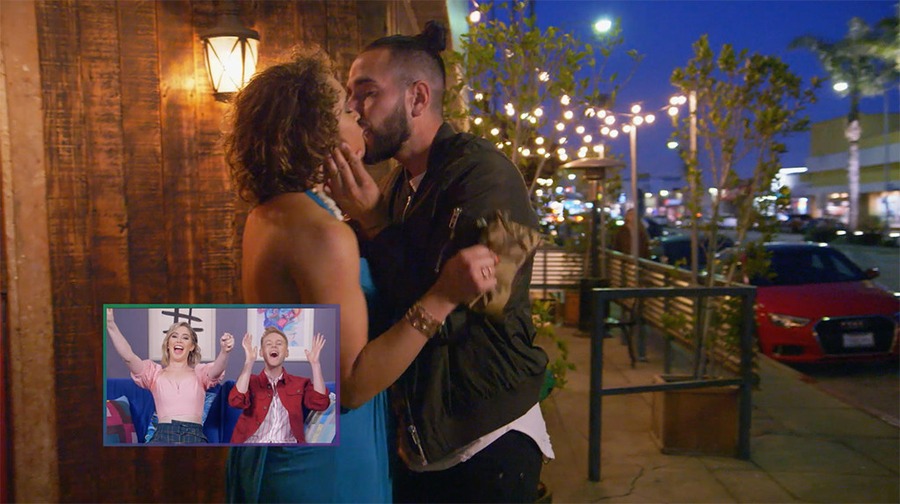 E!
Solomon & Maya
After getting flirty while making chocolate together, Solomon (27, construction worker) and Maya (28, hospitality) were both on the same page when it came time to say goodbye with a steamy makeout session. Maya even warned other woman to back off her man…seems like Maya is all in for a full-on relationship already!
Article continues below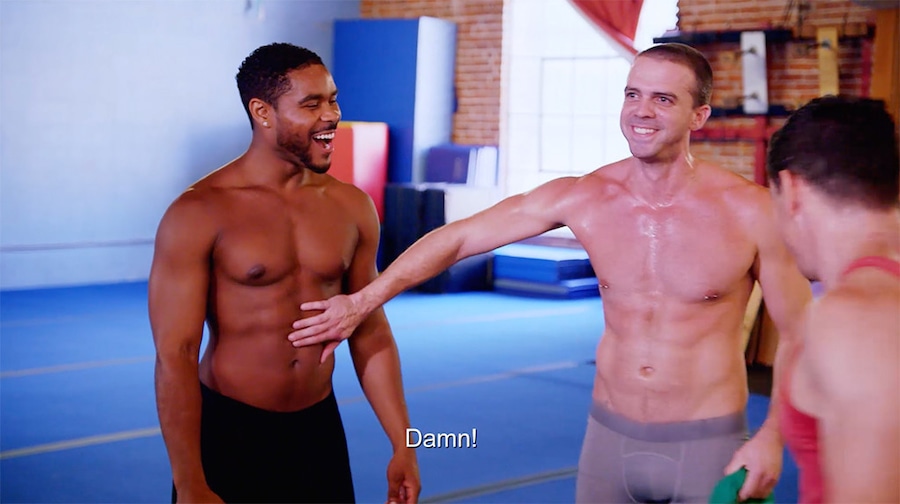 E!
David & Tyrone
David (30, flight attendant) and Tyrone (27, fitness coach) had a blast while getting sweaty and steamy during their acrobatics date. Later, they grabbed a meal of sausages (and took shots!) but eventually decided to remain just friends. "Aside from us being gay, we literally have nothing in common," David joked.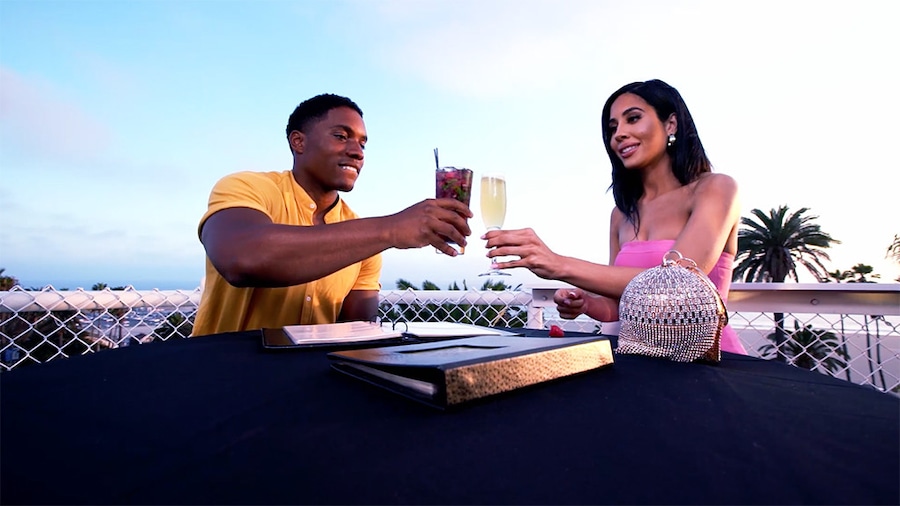 E!
Lexi & Shaun
After an awkward ice skating date and dinner, Lexi (25, entrepreneur) and Shaun (27, private security) confirmed what they thought from the beginning: they just aren't each other's types. "Lexi came off a bit more materialistic than what I'm used to and I wish her the best," Shaun recounted at the end of the day.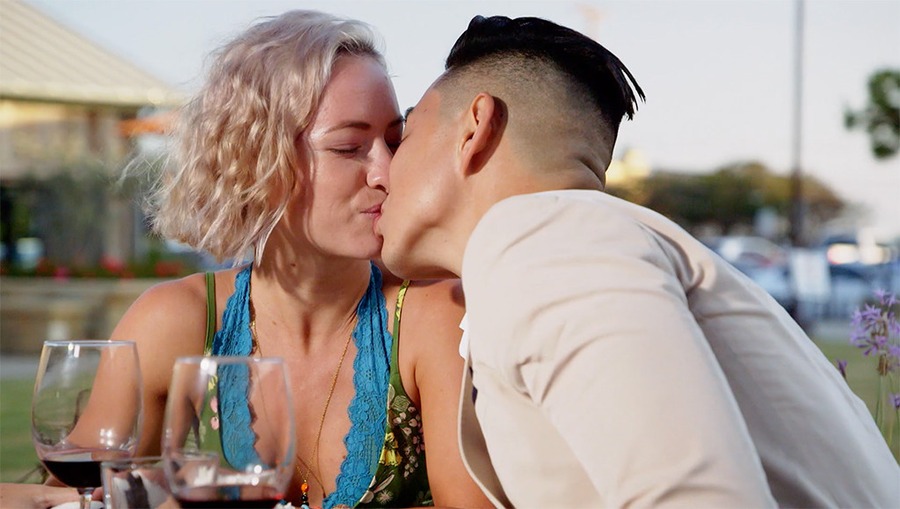 E!
Maury & Daniel
Maury (24, dancer & yoga instructor) and Daniel (28, active military) saw sparks flying from the beginning of their safari wine tour. And later, while enjoying a romantic dinner, they sealed their date with a kiss! We can totally see a second and third date in their future.
Article continues below
E!
Alex & Harmony
Alex (26, waitress) and Harmony (28, location scout) were like oil and water when it came to chemistry (and when Harmony made fun of Alex for never having seen the movie Ghost, we all cringed). Don't count on these two ever seeing each other again.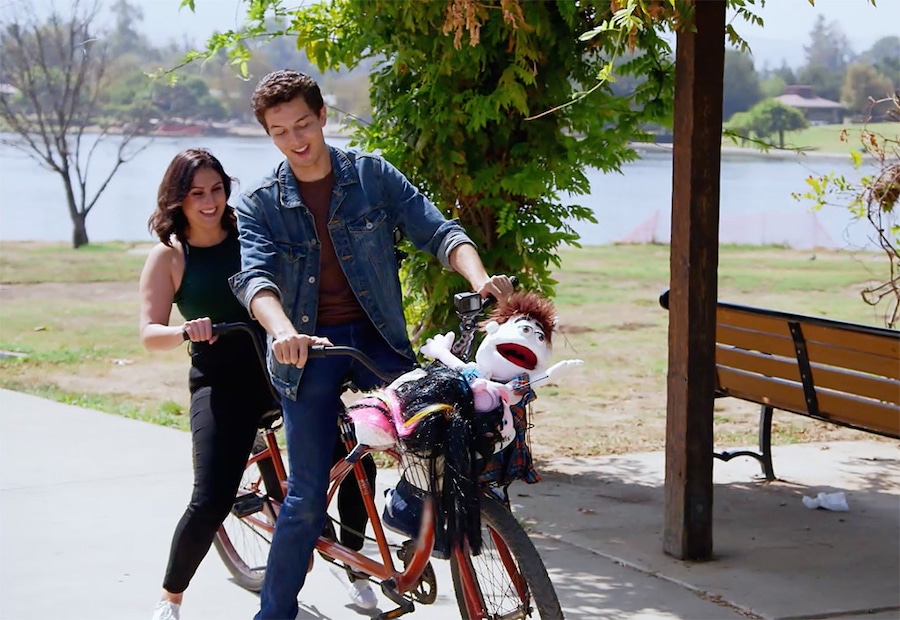 E!
Danny & Courtney
Danny (23, puppeteer) made a risky move by bringing puppets on his park date with Courtney (26, leasing agent), but it worked out and the duo had a good laugh. But later when they went for drinks, Danny had an existential meltdown after a few cocktails and he decided he needed to work on himself before going on any more dates.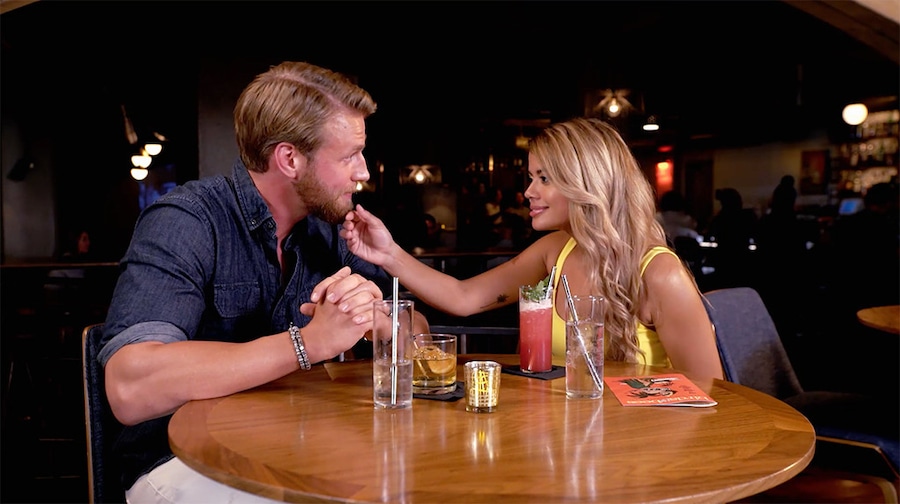 E!
Ross & Alex
Good-looking twosome Ross (29, bartender) and Alex (25, finance) definitely had chemistry and "really connected" on their date. They even exchanged phone numbers and both said they wanted to hang out again. Success!
Article continues below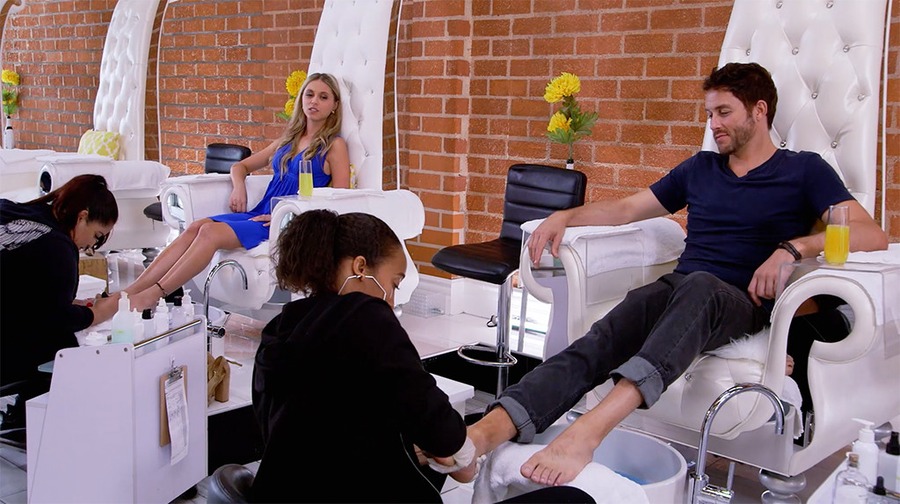 E!
Alexa & Scot
Alexa (28, rand marketing/fashion blogger) and Scot's (37, actor) date was awkward from beginning to end. She hated the pedicures, he hated the seafood restaurant they ate after and their small talk was painful. Despite the rocky ride, Scot said he really liked Alexa, while Alexa promised never to see Scot again.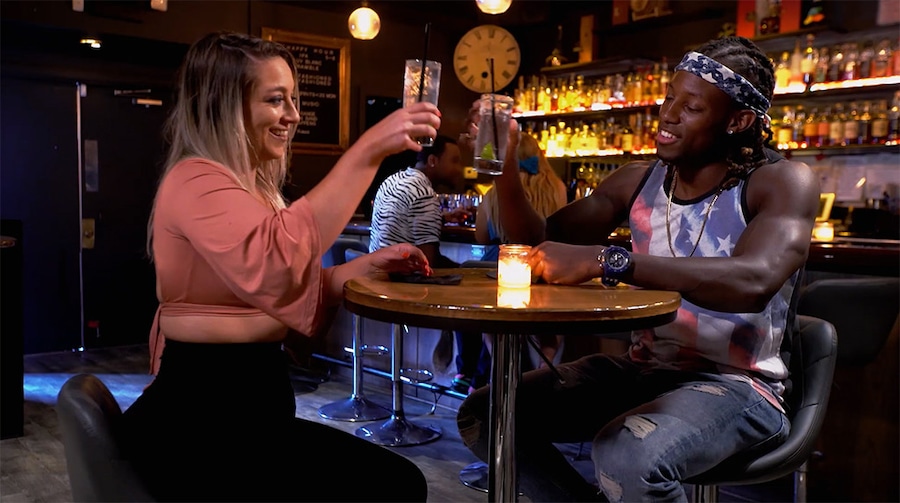 E!
Victoria & Jay
Victoria (30, sexpert/web host) and Jay (28, warehouse package handler) didn't hold back when it came too suggestive language and they even played a sexy game of truth or dare! Their date ended with a smooch and Jay grabbing a big handful of Victoria's booty. We see at least a booty call in their future.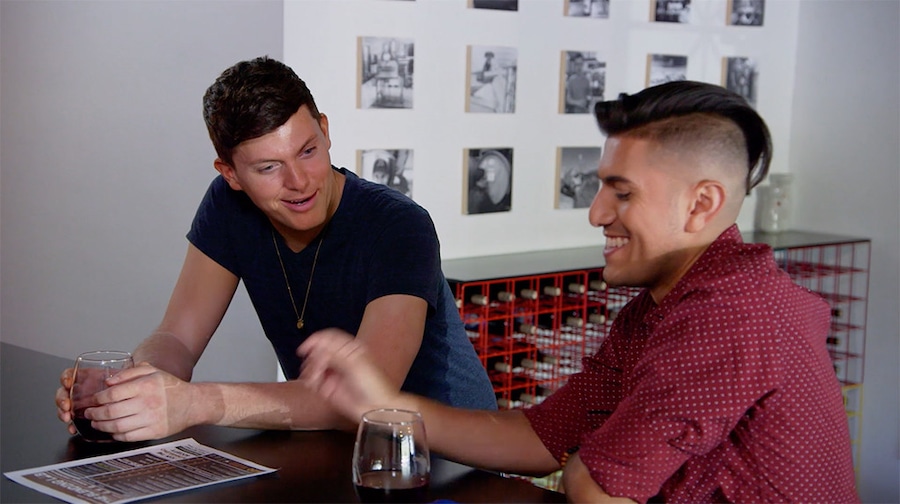 E!
Zack & Rey
After a flirty wine mixology date and a romanic dinner (at a garlic restaurant of all places), Zack (31, personal assistant) and Rey (33, underwear salesman) just needed a few shots of tequila to get their lips wet before making out in the restaurant parking lot! "I didn't expect a kiss, but I'm so happy it happened," Rey admitted on his way home. "I'm hoping to get to see him again."
Article continues below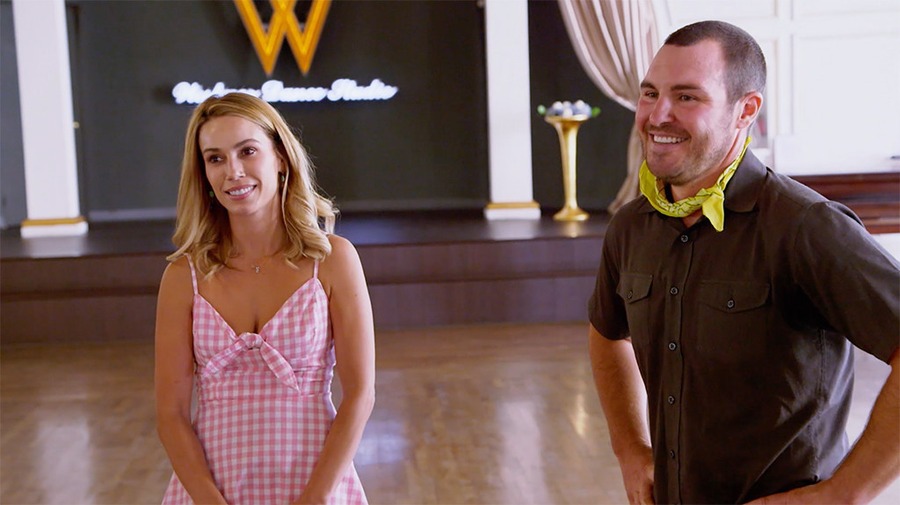 E!
Allison & Adam
Allison (33, real estate agent) and Adam (38, mortgage broker) didn't seem to be feeling each other on their country Western dancing date, and when they went to get drinks, things only got worse for Allison. After Allison revealed she's a single mom, Adam asked for another date but she pulled the kid card to avoid spending any more time with him. "As tempting as that is, I actually do have to go get Jackson, she said. DENIED!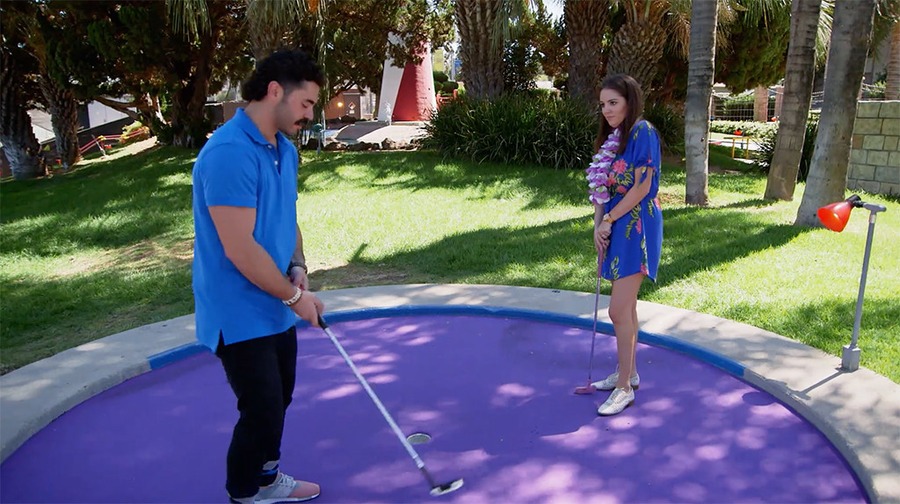 E!
Zach & Dina
Zach (28, fitness instructor) and Dina's (30, karaoke DJ/singer) uniquely quirky personalities did not mesh, but allowed for some pretty hilarious moments during their mini golfing date followed by drinks. At one point, Dina said, "I like to change about five times a day," to which Zach replied, "Like your personality?" LOL! And when he asked her why she doesn't have a boyfriend, she dead-panned, "I've been divorced five times now." Their awkward date ended when Zach chugged a beer then went to go teach a fitness class. Sure…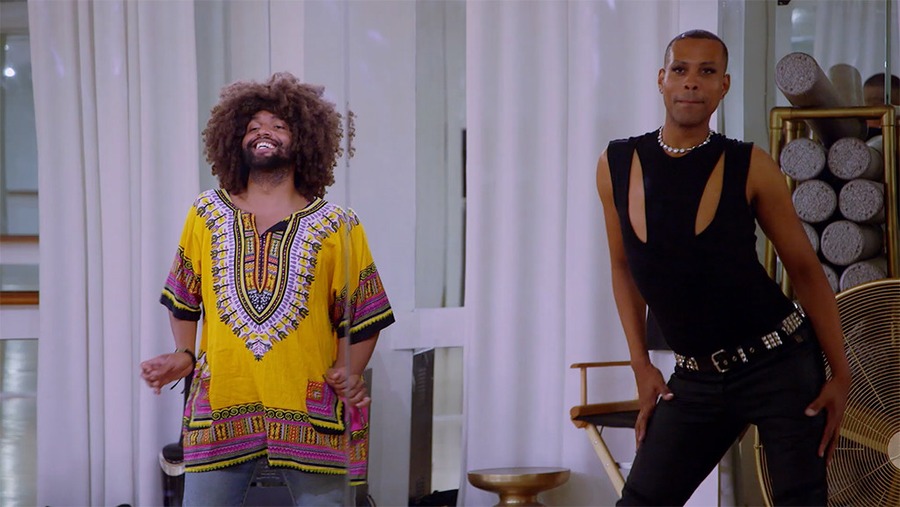 E!
Tyrone & Brian
Tyrone (32, programming teacher) and Brian (31, entertainer) loosened up their hips with a dance class. Later when they met for a romantic dinner, Brian showed up in drag as his fierce alter-ego Breyoncé! Ultimately, Tyrone was into it. "That was a turn on to have that confidence, that's very sexy," Tyrone said. "I can see us having a great friendship and maybe something more."
Article continues below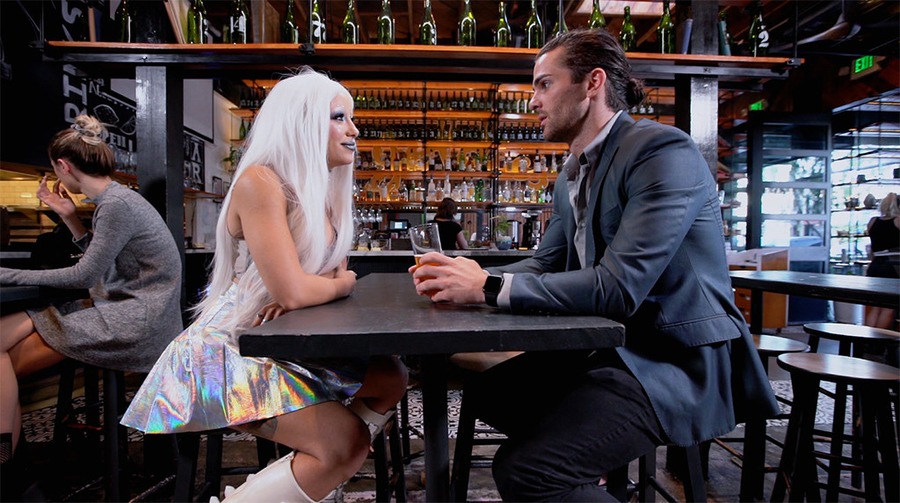 E!
Lyra & Marco
After a severely "awkward and really embarrassing" date with between Lyra (23, multi-dimensional healer) and Marco (23, actor/dancer), things ended abruptly when she asked him if he believed in aliens and he said no. "Goodbye! Date's over!" Lyra said and walked out the restaurant.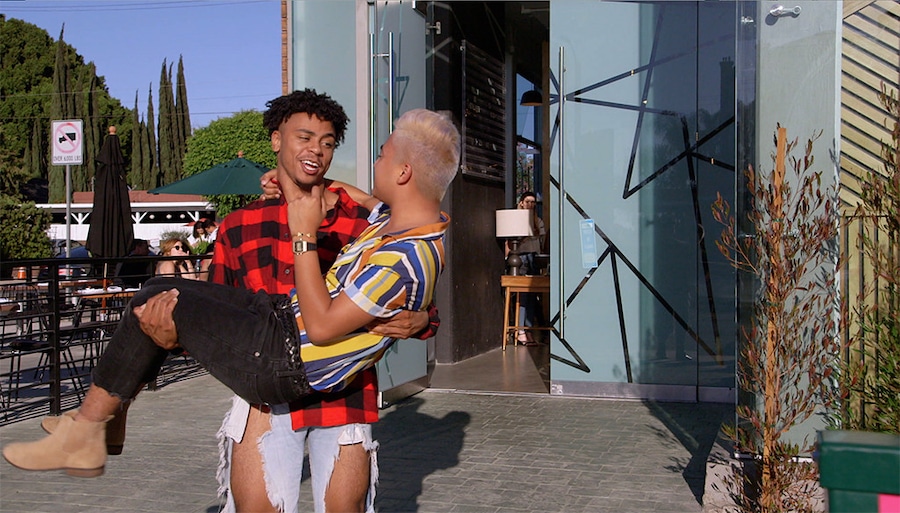 E!
Justin & Kaelin
Justin (25, stylist) and Kaelin (22, blogger) had a really food time getting to know each other during a museum visit followed by food and drinks. After taking a few shots, they agreed to go out in West Hollywood together and even enjoyed a little make out sesh! Despite the lip-locking, the comedians got more of a friends with benefits vibe. "Kaelin is a really good kisser," Justin admitted. "Let's see what happens."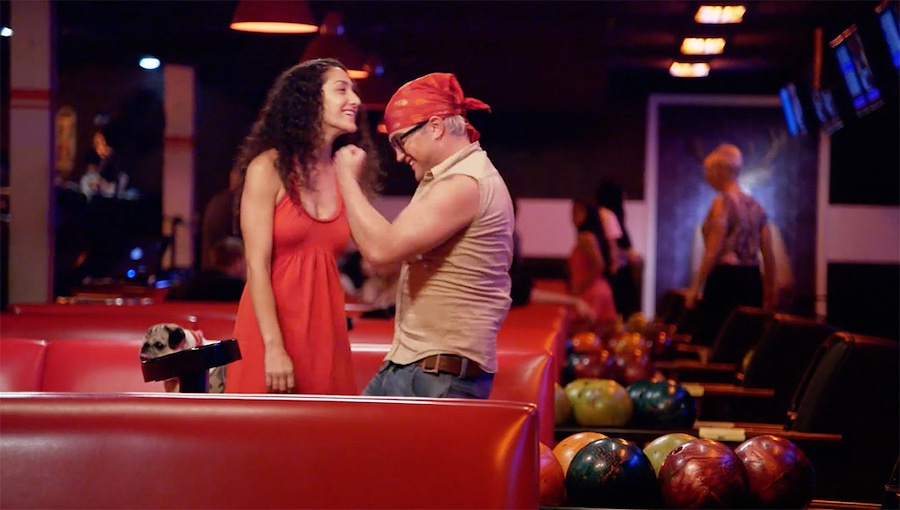 E!
Sara & Jonathan
Sara (32, dog walker) and Jonathan (37, gym membership sales) might have had fun on their bowling date…if Jonathan hadn't asked her for so many kisses! After many tries at getting a strike, Sara kindly flattered Jonathan by giving him a smooch on the cheek, but things only got worse later over dinner. The awkward date had Sara running for the hills when Jonathan invited her back to his place for some ice cream. "I will rain-check on that just 'cause I'm so tired," she said.
Article continues below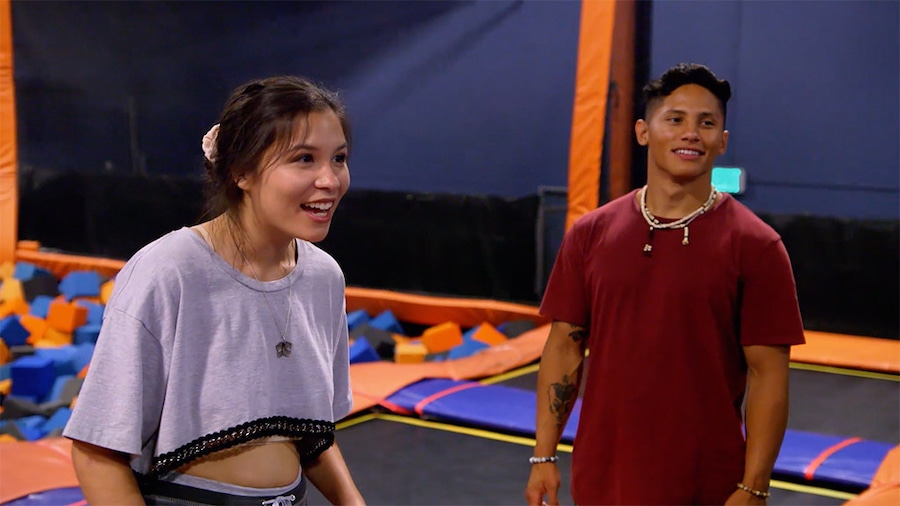 E!
Mario & Emmy
Mario (23, online personal trainer) and Emmy's (24, caterer) date started out strong but later fizzled. After having some fun at a trampoline park, they grabbed a meal but their conversation was dull and disastrous for their chemistry. At the end, Mario was feeling it more than Emmy. "I'd like to do this again," he asked while she replied, "If I'm honest, I'm not really feeling a lot of chemistry."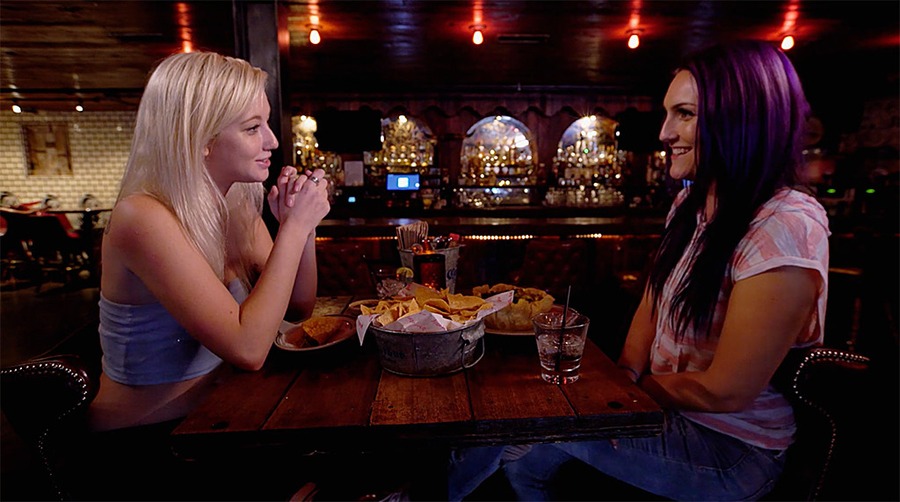 E!
Jaki & Madi
After enjoying some feline fun at a cat cafe, Jaki (24, musician) and Madi (22, professional skater) grabbed dinner where things got extra frisky. The duo really connected over their mutual love of music and ended their date with a make out sesh at the bar. "Second date's gonna be at my house," Madi said after their PDA fest.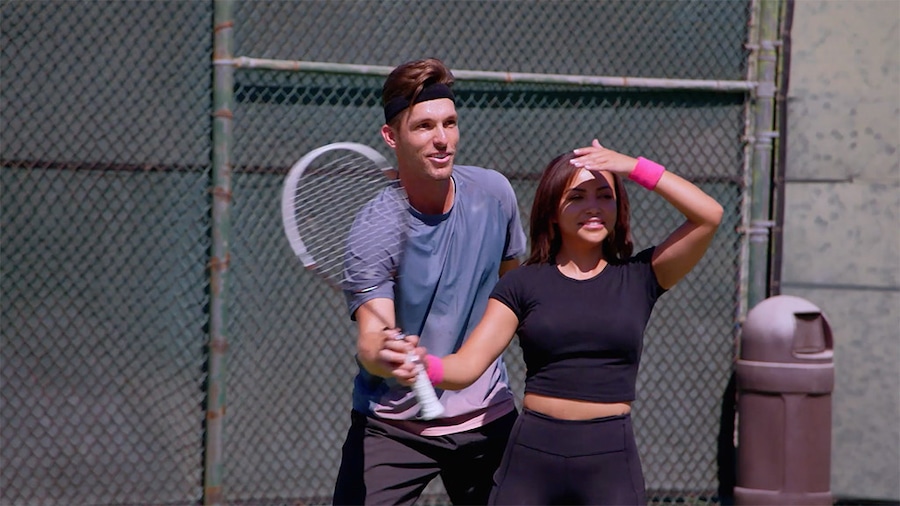 E!
Derly & Denny
Derly (26, marketing director) and Denny (29, tennis director) worked up a sweat on the court and Denny even got a little handsy while teaching his date tennis. Later, sparks flew over dinner and they enjoyed some sweet kisses after their meal. "He's a really good kisser,' Derly admitted. "He seems like a really nice guy and I do want a second date with him." Success!
Article continues below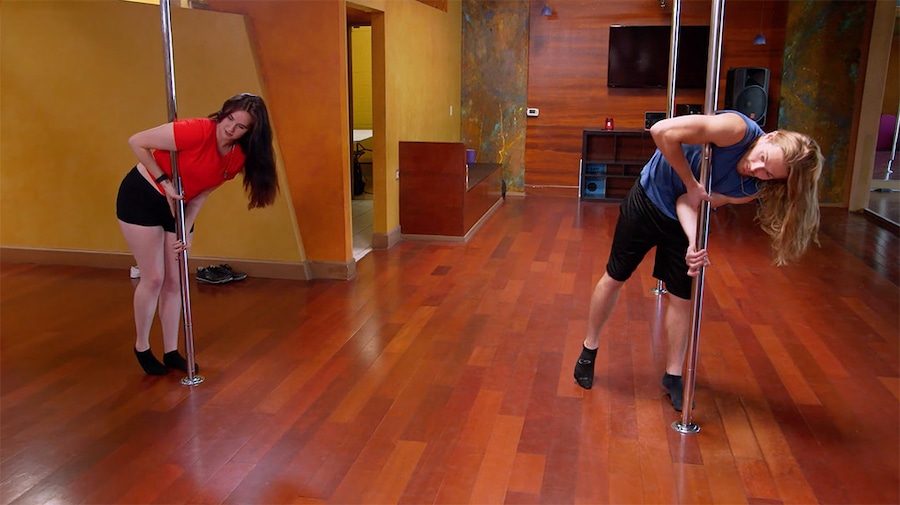 E!
Cody & Samantha
Cody (24, Uber driver) and Samantha (22, sales) definitely seemed to be vibing during their pole dancing date, but his over-the-top personality didn't mesh well with Samantha during dinner. "I feel like Cody is a very nice guy and he means well, but he's just not very authentic," Samantha ultimately said. "I feel like he's trying too hard and when you try too hard it's not attractive."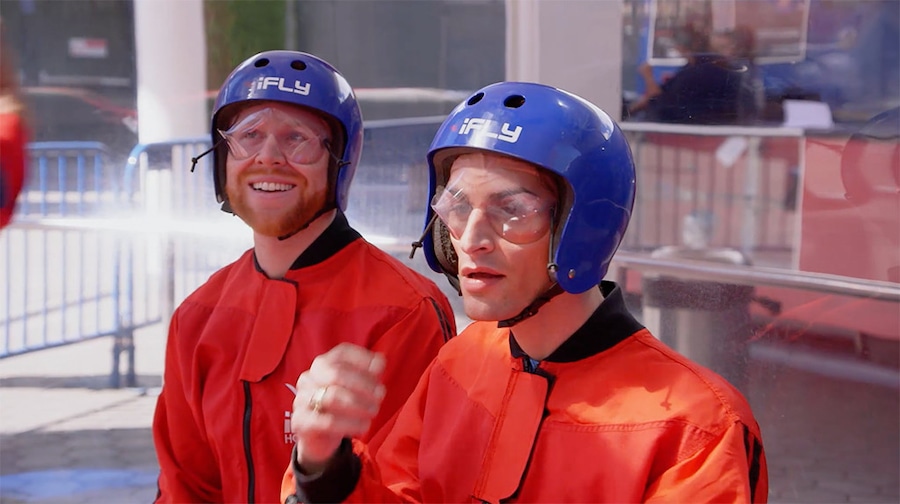 E!
Luis & Peter
Luis (32, screenwriter) and Peter (29, photographer) had a few hiccups while getting to know each other during indoor skydiving and a dinner date before s–t truly hit the fan. Luis' two biggest turn-offs in a mate were both check marks for Peter: he's a smoker who doesn't vote. Date OVER!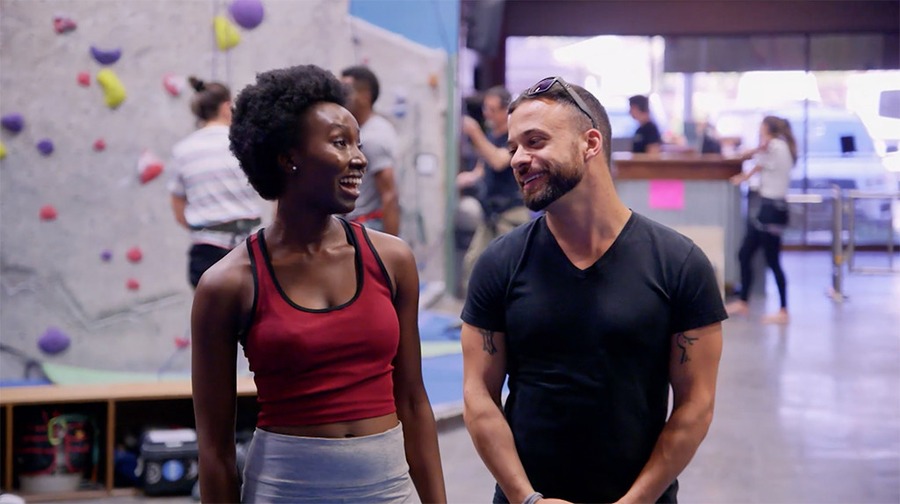 E!
Seyline & Andrew
Seyline (26, sunglasses designer) and Andrew (34, digital nomad) started their date with rock climbing and a little competition. After making a bet over who could reach the top first, Seyline lost and Andrew repeatedly bragged about making her pay for dinner…which lasted through the whole meal and started getting on Seyline's nerves. After a very awkward dinner conversation, the self-professed "international playboy" did not impress his date (although he did pay for the meal) and they happily went their separate ways. "This date was the worst," Seyline said. "For the most part I was really bored trying to sit through it."
Article continues below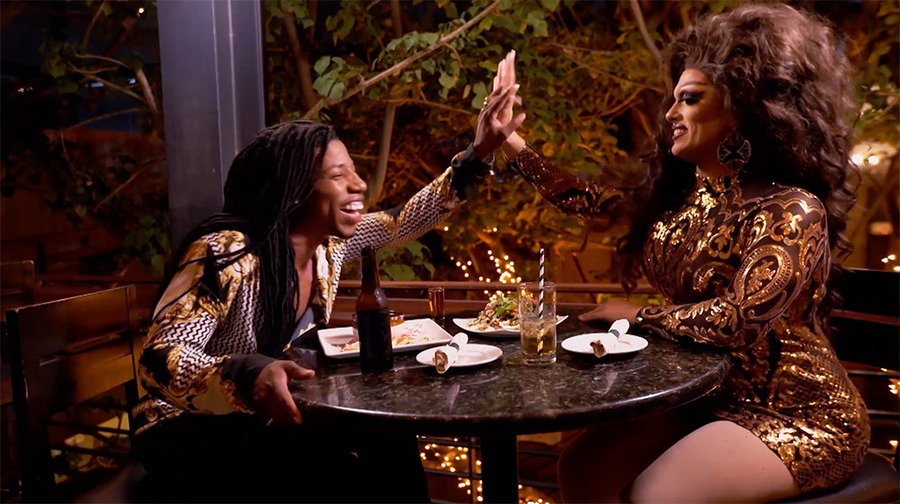 E!
Jason & Cory
Jason (27, entertainer) tried to show Cory (29, student) his manly side during their metal workshop date, but sparks did not fly and Cory was not feeling it. It wasn't until later when Jason showed up to dinner as his drag queen alter ego that their connection really blossomed. The two had a blast and by the end of the date, they were even feeding each other (not to mention sharing a sweet kiss!). "I had an amazing time," Cory said. "And the shock, it was unexpected, but I loved it!" Love connection!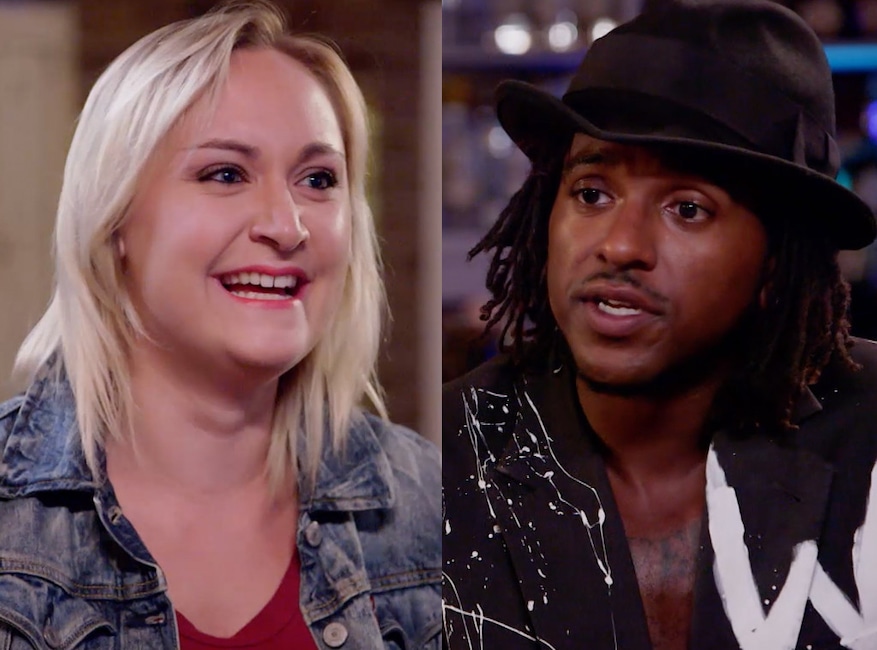 E!
Jessie & Bijan
Jessie (25, tour guide) and Bijan (28, art teacher) got in touch with their creative sides during a wine & painting class. All that sipping led to some good conversation and Bijan eventually taking off his shirt to show his date his "Loyalty" tattoo. Although they connected on a surface level, they weren't a love match (but no hard feelings here!). "Bijan is a genuine guy that I want to keep in my life, definitely I don't think yet that I want to pursue a relationship with,' Jessie admitted.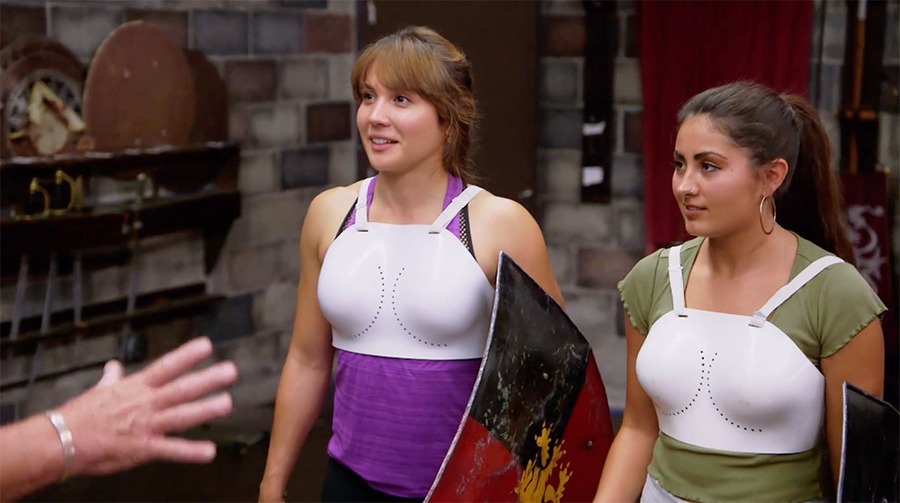 E!
Macey & Miriam
Macey (23, musician) and Miriam (27, personal trainer) were slow to warm up to each other while taking a fencing class, but it wasn't until their nighttime dinner date that s–t really hit the fan for Macey (who seemed a little…out of it, as the comedians noticed). Miriam really opened up to Macey but perhaps too much. When Miriam told Macey that her dad used to fake kidnap her as a child in Mexico and that she's also "recently divorced" from a man, Macey was out of there.
Article continues below
Congrats to Daria and Allison!
Source: Read Full Article