As someone who usually likes to dress up for Halloween, I have a pretty good range of costumes from previous years. I've dressed up as Harry Potter characters, a Beanie Baby, Tinker Bell, Jane from Tarzan, the devil, and even a green M&M one year. To see how some of these outfits from the past ranked, and what may be good for this year, I asked Tinder matches to choose my Halloween costume.
So I signed onto Tinder, set all of my pictures to Halloween costumes of years past, and got to swiping. People immediately commented that I'm super into Halloween. Which, to be fair, I guess I would think too if I saw someone's Tinder profile filled solely with Halloween costumes. I'm into it an average amount I'd say, since I like dressing up, eating candy, and watching spooky movies. They said they liked my costumes, and I asked which one was their favorite, as well if they had any costume inspiration for this year. For the most part, it surprised me that people went with the Beanie Baby costume most often as their favorite. In my mind, the devil costume seems a bit "sexier," but maybe people like the creative aspect and effort into the Beanie Baby outfit after all.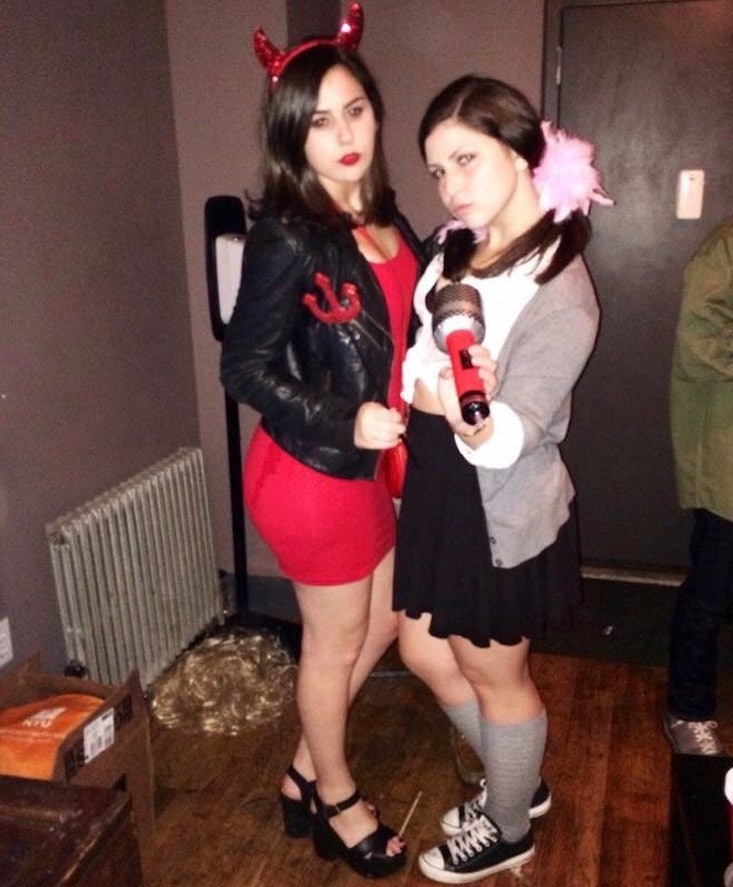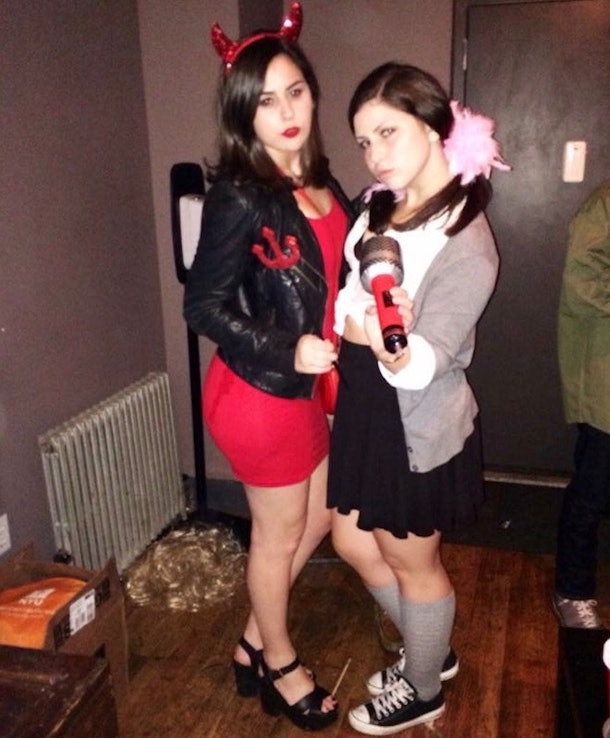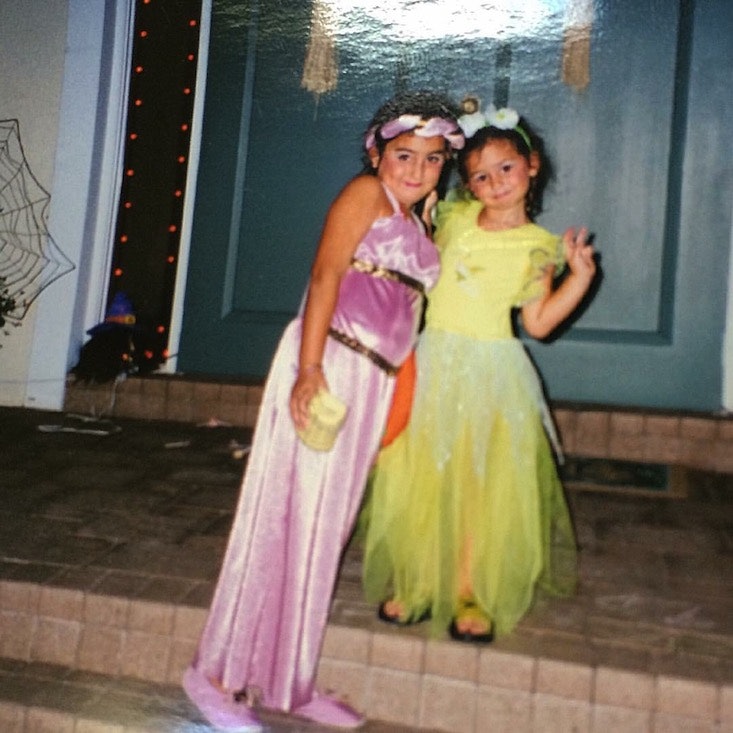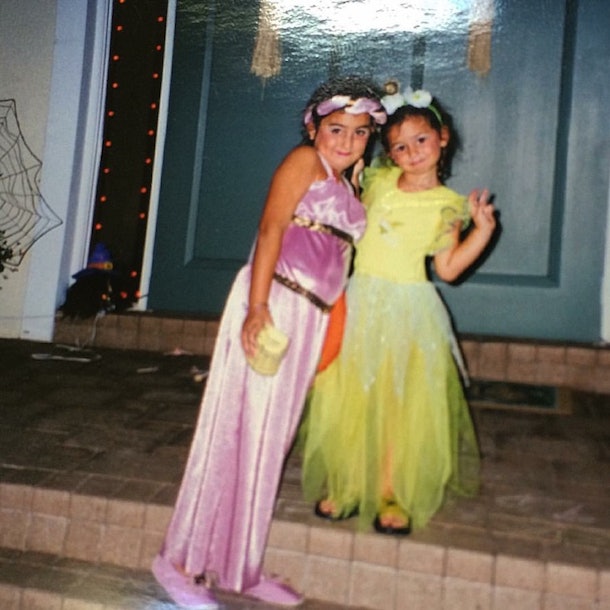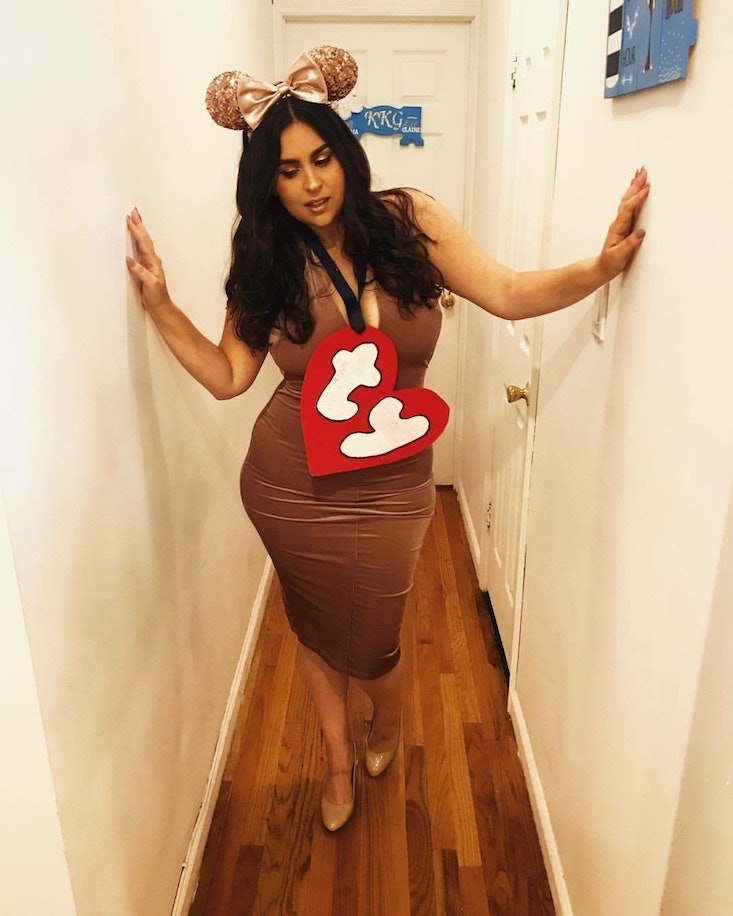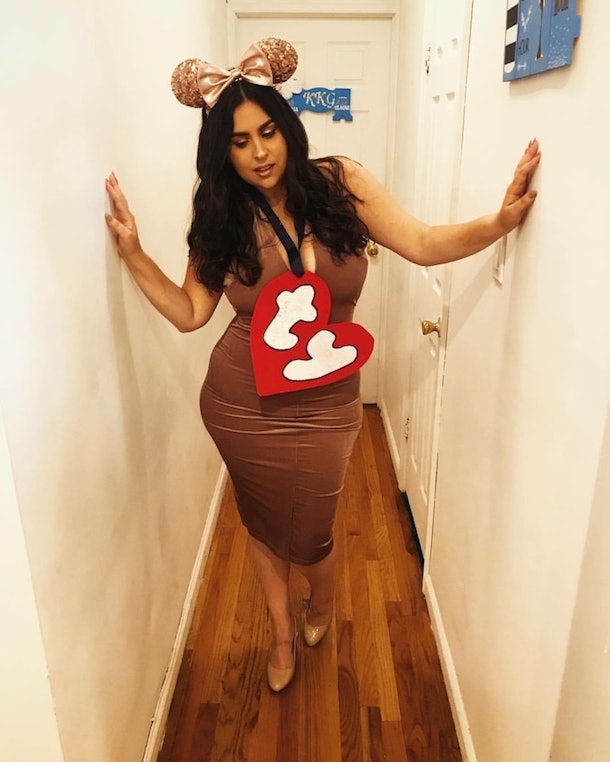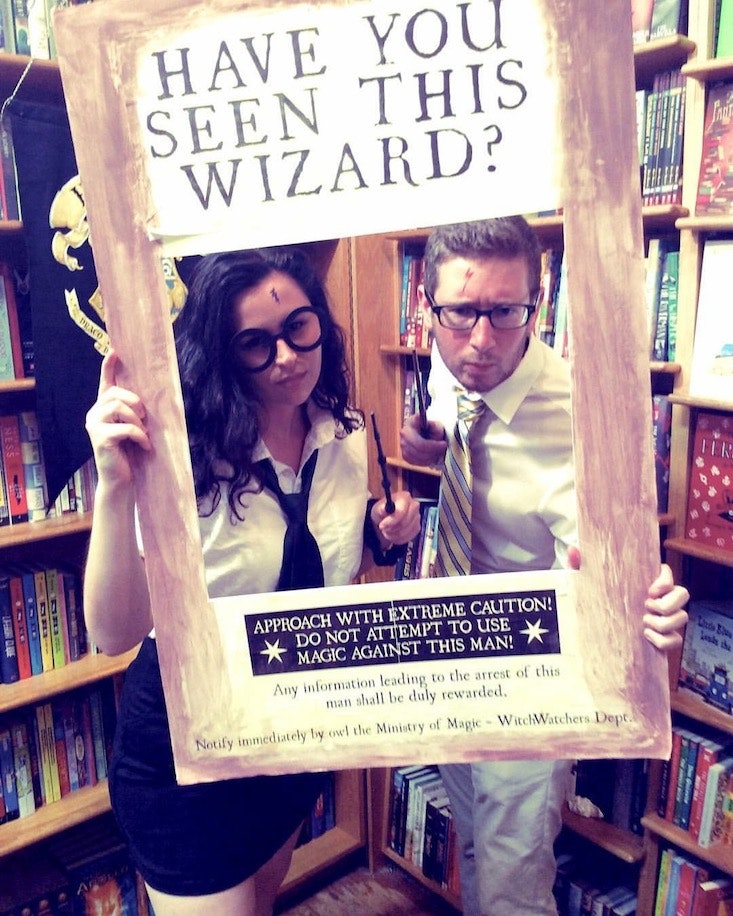 One of my matches said her favorite was my Halloween costume from when I was a kid.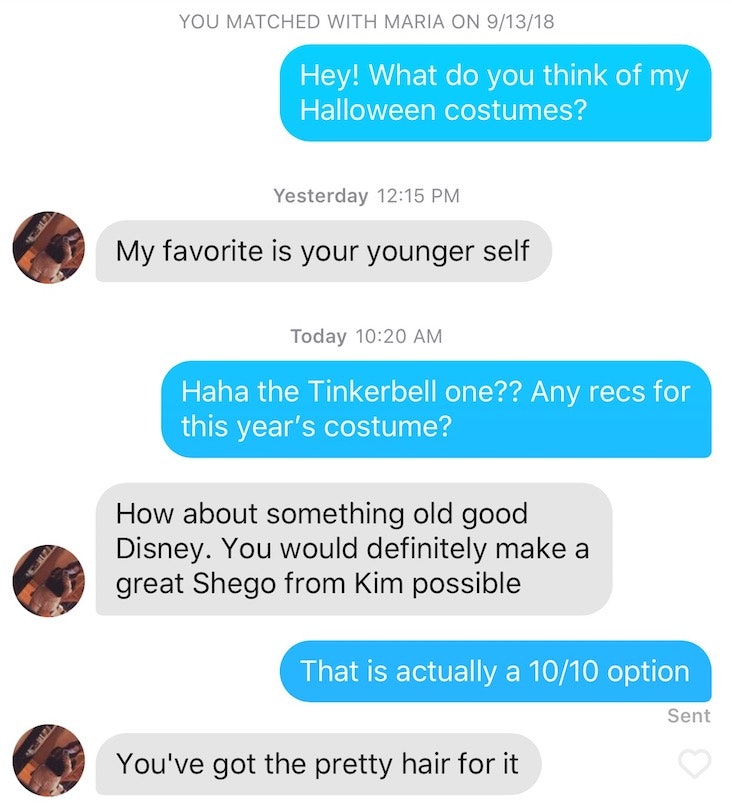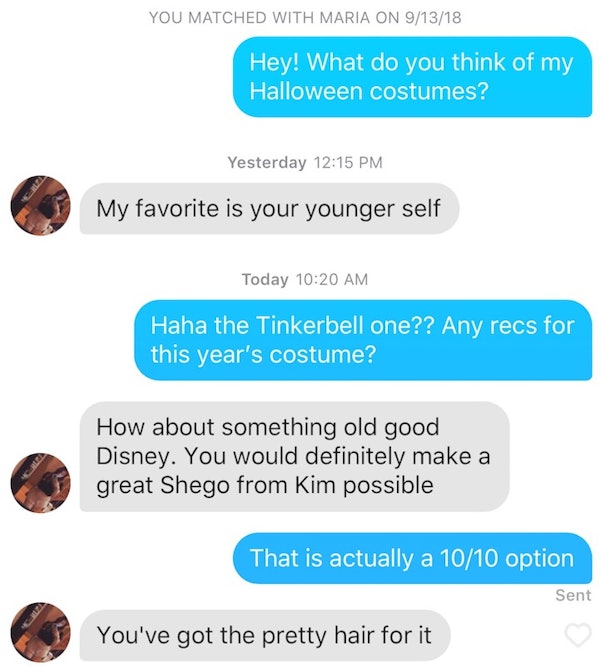 Maria was referring to my costume as Tinker Bell. If I had to guess how old I was when I rocked this green fairy look, I'd say seven years old. But I do look adorable. As does my older sister… I guess.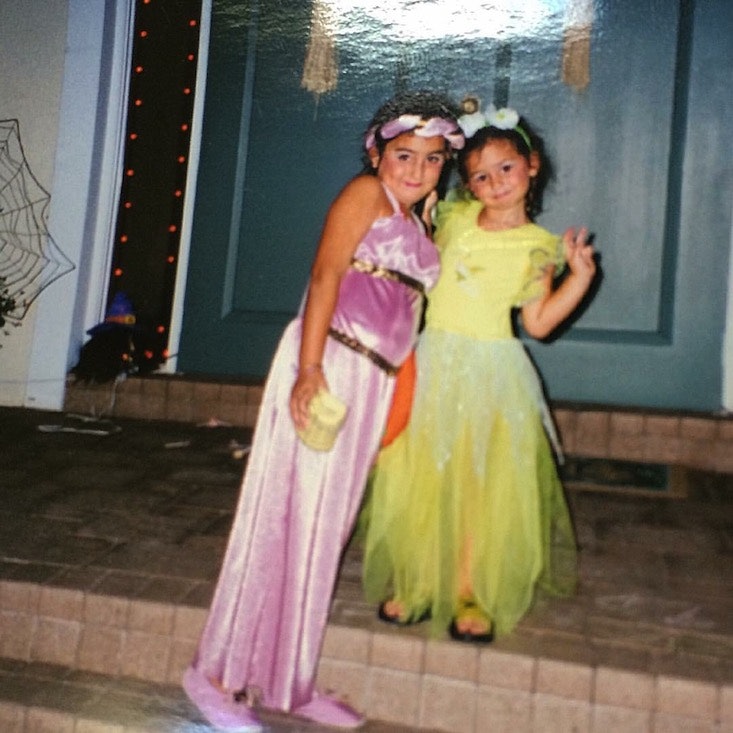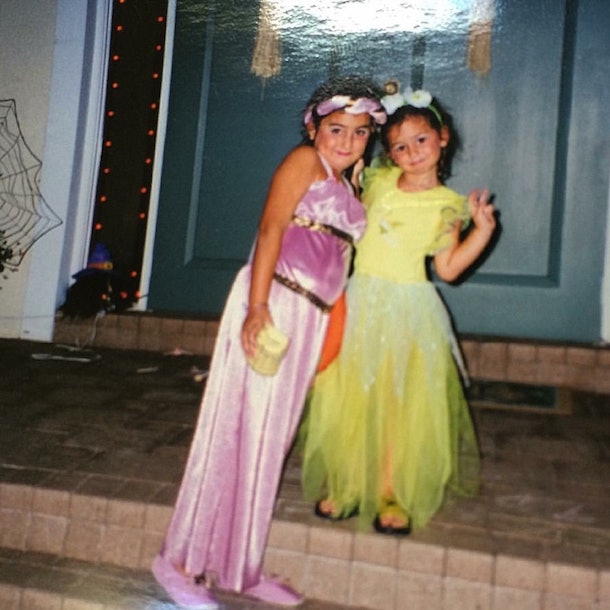 I certainly don't have that costume anymore. My mom might have it stashed somewhere in storage, though, but it definitely wouldn't still fit. I like her suggestion to dress up as the Kim Possible villain Shego: It fits a similar color scheme to Tinker Bell, and is easy to create as a costume from normal, everyday clothes.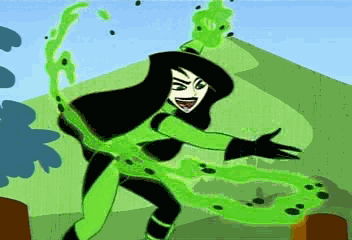 A popular choice of Halloween costumes from my Tinder matches was my Beanie Baby costume last year. I dressed up in this rose gold pink get-up as part of a Beanie Baby group with my college friends.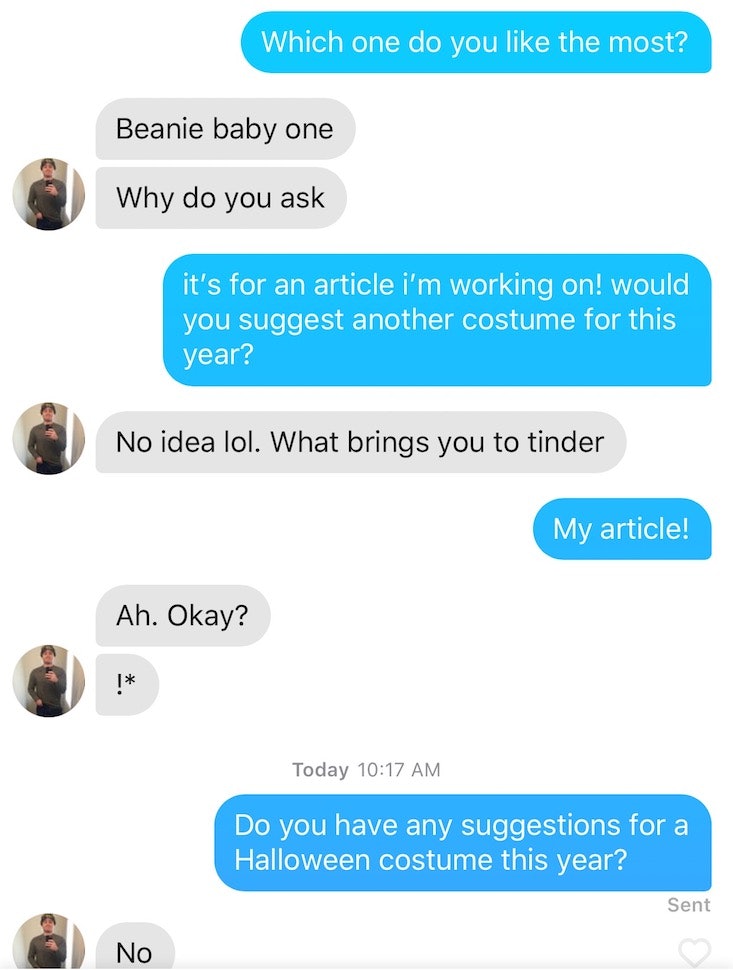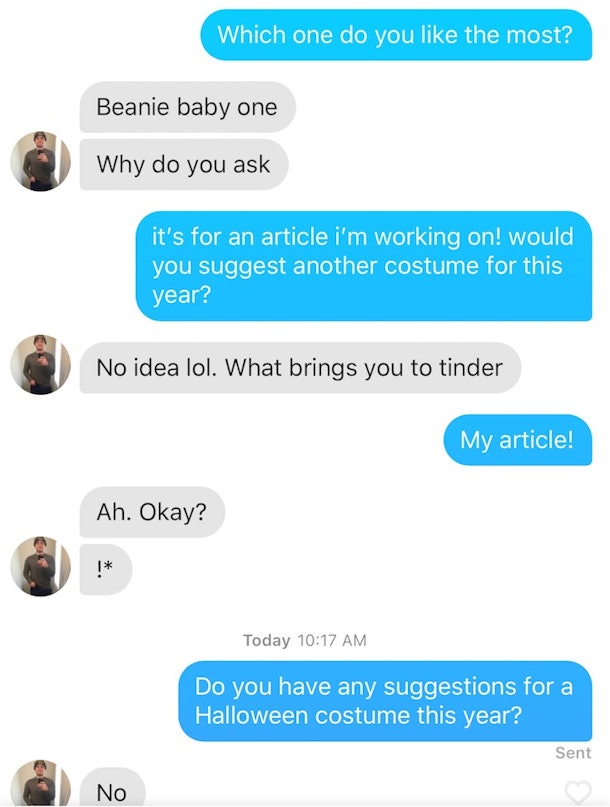 One vote for Beanie Baby. Noted. I was kind of over-the-top with that outfit, since it was a group costume with several other friends. I decided to be a "Limited Edition Rose Gold Minnie Mouse Beanie Baby." A mouthful, I know. I wore a pink body-hugging Nasty Gal dress (it's not sold anymore, but you can get something similar here or here), pink-beige heels, rose gold Minnie Mouse ears, and a handmade Ty sign, as seen on all Beanie Babies. I did a rose gold eye makeup look to complete the whole vibe.
Then there were more votes for Beanie Baby as the favorite costume.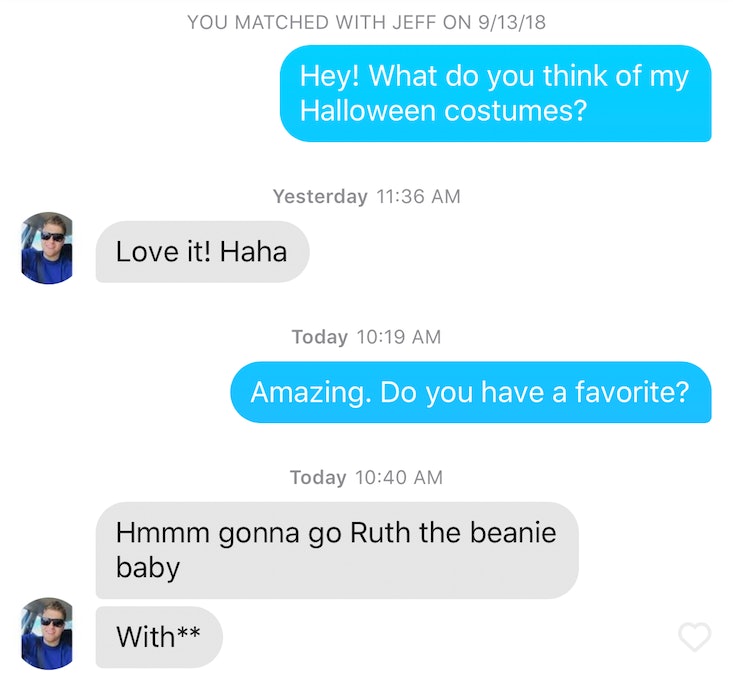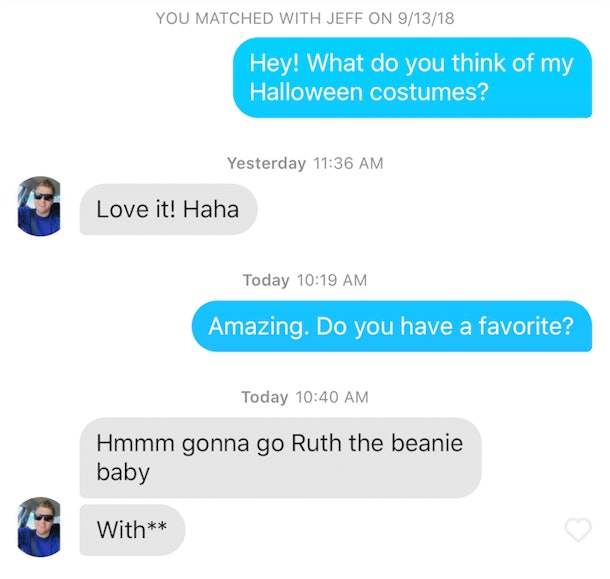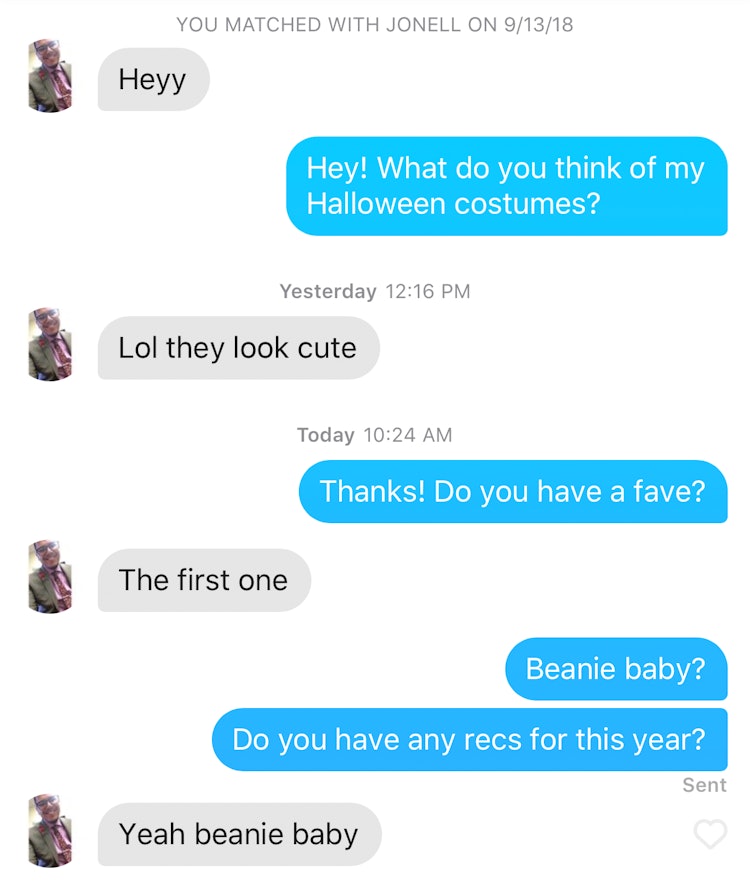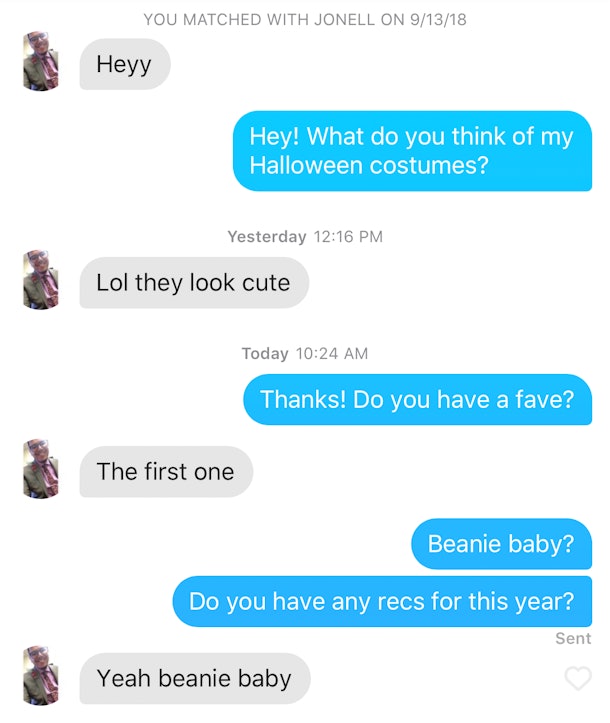 Here's the limited edition Beanie Baby in all of her glory: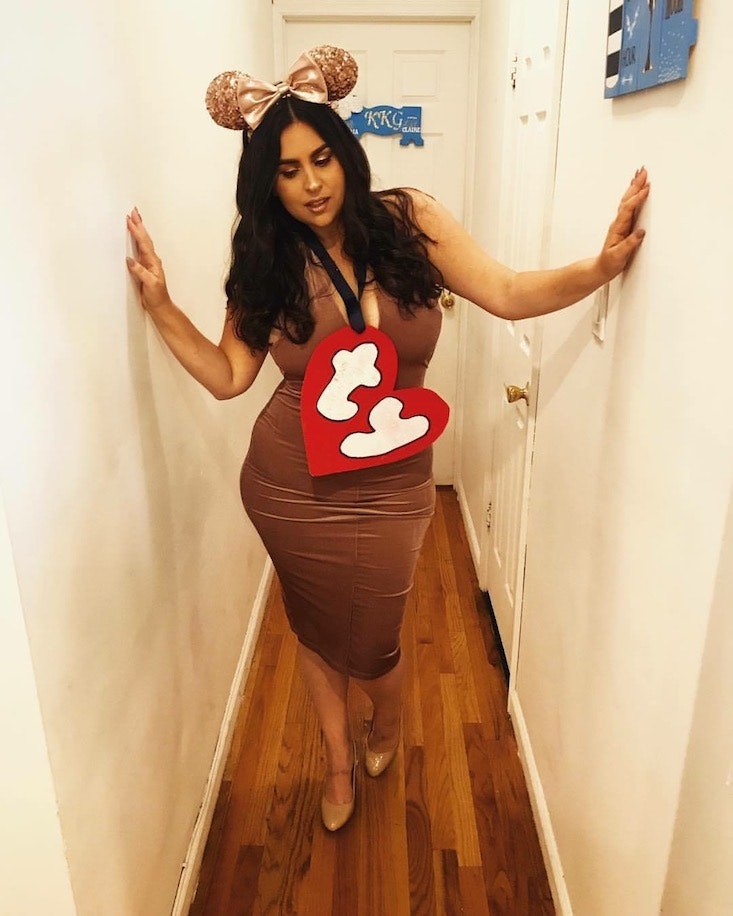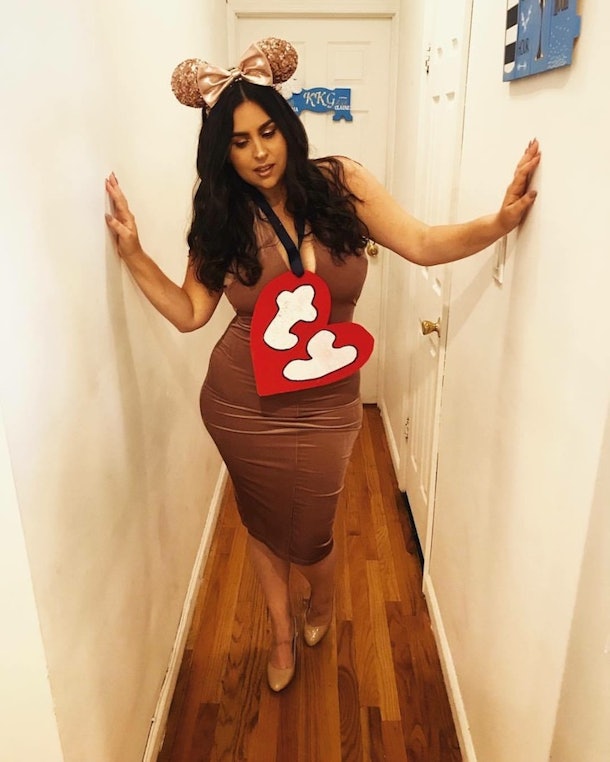 Rarest Beanie Baby of them all. Only one edition!
Some people prefer their Halloween costumes to be decked out in gore and fake blood. While I'm considering trying a skeleton makeup look at one point, all the super-scary stuff on me isn't usually my taste. I stick to cute outfits that are semi-easy to throw together.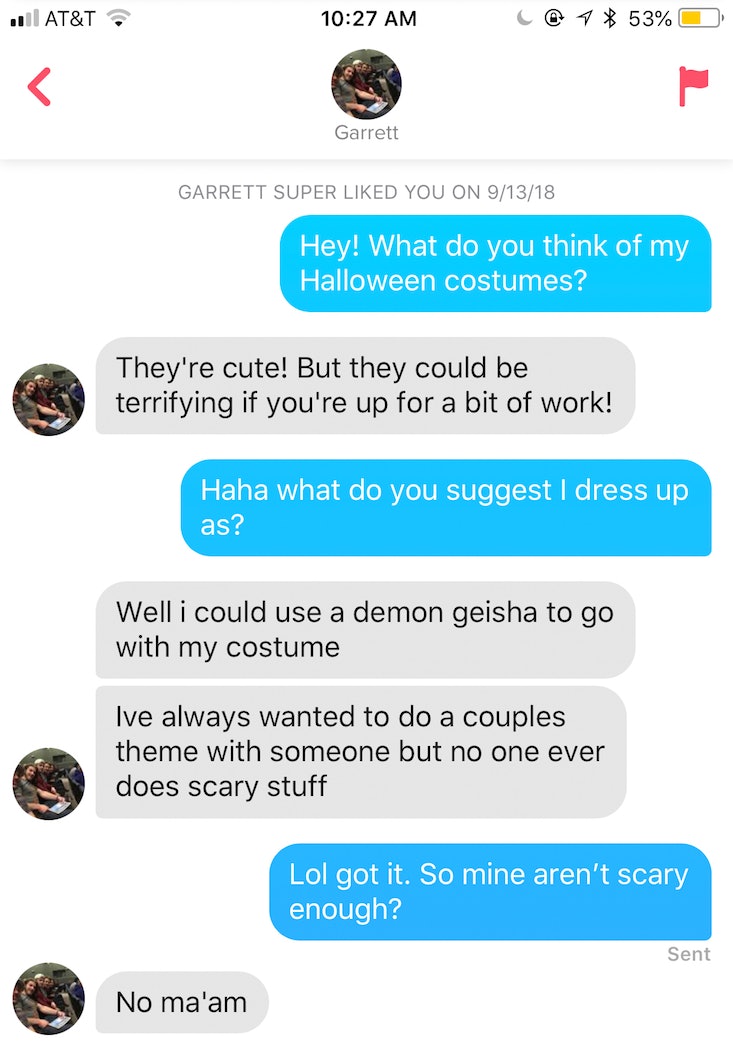 I'm unsure I'd ever actually try "demon geisha," (hello cultural appropriation?), but I appreciate the suggestion.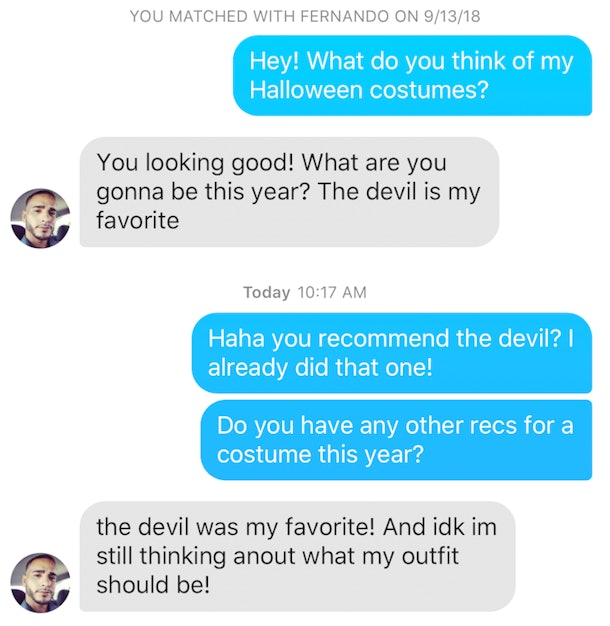 The devil costume is from a few years back. I dressed up in an American Apparel dress I had handy (also not made anymore, but this is similar), some wedges from Aldo (similar here), a red cross-body bag from Marc Jacobs (similar here), and a friend's leather jacket. I picked up the horns and spear at a Duane Reade, and went to a frat house party, which was pretty out of character for my "grandmother" self.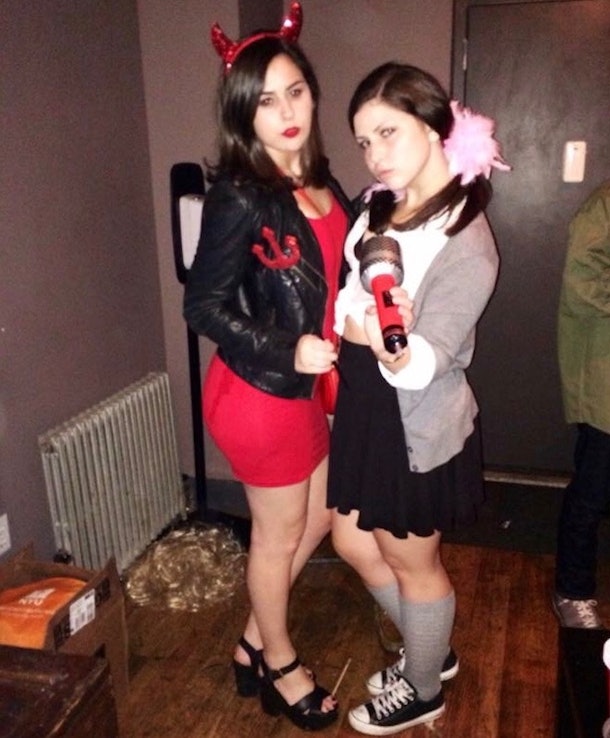 (Side note: Wig. Snatched. On. The. Floor.)
Surprisingly, no one voted for good ole' Harry Potter. This picture was from two years ago, taken with a colleague and friend. I borrowed a tie from him, a white dress shirt from another friend, and cannot remember at all where I got those glasses and what skirt that is. But anyway, guess there were no Hogwarts grads in my Tinder matches.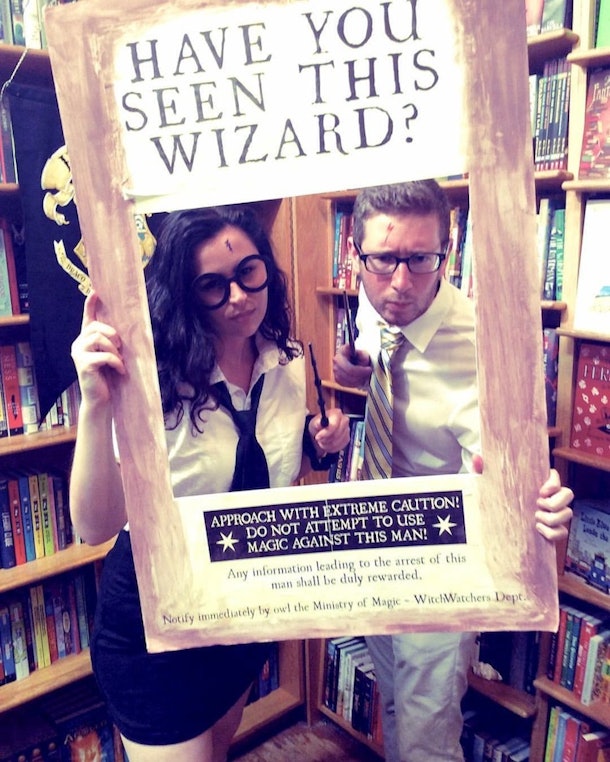 I had fun getting input from my Tinder matches about previous costumes. It was like a personal focus group to determine my successful Halloween costumes, even though I didn't get too many costume ideas for this year.
As for this year's costume? I'm thinking Shego from Kim Possible is a stellar idea. Now, who's going to be my Kim Possible?
Check out the entire Gen Why series and other videos on Facebook and the Bustle app across Apple TV, Roku, and Amazon Fire TV.
Check out the "Best of Elite Daily" stream in the Bustle Appfor more stories just like this!
Source: Read Full Article