There's no arguing that travel is all about the element of escape, unless you're French novelist Marcel Proust, who famously contented that, "The real voyage of discovery consists not in seeking new landscapes, but in having new eyes."
Fine artist Malene Barnett, photographer Rhiannon Taylor and Mazda Interior Design Manager, Ian Hedge, are inclined to agree. This trio of creatives have found inspiration for their work in all corners of the globe, after all. But it isn't always on the road most traveled.
Malene Barnett, Artist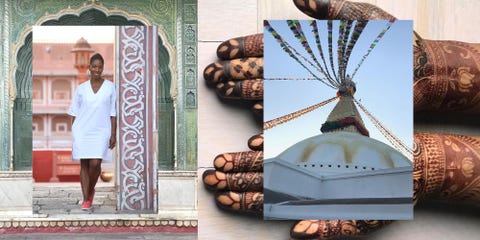 Where to go:
"I like the idea of being surprised," Barnett says of her approach to mapping out a travel itinerary. "I don't want to be attached to anything I read, so I treat [every trip] as a brand new experience. I want you to take me to your local restaurants, share your food, how you eat it. That's the kind of experience I do."
"In Dubai and India pattern is in everything, from the architecture to the fashion to the food."
Traveling recently to Nepal, Dubai and India, Barnett has amassed a deep reserve of inspiration for her work that puts rich colors and bold pattern not only front and center, but side by side.
"They're not afraid to make bold statements," she notes. "For me, that relates to the work I do. I felt the connection like, 'Oh, they're speaking my language; we can vibe on this.'"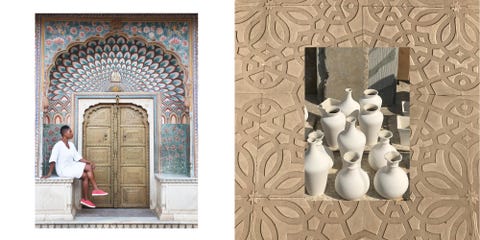 What to see:
"Because I'm in the arts, I'm attracted to art- and design-related cultural rituals or styles," she says. "I like to learn how things are made, what materials are being used and understanding techniques." Those techniques, she says, inform how her own work is created. "If I see a wood carver, for instance, I want to understand how they're carving the wood, what tools they're using, and what are the limitations of the design. It gives me ideas of what I can do with my work that's outside of my everyday, which is rugs."
For Barnett, who recently shifted her focus from rug design to fine arts, the local markets have been a particularly fruitful muse.
"The museums are standard, but I want to visit the arts or crafts market."
Her most recent collection of mixed media fine art paintings, in fact, was inspired by the women of color she met in her visits to marketplaces around the world. "Whenever I would travel, I would always connect with them and admire their hustle," she says of women like Adjoa and Ms. P, after whom some of her portraits are named. "I know that they're the ones holding down the families most of the time, but I also see how they are underrepresented and pretty much ignored as entrepreneurs."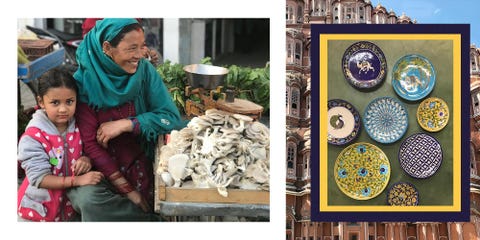 For her next jaunt, to Senegal, Barnett says she plans to "be inspired, do the research and then see where I want to apply it with the mediums that I'm using." "I don't have anything set planned, but I know I'm going to create something, and I feel like it's going to be in clay. That's where I'm leaning."
Ian Hedge, Mazda Interior Designer
.
Where to go:
Although Hedge spent years traveling between The Netherlands, where he grew up, Detroit, where he attended one of the two major car design schools in the U.S., and Tokyo, where he started his career at design consultancy Milai, his current source of inspiration is less far-flung: the pages of a good book.
"For artistic inspiration I especially love Japan's literature, both modern and classic works."
"Now I'm reading 'Kusamakura' by Natsume Soseki, which is about a traveling poet who seeks to see the everyday world through the eyes of an artist," explains Hedge. "The main character captures scenes and people he encounters in short Haiku poems or quick drawings."
That concept — "capturing the concentrated essence of something and somehow transcending the mundane nature of the original subject" — makes its way into Hedge's interior concepts at Mazda, he says. "We strive to create a environment that combines strong architecture, pure forms and genuine materials where you clearly feel an emotional signature. In other words, at Mazda, Hedge strives to elevate the cars "to the level of a piece of art that you're proud to own. Our design language is maturing and gaining depth and sophistication."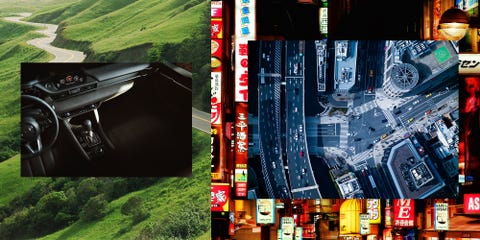 The surfaces on Mazda's most recent concept cars, for instance, are sculpted in a way to capture dynamic reflections and play with light."So the car is not just a standalone object—the way it interacts with its environment becomes an ever-changing element of the car itself."
Same goes for the interiors. By playing with different textures and materials in the same color, the Mazda design team creates rich layers that react to light differently and give contrasting tactile feedback. "Our goal is to create interiors with lots of interest and great details, wrapped together to create a very pure, balanced composition."
What to see:
"I love seeing cars we've worked on driving around on the road." The way they interact with their environment as another crucial (and ever changing) inspiration point. "I love being able to travel from the PCH here in California to the streets of Tokyo or come to the windy roads around Monaco and see our car being enjoyed in such different environments."
Rhiannon Taylor, Photographer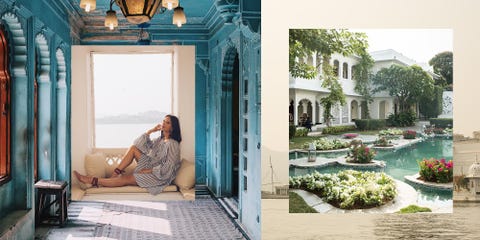 Where to go:
Rhiannon Taylor has also found India to be a perennially rewarding source of inspiration. "I've visited many times before, but this was the first time on my own itinerary," she says of a recent visit. "The colors, people, food, architecture and landscape were all so vivid and intense."
Having family roots in the country also influenced Taylor's perspective, both personally and behind
"I photographed a piece whilst I was in India on Amanbagh, an Aman resort, and there were elements of it that really touched me. My father is from India, and this Aman is particularly rural. It's extremely rare for tourists to visit these villages, so I met people who were equally as curious about me as I was about them. Families would invite us inside for a cup of freshly brewed chai. They were so hospitable and generous that it made me more curious than ever about where my family came from, how they lived and were raised. And I think the photos from that trip reflected that."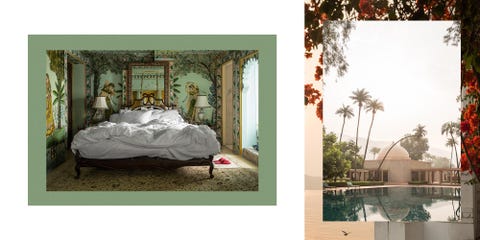 What to see:
"Whether it's drawing on a particular color palette, incorporating local produce, or working with light, somehow inspiration from travel will affect my work," Taylor says.
And while those connections often happen organically, Taylor does make sure she's in the right place at the right time for that photo magic to happen.
"I always hit up a cafe that's known for a local delicacy to get a sense of the food scene and lifestyle of the city I'm in," she says. "And then I usually do an unguided walk around the city or place to get a sense of its architecture or landscape. I take lots of reference shots at this time so I then know where to come back to when the light is right."
Source: Read Full Article