The first significant spinoff of The CW's Riverdale arrives next month, but not to the broadcast network. Showrunner Roberto Aguirre-Sacasa, who came up with the hit reimagining of the Archie Comics, came up with an idea for a companion show, starring perhaps one of the most well-known characters from the Archie-verse, Sabrina, The Teenage Witch. But the show wound up on Netflix, and will now arrive, ten episodes strong, the weekend before Halloween. But fans are chomping at the bit for details such as is Salem in The Chilling Adventures Of Sabrina?
The kitty character of Salem was quite popular in the 1990s version of the show, so much so he's now a regular meme seen on the internet, filing his claws while giving attitude to the subject at hand. But it was not a real cat. Instead, it was an animatronic robot. At the time, CGI was mostly unheard of for television, especially for a show aimed at teenagers, so having a real cat to play the part was unthinkable, since it needed to interact, and talk to Sabrina.
But this is 2018, and with a Netflix level budget, CGI is run of the mill. The idea of a fake robotic cat, when a real one could be used for a far more realistic on-screen presence, is now the unthinkable scenario.
There's just one problem. Star Kiernan Shipka is allergic to cats.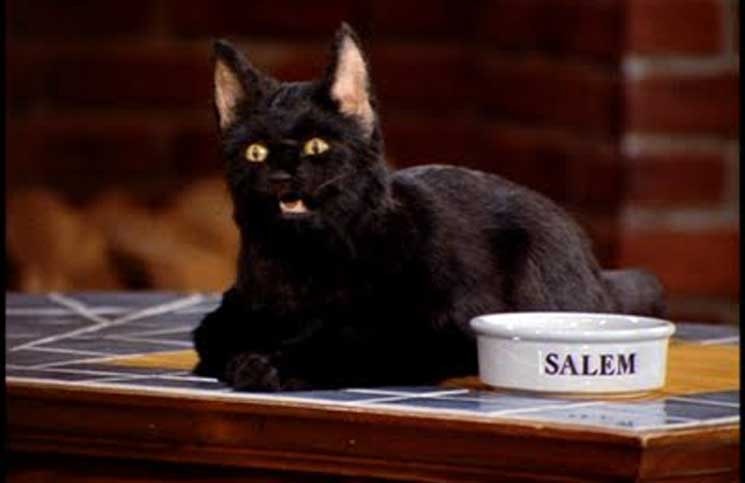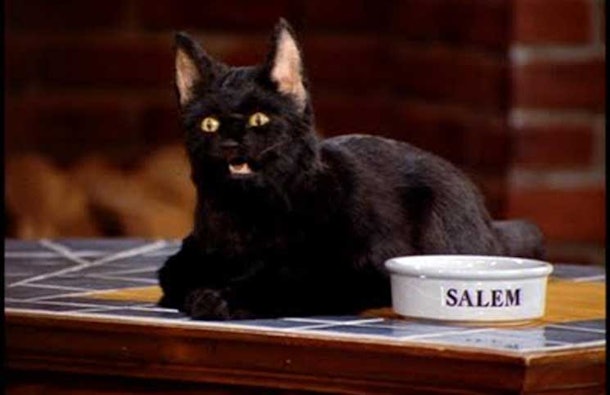 Aguirre-Sacasa says it was a real dilemma when they found out Sabrina and her co-star has to be several feet apart at all times.
He decided no, the black cat association with witches was too important. But the cat also wasn't as important as it was in the original version of the show. In the 1990s version, Salem was a constant comic relief. This show is not a comedy. As Aguirre-Sacasa describes it:
Not to worry, the cat still is in the show. Aguirre-Sacasa tweeted out his kitty picture early on in filming. But his part and screen time with Sabrina has been reduced.
At least Kiernan Shipka has a sense of humor about the situation. Speaking to Entertainment Weekly, she joked:
For fans who were hoping the new series would bring many more meme-able cat moments for the Internet's enjoyment, it sounds like the gif-makers will have to stick to CBS' robotic feline. Though hopefully, Salem will still be seen hanging out in the house, filing his claws.
Chilling Adventures of Sabrina will premiere on Netflix the weekend before Halloween, on Oct. 26, 2018, with ten episodes.
Source: Read Full Article