Save articles for later
Add articles to your saved list and come back to them any time.
Leonard Joel auction house's Hamish Clark isn't phased by the goanna perched at his feet, ready to strike.
After months of preparing businessman Trevor Kennedy's personal collection of Australian art, decorative objects and taxidermy for a sale on November 1, there isn't much in the catalogue that startles the auctioneer any more.
Hamish Clark of Leonard Joel with some of the Private Collection Of Trevor Kennedy.Credit:Dominic Lorrimer
Not even the metre-long stuffed reptile prepped to climb his leg, the koala fur rug it sits on, or nearby mantelpiece trinkets made out of live machinegun bullets and munitions by bored, returned soldiers from World War I.
"Australians were just so much more patriotic back then," he says of the collection dominated by 19th- and early 20th-century Australiana. "And there was a good reason for it too, it was the early 20th century and it was war and the country needed everyone to buckle down together and be on the same side."
For local artists and craftsmen and women, and international manufacturers such as famed british china house Royal Doulton, this meant a near 100-year boom in decorative objects emblazoned with wattle, gum leaves, native birds and Aussie bush and cultural icons.
A week out from the auction, Clark says museums and institutions are sizing up significant relics in the 1300 lot catalogue, even after newspaper founder Kennedy sold an $8 million slice of the collection to Canberra's National Museum of Australia in September.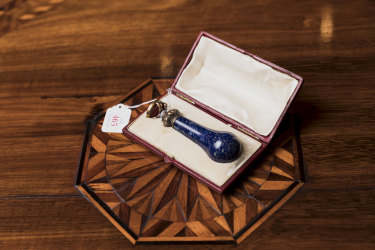 One of the valuable seals in the collection.Credit:Dominic Lorrimer
The Assistant Minister to the Prime Minister, Ben Morton, said last week that he hoped the Speaker's chair used in Australia's first federated parliament could find a home at Old Parliament House, home to the Museum of Australian Democracy. It has a price guide of $300,000 to $500,000.
But Clark is more excited about some of the collection's smaller items, which marry historical significance with a snapshot of the personal lives of some of Australia's most influential pioneers. A nine carat gold seal made for celebrated Australian Army General Sir John Monash is engraved with the coat of arms, seal and initials of the war hero, and expected to go for between $25,000 and $35,000.
Another seal for sale belonged to 19th-century Sydney politician and merchant Daniel Cooper, who controlled an estate stretching from Woollahra in Sydney's eastern suburbs to the harbour at Point Piper. It is priced between $10,000 and $15,000. "These are seriously influential people who are hardly known today," he says. "He used Point Piper as his garden."
Clark says a younger demographic of buyers hunting for kitsch, quirk and history are also entering the buyers' pool. These buyers are likely to be interested in items such as the stuffed goanna – price guide $400 to $600 – and two other reptilian offerings including a 52-centimetre goanna cast in Viennese bronze priced between $3000 and $5000, and a smaller 16.5-centimetre bronze goanna quoted between $2000 and $4000.
A wander through the Rocks Museum reveals a menagerie of stuffed lorikeets, kookaburras, a homely looking taxidermy wombat and an imposing wedge-tailed eagle priced between $800 and $1200.
An upstairs level is crammed with ceramics, porcelain and bronze miniatures of Aussie fauna – and an improbable number of kangaroos. A Wedgewood porcelain figurine of cricketing icon Don Bradman holding up his bat and the baggy green (priced $300 to $500) is dwarfed by a neighbouring Austrian-made bronze model of a magpie, priced between $6000 and $8000.
"These were Australian designs painted or printed on English china, or manufactured in other forms throughout Europe, and they were all of high quality because they were expected to last," Clark says of the myriad bush and Australian icons printed onto Royal Worcester or Royal Doulton plates, or rendered into figurines and miniatures by European metal sculptors and workshops, such as the Viennese house of Bergman.
"And for that generation living in Australia, they always perceived England was home even if they never went back. But more importantly, in terms of manufacturing, England was 'good' whereas anything made in Australia was 'crafty'."
Get our Morning & Evening Edition newsletters
The most important news, analysis and insights delivered to your inbox at the start and end of each day. Sign up to The Sydney Morning Herald's newsletter here, The Age's newsletter here, Brisbane Times' here and WAtoday's here.
Most Viewed in Culture
Source: Read Full Article