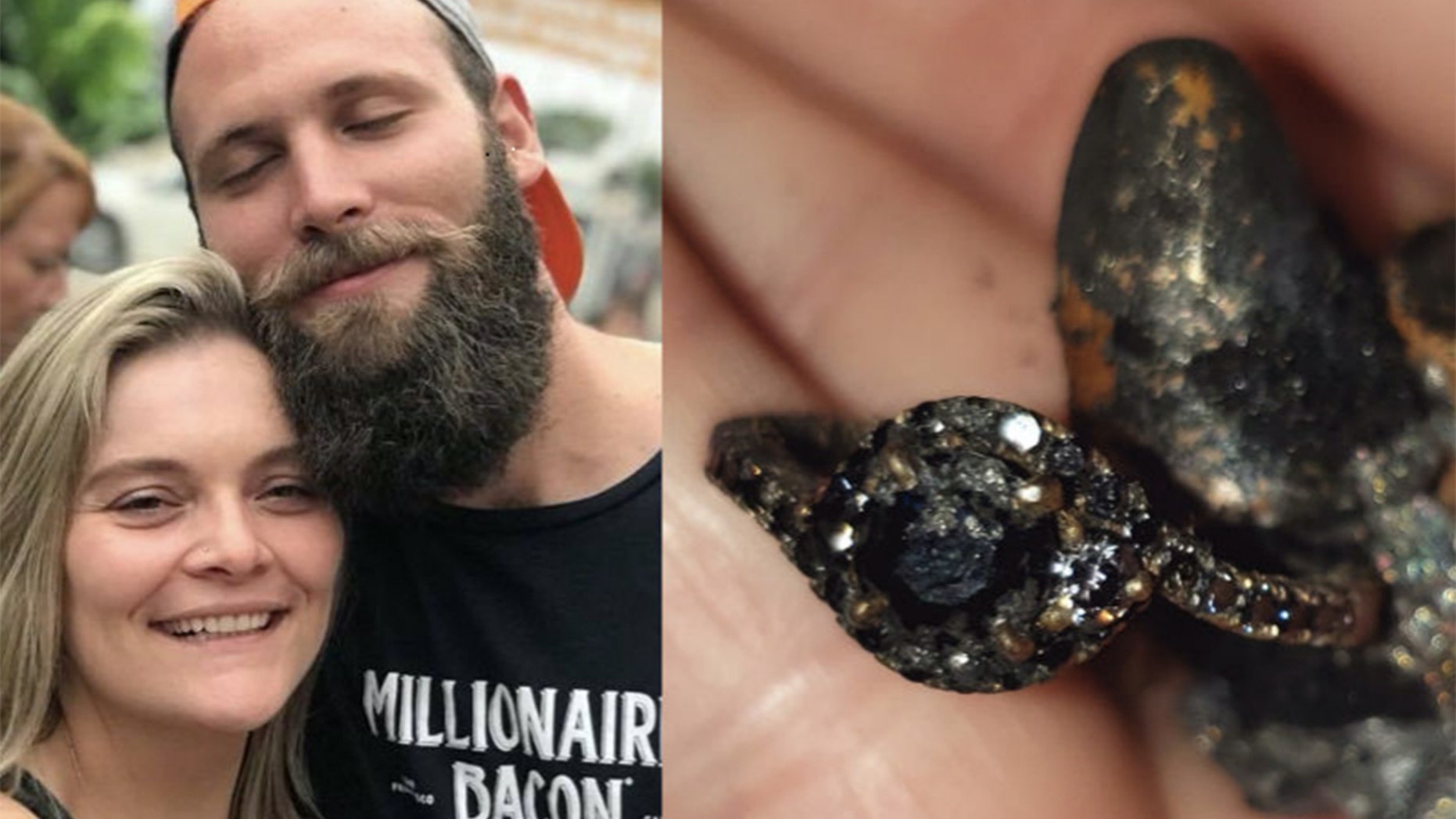 Talk about a lucky ring.
(Shastina Hughes)
A man managed to find the engagement ring he bought for his girlfriend in the ashes of his family's former home.
Nick Maes was planning to propose to his girlfriend of two years, Shastina Hughes, before the deadly California Camp Fire devastated Butte County.
WOMAN SERVES AS 'RING' FOR COUSIN'S ENGAGEMENT PHOTO IN VIRAL MOMENT
Though the wildfire completely destroyed Maes' parents' Paradise home, the 26-year-old did not want to give up on the ring and decided to go back to the house to search through the debris for the safe he had stored it in.
"I knew he was going up there and was probably going to be on the local news," the 35-year-old Hughes said to Yahoo Lifestyle, "but I had no idea what he was really looking for."
Hughes said she was working a night shift as a nurse at the Enloe Medical Center in nearby Chico when Maes told her he had an opportunity to go see the house, Yahoo Lifestyle reported.
Maes and his father searched through the rubble trying to locate the safe. Miraculously, the longshot paid off – the two were able to locate the safe and pry it open with a crowbar, KCRA3 reported.
WOMAN FINDS HER DIAMOND BEFORE PROPOSAL AND 'RING SHAMES' HERSELF
The pair sifted through more ashes from inside the safe until something shiny caught the light.
"That's it," Maes said to KCRA3. "Oh, my gosh! Oh, wow! It is melted and there's a bullet around it."
The recovered sapphire engagement ring will need some work to restore it to its former beauty – but Hughes said she's in no rush.
"I want him to be able to have his moment," she said to Yahoo Lifestyle. "Some guys work so hard to plan that special question. I don't want to ruin it for him. I'm trying my best to just let him do him."
In the meantime, though, Hughes told Yahoo Lifestyle she's happy their story is bringing joy to others.
"I'm so happy that our story can be the light in the darkness and people's glimmer of hope," she says. "Our story is not just for us, but it's for our whole community."
FOLLOW US ON FACEBOOK FOR MORE FOX LIFESTYLE NEWS
Hughes also told Fox News she is hoping the attention her story is getting will bring awareness to North Valley Community Foundation – a fund set up by Sierra Nevada Brewing's Ken Grossman that sends 100 percent of the proceeds to help victims of the Camp Fire.
The California Camp Fire is only 55 percent contained as of Sunday. The fire has burned more than 149,000 acres and claimed 76 lives with 1,276 unaccounted for.
Source: Read Full Article