There were many performances during Sunday night's BET Awards, but one in particular seemed to strike a nerve with viewers and the show's live audience. Meek Mill's 2018 BET Awards performance of his new song, "Stay Woke," brought attention to police brutality and gun violence, as well as mass incarceration, and Twitter was buzzing with emotional responses to the song.
The single comes after Mill spent time in prison himself, making the implications even more personal and poignant. According to the New York Times, Mill was convicted in 2008 "on charges related to the possession of drugs and guns." After stints both in prison and on probation, Mill was eventually sentenced last year to two to four years in prison for parole violations, the Times article continued. Ultimately, he was released in April after being granted bail.
After Meek was ordered to jail, outrage from fans and fellow musicians surrounded his legal situation. Drake called for his freedom during a concert in Australia, according to Billboard, and Mill's supporters have gathered at courthouses to support him during pivotal moments in the saga. After all of this went down, it was especially clear from his moving performance that prison reform and police violence are important causes to Mill.
Twitter did not let the performance go unnoticed.
The performance itself illustrated some harsh realities — in a scene almost out of a theatrical production, black men in orange suits were seen behind bars, a child was shot as a mother cried, and a fighting broke out in the streets behind him as Mill sang.
According to CNN, Mill's case was largely controversial because of the unfairness critics of his sentence pointed out. The article says many fans pointed to the fact that he "hadn't been convicted of a serious crime since 2008," while white men were either granted short sentences for more disturbing crimes, or simply found a way to continue living their lives uninterrupted, without facing jail time.
Amidst the legal battles he's faced, Mill has made it clear that he's using all of it for a purpose — to help minorities he feels are victimized by the judicial system. "I think God delivered me a job to help people, helping minorities that come from these situations like myself," the rapper told NBC News according to Rolling Stone. "I say don't show me no pity because this is my life. This is what I've been going through and I think God put me in this position to be able to do a show with Lester Holt and open up eyes for other young black men."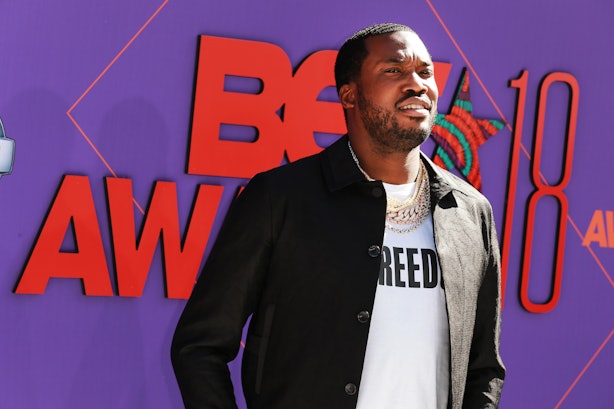 He's also spoken about how it can be difficult for people in prison to advocate for themselves because of the lack of connection with the outside world. "This happens to minorities on a daily basis where they don't have a voice, and I just came from — it's almost like cities…inside prisons where people have no contact with the world," Mill told CBS News.
With this high-profile performance, Mill showed everyone watching the BET Awards that he's as dedicated as ever to bringing these issues to the forefront of the public eye. And he proved that his songs and his art are likely to reflect those themes, in one more way he can bring people together for these causes.
Throughout the legal issues, Mill has had the support of plenty of high profile artists in the music industry, and it's clear that he's ready to use whatever star power and celebrity he can to advocate for the causes he's passionate about, especially after they've affected him so deeply on such a personal level.
Source: Read Full Article