We're just shy of a month away from celebrating the Biggest Royal Wedding since, well, Kate Middleton and Prince William's 2011 nuptials. And while it might be a little early to start thinking about sweet little Markle/Harry baby mashups populating Great Britain, with the arrival of little Louis Arthur Charles this week, it's worth asking: If Meghan Markle and Prince Harry have kids, what will their titles be?
I have watched at least one full season of The Crown and read Horrible Histories' Cruel Kings and Mean Queens at least four times as a child, so I am therefore nearly an expert on the intricacies of royal lines. Titles shift a lot depending on who has and hasn't died on the throne, who's been born, who's up next in the line of succession, etc. Currently, for instance, Prince William and Kate Middleton are styled as the Duke and Duchess of Cambridge, which makes them royal, but as Town & Country points out, their children are technically commoners — though some of that will shift if/when William ascends the throne as king. The Will & Kate babies do, however, get to be called "His/Her Royal Highness," though, because of where they are in the line of succession.
Prince Harry is also technically a commoner right now, but when he and Markle finally wed, the Queen is expected to bestow upon him (and her!) a title. It's not clear which dukedom he's getting. According to Good Housekeeping, the available options are Sussex, Albany, and Clarence, and since Sussex is obviously the coolest sounding name, Harry reportedly prefers it to the others. So if Harry gets the title he wants, he and Markle will be the Duke and Duchess of Sussex. If he doesn't, he'll still be Prince Henry of Wales, and Markle will be Princess Henry of Wales (another fun fact: you don't get to marry into Prince/Princessdom! So technically, Princess Diana was really Princess Charles of Wales. WHAT).
Okay, so that explains what happens to Harry and Markle. So what happens to their future babies, other than a lifetime of me posting photos of them in cute outfits with the caption, "SQUEEEEEEAAL!!!"?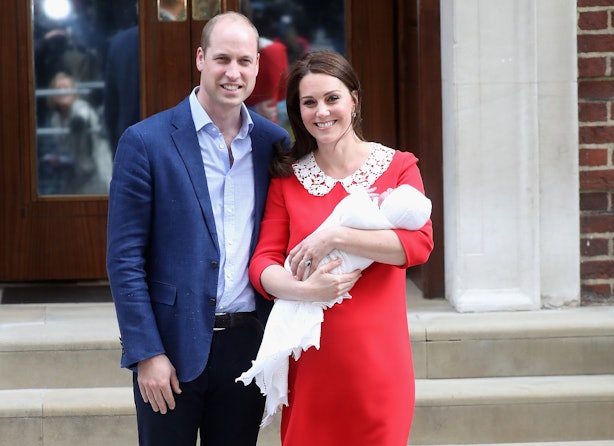 Well, unborn Markle babies, I have some bad news. You get no royal title. You do, however, get to be "Lords" and "Ladies," with the surname Mountbatten-Windsor, as was the big compromise in the first season of The Crown.
This sounds like a bummer to a layperson like myself, but actually, it might be better for Markle and Harry's children to grow up without the HRH styling attached. They'll already be in the public eye from a young age, and being a Royal carries a lot of weight with it. In a way, in fact, it's like your name doesn't belong to you, but to the Crown.
On the other hand, since all three of Kate and William's kids get to be HRHs (Princess Charlotte wasn't technically supposed to, since that styling was reserved for male children, but the Queen amended the rules, #feminism), it might cause them some early cousin squabblery. I was, for instance, super jealous that my grandparents got my cousin Felicity's riding costume AND HORSE from the American Girl catalog, while all I got was Samantha's school outfit. HOW WAS THAT FAIR. My other cousins got to keep bags of Goldfish crackers in their cupboards. ALSO NOT FAIR. Cousin rivalry is real.
Of course, it is possible that the future reigning monarch will bend the rules for Harry and Markle's kids and give them royal titles too. It's also possible Harry and Markle won't have kids! Or they'll have 20! It's the modern age!
Source: Read Full Article