Marrying Prince Harry sounds nice and all, but it also sounds like a lot of work if you're not accustomed to all the formalities. On June 26, Meghan Markle broke a royal rule while attending the Queen's Young Leaders for 2018 awards ceremony at Buckingham Palace, Cosmopolitan pointed out. Even though the Queen herself was sitting two seats away, Markle caught and corrected herself before anyone appeared to notice — or at least no one noticed until afterward.
The rule she broke wasn't major. It's not like she ate shellfish or played Monopoly or something. Moments before the ceremony began, Markle broke a royal etiquette rule by *gasp* crossing her legs while seated. Are you shook? Well, Markle wasn't, because she caught herself almost immediately and quickly corrected the ancient regal error.
According to People, royal women are expected to maintain "the Duchess Slant" when sitting at official engagements. This oh-so-proper pose is achieved by keeping your legs and knees together, and either titling both legs to the side at an angle, or crossing them at the ankle.
"Typically 'the Duchess Slant' is used when a lady has to sit for an extended amount of time while keeping poise and posture," Beaumont Etiquette founder and royal etiquette expert Myka Meier told People. "It is the perfect pose for when a camera is shooting directly in front of you because by slightly slanting the knees to create a zig-zag effect when wearing a dress or skirt, your legs are angled so that the camera only shoots the sides of your legs and protects your modesty."
Markle's mistake was caught in the video above, and — immediately after being escorted to her seat next to Prince Harry — the Duchess just straight-up crossed her legs like a regular person. The nerve! How dare she! Bloody hell!
Her cat-like reflexes instantly kicked in, though, and within seconds of making the accidental faux pas, Markle adjusted her legs and got into The Slant. Whew. *Wipes brow* That was a close one. Nice catch, Duchess.
Speaking of Duchesses, Markle's sister-in-law, Kate Middleton, was responsible for popularizing the "Duchess Slant" pose. Not only that, but Beaumont Etiquette — the consultancy that originally coined the term — was named after Middleton, aka the Duchess of Cambridge, according to Reader's Digest.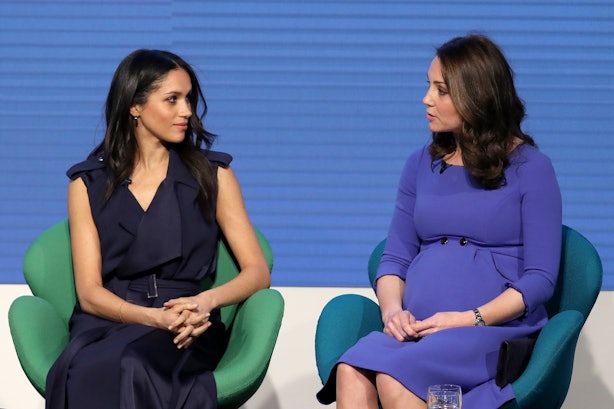 Markle's breaking of pose protocol like that was clearly an honest mistake, though, as she's pretty much maintained flawless seating etiquette at past official engagements. The Duchess of Sussex kept her legs straight and together — and, at times, crossed her legs at the ankle — during her solo visit to Chester with the Queen, and she's been posed perfectly prim and proper during all of her recent carriages rides, too.
This isn't the first time Markle has broken a royal rule, though. In fact, she's blatantly broke a few of them, seemingly with intention. Like, for example, when she *gasp again* wore a dress that revealed her shoulders at the Trooping of the Color parade, or when she decided to forgo pantyhose on not one, but two occasions, or when, most recently, she signed an autograph for a fan outside of Cardiff Castle in Wales.
Look, at the end of the day, Markle's still new at all this royal stuff, and she's probably doing the best she can. For her to perfectly abide by protocol every single time she walks out the door just isn't realistic, but it'll likely become second nature in next to no time. Besides, as long as she doesn't do anything like, run for office or let her cleavage hang out, surely the Queen and the rest of the royal family will happily cut her some slack.
Source: Read Full Article