The first half of Unbreakable Kimmy Schmidt's fourth season is almost here, and it looks like the show's perky hero is getting a new theme song. In addition to releasing the first photos from Unbreakable Kimmy Schmidt Season 4, Netflix also released what appears to be Season 4's theme tune (for at least one episode, anyway). Things are definitely changing in Kimmy's world, and it also seems her journey could be coming to an end soon. According to Deadline, Netflix is currently in talks to wrap up Unbreakable Kimmy Schmidt with a feature-length film penned by series creators Tina Fey and Robert Carlock. Netflix has yet to confirm the news, so for now, let's celebrate Season 4's imminent release by parsing the new photos for clues.
Before getting into the photos, though, fans need to take in the other Unbreakable Kimmy Schmidt treat that Netflix has served up. The show has released a silly new song, "Little Girl, Big City!," with music by Jeff Richmond and lyrics by Sam Means, that riffs on The Mary Tyler Moore Show's opening sequence. There are scenes of Kimmy walking down the New York City streets, along with, naturally, a hat toss. But the Kimmy Schmidt send-up wouldn't be complete without a dose of real-life humor. So when Kimmy tosses her hat in the air, just as Moore once did, the camera pans out to reveal a tree that's captured many a tossed hat in its branches.
The Mary Tyler Moore Show doesn't appear to be the only inspiration for the new song, though. The video opens with Kimmy peering out of a window and music that's decidedly reminiscent of the Friends transitions and establishing shots.
The song isn't just for fun, though — it's also a reminder of where the third season left off. Kimmy fails out of Columbia but finds a silver lining in her dream job, being a crossing guard. She passes the test with flying colors, only to learn that she can't be offered the job, because she's still married to the "reverend," who happens to be a registered sex offender. No longer a nanny or a student — and with her crossing-guard dreams dashed — Kimmy lands a new job working for Zach, a former Columbia classmate, at his startup.
"Little Girl, Big City!" shows a few scenes of Kimmy at the Giztoob offices. It looks like that wasn't just a season-finale shocker, and Kimmy will likely be working for Zach for at least part of the upcoming season. She's also joined by a robot named C.H.E.R.Y.L., who may or may not be a new-and-improved version of Yuko the robot.
TV Insider reports that the new song will be the next season's opening title credits, but fans of the old theme shouldn't worry too much just yet. The Netflix video ends with the beginning of the original theme, so there's a chance the original will still play into the new season in some capacity. As for the new photos, they may contain some clues about what the show's characters might be up to this year. Here are a few hints from the photos and what they might mean for Unbreakable Kimmy Schmidt's future.
Jacqueline May Be Crashing With Kimmy And Titus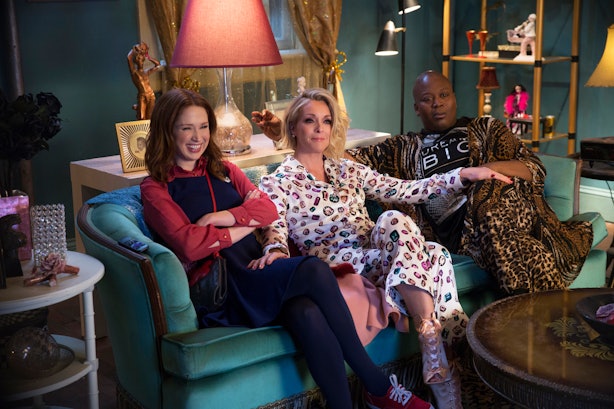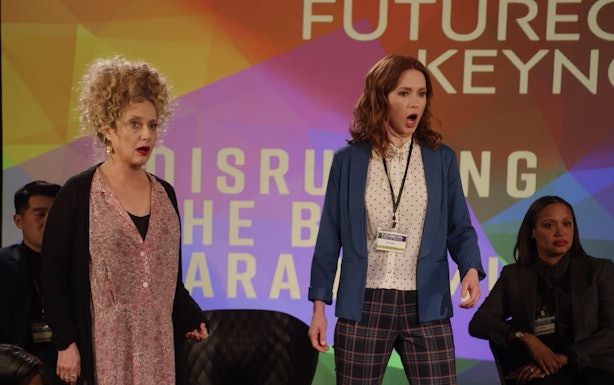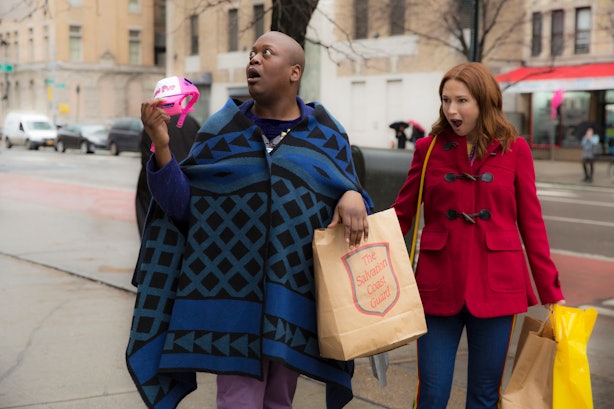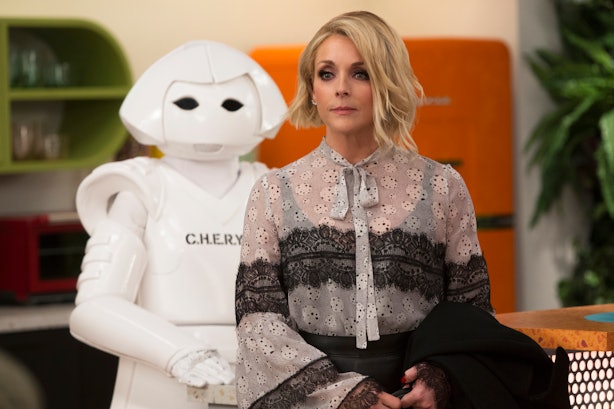 is C.H.E.R.Y.L. the robot Jacqueline's new assistant? Because that's something the world desperately needs.
Even with the hat tossing and apparent financial stability, though, there's one detail about the new video that stands out. While Kimmy appears as optimistic as ever in "Little Girl, Big City!," there's a big reason it looks a lot different from the show's first three seasons. And it's not just the retro-style credits font. The video appears to have a filter over it, making everything on screen look decidedly more drab. Of course, that could just be a nod to the Mary Tyler Moore Show inspiration. But it could also be a clue that things won't be all sunshine and roses for Kimmy this season. The show is notorious for its saturated, bright color scheme. So why is this optimistic tune so colorless? It could be a sign of what's to come — could this be the season where Kimmy finally breaks, even if only for a limited time? With a possible end in sight, this feels like the right time for Kimmy to make some big moves.
Fans will have to wait until Unbreakable Kimmy Schmidt returns on May 30 to find out what's really going on with the theme song and the photos. Until then, at least there's a new song to get people excited for the new episodes.
Source: Read Full Article