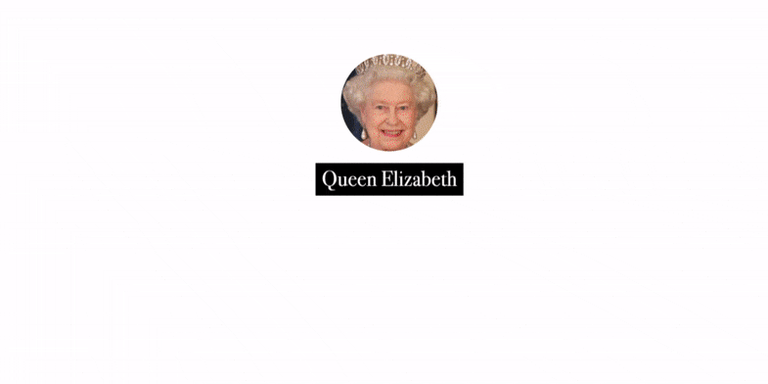 Queen Elizabeth II is 92 and has sat on the British throne for 66 years; that's the longest monarch's reign in history. Good for her. And thanks to literally hundreds of years of precedent (except, OK, that shakeup in 2013 which meant some changes to the line of succession were afoot) we know exactly who will take over the monarchy after she passes, and passes on the crown. These are the next 25 royals in line to assume the throne, as of April 2018.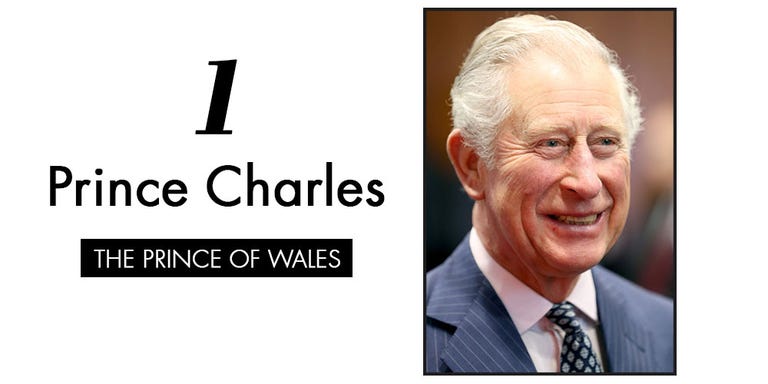 Queen Elizabeth's first-born son, and thus literally born to be King. Prince Charles, 69, was previously married to the late Princess Diana, and is now married to Camilla Parker Bowles.
When Prince Charles inherits the throne following his mother's passing, he'll be the oldest person crowned in the United Kingdom's history.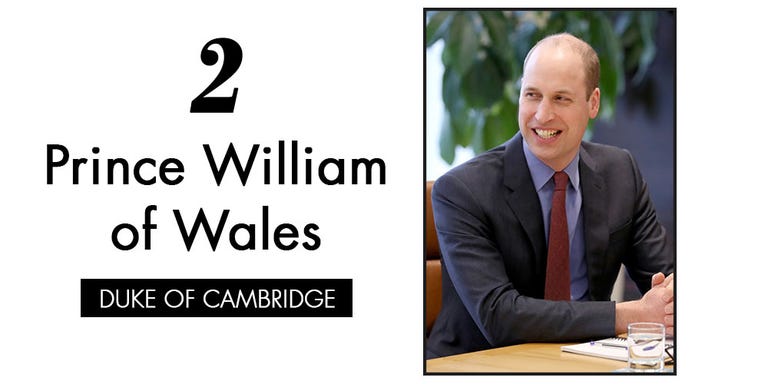 Like his father before him, Prince William, 35, was born to be King. He's the first son of Prince Charles and Princess Diana. He previously served as helicopter pilot in Royal Air Force and later as a pilot for the East Anglian Air Ambulance — a job he left last year so he could take on more royal duties.
He's almost sure to become King in his lifetime (with perennial chatter, however unlikely it would actually be, that Prince Charles will abdicate sooner rather than later upon his ascension to the throne, in order to pass the crown down to a younger, more popular royal). William is married to Kate Middleton, whose official title is the Duchess of Cambridge.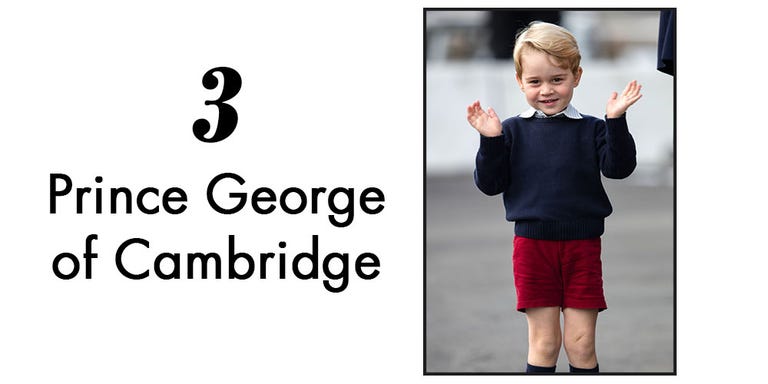 And like his father and grandfather before him, Prince George, 4, was born to be King. When he takes the throne, he'll King George VII — and hopefully will continue his tradition of meeting important politicians and world leaders in his bathrobe like he did when he met former President Barack Obama. Because you do you, George!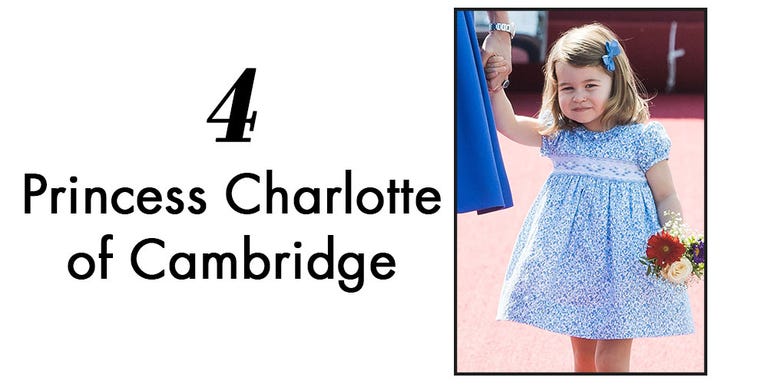 At 2-years-old, Princess Charlotte of Cambridge is the first, and youngest, female in line for the throne — and she retains the 4th spot over her younger brother thanks to the Succession to the Crown Act of 2013. This meant the previous ruls by which male heirs ranked above their sisters regardless of age (i.e. that younger brothers took their older sister's spot, as with Princes Andrew, Edward, and Princess Anne) with "absolute primogeniture," AKA gender equality basically.
But still, it's highly unlikely anyone who is alive today will see another Queen on the throne. As the "spare to the heir" she might enjoy a life similar to Prince William's younger brother, Prince Harry, who has all the perks of royalty, but isn't totally constrained to living up the role of the future monarch. She has the best of both worlds! In conclusion, watch her play with balloons.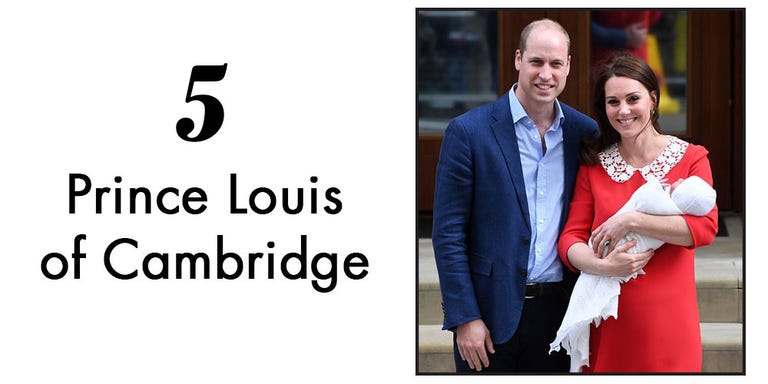 It's baby Louis! Not even a week old, and already in a great spot on the line of succession. That's the royal life for you.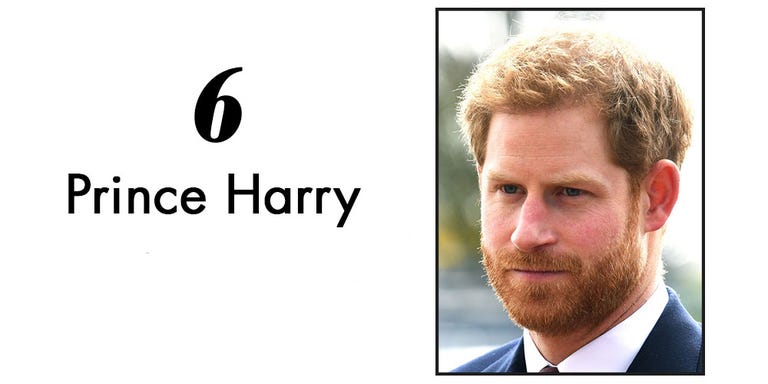 Prince Harry (or, technically, Prince Henry of Wales), 33, is Prince William's younger brother, and is set to marry Meghan Markle on May 19. If the couple has children, which they've already hinted at, the kids will be next in line after Harry.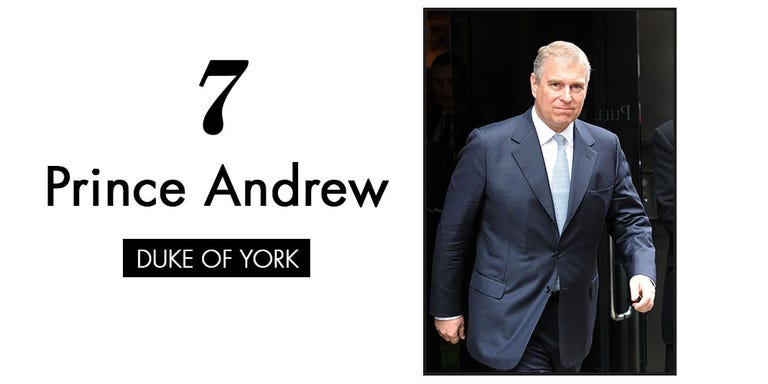 Of the Queen's children, Prince Andrew, 58, is the one caught who's been up in the most "controversies" over time — seriously, the Wikipedia section is long (and messy). There have been allegations of corruption, arms sales, and cash for access scandals, among others.
Prince Andrew was previously married of Sarah Ferguson, Duchess of York (with whom he had two children, Princess Beatrice and Princess Eugenie). The Duke and Duchess's divorce, in 1996, was splashed all over the tabloids, and controversial in its own right. You know,that whole toe sucking scandal!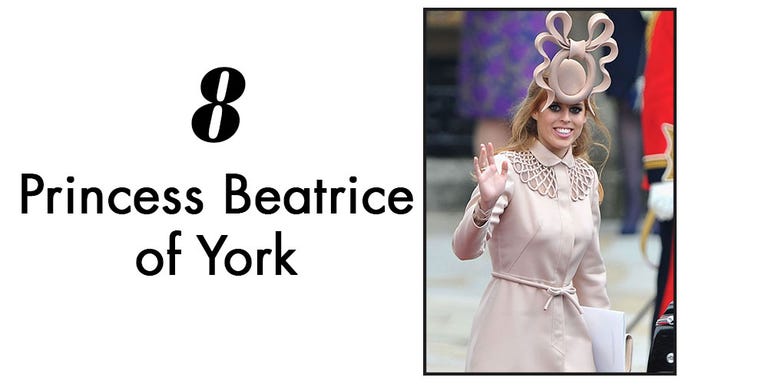 Yes, Princess Beatrice, 29, is the royal who wore that insane/amazing octopus hat to Prince William and Kate Middleton's's wedding — it later sold for $130,000 on eBay. She's also the first member of the royal family to have run a marathon — the London Marathon. Oh, and she did it while chained to 30 other runners to raise money for children's charities.
Following the birth of Prince William and Kate Middleton's children, Beatrice and her younger sister have been bumped sufficiently down the line that they can't use the official police bodyguards anymore (and their father was reportedly a bit pissy about that).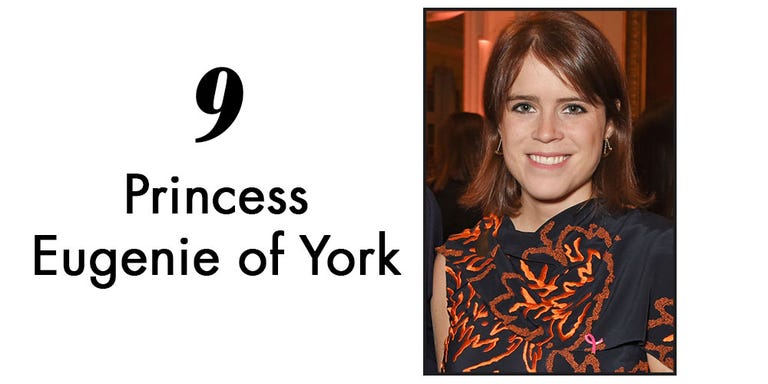 Princess Eugenie, 28, is engaged to Jack Brooksbank and will get married in the same chapel as Prince Harry and Meghan this fall. She currently works for an art gallery in London and, in 2016, worked with an artist on the first ever piece of "royal graffiti."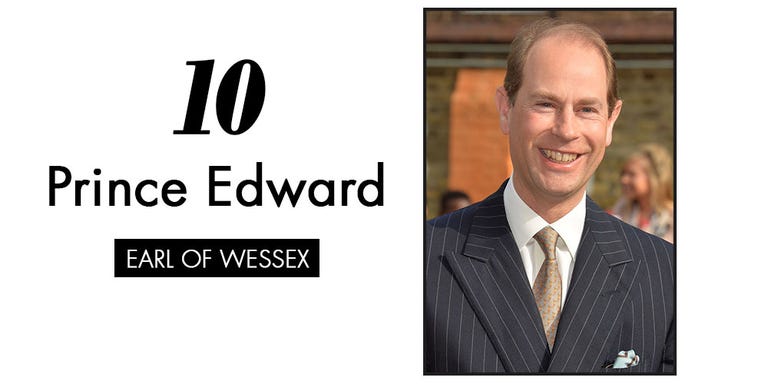 Prince Edward, 54, is Queen Elizabeth's youngest son. He's married to Sophie, the Countess of Wessex, who is apparently one of the Queen's favorite in-laws. Prince Edward and Sophie have two children together — and they're next in line.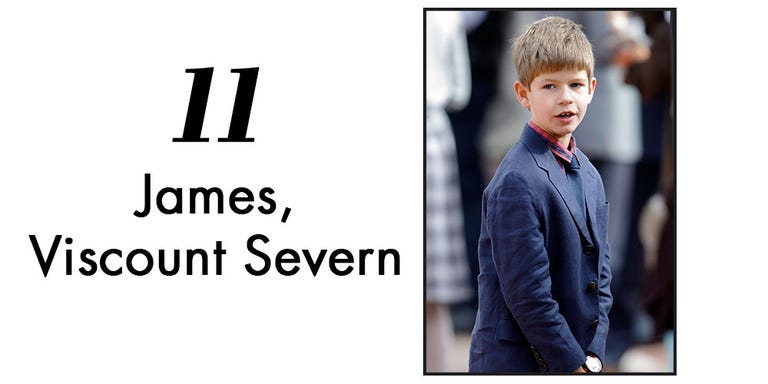 Viscount James, 10, is technically a prince, but his parents wanted to give him a less obvious title "to avoid some of the burdens of royal titles." Still though, he has a lake in Canada named after him and that's kind of a big deal?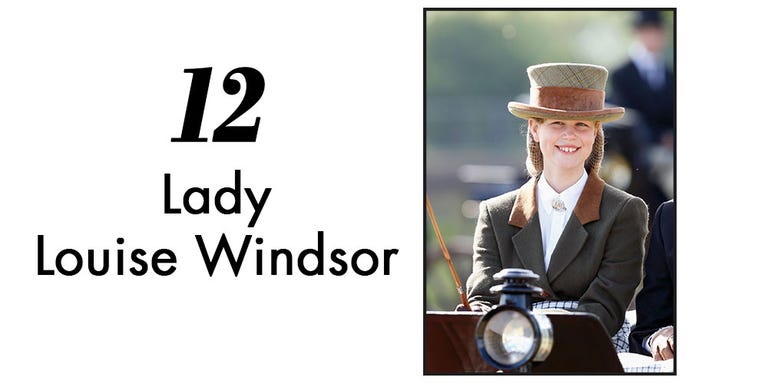 Lady Louise Windsor is James's 14-year-old sister — and yes, she's below her brother on the line of succession despite being older than him because the 2013 Succession of the Crown Act does not apply to those born before it was enacted. Womp womp.
Like the Queen and the her late sister, Princess Margaret, Lady Louise is a talented carriage driver — she even competed in the British Driving Society Championship for Young Drivers last year.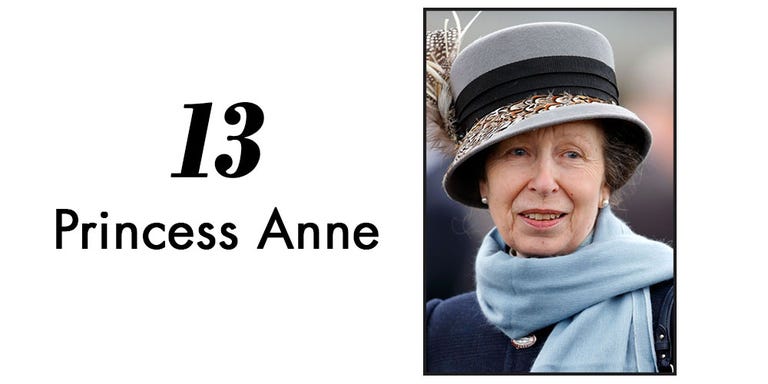 Princess Anne, 67, is Queen Elizabeth second-born child, but she's below her two younger brothers in the line of succession because, as with Lady Louise above her, the 2013 Succession of the Crown Act doesn't apply retroactively.
Princess Anne competed at the 1976 Montreal Olympic Games, riding her mother's horse, and is a memeber ofthe International Olympic Committee. She is widely viewed as one of the royals most dedicated to public service, and is involved with over 200 charities and non-profit organizations. Also, she was once almost kidnapped!
A fun fact: Anne's first boyfriend Andrew Parker-Bowles later married Camilla Shand — yes, that's the same Camilla Parker-Bowles who's now married to Prince Charles. In 1973, she married Andrew Phillips; the couple divorced in 1992 and Anne remarried Vice Admiral Timothy Laurence that same year.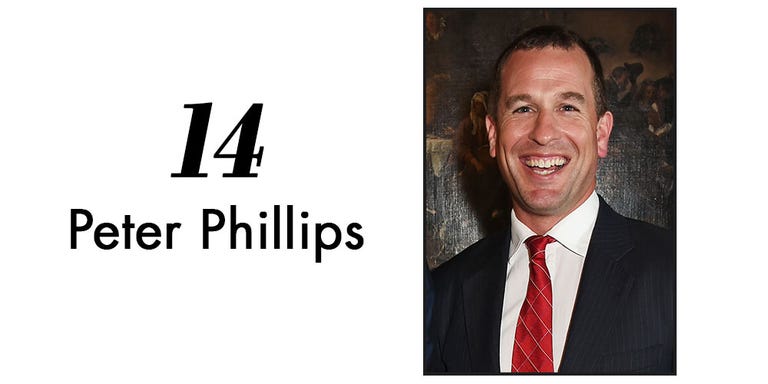 Peter Phillips, 40, is Princess Anne and her first husband Mark Phillip's only son — and Queen Elizabeth's oldest grandchild.
He and his younger sister Zara were not given titles by their parents, in attempt to allow them to lead more "normal" lives. When Peter met his wife, Autumn Phillips, he didn't tell her he was royal — she later explained she only found out that her future husband was blue-blooded when she was watching TV and realized he looked a lot like other members of the royal family. (Peter later explained that he didn't tell her because "there was no cause to mention it," which, hmmm.)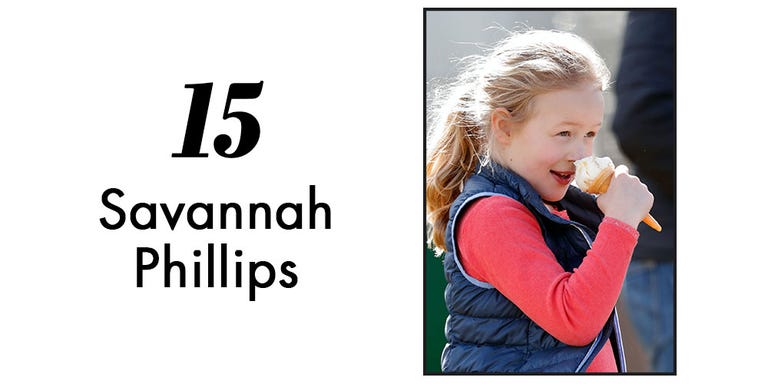 Savannah is Peter's 7-year-old daughter. Because Princess Anne chose not to give her son Peter a title, Savannah doesn't have an official one either. But, at least as pictured here, she does have an ice cream, so it's not all bad.
Isla Phillips, 6, is Savannah's younger sister.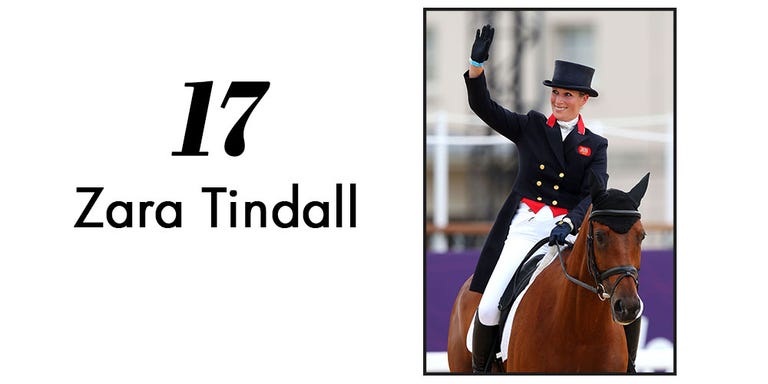 Zara Tindall, 36, is Princess Anne's second child and, like her brother Peter, does not have an official royal title. A keen horse rider since her childhood, Zara won an Olympic silver medal in equestrian at the 2012 Games in London — and her mom presented her with the medal.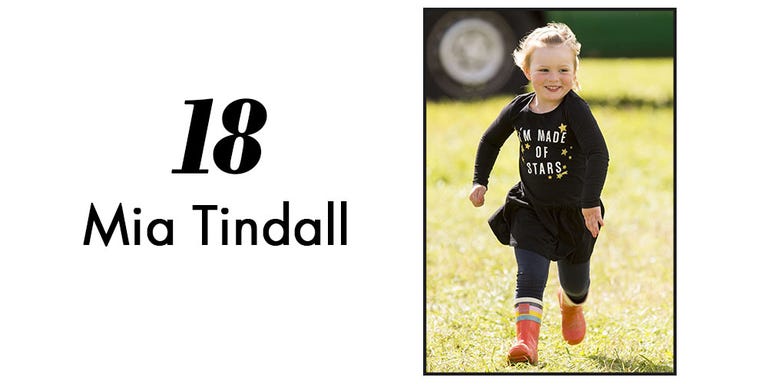 Mia Tindall is Zara's first child with her husband, former England rugby player Mike Tindall. Her mom has described her as a "quite laid back" 4-year-old. (But she's also a total scene-stealer — case in point that moment she had with her great grandmother's handbag during a royal portrait.)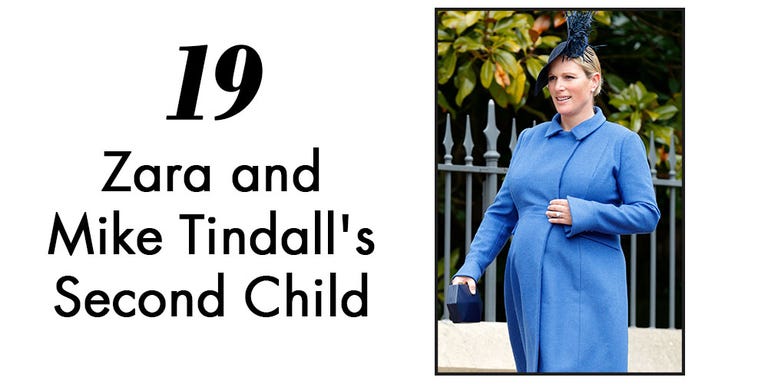 It's shaping up to be quite an eventful spring for the royal family — Zara is expected to give birth to her second child in the next couple of weeks. Baby TKTK will have a playmate, then!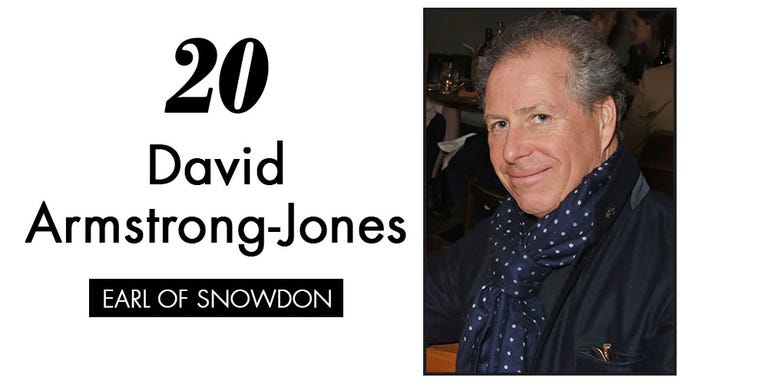 David Armstrong-Jones is the first royal in line for the throne who isn't a descendent of Queen Elizabeth II. He's the son of her sister, Princess Margaret — and inherited the title Earl of Snowdon after his father, Margaret's ex-husband, died in 2017.
Armstrong-Jones is a furniture designer, the former chair of auction house Christie's, and is married to Serena Stanhope, the daughter of the Earl of Harrington.
In 2007, he was caught up in a "sex and drugs" blackmail plot after two men threatened to release allegedly compromising videos to the media unless he paid them off. (British police arrested the men, and reportedly determined Armstrong-Jones was not even involved in the footage.)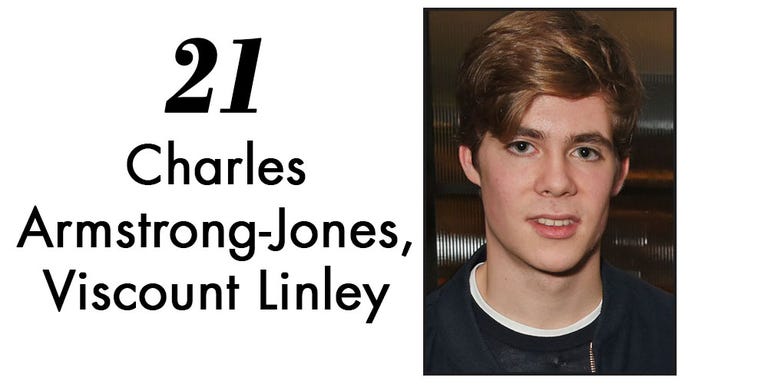 Viscount Charles, 18, is David's first-born. When he was 12-years-old, the Queen appointed him to be her "Page of Honor" — a ceremonial role that sometimes involves holding the train on the Queen's long dress. What a privilege.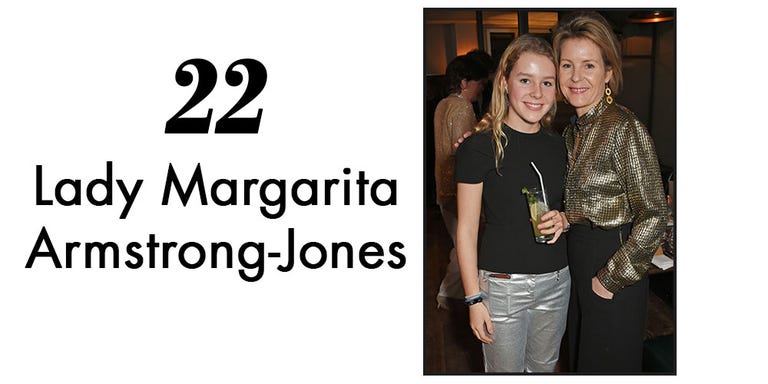 Lady Margarita, 15, (pictured left, with her mother Serena) is David's second child, and Princess Margaret's only granddaughter. Lady Margarita was one of Kate's bridesmaids and sat next to Kate's sister, Pippa Middleton, in the carriage after the wedding ceremony.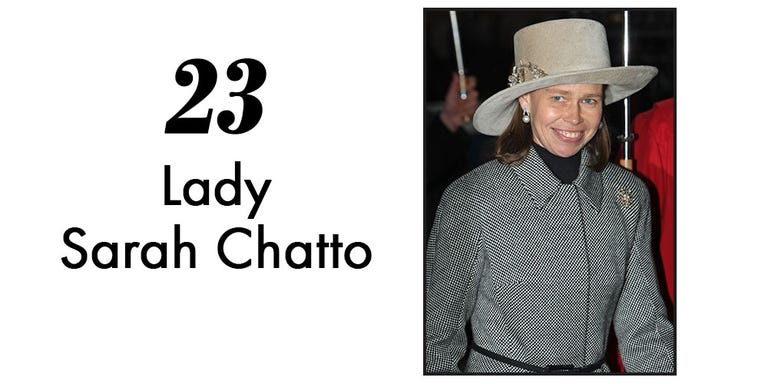 Lady Sarah, 53, is Princess Margaret's daughter; David Armstrong-Jones's younger sister. An accomplished painter, she is married to the artist Daniel Chatto — they have two sons who are coming right up. You'll want to click through to them ??
Chatto is said to be close with her cousin Prince Charles, and was a bridesmaid at his and Princess Diana's wedding. She's also Prince Harry and Lady Louise Spencer's godmother.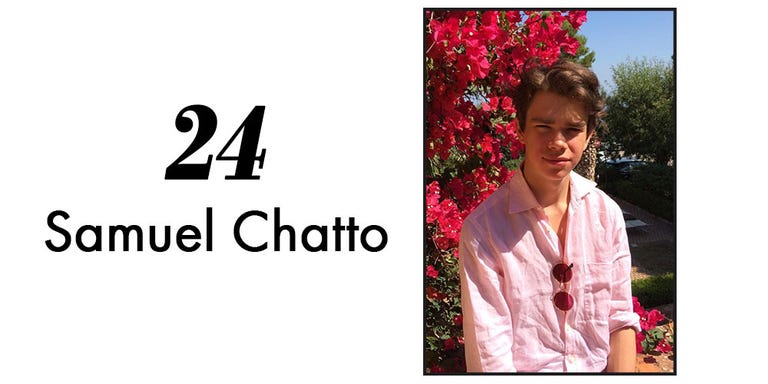 Samuel, 21, is Lady Sarah's first-born who happens to have a very inspirational Instagram account and calls his followers "lovers." He and his young brother (see below) are currently students at the University of Edinburgh have been called the "new Prince William and Harry," but hey, they're actually single — so you still have a shot at joining the royal family.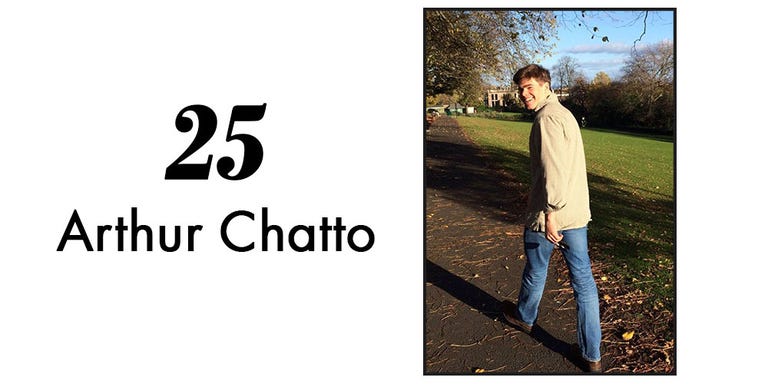 Arthur, 19, is Lady Sarah's youngest child and the last heir related to the Queen's sister, but henceforth should be known as the hottest royal ever. Go follow him on Instagram and never look back.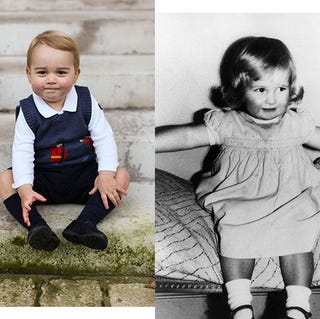 Source: Read Full Article