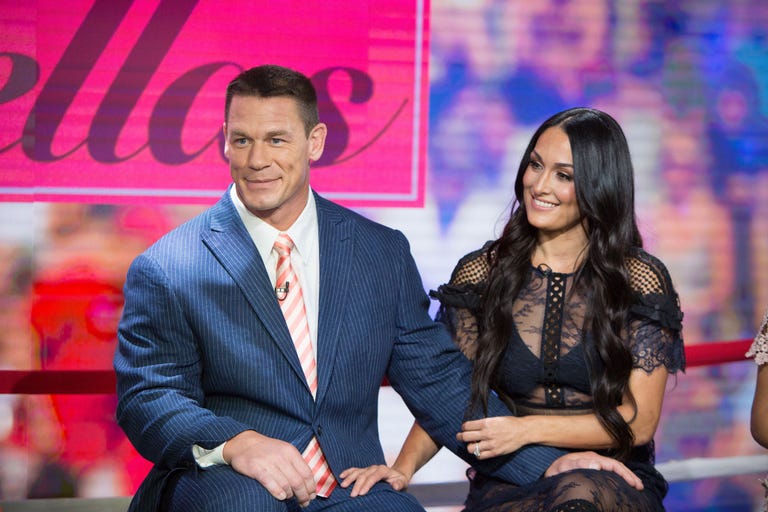 In the last few months, Nikki Bella and John Cena's relationship has seemed like a roller coaster. Recently, it appeared as though they were back together after calling off their wedding in April, but Nikki took to YouTube to set the record straight.
"Because I am a reality star, and I do have a reality show… I feel like I have to … say what's the update on John and I, but right now we're just friends," she said in a vlog post filmed on June 26, posted on July 1.
TBH, that's a little bit devastating because it very much seemed like they were back on. I mean, the man went on the Today show and said he'd be willing to give her a family, which was reportedly their biggest issue as a couple.
"I think it's hard for people to understand because we film and then things get shown a few months after and I think people are like, 'Are they together? Are they not?'" she said.
She's definitely not wrong about that. Basically, the initial news broke in April, and then John made comments on TV in May that made it seem like he wanted to get back together with her. Then, an episode of Total Bellas aired on June 18 in which John said he would literally have surgery to give Nikki children, which made it REALLY seem like they were back together, but those episodes were filmed months ago.
That means that he would have filmed that conversation way before his Today show appearance. The timeline is very jumbled but this all lead the internet to believe they were back together. But no!
Even though they're just friends, Nikki explained they are definitely working on things.
"We talk every day. He is not only my best friend, but he truly is one of the most amazing people I have ever met," she said. "I do have hope for us."
Follow Emma on Instagram.
From: Cosmopolitan US
Source: Read Full Article