Good news, horror movie fans: On Wednesday, April 25, Paramount chairman and CEO Jim Gianopulos confirmed that A Quiet Place sequel is officially in the works at the CinemaCon convention in Las Vegas, as reported by Variety. "We're thrilled to say that we're already working on the sequel to A Quiet Place," Gianopulos told exhibitors at CinemaCon, according to the publication.
While Gianopulos announced the sequel news, he did not reveal nor confirm whether or not director and star John Krasinski or his co-star (and real-life wife) Emily Blunt would reprise their roles in the sequel, reported Variety. There is also no release date set yet. According to The Hollywood Reporter, Gianopulous remarked the following about the immensely successful horror film: "If you told me five years ago that an almost silent film starring the very funny guy Jim from The Office would have been a hit at Paramount, I would have said, 'Well, I should go work at Paramount.'"
A Quiet Place has been one of the biggest hit films of 2018 so far. According to The Hollywood Reporter, the horror film has made over $213 million worldwide and $134.8 million in North America alone. The thrilling horror movie followed a married couple named Lee and Evelyn Abott (played by Krasinski and Bunt) and their children who try to survive while living in silence among unseen creatures who attack when they hear noise.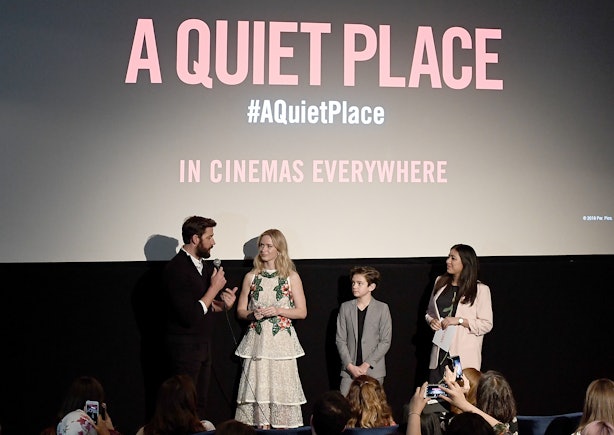 Gianopulos also had kind words for Krasinski on the success of A Quiet Place this Spring. "It's the artist with a true vision that makes the improbable happen," he said at CinemaCon, according to Deadline.
The former Office actor is next producing the film Life on Mars, along with A Quiet Place producers Michael Bay, Andrew Form and Brad Fuller, according to The Hollywood Reporter. Life on Mars is a sci-fi thriller based on the short story "We Have Always Lived on Mars" by Cecil Castellucci, which focuses on a woman who lives on a Martian colony. In front of the camera, Krasinski stars in the Amazon series Jack Ryan, which premieres on the streaming service in August and has already been renewed for a second season.
A Quiet Place was a script and a project that really spoke to Krasinski emotionally, even though he wasn't a big fan of horror movies, the actor and director told CBS News on April 11. He said:
Krasinski told CBS News that he had Blunt in mind for the role of the family matriarch, but he wasn't sure about asking her. "I've been witness to the incredible taste level, intelligence and dedication she has in choosing projects and so I couldn't live with myself if she did this as a favor to me," he told the network. Eventually, once the fellow actor read the script, Blunt wanted to be in the film. "She said, 'You can't let anyone else do this role.' It was like she was proposing to me," Krasinski recalled in the CBS News interview.
It's unclear what the sequel to A Quiet Place might focus on plot wise or if it will continue following the Abbott family, but if the sequel is anything like the first film, silence will be golden.
Source: Read Full Article