There's been much speculation over who Meghan Markle will choose to be in her wedding to Prince Harry and now there is finally an answer. According to a palace spokesperson who spoke with Us Weekly Friday, Meghan Markle will not have a maid of honor — and for good reason. Apparently, Markle has so many close friends she couldn't choose between all of them to stand next to her on the big day.
"She has a very close circle of friends and she could not just choose one," the palace spokesman told Us. "They will all be traveling to London that week to spend some quality time with her and she is pleased to have all their support there on her wedding day."
As bummed as some might be to learn Markle won't have a maid of honor, this is actually really positive news. The fact that the former Suits star has so many close friends speaks to the kind of woman and friend she is. The 36-year-old cherishes all of the women in her life in the same way. Clearly, Markle loves her friends equally and that's exactly the type of friend everyone needs and deserves.
It isn't surprising Markle has a group of women in her life she considers good friends. She's a proud feminist who not only believes in gender equality, but also uplifting and empowering other women.
As she said at the UN Women's 20th Anniversary of the Fourth World Conference of Women, "Women need a seat at the table, they need an invitation to be seated there and in some cases, where this isn't available, well then you know what, then they need to create their own table." She continued, "It isn't enough to simply talk about equality, one must believe in it and it isn't enough to simply believe in it. One must work at it."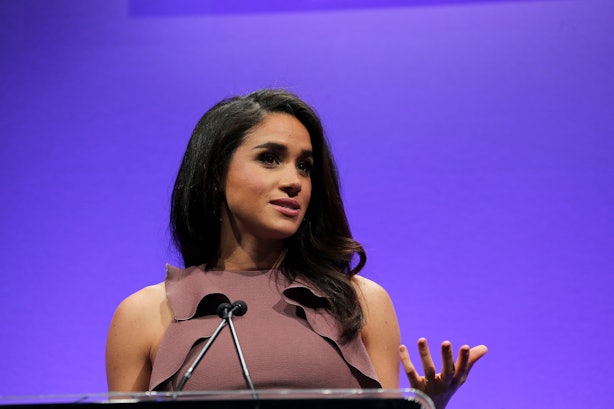 This is who Markle is. She fights on behalf of other women and sees them as amazing individuals. This is how she is with her own friends, too. The relationship she has with Quantico star Priyanka Chopra (who is also attending the royal wedding) definitely shows how Markle is as a friend.
When Markle made TIME's 100 most influential people of 2018 list, Chopra honored her by writing a message showcasing why Markle is so wonderful. "This ever-smiling, strong free spirit found her prince, fell in love and in turn made a cynical world believe in fairy tales again," the actor wrote. "But more than anything else, Meghan is an important influencer in a world that needs strong public figures to respect and look up to. People the world can be inspired by. Meghan, standing shoulder to shoulder with Harry, will be a princess for the people."
Not everyone can speak about their friend like this, which is a very special thing. Chopra and Markle's friendship clearly is a meaningful one that goes so much deeper than simply grabbing a cup of coffee. And, apparently, this is how Markle is with all of her close friends, because she couldn't even pick a maid of honor. The women who are friends with Markle, well, they're extremely lucky to have such a supportive woman in their lives.
Unlike Markle, Harry has a best man — Prince William. On April 26, Kensington Palace revealed Harry asked his older brother to serve as best man at his wedding on May 19 just like Harry was William's best man at his 2011 wedding to Kate Middleton.
Harry and Markle will also keep with tradition by having children in their wedding as bridesmaids and page boys, the palace spokesperson also confirmed to Us. It seems likely Prince George and Princess Charlotte will take on those specific roles in their uncle's wedding. The Royal Family's press secretary also announced Friday Markle's dad will walk her down the aisle and her mom will ride with her daughter in the car on the way to the ceremony at Windsor Castle.
Even more details will be announced in the final week before the wedding, so stay tuned. Until then, let's all take a moment to prepare ourselves for what already sounds like the most magical wedding ever.
Source: Read Full Article