All of the major cast members from Riverdale are at Comic-Con 2018 this weekend, and they're starting to spill secrets from the show's fast approaching Season 3.
Speaking to Extra, Casey Cott, who plays Kevin Keller on the series, revealed, "There are a couple people at Comic-Con right now who die in the first episode." While it's unclear just how serious Cott is about those deaths, Riverdale has definitely been heading in a dark enough direction to make his hints ring true.
Cott also suggested that "a lot of couple-y things" would be happening when the series returns, meaning that Bughead fans might have a lot to look forward.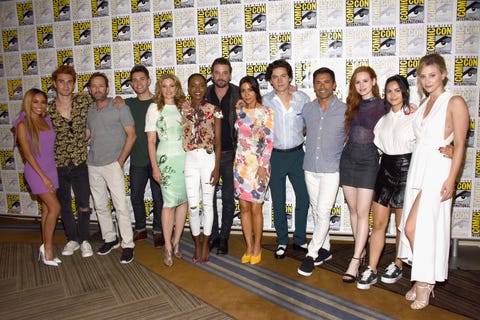 Speaking to Entertainment Tonight at Comic-Con, Cole Sprouse, who plays Jughead, talked at length about his onscreen relationship with Betty Cooper. Sprouse revealed that he was keen for Season 3 to focus on finding "consistency" and "happiness" in the couple's relationship, and he even went as far as to say, "Actually, it's looking like it's going to be pretty good for Bughead this season so far."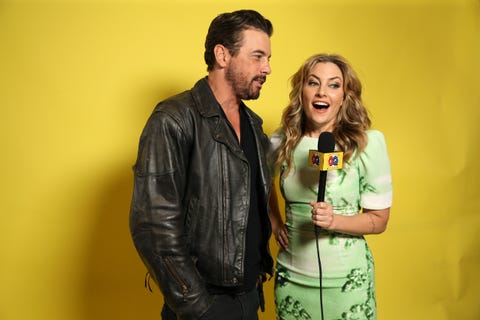 However, Lili Reinhart, who plays Betty, tried to dial down the Bughead talk saying, "We're two episodes in, so we don't know how things are going to pan out," to which Sprouse retaliated, "They haven't broken up yet."
Reinhart also reveals that "Betty and Jughead are back to being the investigative sleuths they were in season one. They're back to their old selves again, which is kind of fun to see."
Always a good time with these two ?
A post shared by Vanessa Morgan (@vanessamorgan) on
As for Kevin's relationship with Moose, which saw the couple kiss in the Season 2 finale, Cott reveals that Season 3 sees things heating up. He told Entertainment Tonight "They're about to start dating, I think. It's fun."
Source: Read Full Article