After making their red carpet debut together on April 23 at the Avengers: Infinity War premiere — a move that's essentially known as the celebrity version of publicly "defining the relationship" — fans of the couple may be wondering how Scarlett Johansson and Colin Jost met. As it turns out, the two first crossed paths more than a decade ago, but it wouldn't be until much, much later — May 2017, to be exact — that reports of the pair getting cozy would surface, according to Page Six.
Johansson made a guest appearance on the May 20, 2017 episode of Saturday Night Live, when the actor showed up as Ivanka Trump for host Dwayne Johnson's cold opening. Jost, of course, has been a long-time writer for the sketch comedy show, and currently serves as a co-anchor for the "Weekend Update" segment, alongside Michael Che.
Jost signed on as a writer for SNL back in 2005, and was promoted to "Weekend Update" co-anchor in 2014. Johansson's first appearance on the show — which was also her first time hosting — happened in January 2006. The Avengers: Infinity War actor would go on to host SNL another four times over the next decade, and made two additional guest star cameos before appearing in the show's May 20, 2017 cold open.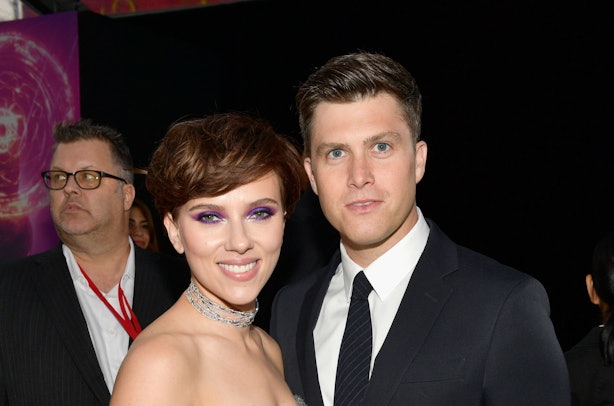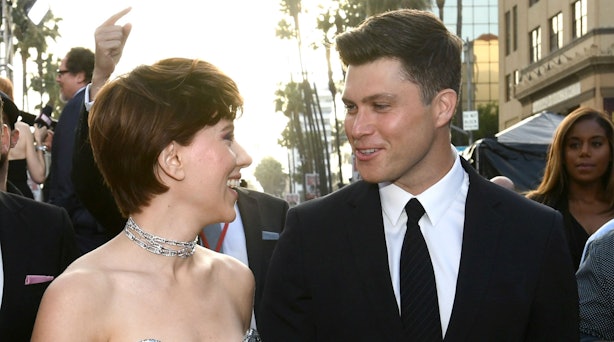 Of course, Johansson had basically been off the market from the moment they met — however, if Johansson and Dauriac had, in fact, already been separated since the summer of 2016, perhaps Jost finally decided to drop a few hints to the actor post-divorce filing/during rehearsals for her March 11, 2017 hosting gig.
The Avengers star and the "Weekend Update" co-host seemingly kept things kind of casual for a few months in the beginning — Johansson was linked to lawyer Kevin Yorn in June and July — but by November 2017, she and Jost were posing for date-night photos together at the American Museum of Natural History Gala.
On December 17, Johansson reprised her guest-starring during Kevin Hart's monologue on SNL. At the end of the show, the entire cast skated around Rockefeller Center's ice rink while the credits rolled — Johansson and Jost skated around too, and were adorably spotted holding hands as they did so.
The couple made their red carpet debut together at the Los Angeles premiere for Johansson's film, Avengers: Infinity War, on April 23, and pretty much couldn't stop smiling. After so many months of dating rumors, and what sounds like many more years of bad timing and missed opportunities, it's nice to see these long-time friends finally feeling comfortable going red carpet-public with their love.
Source: Read Full Article