Since Prince Harry and Meghan Markle's wedding is on the horizon, it's only natural to wonder about all of the details for the big event. And that obviously includes the guest list, which could have some famous faces on it. One of Markle's good friends, Serena Williams, discussed whether the royal wedding will be on her calendar during her appearance on Good Morning America, per Us Weekly. She also offered up some incredibly sweet advice to the lovely couple.
GMA host asked Robin Roberts asked Williams whether she'll be in attendance during the May 19 nuptials. Apparently, the athlete may not be able to make it to the wedding, but she has a great reason as for why she might not be at St. George's Chapel on the big day. "I don't know, I think it's during one of the tournaments," she said. "So, we'll see if I can make it."
After her response, Roberts sort of questioned Williams' answer by giving her a slightly skeptical look (suggesting the athlete could be staying mum on any news about the wedding). The two women then broke into a fit of giggles and the tennis player added, "Robin, don't be asking me them questions." So, it's possible that Williams might be in attendance at the wedding, but is just playing it cool. There is actually a tennis tournament taking place during the time of the wedding. The Italian Open is from May 13 to May 20. (Williams chats about Markle at the 3:35 mark in the video below.)
Whether she attends or not, she did share some advice for the husband and wife-to-be during the interview. When asked what advice she would share with Markle and Harry in regards to their wedding, seeing as though Williams just got married herself in November 2017 to Alexis Ohanian, she said, "I just think it's so important to enjoy the moment. And eat cake. I didn't get to eat mine at the wedding." Hopefully, the couple heeds the tennis star's advice because they have that delicious lemon elderflower cake in store for them.
Williams was questioned about the upcoming royal wedding because of her great friendship with Markle. According to the future royal's own former blog The Tig (via Us Weekly), the two met in 2014 and became fast friends. Markle wrote that she met the athlete during a celebrity flag football event. In a Q & A on her website, she said, "We hit it off immediately." She continued to say that the two of them bonded and spent time together discussing "good old fashioned girly stuff."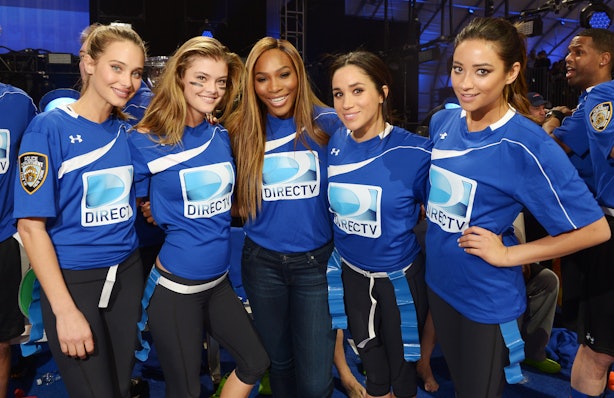 Will any of Markle's other famous friends be in attendance at the wedding? Well, one of her besties, Priyanka Chopra just commented on the big event and cleared up a rumor about her involvement in the festivities. The actor told People that she will not be a bridesmaid for Markle. So, while Harry's best man situation is all sorted out, the former Suits star's maid of honor is still a mystery.
Even though Chopra won't be a bridesmaid, she'll still be at the royal wedding. The Quantico star told People, "I'm super excited about her and her big day." The actor went on to express that her the wedding will be amazing not only Markle and Harry, but for the world, as well. She said, "It's not just going to be life-changing for both of them, it's life-changing for the world that needs to see strong women as icons, and I think Meghan has the potential to be that."
Markle and Harry's wedding has big potential for a star-studded guest list. And while it's unclear if Williams will be in attendance at the royal wedding come May 19, it's clear that the tennis star is supportive of her friend's incredibly special day.
Source: Read Full Article